Impressive Growth Outlook Projected for Tissue Engineered Skin Substitute Market
Over the past couple of years, regenerative medinice has seen remarkable innovation which led to the growth in the market of tissue engineered skin substitute. While the market is dynamically evolving, advancements such as competent and full thickness skin substitutes that can rapidly vascularize are coming to the fore, with new possibilities. Leading companies are channelizing efforts in development of various natural and regenerative artificial skin materials, providing the much needed tailwinds to the growth of tissue engineered skin substitute market. This study attempts exhaustive analysis of the market and identifies its phases of growth during the period of forecast, 2019 – 2029. The market will witness a robust CAGR of around 9% and redesigning will remain the key focal point for players. Some of the prime parameters considered here will be viability, commercial affordability, and extended shelf life.
Key Growth Influencers - Tissue Engineered Skin Substitute Market
Increasing Prevalence of Chronic Wounds Boosting Demand for Skin Substitutes
Increasing prevalence of chronic wounds is one of the leading factors driving the growth of the tissue engineered skin substitute market. With the increasing prevalence of type I and maturity-onset diabetes in developed economies, the incidence of diabetic ulcers is growing rapidly. According to the Journal of Diabetic Research, the prevalence of diabetic ulcers is rising by 9% annually. Currently, there are more than 4.5 million pressure ulcer patients in the world that require treatment. There are more than 9.7 million venous ulcers and approximately 10 million diabetic ulcer patients in the world requiring treatment. The number of pressure and venous ulcer patients has grown from 6% to 7% in developed countries, which is expected to increase the demand for tissue engineered skin substitutes.
Increasing Burn & Trauma Cases Driving Market Growth
Burns are a growing global concern. According to WHO, in 2004, nearly 11 million people worldwide were burned severely enough to require medical attention. Increasing number of burn and trauma cases are expected to accelerate the demand for tissue engineered skin substitutes. Road accidents and violence leading to traumatic injuries are also favoring the increased demand for tissue engineered skin substitutes. According to the National Burn Repository (NBR) of the American Burn Association (ABA), annually around 486,000 burn injuries receive medical treatment in the U.S. The number of cases of burns is growing 1% to 2% annually, which is expected to surge the growth of the tissue engineered skin substitute market.
Increasing Focus on Technological Advancements in Tissue Engineering
Researchers are focusing on the emergence of new fabrication technologies in the field of skin tissue engineering, which is expected to provide an opportunity for the significant growth of the tissue engineered skin substitute market. Three-dimensional (3D) bioprinting and biotextile have emerged as powerful tools in the tissue engineered skin substitute market. The fabrication of 3D structures with complex geometries by 3D printing has been recently used in tissue engineering of the skin. For instance, researchers from Universidad Carlos III de Madrid and Hospital General Universitario in Valencia, Spain, have created a 3D bioprinter that creates totally functional human skin in its natural layered structure.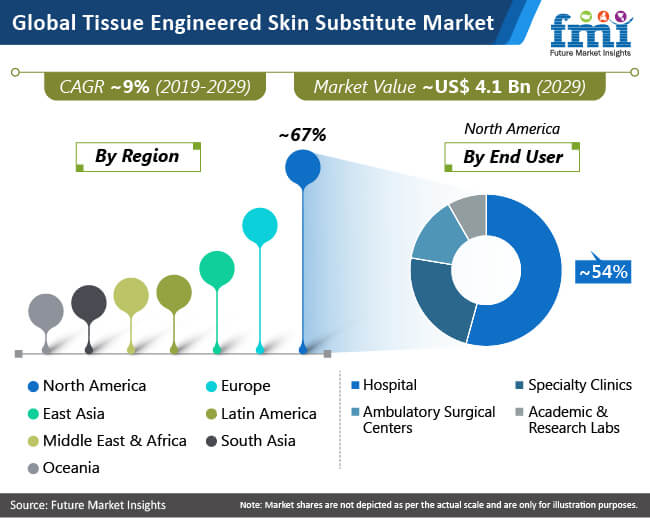 Tissue Engineered Skin Substitute Market Structure Analysis
The worldwide tissue engineered skin substitute market is a fairly competitive. Allergan Plc., MiMedx Group Inc., Integra LifeSciences Corp. and Smith & Nephew Plc. are the key players contributing to the maximum market share in terms of revenue.
New product launches are the main policy pursued by key participants in the tissue engineered skin substitute market.
The key players in the tissue engineered skin substitute are focusing on the development of new and technologically advanced designs of skin substitutes.
Tissue Engineered Skin Substitutes Gathering Traction on the Back of Chronic Wound Care Management
Deepening penetration of tissue engineered skin substitutes in advanced wound management and treatment of pressure ulcers, and diabetic foot ulcers reflects high market share of chronic wounds. Moreover, increasing demand for breast reconstruction surgery will further heighten growth prospects of market. Despite a marginal decline estimated over the next few years, use of tissue engineered skin substitute in chronic wounds will continue to witness an upshift in investments. Proliferation of redesigning trends is gradually shape-shifting this application category.
North America Leading, High Applicability in Diabetic Foot Ulcers
Market in North America would continue to lead, representing an absolute opportunity worth of over a billion-dollar during 2019 – 2029. Accounting for nearly half the global market revenues, demand in North America will be concentrated at biologic tissue engineered skin substitutes. Diabetic foot ulcers are identified as the top application area in this regional market. Europe, the second leading market for wound care, followed by Asia Pacific, will also be the significant investment pockets for stakeholders in tissue engineered skin substitute market.
Sharp Profit Margins for Leading Players, as New Product Variants Abound
Market leaders in tissue engineered skin substitute landscape such as Allergen Plc and MiMedx Group Inc collectively account for over 50% of market value. While these companies maintain focus on redesign innovations through R&D, the latter has launched over 45 patented varieties of placental tissues. The former also recently announced introduction of a new product, Strattice, a biological mesh used to repair torn hernias. The company is also strategizing on strengthening its market presence beyond developed regions.
Biologic substitutes accounting for half the market value
Cellular substitutes to witness steadily growing demand
Natural remains preferred choice
Synthetic materials on a steady decline in share
Major share held by chronic wounds management
Applicability for acute wounds gradually surging
Hospitals remain top end user
Specialty clinics generating rapid demand
How Growth will Unfold
Tissue contrived skin is one such noteworthy improvement in the area of wound healing and these substitutes provide a painless healing process, further encouraging the formation of vascular, neural and lymphatic networks. Biomaterial constructs or matrix to create functional skin has been introduced. Biomaterial matrix are playing a significant role in the regeneration of functional tissue and this will continue to be a prolific trend throughout the forecast period. Besides this, tissue engineered products for wound care management which are biological in nature such as allografts and xenografts are gathering significant momentum. The market is all set to reap rich benefits with the advent of biologic tissue engineered skin substitutes, projected for more than twofold growth through 2029.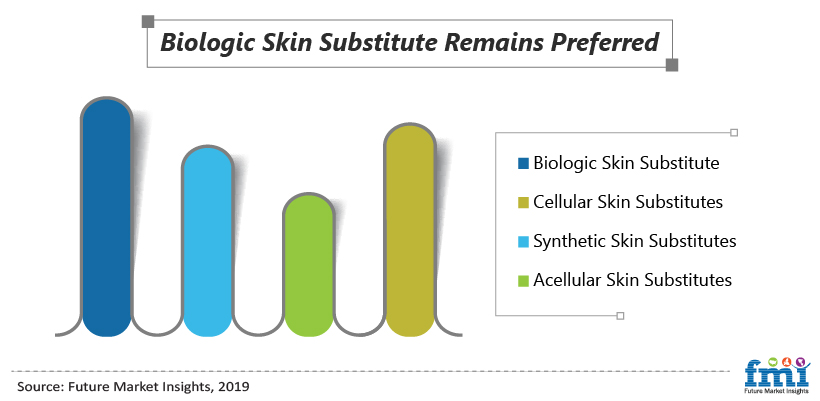 * This data is only a representation. Actual data may vary and will be available in report.
Click Here To Know How The Growth Will Unfold
Custom Market Research Services
FMI offers custom market research services that help clients to get information on their business scenario required where syndicated solutions are not enough.
Overview
Tissue Engineered Skin Substitute Market Analysis 2019 - 2029
A recent market study published by Future Market Insights on the tissue engineered skin substitute market includes global industry analysis for 2014-2018 & opportunity assessment for 2019-2029, and delivers a comprehensive assessment of the most important market dynamics. After conducting a thorough research on the historical as well as current growth parameters of the tissue engineered skin substitute market, the growth prospects of the market are obtained with maximum precision.
Tissue Engineered Skin Substitute Market Taxonomy
The global tissue engineered skin substitute market is segmented in detail to cover every aspect of the market and present a complete market intelligence approach to the reader.
Product
Acellular Skin Substitute
Acellular skin substitute based on amniotic membrane
Other Acellular Skin Substiute
Biologic Skin Substitute
Allograft
Xenograft
Cellular Skin Substitute
Cellular skin substitute based on amniotic membrane
Other cellular skin substitute
Synthetic Skin Substitute
Application
Chronic Wounds
Venous leg ulcers
Diabetic foot ulcer
Pressure Ulcers
Acute Wounds
Traumatic Wounds
Burn Cases
Other Applications
End User
Hospital
Specialty Clinics
Ambulatory Surgical Centers
Research Laboratory
Region
North America
Latin America
Europe
South Asia
East Asia
Oceania
MEA
How the research was conducted?
Primary Research
C - Level Executives
Marketing Directors
Product Managers
Business Development Officers
Production Managers
Procurement Heads
Sales Executives
Distributors
Traders
Raw Material Suppliers
Industry Experts
End Users
Current Market Dynamics and Challenges
Yesteryear Trends
Market Characteristics
Market Performance and Growth Quadrants
Competition Structure and Market Structure
Strategic Growth Initiatives
Near-term and Long-term Market Growth Prospects
Market Segment Splits and Authenticity
Opinions on Market Projections and Validity of Assumptions
Secondary Research
Industry Publications

Professional Dermatology Organization
The Skin Cancer Foundation
American Skin Association

Factiva
Company Press Releases
Annual Reports and Investor Presentations
Research Papers
Government Websites and Publications
Trade Websites
Primary Interview Splits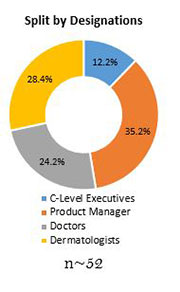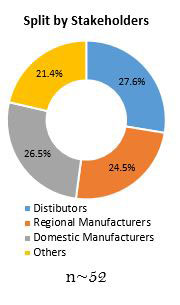 To Learn More About our Comprehensive Perspective on Tissue Engineered Skin Substitute Market,
Get in touch
COVID -19 : Impact Analysis
Request the coronavirus impact analysis across industries and markets
Request Covid -19 Impact
CASE STUDIES
See how our work makes an impact.
At FMI, we design strategies that are adaptive, impactful, and implementable.