An Incisive, In-depth Analysis on the Soft Tissue Repair Market
This study offers a comprehensive, 360 degree analysis on the Soft Tissue Repair market, bringing to fore insights that can help stakeholders identify the opportunities as well as challenges. It tracks the global Soft Tissue Repair market across key regions, and offers in-depth commentary and accurate quantitative insights. The study also includes incisive competitive landscape analysis, and provides key recommendations to market players on winning imperatives and successful strategies.
Soft tissues connect and provide strength & support to organs of body. Soft tissues include synovial membrane, nervous tissue, cartilage, skin, ligaments, tendons, and muscles. The process of soft tissue repair commences from occurrence of injury and moves ahead toward its healing, which is divided into three steps – inflammation, tissue repair, remodeling.
Development of Technologically Advanced & Innovative Products to Drive the Market Growth
There has been a rise in awareness about possibility of skeletally immature patients to be affected from tear in their ligaments and connective tissue. People around the world are also being made aware about commercialization, promotion, and development of advanced plate-rich plasma devices, which can be used for musculoskeletal disorders. In addition, several technological innovations and advancements have been witnessed in the field of orthopedic connective tissue repair. Novel advancements, such as the innovative surgical techniques, have been observed in anterior cruciate ligament (ACL) reconstruction procedures for making them more efficient.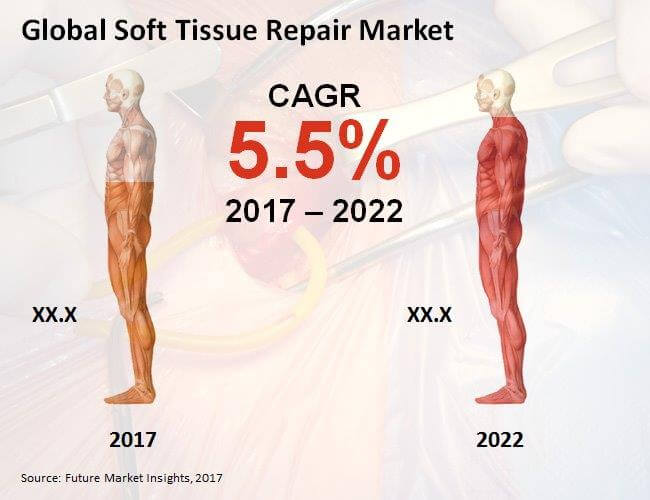 Companies such as NORAKER, and Zimmer Biomet have been making developments in bioabsorbable soft tissue screws. Leading players in the market have also been concentrating on developing mesh with biological product, working as a substitute for a human allograft. For example – EZ Derm, used as dressing for wound therapy, was developed by MoInlycke Health Care, where wire and pins are used in conjunction, or independently, with several other internal fixation devices such as meshes. These devices are used in spine and hip replacement surgeries. The aforementioned factors are expected to have a positive influence on expansion of the global soft tissue repair market.
The most common reasons for muscle damage are sports-related injuries. Athletes often are affected from ACL tear while playing the game, or performing other physical activities. Growing geriatric population also plays an important role in the market growth, as aging results into significant transformations in the neuromuscular, and skeletal systems, further resulting into arthritis, ACL tear, and weak ligaments. Obesity in aging population is discerned to directly increase possibility of degenerative bone disorders, including osteoporosis, and osteoarthritis. These factors will increase demand for soft tissue repair procedures.
However, factors such as high cost of procedures, unfavorable reimbursement policies, and lack of awareness among people in remote regions are expected to hinder growth of the market in the upcoming years. The global market for soft tissue repair is anticipated to register a healthy expansion, according to a recent research report by Future Market Insights (FMI), during the forecast period 2017 to 2022. Revenues from the market are expected to reach nearly US$ 15,500 Mn by 2022-end.
North America will Remain Dominant in the Market
North America is expected to be the dominant region in the global soft tissue repair market, in terms of revenues. This is mainly because of the rise in healthcare expenditure in the region. The market in North America is expected to account for approximately US$ 6,000 Mn revenues by 2022-end.
On the basis of application, breast reconstruction, and dental soft tissue repair are expected to register a parallel expansion at 5.5% CAGR through 2022. Demand for soft tissue repair procedures will remain relatively lower in dural repair application over the forecast period.
Clinics- Fastest Growing End-users in the Market
Clinics are estimated to be the fastest growing end-users in the global soft tissue repair market. Nearly one-fourth share of the market are expected to be accounted by clinics during 2017 to 2022. ASCs are expected to remain the least lucrative end-users of soft tissue repair procedures in the global market.
Allograft is expected to remain sought-after among products in the global soft tissue repair market, with sales projected to surpass US$ 5,000 Mn in revenues by 2022-end. Sales of allograft are expected to register the fastest expansion in the market through 2022.
Company Profiles
FMI's report has listed key players in the global soft tissue repair market, which include Arthrex Inc., Smith & Nephew, Zimmer Biomet Holdings, Inc., Stryker Corporation, DePuy Synthes, Braun Melsungen AG, C. R. Bard, Inc., CONMED Corporation, Medtronic Plc., Integra LifeScience Corporation, and Wright Medical Group N.V.
Future Market Insights (FMI) has recently published a completely researched publication on "Global Soft Tissue Repair Market: Industry analysis (2012-2016) and Opportunity Analysis (2017-2022)" which offers information and updates associated with market opportunities. The report provides insights on developments made in soft tissue repair products and procedures, which are impacting growth of the market.
Report Structure
The report covers performance of the global market for soft tissue repair in terms of revenue contribution of various market segments. It begins with an executive summary of the market that provides a 360-degree view about regional and product segments, followed by a detailed introduction and definition of the market. For equipping clients with decision-making and crystal clear insights, impact analysis of macro-economic factors and key trends are included in the report.
Soft tissue repair procedure entails utilization of biological products such as synthetic mesh, xenografts, and allografts, for aid in tissue healing. Rising incidences of fractures pertaining to osteoporosis among geriatric population will drive demand for soft tissue repair procedures. Medical expenditure associated with obesity have surged significantly, which in turn has resulted into an increased implant volume.
Manufacturers of soft tissue repair products have been focusing on leveraging operations in developed economies, such as Europe and North America, where older population is growing along with high prevalence of age-related disorders. In addition, rise in awareness about benefits of biological meshes among physicians, such as reduced hospital stay after surgery and relatively lower cost of surgery, has been boosting demand for soft tissue repair products.
Market Taxonomy
In one of its chapters, the report provides an in-depth analysis of the market segmentation, which is based on product, application, end-user, and region. The report offers insights on every market segment and its sub-segments in terms of absolute $ opportunity, Y-o-Y growth, market attractive index, market size, and BPS analysis.
| Region | Product | End User | Application |
| --- | --- | --- | --- |
| North America | | | Breast Reconstruction Repair |
| | | | |
| | | | |
| | | | |
| | | | |
| | | | |
| | | | |
| | | | |

A certain chapter of the report highlights key growth trends of the global market for soft repair tissue on the basis of regions. It provides market outlook for the time period between 2017 and 2022, and gives forecast within context of the market. Discussing key regional trends, the report offers analysis on extent of market drivers in influencing the specific regions countries.
This well-crafted report on the global soft tissue repair market includes a separate chapter titled competition landscape and company profiles, which sheds light on every detail related to leading companies operating in the market. A comprehensive analysis provided on these key market players includes a detailed SWOT analysis, growth strategies, market share analysis, mergers & acquisitions, promotion tactics, innovations & developments, and global presence. The information offered in this chapter of the report will help the companies in gaining a competitive edge in the market.
Research Methodology
The initial steps for understanding and seeking a certain direction of the market, on the basis of its definition, have been achieved with the aid of secondary research. This covers a broad scope of the market, and paves a correct direction for the research to proceed, on the basis of which the primary research is done. Several primary interviews have been conducted across every important region, providing an understanding of the current market. In addition, every information, insight, data point, or statement, gathered from primary research is cross-checked at each stage of the research, re-evaluated during the primary interview, guaranteeing the validation of the data included in the report. Overall, the report on the global soft tissue repair market offers necessary value additions, with which the reader can extract crucial insights, and make correct decisions.
COVID -19 : Impact Analysis
Request the coronavirus impact analysis across industries and markets
Request Covid -19 Impact
CASE STUDIES
See how our work makes an impact.
At FMI, we design strategies that are adaptive, impactful, and implementable.