Tissue Paper Converting Machines Market - Key Research Findings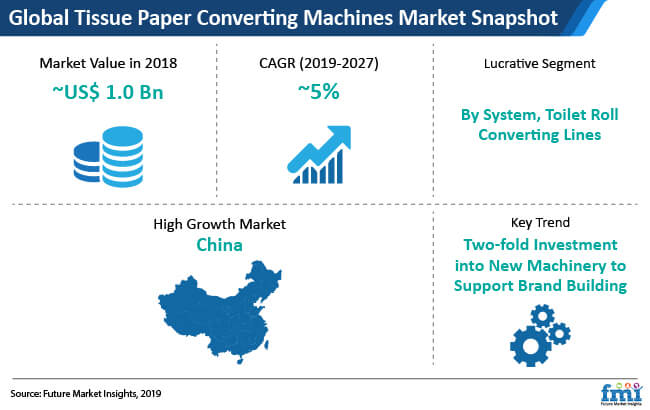 The global tissue paper converting machines market size was ~ US$ 1.0 Bn in 2018.
The tissue paper converting machines market is expected to grow at a CAGR of ~ 5% during the forecast period of 2019-2027
Increasing demand for tissue paper, is fuelling key manufactrurers to increase their production capacity which is surging demand of tissue paper converting machines
In terms of market share, China is the leading country in the global market of tissue paper converting machines during the forecast period

The tissue paper converting machines manufactured by the key players of China are available at an affordable price. These machines are best suitable for start-ups and small and medium scale tissue paper industries as these industries have a low production capacity

As per FMI analysis, toilet roll converting machines are the most preferred over others.

As per recent developments, manufacturers can skip rewinding of logs by using toilet tissue paper converting machines which in effect is increasing demand
Key Factors Shaping the Tissue Paper Converting Machines Market
China and Europe Retain Primacy Banking on Cost-Effectiveness and Innovation
As per FMI report, China will remain at the leading position in the global market of tissue paper converting machines.The European market comes a close second.The key players of China manufacture cost-effective converting machines and China will continue to have a major market share during the forecast period of 2019-27.
In 2018, Yibin Paper Industry Co, a subsidiary of YIBO Group, China, had invested five high speed machineries, having production capacity of 25,000 tonnes per year. These machines are supplied by A.Celli Paper Company.
In 2018, APP China invested 450 Mn Yuan (US$ 63.44 Mn) in tissue paper machines for increasing its production output.
With the increasing consumption of bath and toilet tissue paper, the demand for toilet roll converting machine line is expected to increase many fold in the next five years.
On the other hand, with the continuous innovations in converting machines, Europe market is giving tough competition to the Chinese market.The European key players are focusing on developing new product.
On 8 July 2019, Omet Srl, a leading manufacturing company of tissue paper converting machines in Europe, invested on material innovation with the partner Italian Technology Lab.
On 20 March 2018, Fabio Perini launched MYPERINI in Turkey. The new tissue converting and packaging line provides faster delivery at competitive price.
In 2018, Gambini S.p.A., introduced G4U complete pilot line from unwinders to the log saw.
Comfort and Convenience to Catapult Sales
Tissue paper being very consumer oriented, success depends on manufactureres ability to attract consumers through high product quality at optimum and right price point, or else the target consumers will explore alternatives such as cotton towels. Modern consumers are seeking comfort and convenience in product offerings.
Manufacturers of tissue products are hence investing in expansion and upgradation of production lines that can produce and deliver premium quality tissue paper products such as toilet rolls and kitchen rolls. Jumbo kitchen rolls along with multi-purpose rolls are witnessing a high growth in sales due to premium offerings by established market players.
The race between private label brands of retailers and branded tissue products to offer premium quality products has resulted in increased investments in new technology and new machinery for production of premium quality products.
Thus, the global market for new tissue converting machines is expected to witness continuous capital expenditure in order to respond to technological requirements in the tissue products market.
Increasing Use of Hand Sanitizers and Hand Dryers May Negatively Influence Market Growth
With the growing hospitality sector, the global market of tissue paper is showing rising potential. However, it is observed that few hotels, schools and other commercial places have replaced the use of tissue papers with hand dryers. This has a negative impact on the demand of tissue papers as well as converting machines market. However, as per the research conducted by European Association it is witnessed that the disease spread is more in case of hand dryers compared to tissue papers.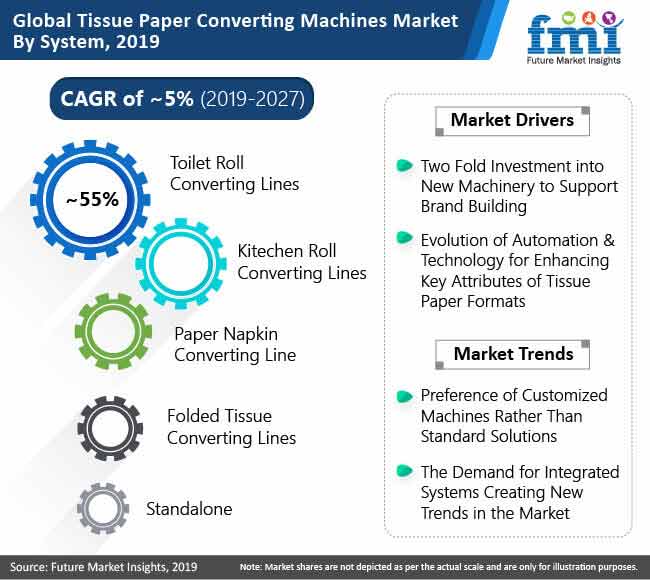 Tissue Paper Converting Machines Market Structure
Leading Players Prioritizing Acquisitions
It has been witnessed that, the consumption of anti-bacterial tissue paper is exponentially growing with the increasing awareness of health diseases and side effects of repeatedly used cotton towels. With changing life styles, consumers are more concerned about the key attributes of the tissue paper such as softness, wet absorption quality and strength.
This has a positive impact on the tissue paper converting machines market and many key players have done two fold investments in product innovation and increasing customer reach through acquisition. For instance,
On 29 July 2019, a China based company BaoSuo Paper Machinery Manufacture Co., Ltd., introduced a YC-PL fully automatic napkin production line which has a production speed of 150 m/min
On 06 August 2019, Fabio Parini S.p.A. acquired a brazil based company Roll Tec Cilindro Ltd for expanding its business
In August 2019, Paper Converting machine company introduced meridian laser anilox cleaner which cleans the roll without adding chemicals
For increasing the production capacity with less time involvement, manufacturers are focusing on integrated converting machines and high production capacity machines. As per FMI analysis, the preference for kitchen roll converting machine line and toilet roll converting line is increasing rapidly. These converting lines are expected to dominate standalone machine lines in next five years.
Key Segments
By System
Toilet Roll Converting Lines
Kitchen Roll Converting Lines
Folded Tissue Converting Lines
Standalone
By Operation
By Region
North America
South America
Europe
Asia Pacific (Excluding China and Japan)
Middle East and Africa
China
Japan
Need specific information?
Talk Show:
The Rise of Intelligent Packaging
Personalized, Connected and Sustainable
November 18, 2021
11:00-11:45 AM PST (USA & Canada)
This is a LIVE session