Market Overview
Tray Packing Machine Market – Overview:
Tray packing machine is a fully automatic machine which is designed for in-line operation. The primary function of tray packing machine is to collate the product into desired format, and load it onto preformed cardboard tray, then eject it into the infeed of tray shrink wrapper. Tray packing machines are used in various industries such as food & beverages, consumer goods, pharmaceuticals, industrial goods, and the manufacturing industry. Need of optimization and increase productivity by utilizing automated tray packing machines is one of the ongoing trends observed in various industries. Tray packing machines make efficient use of material & energy and minimize the production of waste. Tray packing machines are used for high capacity applications. The tray packing machine is suitable for medium to large commercial production environments due to its extra wide seal area which accommodates up to four rows of large size trays. The tray packing machine has different cycle times for different task such as up to 7 cycles/min for vacuum bags, 8.5 cycles/min for gas flush mode, and 10 cycles/min for seal only mode. Tray packing machines are easy and cost effective to maintain. Tray packing machine is formed by a fully mechanical tray forming section and a new infeed formation section. The tray packing machine consists of step motor driven shafts which govern the various operation sequences and up until the actual positioning of the products bundle on the carton blank.

The standard operating procedure for tray packing machine includes automatic tray forming where multiple depth trays are formed with the help of glue and tucks. Tray is loaded on a conveyer and then products are placed inside it. After that wedge is formed and it is dispensed. The packed products are secured by the wedge. After wedge placement, lids and closures are placed over the tray and final packaged product is obtained.
The global tray packaging machine market is expected to draw growth due to numerous multinational and domestic organization. These organization are operating in different industries around the world that adopt tray packing machine as a part of their business strategies. Tray packing machine is a cost effective and feasible packaging solution. Manufacturers of tray packing machine offers various advance features which includes product presence and positioning by means of camera, leaflet insertion, inkjet printing & data verification, rejection of tray at discharge, and closing with glue or tucking.
Tray packing machine is widely used in food & beverages industry. Tray packing machine is an ideal solution for take away food and drinks.
Tray Packing Machine Market – Regional Outlook:
On the basis of geography, global tray packing machine market region is segmented into North America, Latin America, Asia-Pacific excluding Japan (APEJ), Eastern Europe, Western Europe, Middle East & Africa (MEA), and Japan. Among these regions, North America is presently leading the global tray packing machine market due to a large population which prefers ready-to-eat packaged food. Along with North America, Asia Pacific tray packing machine market is projected to grow at a significant rate during the forecast period due to major investments in the food & beverage sector. The demand for tray packing machines is also anticipated to register high growth in global manufacturing hubs such as Europe and Latin America region.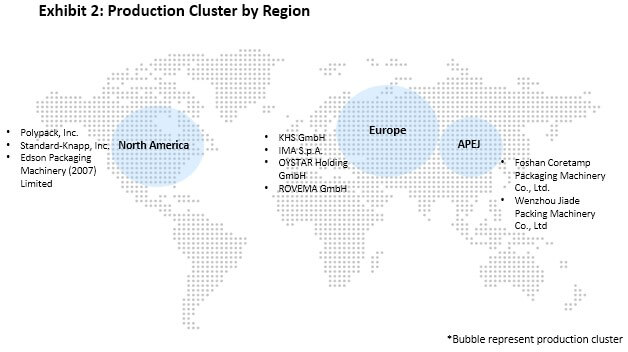 Tray Packing Machine Market – Key Players:
Some of the key players operating in the global tray packing machine market are segmented into three tiers as tier 1, tier 2, and tier 3.
Tier 1: KHS GmbH and IMA S.p.A.
Tier 2: OYSTAR Holding GmbH, ROVEMA GmbH, SMI S.p.A., CAMA Group.
Tier 3: Ossid, LLC, ARPAC LLC, BVM Brunner GmbH & Co KGCurti Costruzioni Meccaniche SpA, , Meypack Verpackungssystemtechnik GmbH, Polypack, Inc., Standard-Knapp, Inc., Edson Packaging Machinery (2007) Limited, and Brenton, LLC.
Some of the major Chinese key players operating in global tray packing machine market are Foshan Coretamp Packaging Machinery Co., Ltd., Guangzhou Mingyue Packaging Machine Co., Ltd., Wenzhou Jiade Packing Machinery Co., Ltd., Longkou Zhuyou Fulong Machinery Component, Hangzhou Yibao Machinery, and Wenzhou Anbo Machinery Co., Ltd.
Tray Packing Machine Market – Key Developments:
The global tray packing machine market is characterized by several new design level trends. Therefore, the competition is in terms of packaging optimization
For instance, the Hot Water Tunnel 500 HWT by Ossid, LLC provides hot water shrink to maximize package integrity.
The Leak Resistant Overwrapper 500E by the same company reduces the use of films by 36 – 41%, as compared to standard equipment.
The research report presents a comprehensive assessment of the market and contains thoughtful insights, facts, historical data, and statistically supported and industry-validated market data. It also contains projections using a suitable set of assumptions and methodologies. The research report provides analysis and information according to market segments such as geographies, application, and industry.
The report covers exhaust analysis on:
Market Segments
Market Dynamics
Market Size
Supply & Demand
Current Trends/Issues/Challenges
Competition & Companies involved
Technology
Value Chain
Regional analysis includes:
North America (U.S., Canada)
Latin America (Mexico. Brazil)
Western Europe (Germany, Italy, France, U.K, Spain)
Eastern Europe (Poland, Russia)
Asia Pacific (China, India, ASEAN, Australia & New Zealand)
Japan
Middle East and Africa (GCC Countries, S. Africa, Northern Africa)
The report is a compilation of first-hand information, qualitative and quantitative assessment by industry analysts, inputs from industry experts and industry participants across the value chain. The report provides in-depth analysis of parent market trends, macro-economic indicators and governing factors along with market attractiveness as per segments. The report also maps the qualitative impact of various market factors on market segments and geographies.
Tray Packing Machine Market – Segmentation:
The global tray packing machine market is segmented on the basis of product type, and by application type. The pricing analysis of the tray packing machine market can be done on the basis of product type segment.
On the basis of Modularity, FTIR gas analysers market is segmented into:
On the basis of product type, the global tray packing market is segmented as follows:
Food & Beverages
Pharmaceutical
Chemical and Fertilizers
Automotive
Consumer Packaged goods
Textile
Others
Report Highlights:
Detailed overview of parent market
Changing market dynamics in the industry
In-depth market segmentation
Historical, current, and projected market size in terms of volume and value
Recent industry trends and developments
Competitive landscape
Strategies of key players and products offered
Potential and niche segments, geographical regions exhibiting promising growth
A neutral perspective on market performance
Must-have information for market players to sustain and enhance their market footprint
Need specific information?