This Twisted Handle Bags market study offers a comprehensive analysis of the business models, key strategies, and respective market shares of some of the most prominent players in this landscape. Along with an in-depth commentary on the key influencing factors, market statistics in terms of revenues, segment-wise data, region-wise data, and country-wise data are offered in the full study. This study is one of the most comprehensive documentation that captures all the facets of the evolving Twisted Handle Bags market.
Twisted Handle Bags – Market Outlook
Twisted handle bags are made of kraft paper, which can be brown kraft or white kraft. The twisted handle attached with the bag diffrentiates these bags from rest of the paper bags. Twisted handle is attached by using glue. Twisted handle bags are widely used in retail sector for shopping and promotional activities. These bags are also used by consumers to carry meals and carry food parcels from restaurents. Meals-to-go bag, restaurant carryout bags, shopping bags and wine and spirit bags are the major types of twisted handle bags used in the market. Meals-to-go bags are used to carry ready meals by consumers, where meals can be consumed on-the-go. Changing consumer lifestyle in emerging economies is pushing the demand for these bags. Growing number of restaurent chains and food service outlets is driving the demand for restaurent carryout bags, which are very convinient to carry the food and consume on-the-go.
Twisted handle bags market has many major manufacturers, which are constantly striving to launch innovative and efficient twisted handle bags for end use industries such as food & beverages and retail. Shopping bags are the fastest growing and dominating bags among all the twisted handle bag types by application. According a report published by Deloitte, global retail sales of packaged foods is going to reach approximately US$ 3.0 trillion, by 2020. The major driver for the growth in packaged food retail sales is growth in emerging markets. The U.S. is maintatining is steady economic growth, which is around 2.5% - 2.9%, between 2017 – 2018. Rising income levels, low inflation rates and declining unemployement rates is helping the U.S. economy to maintain the steady growth. On the other hand emerging markets are the bulls of world economy, retail majors like Nestle, P&G, Pepsico, Uniliver, Loreal are very bullish on emerging economies FMCG growth. With this background, twisted handle bags which are majorely used by retail industry is anticipated to expand at a lucrative CAGR over forecast period. Paper bags market is highly correlated with the twisted handle bags market. The below figure provides the overview of global paper bags market, by geographical region and end-use industry.
Market Growth Analysis
Disclaimer: This data is only a representation. Actual data may vary and will be available in the report.
COVID -19 : Impact Analysis
Request the coronavirus impact analysis across industries and markets
Request Covid -19 Impact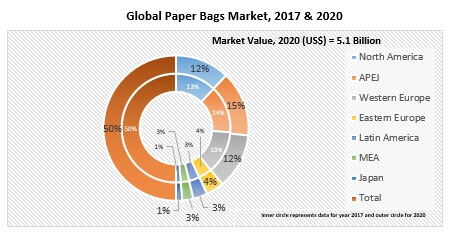 The main drivers influencing the demand for twisted handle bags are strong retail sector outlook in developed regions, increasing preference for paper bags as replacement for plastic counterparts and growing penetration of retail outlets in emerging economies. The major trends driving the market include rapid penetration of ecommerce leading to high demand for alternative corrugated packaging solutions, and rising demand for environmental friendly packaging products.
Global Twisted Handle Bags Market: Research Methodology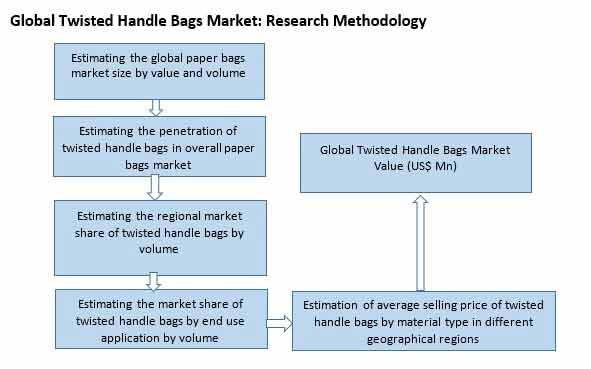 The above figure shows comprehensive research methodology to estimate the market size of global twisted handle bags market. The methodology follows a sequential process of estimating the global paper bags market. Estimating the penetration of twisted handle bags in overall global paper market. Estimation of twisted handle paper bags market share by geographical region and end use application. Estimating the regionwise weighted average selling price by material type.
Global Twisted Handle Bags market: Key Players
Some of the key players operating in the global twisted handle bags market are – The Mondi Group plc., Smurfit Kappa Group, International Paper Company, Novolex Holdings, Inc., Ronpak, Welton Bibby and Baron Limited, JohnPac Inc., El Dorado Packaging, Inc., Langston Companies, Inc., United Bags, Inc., Genpak Flexible, Paperbags Limited, Global-Pak, Inc., York Paper Company Limited, FORM BAGS S.p.A., IntaBag Limited, JinDian Packaging, May Sun Jieh Enterprise Co., Ltd., PapeR FactorY (Bangalore, India), Qingdao SunnyMay Packaging &.Trading Co.,Ltd., American Paper Bag (U.S.) and others.
Key Developments:
May 2018, British paper company Mondi to acquire Finnish corrugated case materials maker Powerflute
May 2018, Mondi group Plc, to expand its Stambolijski mill in Bulgaria.
May 2018, WestRock Co. plans an investment in its manufacturing operation in Lanett that will surge the facility's competitiveness and position in the region
May 2018, WestRock Co. buys major Kentucky MRF, which is a recycling facility and handle approximately 9,000 tons per month of material.
The research report presents a comprehensive assessment of the market and contains thoughtful insights, facts, historical data, and statistically supported and industry-validated market data. It also contains projections using a suitable set of assumptions and methodologies. The research report provides analysis and information according to market segments such as geographies, application, and industry.
The report covers exhaust analysis on:
Market Segments
Market Dynamics
Market Size
Supply & Demand
Current Trends/Issues/Challenges
Competition & Companies involved
Technology
Value Chain
Regional analysis includes:
North America (U.S., Canada)
Latin America (Mexico. Brazil)
Western Europe (Germany, Italy, France, U.K, Spain)
Eastern Europe (Poland, Russia)
Asia Pacific (China, India, ASEAN, Australia & New Zealand)
Japan
Middle East and Africa (GCC Countries, S. Africa, Northern Africa)
The report is a compilation of first-hand information, qualitative and quantitative assessment by industry analysts, inputs from industry experts and industry participants across the value chain. The report provides in-depth analysis of parent market trends, macro-economic indicators and governing factors along with market attractiveness as per segments. The report also maps the qualitative impact of various market factors on market segments and geographies.
Unique Requirements? Customize this Report
Customize by Region, Country, Application, Product, & other segments
Integrate our Insights with your Existing Data
Determine the scope of the study to suit your requirements
Gain Insights on Key Twisted Handle Bags Market Impacting Forces
Know the Winning Strategies of Market Leaders
Get Deep-Dive Analysis on Each Segment
Identify the Sources that will Drive Top-Line Revenue
Global Twisted Handle Bags market: Segmentation
The global twisted handle bags market has been segmented as follows –
On the basis of thickness, the global twisted handle bags market has been segmented as –
On the basis of Material Type, the global twisted handle bags market has been segmented as –
On the basis of end use application, the global twisted handle bags market has been segmented as –
Meals-to-Go Bag
Restaurant Carryout Bags
Shopping Bags
Wine and Spirit Bags
Others
On the basis of geography, the global Twisted Handle Bags market has been divided into seven key regions –
North America
Asia Pacific excluding Japan
Western Europe
Eastern Europe
Latin America
Middle East & Africa
Japan
Report Highlights:
Detailed overview of parent market
Changing market dynamics in the industry
In-depth market segmentation
Historical, current, and projected market size in terms of volume and value
Recent industry trends and developments
Competitive landscape
Strategies of key players and products offered
Potential and niche segments, geographical regions exhibiting promising growth
A neutral perspective on market performance
Must-have information for market players to sustain and enhance their market footprint
Frequently Asked Questions
---
Why choose FMI?
With a global presence and a trusted partner to several Fortune 500 firms, FMI covers 1 billion+ data points to build a diversified portfolio for market benchmarking
Market Reports researched and peer reviewed by industry experts from across the globe
We follow a multi-dimensional method of analysis monitoring a three-layer data validation process
In addition to demand-side market assessment, our data triangulation methodology involves supply-side research
Primary research includes mandatory field interviews with stakeholders involved
Customizing reports according to client specification is also our forte
What will you discover from Twisted Handle Bags Market report?
The current and future market size, covering each aspect and nuanced trends across key national and geographic markets
An overview of the market report, providing an imperative visual of the varied market subdivisions and overall forecast statistics in terms of value and volume
Extensive database and key dynamics elevating the market with varied verticals associated
Underlying Twisted Handle Bags Market forces that are compelling consumers or businesses to purchase the product
How novel technologies and consumer-centric innovations will create new value-adding opportunities for companies active in the Twisted Handle Bags Market
What will be environment and regulatory impacts on the market over the next decade
Which framework has been used to develop the Twisted Handle Bags Market report?
Investment Feasibility Matrix - It shows returns on investment, level of competition, success rate of investment, and potential risks associated with the market. The analysis shows that the competition is high in the established market, while the returns for short-term investment are also taken into consideration
Relative Maturity Mapping – The relative maturity is measured according to three growth phases (growth, maturity, decline)
Relative PLC (Product Life Cycle) – Analysis of the emergence of prominent players and competitive test prices which are driving factors behind every market. (expected market behavior, observed market behavior, expected market performance, observed market performance)
Harish Tiwari
Global Head - Business Development
Akshay Godge
Client Partner - Global Business Development