An Incisive, In-depth Analysis on the Vascular Closure Devices Market
This study offers a comprehensive, 360 degree analysis on the Vascular Closure Devices market, bringing to fore insights that can help stakeholders identify the opportunities as well as challenges. It tracks the global Vascular Closure Devices market across key regions, and offers in-depth commentary and accurate quantitative insights. The study also includes incisive competitive landscape analysis, and provides key recommendations to market players on winning imperatives and successful strategies.
Since their inception, minimally-invasive interventional devices such as vascular closure devices (VCDs) have revolutionised the world of modern medicine. In the highly-competitive economic landscapes of healthcare marketplaces, VCDs have emerged as valuable commodities which can empower medical personnel and simultaneously improve patient comfort. Future Market Insights has developed an exclusive forecast report on the global vascular closure device market, key findings from which reveal that the market will reach US$ 963 million value towards the end of 2022. Among several causative factors, advancements in catheter-based cardiovascular treatments, in particular, will strongly influence the dynamics of global vascular closure device market during the forecast period, 2017-2022.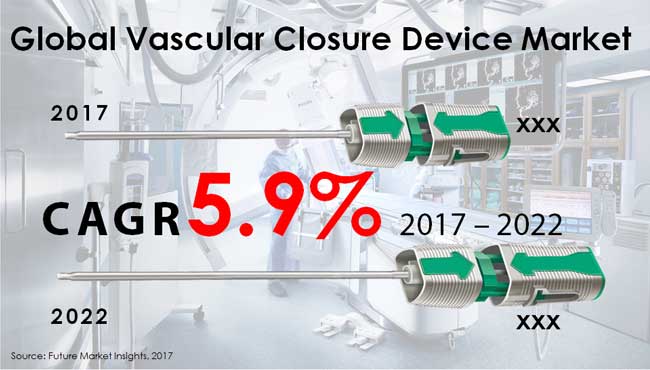 Surging Adoption of Clip-based VCDs
Over the past years, randomised controlled trails have had a determinative impact on vascular closure devices with respect to their use in clinical practice. VCDs designed with active approximators have been in use for their systematic working mechanism wherein the arteriotomy is physically closed by using sutures or nitinol clips. These clip-based VCDs are becoming sought-after across cardiovascular treatments considering that the metallic nitinol clips can remain positioned indefinitely, and also restrict MRI scans from evaluating the unnecessary structures which are immediately adjacent to the arteriotomy.
The report anticipates that during the forecast period, the global demand for clip VCDs will surge robustly, and register a CAGR of 6%. The demand for plug-based VCDs will also gain similar traction, while haemostasis pads will be observed as the largest-selling product in the global vascular closure device market through 2022. Compression devices are also expected to gain traction in the global vascular closure device market, and will procure around one-fourth share of global revenues by the end of 2017. Suture-based VCDs, on the other hand, will witness slowest market penetration, and close to US$ 80 million of these products will be sold in the global market by 2022-end.
Steady Uptake for VCDs in Independent Catheterisation Labs
Radial catheterisation has been predominant in some parts, mostly Europe, but its adoption in interventional cardiac treatments across the US remains uncommon. Even in other developed healthcare marketplaces, the demand for VCDs in independent catheterisation labs is observed to be steady instead of surging. The report anticipates that hospitals will be the largest end-users of vascular closure devices in 2017, procuring a global revenue share of over 60%. Early ambulation is also a highly-monitored metric for gauging the effectiveness of VCDs in cardiovascular treatments. By the end of 2022, vascular closure devices worth over US$ 200 million are anticipated to be sold across ambulatory surgical centres in the world.
Ongoing Innovation in VCD Manufacturing
Manufacturers of vascular closure devices are focusing on expediting the technological innovations and improving the quality of life for patients being treated with these devices. Abbott Laboratories, Cardinal Health, Inc., Terumo Corporation, Medtronic plc, Arstasis, Inc., Cardiva Medical, Inc., Chitogen, Inc., Essential Medical, Inc., Marine Polymer Technologies, Inc., Morris Innovative, Inc., Scion Cardio-Vascular, Inc., Tricol Biomedical, Inc., TZ Medical, Inc., and Vascular Closure Systems, Inc. are profiled in the report as key players in the global market. These companies are anticipated to remain active in the expansion of global vascular closure devices market through 2022.
In order to enhance the performance of VCDs, these manufacturers are proactively upgrading their product lines. However, rising incidence of unusual infectious complicates associated with the use of VCDs have become a key concern. Prolonged hospitalisation, antibiotic administration, and increased morbidity risks are some of the significant drawbacks existing in vascular closure devices being manufactured today. In the near future, many of these companies are likely to focus on providing improvised solutions towards lowering the extent of these implications.
Vascular Closure Device Market: Global Industry Analysis (2012-2016) and Opportunity Assessment (2017-2022) – is an exclusive report developed by Future Market Insights, presenting a comprehensive analysis & forecast on global vascular closure device market for the assessment period, 2017-2022. By conducting first-hand interviews, analysts at Future Market Insights have profiled the companies which are actively participating in the global vascular closure device market. For ascertaining the size of the overall vascular closure device market, the report has aggregated the revenues procured by key market participants over the period of past five years. This historical data has been repurposed to derive market size forecasts, wherein regional trends and macroeconomic factors have also been considered. The report is designed to appease the concerns of key stakeholders in the global vascular closure device market by providing them with necessary inputs on how vascular closure devices will attain a robust and unwavering locus in the changing landscapes of healthcare marketplaces.
Report Synopsis
The report commences with an executive summary that highlights the expansion of vascular closure device market across multiple regions. The executive summary also delivers the global market size estimations throughout the forecast period. More insightful evaluations are compiled in the overview section, which also provides a formal introduction to the vascular closure device market, and offers a standard definition on - vascular closure device.
In the overview, the report also presents a conclusive impact analysis of several causative factors influencing the dynamics of the market. This section also provides analysis on supply chain, cost structure, epidemiology and pricing. The report also provides an intensity map, plotting the presence of companies throughout the global geographies. Metrics such as Year-on-Year (Y-o-Y) growth rates, absolute dollar opportunities, Basis Point Share (BPS) index, and compounded annual growth rates (CAGRs) have been used to interpret the market size estimations.
The report includes key sections offering segmented analysis of the global vascular closure device market. The report has categorised the global market for vascular closure device on the basis of product-type, end-user, and region. These distinctive sections also deliver additional information through country-wise analysis & forecast, and cross-segmental market evaluations. The report concludes with a detailed profiling of key participants. The section clearly showcases the competitive landscape of vascular closure device market, wherein key developments of companies are traced and their current market standings are disclosed. Mergers & acquisitions and strategic undertakings of market players have also been analysed in this section.
Market Taxonomy
The taxonomy of global vascular closure device market has been concisely illustrated in the table below:
| Region | Product Type | End User |
| --- | --- | --- |
| | | |
| | | Ambulatory Surgical Centres |
| | | Independent Catheterisation Labs |
| | | |
| | | |
| | | |
Research Methodology
For delivering accurate forecasts, analysts at Future Market Insights have employed a steadfast research methodology wherein key market participants have been extensively profiled, and findings from preliminary research have been validated. All the qualitative and quantitative aspects of the global vascular closure device market have been addressed before providing inferences in the report. Through data collection, validation and analysis, market size estimations delivered in the report exhibit the key presumptive scenarios encompassing the future of vascular closure devices. For a broader understanding, the evaluations offered have been universalised into US dollars (US$) by considering the latest currency exchange rates. An in-depth secondary research leverages the report's cogency, making it a reliable tool for industry leaders and market participants to assess future market direction. The scope of the report is to enable players in the global vascular closure device market plan their next steps towards long-term business growth and extending their market presence in the next five years.
COVID -19 : Impact Analysis
Request the coronavirus impact analysis across industries and markets
Request Covid -19 Impact
CASE STUDIES
See how our work makes an impact.
At FMI, we design strategies that are adaptive, impactful, and implementable.