Introduction
Since their inception, minimally-invasive interventional devices such as vascular closure devices (VCDs) have revolutionised the world of modern medicine. In the highly-competitive economic landscapes of healthcare marketplaces, VCDs have emerged as valuable commodities which can empower medical personnel and simultaneously improve patient comfort.
Future Market Insights has developed an exclusive forecast report on the global vascular closure device market, key findings from which reveal that the market will reach US$ 963 million value towards the end of 2022. Among several causative factors, advancements in catheter-based cardiovascular treatments, in particular, will strongly influence the dynamics of global vascular closure device market during the forecast period, 2017-2022.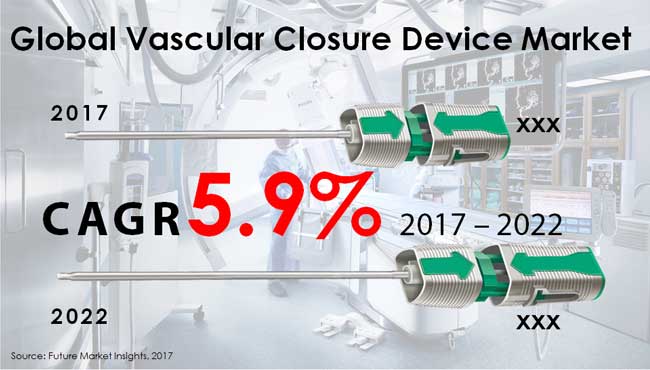 Surging Adoption of Clip-based VCDs
Over the past years, randomised controlled trails have had a determinative impact on vascular closure devices with respect to their use in clinical practice. VCDs designed with active approximators have been in use for their systematic working mechanism wherein the arteriotomy is physically closed by using sutures or nitinol clips.
These clip-based VCDs are becoming sought-after across cardiovascular treatments considering that the metallic nitinol clips can remain positioned indefinitely, and also restrict MRI scans from evaluating the unnecessary structures which are immediately adjacent to the arteriotomy.
The report anticipates that during the forecast period, the global demand for clip VCDs will surge robustly, and register a CAGR of 6%. The demand for plug-based VCDs will also gain similar traction, while haemostasis pads will be observed as the largest-selling product in the global vascular closure device market through 2022.
Compression devices are also expected to gain traction in the global vascular closure device market, and will procure around one-fourth share of global revenues by the end of 2017. Suture-based VCDs, on the other hand, will witness slowest market penetration, and close to US$ 80 million of these products will be sold in the global market by 2022-end.
Steady Uptake for VCDs in Independent Catheterisation Labs
Radial catheterisation has been predominant in some parts, mostly Europe, but its adoption in interventional cardiac treatments across the US remains uncommon. Even in other developed healthcare marketplaces, the demand for VCDs in independent catheterisation labs is observed to be steady instead of surging.
The report anticipates that hospitals will be the largest end-users of vascular closure devices in 2017, procuring a global revenue share of over 60%. Early ambulation is also a highly-monitored metric for gauging the effectiveness of VCDs in cardiovascular treatments.
By the end of 2022, vascular closure devices worth over US$ 200 million are anticipated to be sold across ambulatory surgical centres in the world.
Ongoing Innovation in VCD Manufacturing
Manufacturers of vascular closure devices are focusing on expediting the technological innovations and improving the quality of life for patients being treated with these devices. Abbott Laboratories, Cardinal Health, Inc., Terumo Corporation, Medtronic plc, Arstasis, Inc., Cardiva Medical, Inc., Chitogen, Inc., Essential Medical, Inc., Marine Polymer Technologies, Inc., Morris Innovative, Inc., Scion Cardio-Vascular, Inc., Tricol Biomedical, Inc., TZ Medical, Inc., and Vascular Closure Systems, Inc. are profiled in the report as key players in the global market. These companies are anticipated to remain active in the expansion of global vascular closure devices market through 2022.
In order to enhance the performance of VCDs, these manufacturers are proactively upgrading their product lines. However, rising incidence of unusual infectious complicates associated with the use of VCDs have become a key concern.
Prolonged hospitalisation, antibiotic administration, and increased morbidity risks are some of the significant drawbacks existing in vascular closure devices being manufactured today. In the near future, many of these companies are likely to focus on providing improvised solutions towards lowering the extent of these implications.
Market Taxonomy
The taxonomy of global vascular closure device market has been concisely illustrated in the table below:
Region
North America
Latin America
Europe
Japan
APEJ
MEA
Product Type
Haemostasis Pads
Compression Devices
Clip
Plug
Suture
Others
End User
Hospitals
Ambulatory Surgical Centres
Independent Catheterisation Labs
Need specific information?
Talk Show:
The Rise of Intelligent Packaging
Personalized, Connected and Sustainable
November 18, 2021
11:00-11:45 AM PST (USA & Canada)
This is a LIVE session