About the Report
The global video on demand (VOD) service market is expected to reach a valuation of US$ 183.93 Bn by 2031. The increasing demand for the VoD services has led to a growing pool of viewers with preference for customized content as per their liking. Recent technological advancements and increased network speed allow video on demand service providers to offer high-definition content at a higher streaming rate. These factors are expected to drive the video on demand (VOD) services in the coming future.
In its latest edition of the study, ESOMAR-certified market research and consulting firm Future Market Insights (FMI) offers insights about key factors fuelling the demand for video on demand services. The report tracks the overall registered in 20+ high-growth markets, along with analyzing the impact COVID-19 has had on the VOD services market.
How the Historical & Future Projections for Video On Demand Service Market Match Up?
Between 2016 and 2020, global video on demand (VOD) services market has registered a CAGR of 8.5%. Increasing penetration of high speed internet network in emerging nations has fueled the demand for video on demand services.
Increasing viewership of live streaming programs has been paving way for expansion. Live streaming defines a live video streaming network that allows users to view, like, and share live events. Studies have found that audiences are likelier to be more interested in viewing live streaming than static content, which makes live streaming a powerful way to offer immersive content.
Changing consumer preferences has resulted in high demand for digital media devices combined with a faster internet, which allows customers to remotely access media content. Video streaming offers several advantages than traditional entertainment media such as satellite television (TV). These include access to ad-free content, mobile browsing, monitoring analytics, ample use of content, enormous audience capacity, and high-quality streams.
The entertainment and telecommunications industries are investing in research and development (R&D) activities to provide better VoD services, which has been resulting in increasing subscriber for VOD platform.
Owing to these factors, the demand for video on demand (VOD) services is likely to increase. FMI has forecast the market to expand at a CAGR exceeding 8.5% throughout the 2021-2031 assessment period.
How no Availability of Internet will Impact Market Adoption Rate?
Disruption in the internet connection during the time when user avails VoD services remains a key disadvantage. Besides this, data limit and expensive network services could restrict widespread adoption of streaming services. To overcome this challenge, some of the providers have been offering offline availability of content.
Offline availability of content enables users to save content for viewing at a later point in time, without need to use the Internet again. A few VoD service providers such as Vimeo LLC, ShowMax Amazon Video (Amazon VoD), and YouTube have initiated offering both features, i.e., streaming and saving content offline. This also enables user to save the file using copy protection in order to view the content multiple times later.
How are VOD Services Gaining from Emergence of Cloud Based Solutions?
The streaming technology enables users to access live content, video hosting, and live playlist. Cloud-based streaming enables users to access audio or video files from the cloud. It has a huge influence on the entertainment sector as it produces TV shows, news, sports, and speeches on a busy schedule.
Since consumers are choosing over-the-to (OTT) services for their entertainment, VOD services providers will have more reasons to rejoice. In addition to this, rise in monumental live events and improvements in streaming technologies are expected to provide growth opportunity to the market.
How Has COVID-19 Affected Video on Demand Services Market?
Health concerns are increasing around the world and causing significant business impact due to the on-going COVID-19 pandemic particularly when it comes to organizing events. COVID-19 has made government and consumers understand the importance and applicability of advanced networking such as advanced telemedicine, remote work, and education via augmented and virtual reality.
The 5G trend, increased mobile penetration, and enhanced high-speed broadband internet access via fixed wireless access (FWA) have helped people enjoy entertainment on video-on-demand services. This provided them some relief as they went into extended period of social isolation amid the fear of pandemic.
These factors result in the success of the OTT video. These streaming platforms accessible from any device, be it smartphone, tablet, or personal computers and users can view as per their interests. The demand for video streaming services has increased the numbers of viewers in watching content on the OTT platforms.
This latest services have brought significant change in the entertainment environment. Viewers have been found to spend an average of 6.8 hours a week watching OTT content, with the U.S. toping the national average at 8.55 hours. In Western Europe the number of OTT subscribers has significantly increased in comparison to 2019.
During lockdown, around 45 million new subscriber joined to OTT platform in Western Europe. In India, Netflix and Amazon Prime have recorded a 67% and 65% rise in subscriptions, respectively. For instance, it has been observed that 65% of customers watch content on their TV. However, the use of smart TV usage get doubled.
What is the Competitive Scenario in Video on Demand (VOD) Services Vendors?
The video on demand (VOD) services market is highly concentrated as its maximum share is held by a few leading video on demand (VOD) services providers. The companies that hold market share of 70 % includes players such as Netflix, Inc., Amazon.com,Inc., Hulu,LLC.
The companies with market share of above 10% are the promising players. These companies are likely to showcase a quick growth trend and harness the opportunities that the global market has to offer to accommodate business expansion and revenue generation. This group includes Disney plus, HBO, Apple, Dish Networks, among others.
Companies that have a relatively lower size with a market share worth less than 3% are strategizing to attract new clientele in foreign markets. The companies in this group are Tubi, Crackle, Vudu, Britbox, and among others.
Country-wise Analysis
What is the U.S. Adoption Trend for VOD Services?
Key factor fuelling the demand for video on demand (VOD) services in the U.S. is the proliferation of streaming video services offering diverse content. The market has witnessed introduction of a few third-party mobile applications providing innovative VoD features. Some popular mobile apps offering these services include: Meerkat (Life On Air, Inc.) – Enables users to broadcast live video streams via an iPhone through their Twitter account. Pikdip (Pikdip Inc.) – Subscription service offers a library of diverse ethnic entertainment. This was in line with increasing demand for greater diversity in the media content from consumers.
One of the major factors encouraging animation content creation is presence of the Fox Broadcasting Company, one of the largest creators of animation content for prime time television. Typical examples include series such as The Simpsons and Family Guy. Additionally, presence of animation content providers such as Nickelodeon (Viacom Media Network's division of Viacom), The Walt Disney Company and Cartoon Network (Time Warner Company) has fuelled popularity for animated cartoons, series and movies in the recent past
The U.S. is set to register above 9% CAGR over the course of the forecast period. FMI has projected it to remain one of the most lucrative markets in North America throughout the course of the forecast period, owing to continuous developments in animation content creation.
For instance, the U.S. is home to headquarter of Fox Broadcasting Company, one of the largest creators of animation content for prime time television. Typical examples include series such as The Simpsons and Family Guy. Additionally, presence of animation content providers such as Nickelodeon (Viacom Media Network's division of Viacom), The Walt Disney Company and Cartoon Network (Time Warner Company) has fuelled popularity for animated cartoons, series and movies in the recent past
What are Key U.K. Video on Demand Services Trends?
Europe has been registering increasing consumer interest towards adoption of streaming media services. This is exemplified by declining sales of leading chains (from 2012 to 2015) such as the HMV Group (U.K.), Virgin Megastores (France) and Blockbuster rental stores (Blockbuster LLC) in several European countries. Even though, the e-Commerce market has gained traction in the recent past, online sales of DVDs and BDs failed to compensate this revenue loss. This clearly signifies preference of customer towards online streaming and VoD services.
Moreover, revenues of online content providers such as Amazon Video, Netflix, RedBox (Redbox Automated Retail, LLC) and YouTube (YouTube, LLC) have shown consistent growth since 2014, further substantiating the inclination of consumers towards VoD services. Entrance of leading OTT players such as Netflix and wuaki.tv (in 2014) in the European VoD markets have accelerated the adoption of the VoD services
Additionally, to sustain in this changing market scenario, traditional cable TV providers including Sky UK Limited, Sky Deutschland AG and Canal+ (which are now part of UK's Sky plc.) launched their standalone offers (Now TV, Sky Snap, Canal Play respectively), which are now part of Sky plc.
China Leading Video on Demand Service Development Trends
China is estimated to record an incremental opportunity worth US$ 10.58 Bn during the forecast period. Video streaming is totally dependent on bandwidth of internet network. Availability of low bandwidth worsen users experience due to the interruption in streaming video. Additionally, decrease in the download speed, high time consumption for streaming video are some of the issues faced by user due to low bandwidth.
Most countries in Southeast Asia have an average connection speed of less than 10 Mbps; India (2.5 Mbps), Philippines (2.8 Mbps), Indonesia (3 Mbps) and China (3.7 Mbps). Only some countries in the region have average speeds exceeding 10Mbps. These include Singapore (12.9 Mbps) Japan (15 Mbps) and South Korea (20.5 Mbps).
Due to lack of high speed Internet connection, the only way to access VoD service is via cable or satellite TV platforms. Some VoD providers in the region include Astro On the Go (Measat Broadcast Network Systems Sdn Bhd, Malaysia), Sky on Demand (SKY Network Television Limited, Philippines) and HomeCable On Demand (First Media, Indonesia).
Some of the key challenges faced by regional VoD service providers face include old content and issues related to localized content, creating subtitles or making necessary amendments to content in order to adhere to media censorship board regulations of the respective country.
What are the Opportunities for VOD Service Providers in India?
India is one of the fastest growing markets for smartphones, which is a clear indication of attractive prospects India has for video on demand service providers. The explosive growth of smartphone sales has provided the country's increasing population access to diverse services through the internet.
Video on demand services however eluded the country until rising smartphone sales provided entry to one of the most attractive markets in South Asia.
According to the India Brand Equity Foundation (IBEF), the OTT market in India is heating up, thanks to stronger internet connection and several global and celebrated regional service providers. IBEF further estimated that the OTT sector in India reported a remarkable 30% rise in the number of paid subscribers between March and July 2020.
With the demand expected to surge further, the VOD services providers will enjoy lucrative prospects in India.
Category-wise Insights
How are Smart TVs Affecting Demand for Video on Demand (VOD) Service?
The growing demand for ready content has increased the inclination towards smart T.V. Due to this fact, an increasing number of TV producers are taking initiatives to launch small to mid-high price smart T.V, especially for developed economies.
Some of the leading manufacturers have even partnered with OTT (over-the-top) content to offer unique features without a set-top box requirement. For instance, TCL Corporation had form a partnership with Roku Inc. The aim of the partnership is to launch new smart TV named HDR Roku TV.
This new model enable consumers to access paid streaming channels along with free channel. The automatic software updates and seamless audio integration will add convenience for the consumers.
Why are Subscription Video on Demand (SVOD) Services More Popular?
By type, subscription video on demand (SVOD) services are estimated to hold the leading market share of 59.5% in 2020. The rise in the number of subscribers for the OTT platform and the growing number of internet users across the globe are key factors fuelling the demand for subscription video on demand (SVOD) services.
However, latency problems and lack of data network infrastructure are major challenges for the growth of the SVOD. Furthermore, the development of new OTT technology would bring lucrative business opportunities.
For instance, there were 642 million subscription on-demand video (SVOD) global subscribers in 2019, up from 508.44 million the previous year 2019. There will be nearly 750 million subscribers by the end of 2020.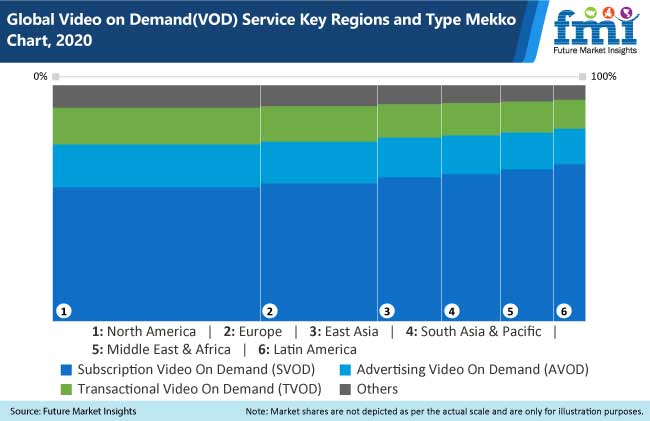 Which Content Type is More Preferred in Video on Demand Services?
According to FMI, more subscribers are expected to show inclination for videos/ movies. The content type is expected to help the market garner more than half of its revenue through the forecast period. Launch of interest video content in form of movies, limited series, reality television, and others will continue wooing consumers. This will in turn continue enabling growth in the market through the course of the forecast period.
Competition Landscape
In past few years, it has been observed that key players in the market are focusing on entering into partnership with other players in the market to offer advanced products and solutions to the customers.
For instance, In June 2020, the company introduced a multi-dimensional program that allow fans to go back to move theaters with piece of mind. This new program allow Fandango to mobilize all digital assets, which include Movieclips on YouTube, and performance of the marketing channels. This product launch will increase fan following for Fandango, which result in increasing the customer base for the company.
In April 2020, Synamedia formed a partnership with Google Cloud for expanding video network portfolio with new OOT service. This partnership allows Synamedia to address customer's queries related to OTT services, which further increase scalability and maximize the performance of Synamedia by reducing its operational costs. Moreover, this partnership allows both companies to combine artificial intelligence and machine learning together, which further improvise customer experience by creating powerful content for customers.
In May 2018, Fandango entered into partnership with showcase cinemas, which is known as a leading provider of motion picture. This partnership improves the entertainment experience for consumers. This partnership will allow both companies to increase their customer base and revenue, which in turn enhance its presence in the market.
Besides this, they are relying on expanding the network to gain competitive advantage.
For instance:
In March 2019, Apple, Inc. decided to introduce its own video streaming services. The existing Apple TV app, which includes all video streaming services such as HBO and Showtime and conventional cable subscription. The aim of Apple, Inc. is to give the chance to enjoy these compelling stories on all the screens they love, in a rich, personalized experience. Therefore, this product launch will help in sustaining its position in the market.
In July 2019, Netflix, Inc. had introduced a new mobile plan for India. Netflix invests extensively in Indian films and shows, including much-loved hits such as Chopsticks and Sacred Sports, Mighty Little Bheem, across all genres and for all generations. There are currently 13 new movies and nine new original shows in the pipeline.
In November 2014, the company introduced ad-supported video streaming services. The service will be distinct from USD 99-a-year Prime membership of the organization, including a video service. The company develops or upgrades its products as this helps the company enhance product offerings. It introduced new products to enhance the customer base.
Some of the key players operating in the market are:
Apple, Inc.
Google, LLC.
Comcast Network
Dish Network
Sky UK Limited
Vudu
Hulu, LLC.
HBO Max (AT&T)
The Walt Disney Company
Viaplay (Nordic Entertainment Group)
Video on Demand (VOD) Service Market Report Scope
Attribute

Details

Forecast Period

2021-2031

Historical Data Available for

2016-2020

Market Analysis

US$ Bn for Value

Key Regions Covered

North America, Latin America, Europe, East Asia, South Asia & Pacific, and Middle East & Africa

Key Countries Covered

U.S., Canada, Germany, Italy, France, U.K., Spain, GCC and South Africa

Key Segments Covered

Content Type, Type, Platform and Region

Key Companies Profiled

Amazon.Com, Inc.
Apple, Inc.
Google, LLC.
Comcast Network
Dish Network
Sky UK Limited
Vudu
Intellian Technologies
Vudu
Hulu, LLC.
HBO Max (AT&T)
The Walt Disney Company
Viaplay (Nordic Entertainment Group)

Customization & Pricing
Key questions answered in the report
How will Video on Demand (VOD) Services market expand until 2031?

FMI projects the global video on demand (VOD) services market to register a CAGR worth 8.5% between 2021 and 2031. Increasing demand for smartphones in the developing economies is expected to give tailwinds to growth.

Which is the leading market for Video on Demand (VOD) Services?

North America is the most lucrative region in the global video on demand (VOD) service market and the trend is likely to continue until the near future. Within North America, the U.S. is expected to remain dominant.

Who are the leading players in Video on Demand (VOD) Service market?

Prominent players operating in the global video on demand(VOD) service landscape include Amazon.com,Inc., Hulu, LLC, Netflix, Inc., Apple,Inc. and among others

What type of content is most popular in video on demand services?

Videos and movies have greater viewership across video-on-demand services, as per Future Market Insights.
Key Segments Covered of the Video on Demand (VOD) Service Market
Content Type
Subscription Video On Demand (SVOD)
Advertising Video On Demand (AVOD)
Transactional Video On Demand (TVOD)
Others
Content Type
Music
Video/Movie
Sports
Kids Content
Others
Platform
Smartphones/Tablets
Smart T.V
Laptops/PCs
Region
North America
Latin America
Europe
East Asia
South Asia & Pacific
Middle East & Africa (MEA)
Need specific information?
Talk Show:
The Rise of Intelligent Packaging
Personalized, Connected and Sustainable
November 18, 2021
11:00-11:45 AM PST (USA & Canada)
This is a LIVE session