Vision Screeners Market - Key Research Findings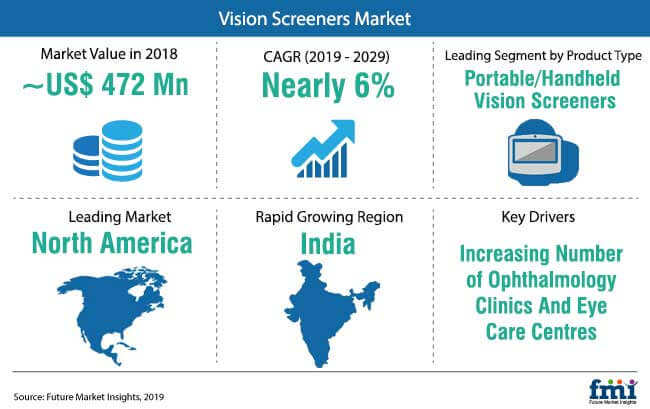 The global vision screeners market size in 2018 – More than US$ 470 Mn
The vision screeners market is expected to witness healthy growth through 2029, at an estimated 6% CAGR (2019-2029).
North America and Europe are expected to remain leading regional markets for vison screeners.

The base of a number of vision screener manufacturing companies is concentrated in developed regions.
However, it has also been observed recently that there is a rise in the number of healthcare facilities in the developing regions, which is boosting the growth opportunities for the vision screeners market in these regions.

Asia Pacific holds high growth potential for the vision screeners market.

Rapid expansion of geriatric population and a drastically rising pace of diabetes prevalence are pushing the demand for vision screeners has majorly contributed to the growth of the vision screeners market within the Asia Pacific region, particularly in fast-growing economies such as China and India.

Portable/handheld vision screeners will remain preferred type in the global market.

Portable/handheld vision screeners are handheld vision screening devices that can be easily moved within the facility.
High user-friendly quotient and minimal user training requisites will continue to significantly account for growing popularity of portable/handheld vision screeners.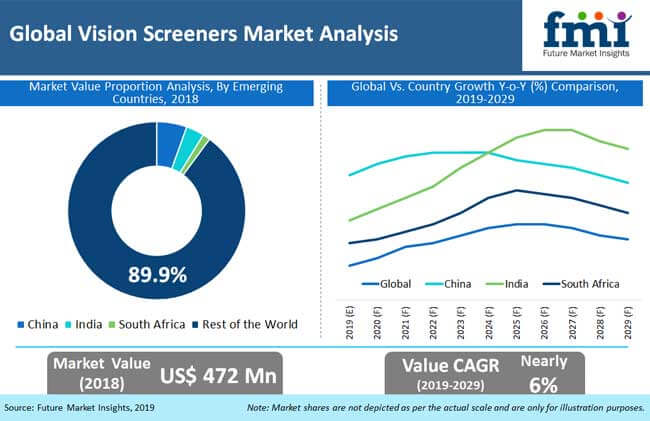 Top 3 Factors Shaping the Vision Screeners Market
Launch of technologically advanced products is expected to drive the vision screeners market

Manufacturers of vision screeners are consistently refining their product categories, in an effort to upgrade offerings with enhanced capabilities and efficiency that would ultimately result in an improved outcome of vision screening tests. Continuous product innovations help manufacturers increase their customer base worldwide, drive sales, and survive market competition.

For instance, in 2017, Plusoptix Inc. launched a vision screening device named PlusoptiX S16 series, which is specially developed for use in paediatric clinics. In 2018, Hill-Rom Holdings, Inc. announced new enhancements to its Welch Allyn Spot Vision Screener.

Increasing vision screening programs in schools are likely to boost the demand for vision screeners

Vision screening tests in schools provide an opportunity to efficiently screen several visual disorders among children. In some schools, eye screening tests are compulsory for children as they are considered as a part of health maintenance. Most of the states recommend that school children should undergo vision screening tests.

Governments support several pre-school programs, which enable several pre-school children to undergo vision screening tests. These initiatives are expected to help increase the demand for vision screeners as well as drive the overall vision screeners market.

Increasing number of hospitals and clinics is translating into boosted adoption

With rising number of hospitals and multispecialty clinics covering ophthalmology services, it is highly likely that the adoption of a variety of vision screeners will see constant growth in the forthcoming years.

While a majority of patient population is attributed to vision problems as a result of aging eye, research underscores that the prevalence of digital eye strain has been increasing at a remarkable pace among teenagers, which is strongly justifying the fostering need for more number of ophthalmology clinics and hospitals.
Vision Screeners Market Structure Analysis
The global vision screeners market represents a consolidated competition landscape. The tier 1 companies actively operating in the vision screeners industry account for over 55% of the total revenue share, globally.
Most of the key players maintain a strategic focus on the North American and European markets, as these regions represent the early technology adopters, characterized by favorable healthcare reimbursement scenarios.
Leading players in the vision screeners market are also concentrating on the rising trend of digital vision screeners. Here, cost-competitiveness is expected to remain a strong differentiation strategy.
In line with the highly profitable trend focusing on the innovations targeting challenges associated with children's vision screening, a number of companies are considering R&D innovations within the pediatric segment.
Pushing the Boundaries of Efficiency - Innovation Is the Key
Considerable technological advances have consistently upheld the efficiency of vision screeners, which continue to be influenced by digitalization. The Future Market Insights (FMI) outlook offers an all-inclusive assessment of how the tectonic and technical innovations in ophthalmic diagnostic equipment such as vision screeners have catalysed the shift from computer-based to digital vision screeners, and will further supplement their efficiency to deliver rapid outcome within a minimum timeframe.
The Market Size Set to Enlarge over 1.5X between 2019 and 2029
With a plethora of ophthalmic disorders becoming more pervasive, vision care is an important aspect for every individual to prevent their eyes from common eye disease leading to vision loss. This in turn have led to high adoption of vision screeners as well as vision care products for preventing vision impairment. Innovative product launches following relatively frequent FDA approvals will remain an important cornerstone, reinforcing the growth of vision screening space.
Developing Markets Herald Promising Opportunities
Accounting for more than a third of vision screeners sold globally, the region will indubitably reign supreme over the coming years. Europe also holds a sizeable share in the market revenues, of nearly a fourth of total sales registered by the vision screeners market, as of 2018. With the ubiquity of diabetes reaching new highs, emerging Asian and Oceania countries are developing strong potential for penetration of vision screeners, which target diabetes driven vision related ailments.
While these regions are prominently witnessing the thriving prevalence of digital eye strain across a sizeably large population, the increasing number of dedicated eye care centers and availability of technologically advanced vision screeners are complementing the constantly rising demand.
Competition Trends – Paving the Way for Strategic Developments
In line with the evolving demands of vision screening community, stakeholders in the market are maintaining strategic focus on R&D of advanced and innovative vision screening technologies.
Development of screening devices that are versatile and convenient will also be among the key strategies considered by leading operators in the vision screeners landscape. In addition to improved product line-ups, stakeholders in the vision screeners space are focusing on the inclusion of pediatric vision screening devices in their offering suites.
How Growth will Unfold
Hospitals and specialty outpatient clinics will remain leading end user segments throughout the projection period. Adoption of vision screeners will particularly soar at educational institutes, specialty clinics, and physician clinics.
VISION SCREENERS MARKET TAXONOMY
The global vision screeners market is segmented in detail to cover every aspect of the market and present a complete market intelligence approach in front of the reader.
By Product Type
Table-Top Vision Screeners
Portable/Handheld Vision Screeners
Vision Screening Software
By Technology
Vision Screening Tests
Color Vision Test
Binocular Testing
Others
Application
Vision Screening Tests
Color Vision Test
Binocular Testing
Others
By End User
Hospitals
Homecare Settings
Specialized Clinics
Rehabilitation Centers
Ambulatory Surgical Centers

By Region
North America
Latin America
Europe
South Asia
East Asia
Oceania
MEA
Need specific information?