40% Revenue Contribution of Leading Manufacturers in the Vision Care Market
The North American Vision Care Market witnessed a massive downfall in the first half of 2020 on account of lockdown and social distancing barriers implemented due to the spread of coronavirus disease throughout the world. Big as well as small manufacturing companies went through the worst phase and suffered heavy losses in 2020. To overcome the previous losses, business firms in 2021 are focusing on research and developments to ensure uniqueness in their services.
Leading corporations including Johnson & Johnson Vision Care Inc., Valeant Pharmaceuticals International Inc., Novartis AG, The Cooper Companies Inc., SynergEyes Inc., Luxottica, Essilor International, and ZEISS International are making high investments in the establishment of research institutes in different regions to come up with improvements in their offerings. They are adopting business strategies such as sales contracts, strategic alliances, acquiring technical expertise, product approvals, patents and events, joint ventures, partnership agreements, collaborations, digital marketing, mergers and acquisitions, capacity utilisations, technological advancements etc to lead the North American Vision Care Market with largest market share.
For instance, Johnson & Johnson Vision announced the collaboration with Menicon to introduce Therapeutic Contact Lenses to address the increasing prevalence and progression of Myopia in children across the region. The collaboration is a projected to move ahead with science and lays a major focus on reshaping the future of myopia and adding on more products and services to the portfolio to manage the progression.
The North American vision care market is being driven mainly because of the rising number of old age patients with eye diseases such as cataract, glaucoma, etc. A major population of old aged population in North America is suffering from hyperopic conditions. In addition to this, increasing market share of retailers and e-commerce is facilitating the increasing number of eye infections and ever changing fashion statements leading to adoption of prescribed lenses, sunglasses, frames, and so on.
The vision care market size is largely dominated by major brands who are competing on the basis of pricing in the market. The fragmented nature of the market decreases the profitability of the business. However, growing awareness about vision careand increasing need for eye care products and solutions due to rising geriatric population and usage of electronic devices are factors expected to boost the growth of the vision caremarket.
Companies such as Essilor, ZEISS International, Johnson & Johnson, Bausch and Lomb (Acq. by Valeant Pharmaceuticals) and LUXOTTICA GROUP hold more than 40% revenue share in the global vision caremarket. These companies are constantly making efforts to launch novel products for vision care. Furthermore, the companies operating in the vision care market are collaborating with local distributors/retailers to increase the penetration of their products in the global vision care market.
Rising Number of Patients with Eye-related Disorders
Eye health and vision care are the major concerns worldwide. Rising number of geriatric population and usage of electronic devices are factors mostly responsible for vision-related problems. This has led to an increase in the number of patients with vision related problems and need for the eye care products and services. People with vision-related diseases are at risk of blindness or significant vision loss if left untreated. Most of the disorders & conditions causing visual impairment & blindness are preventable or readily treatable with known & cost-effective interventions and normal vision can be restored with eyeglasses, contact lenses or refractive surgery.
Population aged 65+ years is growing day-by-day and with this the demand for eye care-related products and solutions is increasing. This increase in population and need represents the market opportunities for new consumers globally. Healthcare initiatives by the Federal health care programs have increased the number of eligible people for vision care benefits. Besides, the out-of-pocket costs have reduced for patients due to insurance coverage.
Vision Care Treatment Issues and Rising Treatment Costs
Worldwide vision loss is considered to be one of the major healthcare challenges. In the coming years, with the increasing prevalence of eye disease among the ageing population, the costs of vision loss is also expected to rise significantly. Declining eye care treatment rate is one of the major factors hampering the growth of the global vision care market. LASIK surgery was introduced in the U.S. 20 years ago. To correct vision, millions of Americans undergo LASIK eye surgery.
Some common side effects and complication of LASIK surgery faced by patients are complications in the hinged flap, which is created in LASIK surgery in front of the cornea and discomfort & vision disturbance faced after surgery. To resolve this problems patients have to undergo additional medical treatment or enhancement surgery. This increases the out-of-pocket cost of patients as some insurance coverage plans only cover limited set of surgeries.
Availability of Vision Care Products Online With a Variety of Offers
E-commerce platform influencing nearly every aspect of a consumer's purchasing decision from searching for the product or services, product reviews and comparison of products. Companies growing the sales of eyeglasses, spectacle lenses & contact lenses by increasing the vision care products available online through different websites. Nowadays, vision care products are easily purchased through online sales channels. Many websites have a wide range of vision care products. And some manufacturers such as Zeiss are introducing online testing websites, where one can check the status of their eye and take professional advice.
"ZEISS Online Vision Screening Check" developed by Zeiss experts is free and allows the individual to test their eyes. After the test, the individual will receive a recommendation whether one should consult a ZEISS eye care professional for expert advice. Many websites offer discounts on branded eye wears. Online shopping makes it easy to order contacts lenses with a wide selection of lenses or glasses with great prices and free returns.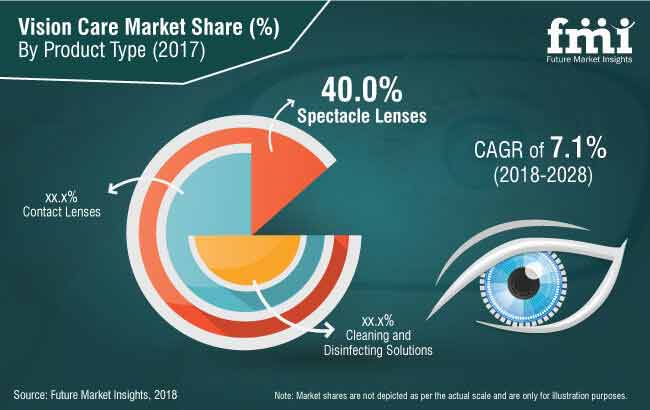 Growing Usage of Digital Devices Stimulates Demand for Eye Care
With growing internet options and technological changes, usage of laptops, mobiles, PCs and others electronic devices has increased in day-to-day life which is resulting in eye-related problems. The growth of technology and research-based industries is also increasing the usage of PCs and laptops drastically. This especially affecting the office going professionals by causing discomfort in eyes such as eyestrain, dry eye, red or pink eye, blurred vision and headache. In developed nations across all age groups, there has been an increase in the usage of digital devices substantially. Particularly in the recent years, usage of computer in children has increased and in the old age group use of technology is growing rapidly.
Adults aged 60 years & above spend 5 or more hours/day using digital devices and prefers laptops & desktops for internet browsing. Smartphones more likely used by younger adults. Usage of social media & multitasking is prominent among the younger population. Adults & individuals aged 20–29 years simultaneously use 2 or more digital devices.
Growing Global Initiations for the Elimination of Avoidable Blindness
According to the World Health Organization (WHO), approximately 285 million people are visually impaired worldwide. Out of these, 39 million people are blind and 246 million people have low vision. Around 80% of vision problem is treatable & preventable. The vision loss causes massive human suffering. It represents a public health, the social & economic problem for countries, especially the developing countries such as sub-Saharan Africa, China and India, where around 60% of individuals are suffering from vision-related problems. The international community spends each year about US$80 million for the prevention of blindness.
"VISION 2020 - The Right to Sight" global action programme launched by many other NGOs, international, non-governmental and private organizations collaborated with WHO to reduce avoidable blindness and increase eye care delivery. "VISION 2020" initiated global campaigns to raise awareness among individuals & governments about the societal effects of blindness and to gather a strong, long-term political & professional commitment to reduce avoidable blindness. "VISION 2020" has taken initiation to develop & strengthen the primary health/eye care methodology to prevent the problem of avoidable blindness.
Competitive Landscape of the Global Vision Care Market
Competition section of the vision care market features the profiles of the key players operating in the industry based on their market shares, differential strategies, product offerings, marketing approach and company dashboard. Some of the key players featured in this report include Bausch and Lomb (Acq. by Valeant Pharmaceuticals), Alcon (sub. Novartis AG), CooperVision and Johnson & Johnson, LUXOTTICA GROUP, Essilor, ZEISS International, Safilo Group and Rodenstock.
The key manufacturers offer a wide range of products and services for vision care. Essilor offers products for vision correction such as progressive lenses, single vision lenses, reading lenses and lenses for screen use. The top Brands of Essilor are Varilux, Crizal, Transitions, Xperio, Nikon and Kodak. Johnson & Johnson Vision Care, Inc. designs, manufactures and sells disposable contact lenses. The company offers spherical, toric, multifocal, color and eye enhancement contact lenses, as well as lenses for patients with astigmatism.
The key manufacturers of vision care are focusing on novel marketing strategies to increase product penetration. The companies offering vision care products are concentrating on price floor strategies. These companies are offering their products with lucrative discounts. Conventional distribution channels, such as hospitals, ophthalmic clinics, optometry stores, e-commerce and retail hypermarket/superstore are expected to be the key targets channel for local manufacturers.
Definition of Vision Care
The company conducted a research study on the vision care market for the forecast period 2018 to 2028. The report offers a comprehensive evaluation of the business opportunities prevailing in the vision care market along with insights on the consumption trend, disease incidences, and awareness level for vision care and vision care market competition. The report elaborates the macroeconomic factors influencing the dynamics of the vision care market share and its futuristic potential.
Additional Questions Answered
Some of the additional questions addressed in this report on vision care market-
What is the revenue potential of vision care products across regions of North America and Europe?
Who are the key competitors and what are their portfolios in the vision care market?
What are major challenges influencing the growth of the vision care market?
How intervention from insurance coverage is shaping the vision care market growth?
For answers of all the possible questions required for gauging the performance of the global vision care market, get in touch with our expert analysts.
Research Methodology Adopted in the Report on the Vision Care Market
The vision care market size has been estimated based on supply-demand approach. The market was first calculated based on population volume using any form of vision correction which was calculated from different region/countries. The population volume was estimated based on the prevalence rate of various types of eye-related disorders and need of eye care in top the 20 countries globally. Other qualitative factors analyzed during population volume estimation include awareness level for vision care, insurance coverage and others.
This information is further validated with rigorous primary research (including interviews, surveys, in-person interactions, and viewpoints of seasoned analysts) and secondary research (including verified paid sources, authentic trade journals, and resourceful databases). The research study on vision care market also includes top trends and macro as well as microeconomic factors shaping the vision care market. With this approach, the report on vision care market anticipates the industry attractiveness of every major segment in vision care over the forecast period.
Segmentation of the Vision Care Market
The report offers a comprehensive taxonomy of the vision care market based on product type, type, distribution channels and region. The spectacle lenses are sold as single vision spectacle lenses, progressive spectacle lenses and bifocal spectacle lenses. Whereas, contact lenses are sold as soft contact lenses, rigid gas permeable contact lenses, disposable lenses, colored (tinted) contact lenses and decorative (cosmetic) contact lenses.
Cleaning and disinfecting solution are the cleaning agents used for cleaning lenses. Distribution channels segments in the vision care market which are the part of this vision care market report include hospitals, ophthalmic clinics, optometry stores, e-commerce and retail hypermarket/superstore. The vision care market has been analyzed across regions of North America, Latin America, Western Europe, Eastern Europe, Asia Pacific Excluding China, China and the Middle East and Africa.
Need specific information?
Talk Show:
The Rise of Intelligent Packaging
Personalized, Connected and Sustainable
November 18, 2021
11:00-11:45 AM PST (USA & Canada)
This is a LIVE session