Wet wipes Market Snapshot
The wet wipes market revenue totaled US$ 3.7 Bn in 2021, according to Future Market Insights (FMI) study. The overall sales of wet wipes are expected to cross US$ 8.0 Bn by 2031, growing at a CAGR of 7.6% between 2021 2031.
With increasing awareness about health and hygiene, implementation of various healthcare management programs, increasing number of wet wipes manufacturing companies, availability of variety of wet wipes options, coupled with increasing investments in technological advancements, sales are expected to improve at an accelerated pace.
Key Points Covered in Wet Wipes Market Study
Market estimates and forecast 2016-2031
Key drivers and restraints impacting market growth
Segment-wise, Country-wise, and Region-wise Analysis
Competition Mapping and Benchmarking
Market Share Analysis
Key Product Innovations and Regulatory Climate
COVID-19 Impact on Wet Wipes Market and How to Navigate
Recommendation on Key Winning Strategies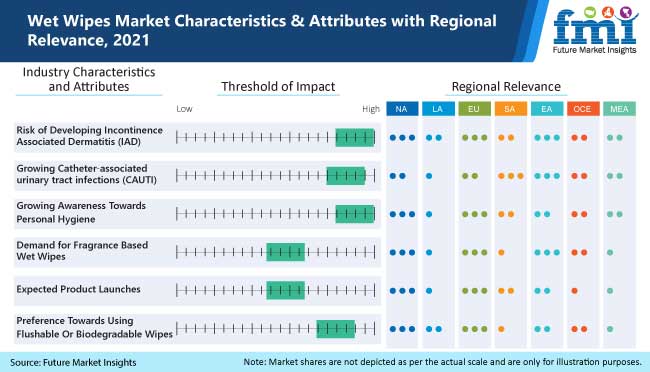 2016-2020 Wet wipes Demand Outlook Compared to 2021-2031 Forecast
According to Future Market Insights (FMI), the sales of wet wipes have grown at a CAGR of 6.1 % between 2016 and 2020. Wet wipes market has seen an incremental growth and is expected to expand owing to the increasing adoption of healthcare and hygiene practices among aging population.
Wet wipes, commonly called as wet towels or disinfecting wipes serve the purpose of keeping hands or face clean and free from dust and germs. Convenient handling, usage at any given point of time, presence in every other store, availability of a range of variety in terms of fragrance and usefulness in serving various purpose such as make-up removal, disinfecting hand, cleansing sensitive skin of baby and many others is driving the current sales figures.
Expansion and product launches in emerging markets are other key factors encouraging market growth. Manufacturing and commercialization of fragrance based wet wipes and environmentally safe or biodegradable wipes is an another move undertaken by companies to attract more customers. Active engagement of companies in strategizing business opportunities through acquisitions and partnerships in order to strengthen their portfolio is likely to boost the market in coming years.
Future Market Insights expects the global wet wipes market to grow at a CAGR of 7.6% over the decade. The growth is attributed to majors companies that are actively participating in acquisitions, new product developments, and distribution collaboration agreements to expand their market presence.
How is the Adoption of Wet Wipes Aiding Market Growth?
Rising health-related difficulties associated with ageing, such as Incontinence-associated Dermatitis (IAD) and Catheter-associated Urinary Tract Infection (CAUTI), have become key concerns worldwide. The infection produced by prolonged catheter use is largely connected with CAUTI, which is the most frequent of the healthcare-associated illnesses.
Incontinence-associated Dermatitis (IAD), on the other hand, is a condition in which patients' skin is inflamed and eroded as a result of frequent exposure to urine and stool. Because the skin serves as a barrier between the human body and the outside world, maintaining the skin's moisture barrier has become critical in such situations.
According to the Centers for Disease Control and Prevention (CDC), urinary catheters are connected with roughly 75 percent of urinary tract infection (UTI) cases in the United States, and 15-25 percent of patients who are already hospitalised obtain urinary catheters while they are in hospitals..
Due to the application of wet wipes intended to offer solution for maintaining skin hygiene among CAUTI or IAD patients and for encouraging female hygiene, the market will witness increasing growth worldwide. The involvement of many small and local players, innovative product developments and commercialization of Wet wipes gives a great opportunity for this market. This is due to the growing concern for maintaining hygiene and sanitation that will make this market more attractive in future.
What are the Key Opportunities for Market Players?
As more and more consumers are focusing on adopting good hygiene practices, concerns for ecosystem and environment is also increasing. Companies are therefore involved into producing innovative product lines which can help reduce burden on the environment such as creating recyclable wet wipes or one made up of wood pulp and cotton as a replacement for synthetic fiber made wet wipes.
Online sale of wet wipes, on the other hand, presents incremental prospects for manufacturers, as it helps them to increase their market reach. Convenience of buying from home without visiting shops, avoiding unnecessary exposure to crowd in pandemic, while getting a variety in product range on various offers and discounted prices on e-commerce sites provides an opportunity to the market players in the near future.
What are The Key Challenges to Wet wipes Market?
Although wet wipes provide various benefits in terms of convenience and hygiene, there are certain challenges which may hamper the growth of wet wipes market in future, if not addressed. Availability of alternatives such as a wide range of face washes, cleansing milk and soap which are cost-effective as well as have lesser consequences on environment is one such challenge. The waste generated by them are far less compared to those generated by wet wipes due to its non- biodegradable nature.
A few wet wipe products due to their side effects, packaging issues, or unmet claims have been recalled. This was because of complaints raised by the customers mentioning presence of bacteria in the product resulting in infections, especially immune-comprised people.
For instance, Cottonelle Flushable Wipes, a Kimberly-Clark product, after receiving several complaints from the customers was recalled. It was claimed that the product had presence of bacteria. Later on , a bacteria called Pluralibacter gergoviae was detected in the product. This bacteria caused infections in some customers, especially in immune-compromised people.
Furthermore, chances of developing rashes and allergies can increase due to the ingredients added in the wet wipes such as preservatives like methylchloroisothiazolinone or methylisothiazolinone in some products. Excessive use can be harmful not only to the sensitive baby skin but it can also disturb the pH of the adult female skin around the intimate area.
It is therefore, necessary for companies to consider these challenges and develop product lines which can address these issues in future.
What is the Impact of the COVID-19 Crisis on the Market?
The COVID-19 pandemic had a moderately negative impact on the growth of wet wipes market owing to disruptions in supply chain during the lockdown.
The outbreak has changed distribution channel operations and pushed consumer traffic to e-commerce platforms. On one hand, pandemic boosted the demand for online sales of wet wipes to an extent, on the other hand, supply chains were hampered during second quarter of 2020, due to staff shortages, lockdown and trade blocks which occurred globally to stop the surge of virus.
Country-wise Insights
Will the U.S. Remain a Key Wet Wipes Market?
Analysis reveals that North America dominated the global wet wipes market in terms of revenue, while the United States (US) market is expected to account for over 80% of the North America market share in 2021. It is anticipated to grow at a CAGR of over 6% during the forecast period.
The dominance is driven by increasing health awareness and increase in healthcare spending by people. Rapid development of e-commerce sites, various healthcare-related awareness programs initiated by government and organizations, focus on enhancing healthcare services by healthcare providers will drive the growth of wet wipes market in U.S.
Why is Germany Considered a More Lucrative Market within Europe?
Germany is expected to account for over 23% of the Europe market in 2021. Increasing number of hygiene conscious people, compulsory health insurance policies implemented by the government, and equal right to medical care and wages to be continued even during illness, irrespective of the income of an individual are some of the factors that are helping wet wipes manufactures to expand their footprint in Germany.
What is the Scope for Sales of Wet wipes in East Asia?
The market for wet wipes in East Asia will exhibit 9.1 % CAGR across 2031, with China emerging dominant in this region. China is expected to account for nearly 40% of the East Asia market in term of revenue in 2021.
As an infection control measure, hand hygiene is considered to be of paramount importance in China, in order to prevent any healthcare related infections. People are adequately informed about the hand hygiene practices as well.
As more people are getting concerned about the safety and healthcare practices, the need for products like wet wipes is expected to increase.
Additionally, players are focusing on new product launches and marketing collaborations as strategies to expand their footprint. With many local players, making wet wipes available in both online and offline stores, it is likely to augment market growth in China over the forecast period.
Category-wise Insights
What are the Sales Prospects of Incontinence Wipes?
Incontinence wipes is leading the market at global level and is estimated to account for nearly 27% of market in the future. Rise in ageing population and high risk of developing infections such as Catheter-associated urinary tract infections (CAUTI) or Incontinence Associated Dermatitis (IAD) will drive sales in this product category.
Baby wipes within this segment accounts for more than 80% of the market share. This is due to the increase in the purchasing power of consumers. As a parent, consumers are more focussed on the health and wellbeing of their child. Hence, this segment is expected to showcase high growth in the fprecast period.
Who are Leading End Users of Wet Wipes?
The hospital segment is projected to be the most lucrative in terms of market share, grow with a CAGR of more over 6% over the forecasted period. In established and emerging nations, rising health spending, a better understanding of the threats associated with chronic, new technological developments, and advances in healthcare infrastructure are expected to boost the wet wipes market.
Competitive Landscape
Manufacturers of wet wipes are primarily aiming to carry out strategic expansions through merger and acquisitions, launching innovative product, collaborations with other manufacturers and distributors to consolidate growth in a competitive market.
For instance, In January 2021, Medline and Intelligent Observation (IO) collaborated to help healthcare providers to control healthcare-associated infection rates
Essity finalised the acquisition of ABIGO Medical (a wound care firm) and Asaleo Care, an Australian hygiene company, in July 2021.
Himalaya Drug Company said in March 2018 that it was preparing to launch two new personal care products in order to boost income from this category.
Scope of the Report
Attribute

Details

Forecast Period

2021-2031

Historical Data Available for

2016-2020

Market Analysis

USD Million for Value, Units for Volume

Key Countries Covered

US, Canada, Germany, U.K., France, Italy, Spain, Russia, China, Japan, South Korea, India, Thailand, Malaysia, Indonesia, Australia, New Zealand, GCC Countries, Turkey, South Africa

Key Segments Covered

Product, Disposability, Application, End User and Region

Key Companies Profiled

Kimberly-Clark
Cardinal Health
Medtronic
Stryker
Coloplast
Hindustan Unilever Ltd.
Medline Industries Inc.
ConvaTec Inc.
The Himalaya Drug Company
Domtar Corporation
Johnson & Johnson Private Limited
Hollister Incorporated
Godrej Consumer Products Limited.

Report Coverage

Market Forecast, Competition Intelligence, DROT Analysis, Market Dynamics and Challenges, Strategic Growth Initiatives

Customization & Pricing

Available upon Request
Key Questions Answered in Report
How much is the wet wipes market worth?

The wet wipes market is worth at US$ 3.7 Bn in the year 2021 and is expected to reach US$ 7.9 Bn by 2031 owing to the increase in the per capita expenditure in various developed and developing countries.

What is the demand outlook of the wet wipes market?

Wet wipes are projected to register high demand in the forecast period at a CAGR of 7.6%.

At what rate did the wet wipes market rise in the last 5 year?

Historically, the market has grown at a CAGR of 6.1% by volume from 2016 to 2020.

What are the key trends shaping sales opportunities for wet wipes manufacturers?

Manufacturing of fragrance infused wet wipes, growing collaborations among industry leaders, preference towards flushable or biodegradable wipes, and increasing use of wood pulp and cotton for wet wipe production at lower cost are some of the trends that will fuel shape the future of the market.

What factors are driving demand for wet wipes?

Risk of developing Incontinence-associated Dermatitis (IAD), diverse applications of wet wipes, growing cases of Catheter-associated Urinary tract infections, and increasing awareness towards personal hygiene are major driving factors.

What is the market share of the top players in the wet wipes market?

The cumulative market share of the top 3 players including Essity Aktiebolag (publ), Kimberly-Clark, and Procter & Gamble is nearly 35% of the overall market.

Which are the top 5 countries driving demand for wet wipes?

The U.S., Germany, UK, China and Canada are the top 5 countries which are driving the demand for .

At what rate will the sales of wet wipes rise in Europe?

Europe wet wipes market is forecast at to grow at a CAGR of 8.1% in 2021- 2031. Germany will remain the dominant country in for wet wipes sales in Europe.

At what rate will the demand for wet wipes rise in East Asia?

The East Asia market is set to exhibit a CAGR of over 9% during the forecast period owing to increase in number of hospitals and long term care centers

Which companies are key producers of wet wipes?

Essity Aktiebolag (publ), Kimberly-Clark, Procter & Gamble, Cardinal Health, Medtronic, Stryker are key producers in this market.

What are the wet wipes market statistics in Korea and Japan?

Japan's wet wipes are expected to grow at a CAGR of 9.3 % through 2031. South Korea market is projected to grow at a CAGR of around 10% through 2031.
Wet wipes Market by Category
Product
Incontinence wipes
Skin Antiseptic Wipes
Feminine Hygiene Wipes
Skin Care Wet Wipes
Sterile Wound Cleansing Wipes
Disposability
Flushable Wipes
Non-Flushable Wipes
Application
Incontinence
Skin care
Personal Hygiene
Wound Care
End User
Hospitals
Clinics
Speciality Centers
Long term care centers
Homecare Settings
Region
North America
Latin America
Europe
East Asia
South Asia
Oceania
Middle East and Africa (MEA)
Need specific information?
Talk Show:
The Rise of Intelligent Packaging
Personalized, Connected and Sustainable
November 18, 2021
11:00-11:45 AM PST (USA & Canada)
This is a LIVE session