Wooden Cutlery Market – Key Research Findings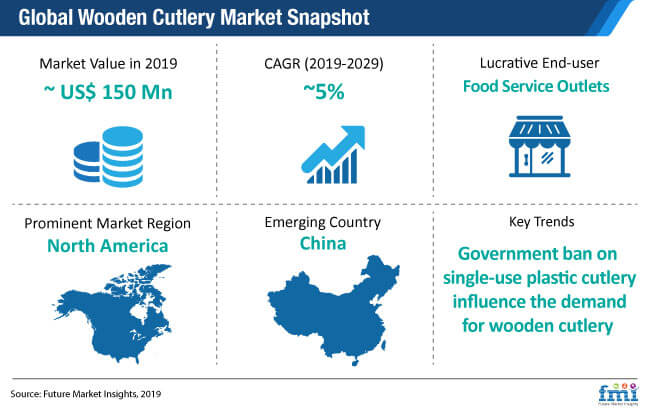 The global wooden cutlery market size in 2019 is estimated to be valued at ~US$ 150 Mn.
The wooden cutlery market is projected to grow at ~5% during the next ten years.
Growing demand for single use wooden cutlery from QSRs and cafes to replace single use plastic cutlery is expected to drive the wooden cutlery market growth.

Wooden cutlery are lightweight, heat-resistant, and eco-friendly, which make them an ideal choice as a biodegradable cutlery. Wooden cutlery come in wide range of design, shape and shades that easily attract the customers' attention. Foodservice operators worldwide are preferring wooden cutlery, as they are compostable and eco-friendly. Most of the plastic cutlery cause harmful effects when burned or dumped into the water bodies. To tackle this, government bodies are imposing ban on single use plastic cutlery. Therefore, the demand for wooden cutlery is expected to increase in the forecast period.

North America is expected to remain at the forefront of the wooden cutlery market during the forecast period. Growing foodservice outlets such as hotels, restaurants, café, quick service restaurants, and food courts in the region will contributed to the growth of the wooden cutlery market.

U.S. and Canada are likely to witness increase in consumption of fast food and on-the-go meal, which is expected to create substantial demand for wooden cutlery in the coming years.

It is expected that the wooden cutlery market will continue to witness number of developments and innovation as companies rush to enhance their product portfolio with increase offerings.
Key Factors Shaping the Global Wooden Cutlery Market
Technology Revolutionized Food Delivery Market
The food delivery system have molded from calling to single click delivery, where customers can order food from a wide array of restaurants by a single tap on their mobile. The business of home delivery from restaurants has emerged as a new online platform. As the search for sustainable packaging is on among the online food providers, wooden cutlery are likely to gain significant traction during the forecast period.
Next Generation Operational Model by Food Service Outlets
The global foodservice industry is growing at a good pace and creating demand for single-use cutlery such as wooden cutlery. Foodservice providers require high amount of investment in resources for cleaning and maintenance of plates and cutlery.
So, they are reducing the operational cost by adopting disposable products. Plastic disposables can create adverse impact of environment, prompting the operators to move towards wooden cutlery. It helps reduce labor cost and utilize the investment in enhancing the quality and customer service.
Rising Demand for Eco-friendly & Wood-based Cutlery
Growing awareness towards the adverse effects of single-use plastic, the fast-food chains are diverting towards the use of wooden cutlery. Restaurants, fast food outlets, and QSRs are being approached by wooden cutlery manufacturers to adopt the eco-friendly solutions.
Manufacturers are also targeting the royal and standard customers by offering innovative and attractive design of cutlery with fine craft and natural shades. The global wooden cutlery market is reflecting the customized standardization trend, where manufacturers develop products to meet the specific requirements of the end users.
Growing Stringency of Regulatory Standards
The utilization of single-use plastic cutlery is banned in several countries across the globe. In addition, governments are becoming more conscious about the use of single-use plastic, taking its harmful impact into consideration. Wooden cutlery are replacing the use of plastic and metal cutlery that can take millennium to decompose. The fast food service providers are moving towards the wooden cutlery to restrict the social problem caused by plastics & change in government policies.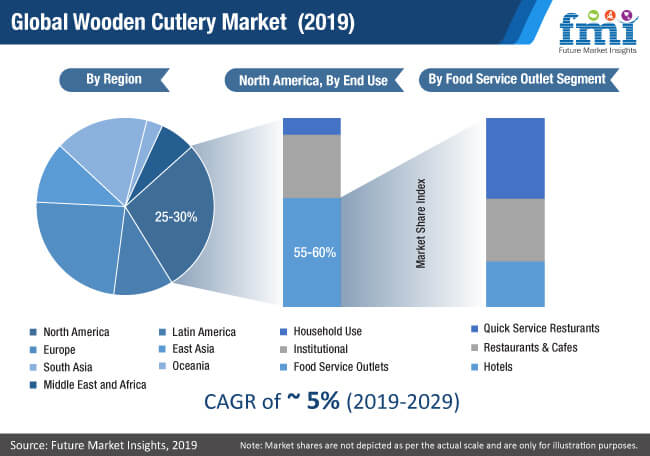 Wooden Cutlery Market Structure Analysis
The global wooden cutlery market is characterized by the presence of fewer organized players, which significantly influence the global market.
Tier 1 players in the wooden cutlery market have wide product portfolio. Tier 1 companies contribute significantly to the growth of the wooden cutlery market.
Tier 1 players in the wooden cutlery market are foreseen to increase the global footmark either via mergers and acquisitions or collaborations with the regional manufacturers.
Tier 2 players are characterized by the decent presence overseas, and a good portfolio of wooden cutlery, and tier 3 players include most of the unorganized sectors.
Wooden Cutlery in HoReCa Space – Sustainability in Bulk
Over the years, the global packaging industry has experienced a steady growth, on the account of increased use of plastic to replace conventional materials to accommodate consumers' demand for convenience, leap in popularity of flexible packaging, and the economic boom in developing countries. With the expansion of new markets and significant preferential shifts, the packaging industry will continue to grow at rapid pace.
However, heavier pressures and potential disruptions are on the horizon, in the view of strong progress in global sustainability drive, explosion of e-commerce businesses, and mounting concerns of climate change. Certain disruptions will also be noticeable in number of end-use industries, warranting an in-depth understanding and unbiased analysis of modern packaging formats and single-use products.
In recent years, wooden cutlery has been making headway in the HoReCa sector, as stakeholders active in the industry are setting ambitious goals in areas such as responsible sourcing, recyclability, and reduction of harmful waste. The demand for wooden cutlery is currently based on the rise of dine-out culture in developing countries, increasing number of quick service restaurants (QSRs), and the emergence of food delivery services.
Demand Bolstered by Heavier Restrictions on Single-use Plastics
As a response to public outcry over plastic pollution across the globe, the foodservice industry is placing its focus on limiting the adoption of single-use plastics and tableware with significant impact on the environment. With rising scrutiny on raw materials of products used for serving and consuming food, the search was on for eco-friendly tableware, thereby potentially raising the demand for wooden cutlery.
In addition, manufacturers are placing their focus on creating variations in their products and catering to large number of end users, in order to maintain innovation supremacy and gain a distinct competitive edge. Moreover, as the ecological burden is provoking heavier restrictions and stricter regulations on single-use plastics, manufacturers in the wooden cutlery market should be looking at a period of sustained demand.
The impact of popular trends such as 'digitalization' has also been noticeable in the wooden cutlery market. To fulfill consumers' quest for convenience, the foodservice industry has been undergoing significant transformations, leading to the rise of virtual restaurants or kitchen-only operations where food is prepared for delivery. Therefore, rapid growth in the demand for disposable yet sustainable cutlery from these emerging sectors is likely to work to the advantage of the market players.
Moving to Biodegradable Alternatives – Key Growth Influencer across Geographies
In an attempt to achieve sustainability goals, governments across the globe are voting to ban single-use plastic cutlery, and the result is expected to lead to increased demand for wood-based kitchenware and cutlery. North America and Europe continue offer greater opportunities due to growing consumer preference and willingness to pay more for green solutions.
Stakeholders are viewing developing economies in Asia Pacific from target market perspective, as sprung in number of working demographic and increased income have led to expansion of international food outlets, and subsequently to rising demand for wooden cutlery.
Will Green Movement Firm Up the Sales of Wooden Cutlery?
The global 'Climate Strike' is becoming a phenomenon with millions of people demanding for a greener future, and the use of plastics is likely to descend at steady pace in the years ahead. Foodservice industry and catering sector are rigorously looking for new solutions and effective products to reduce the impact on the environment. An example of which is illustrated by Air India, the flag carrier airline of India.
In August 2019, the airline announced to stop using single-use plastics and replace packaging with eco-friendly paper and wooden cutlery. In the following month, McDonald's, an American fast food company, took a plunge to replace all single-use plastics with biodegradable alternatives in India. In consequence, wooden cutlery manufacturers are targeted towards expanding their domestic production and tapping into opportunities in import activities.
While foodservice sector continue to influence the growth strategies, manufacturers are likely to capitalize on the increasing demand from single-person households and rapidly expanding catering services in cinema theatres and hospitals.
How Growth Will Unfold
In the view of escalating demand and the rise of on-the-go culture, players active in the wooden cutlery market are leveraging new sales channels such as e-commerce to cater to large number of customers. Wooden cutlery meets the idea of sustainability, as it is biodegradable, aids in reduction of waste, and its manufacturing consumes less energy and causes far less environmental pollution as compared to petroleum-based or plastic cutlery.
However, it comes from cutting down trees or deforestation, thereby negatively affecting the environment. Several activists have also made a point that anything single-use is wasteful, which may represent as a threat to the market players.
In recent years, a new wave of innovation has inundated the market with compostable and edible cutlery such as candy cutlery as an alternative to plastic dessert spoons and cutlery made from cornstarch and potato starch. As such trends are taking shape in the market, manufacturers will need to redefine their strategies to meet the modern consumers' demand and stay ahead of the pack.
Key Segments
By Product Type
By Sales Channel
Manufacturers (Direct Sales)
Distributors
Retailers

Hypermarkets
Supermarkets
Convenience Stores
Specialty Stores
Discount Stores & Warehouse/Wholesale

E-retail
By End Use
Food Service Outlets

Hotels
Restaurants & Cafes
Quick Service Restaurants (QSR)

Institutional Use

Cinemas
Schools & Offices
Hospitals

Online Catering
By Region
North America
Latin America
Europe
South Asia
East Asia
Oceania
MEA
Need specific information?