Metallized PET Products Represent the Bestselling Category
Bag-in-tube packaging based on metallized PET continues to witness higher demand, as it more suitable for severe filling compared to EVOH barrier + PE products. As 6 in 10 units of bag-in-tube sold in 2019 were based on metallized PET, manufacturers have set their focus on this category. On the contrary, demand for EVOH barrier + PE products is expected to grow strong going forward, highly influenced by their sustainability and cost-efficient quotient. Additionally, effective barrier properties and lightweight properties of these products are accounting for greater gains in the market.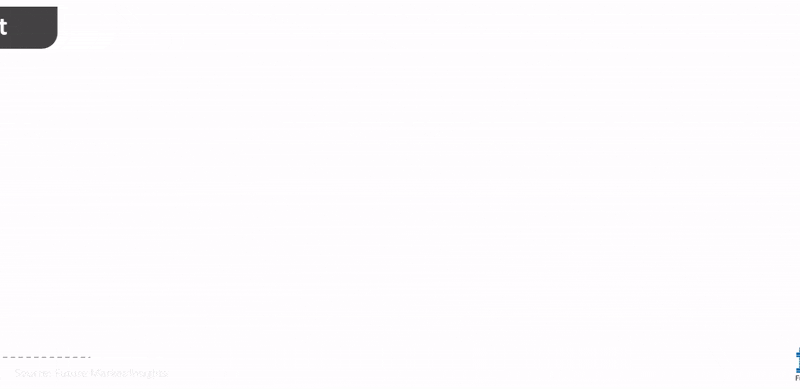 Europe Takes the Lead with 80% of Global Market Value
Europe will continue to maintain its lead in the bag-in-tube market, with emergence of France, Germany and Italy as the world's top wind-producing and consuming countries. Unlike conventional wine packaging such as bottle that limits the shelf-life of products once opened, bag-in-tube offers significantly extended shelf-life of 6-8 weeks after opening the pack.
Manufacturers also eyeing opportunities in both mid- and low-income countries where premium products in small packaging are gaining significant momentum. Moreover, wine producers and other end users are leveraging bag-in-tube packaging for product promotion in countries in Asia Pacific, Latin America, and Middle East & Africa.
Synergy of Customization and Online Retailing to Broaden Sales Horizon
Driven by penetration of internet and smartphones, the market for online retailing continues to grow rapidly, and the consumption of food, beverages, and pharmaceuticals on-the-go is significantly picking pace. In such scenario, optimization of shipping weight and space is of paramount importance, thereby potentially raising the demand for bag-in-tube for wines and a range of beverages.
Moreover, a number of market players are showing a palpable duality in their approach - in addition to offering lightweight packaging, these companies are working on high-end customization, in terms of design of spigots and taps used in bag-in-tube.
How Growth will Unfold
A significant rise in wine consumption is weighing on same scale as the growth of bag-in-tube market. Application of bag-in-tube in wine packaging accounts for two-third of the total revenue share, and the number is set to grow over the next decade. This form of packaging also makes it possible to keep spirits in the best possible conditions, right from filling to retailing.
Furthermore, manufacturers are targeted towards capitalizing on rapidly expanding beverage sector, especially fruit juices. The rise of on-the-go culture and an exponential increase in the demand for ready-to-drinks beverages will provide significant impetus to the market.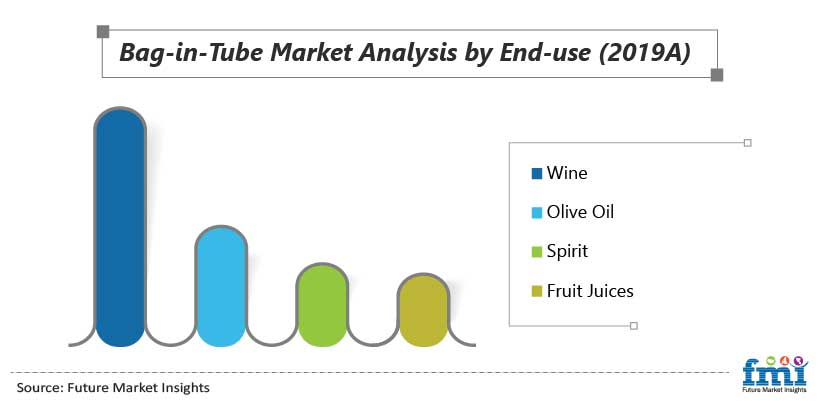 FREQUENTLY ASKED QUESTIONS ABOUT GLOBAL BAG-IN-TUBE MARKET
What are the future prospects of the bag-in-tube market?
There will be a steady growth in the demand for bag-in-tube over the next decade with market value, reaching beyond the value of US$ 17 Mn in 2029. Although bag-in-tube packaging is not very popular in certain regions such as APEJ and MEA, bag-in-tube are poised to gain traction as sustainable packaging for liquid items.
Which region will dominate the global bag-in-tube market?
Traditional wine-producing countries in Western Europe and North America have quickly adopted bag-in-tube packaging for their wine offerings will dominate the global bag-in-tube market.
Which market players are operating in the bag-in-tube market?
Companies such as Smurfit Kappa Group PLC, Industri-Bag, and Grafica Rovellosa SL. are some of the market players in the global bag-in-tube market, and are expected to continue dominating the market with their new and innovative product portfolios.
Which application area holds potential growth opportunities for market players?
Wine packaging in state-of-the-art bag-in-tube is expected to offer lucrative opportunities to market players, as it holds more than half of the market share in terms of value as well as volume. Moreover, the wine packaging segment is expected to witness higher growth than any other segment.
Which type of bag-in-tube will register the highest sales in the next five years?
By product type, metallized PET used in bag-in-tube for internal bags is expected to witness the highest sales in terms of value, as it is leak-proof, light-weight, durable, and preserves quality and aroma of liquid products.
What are the growth opportunities for manufacturers from developing markets?
The market penetration of bag-in-tube is very low below in the APEJ and MEA regions, as it is a new product in these markets. Thus, manufacturers and new entrants can have significant opportunities to target these fairly untapped regions and to expand their businesses.
World's Most Profilic Intelligence Engine
Get Access To The World's Largest Market Research Database. Ngage with a revolutionary intelligence engine that scale and pricing that flexes as per your needs
Sign Up Now
BAG-IN-TUBE MARKET TAXONOMY
The global bag-in-tube market is segmented in detail to cover every aspects of the market and present a complete market intelligence approach to readers.
Capacity
Less than 1000 ml
1000 to 2000 ml
2001 to 3000 ml
More than 3000 ml
Product
EVOH Barrier + PE
Metallized PET
End Use
Wine
Spirit
Olive Oil
Fruit juices
Others
Region
North America
Latin America
Western Europe
Eastern Europe
Asia Pacific Excluding Japan
Middle East and Africa
Japan
Need specific information?