Acoustic Wave Filters Market Snapshot
The acoustic wave filter market revenue will total US$ 8.9 billion by 2021, as per a Future Market Insights (FMI) analysis. Registering growth at 10.6% CAGR between 2021 and 2031, the market's valuation is expected to surpass US$ 24.5 billion by 2031.
Lithium tantalate will remain highly sought-after among material used. The study forecasts, the demand for acoustic wave filters made from lithium tantalate to rise at 13.4% CAGR
Key Points Covered in Acoustic Wave Filters Market Study
Market estimates and forecast 2016-2031
Key drivers and restraints impacting market growth
Segment-wise, Country-wise, and Region-wise Analysis
Competition Mapping and Benchmarking
Market Share Analysis
Key Product Innovations and Regulatory Climate
COVID-19 Impact on Acoustic Wave Filters sales and how to Navigate
Recommendation on Key Winning Strategies
2016-2020 Acoustic Wave Filters Demand Outlook Compared to 2021-2031 Forecast
Increasing penetration of smartphones and advancements in the automotive industry are likely to drive the acoustic wave filters market in the coming years. The demand will rise at 10.6% CAGR between 2021 and 2031 in comparison to the 9.8% CAGR registered during 2016-2020.
Businesses are increasingly compelled to manage mobile devices, apps, and a variety of voice and collaboration tools for teams to connect across geographies, platforms, and devices. Moreover, a significant increase in the number of smartphone users around the world will encourage consumers to adopt 5G-enabled services.
This includes autonomous driving, ultra-HD video, augmented reality, virtual reality, and artificial intelligence. These factors are anticipated to fuel demand for LTE advanced and 5G technologies, which will boost growth of the acoustic wave filter market.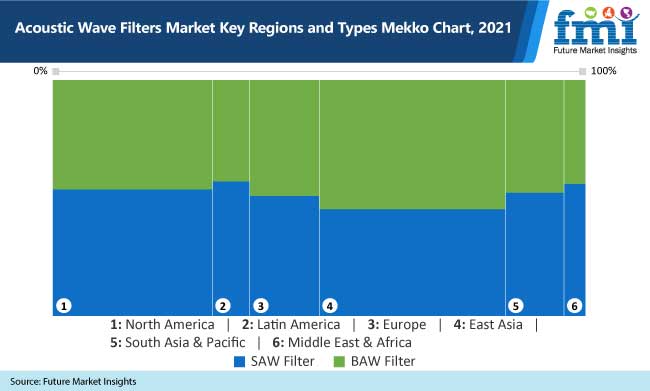 How is Increasing Demand for RF Acoustic Wave Filters Impacting Market Growth?
Adoption of wireless, optical, and other high-speed and high-frequency products has increased the demand for BAW filters that are optimized for performance, cost, and practical development complexity. The demand for RF acoustic wave filters is on the rise owing to easy integration of myriad applications such as broadcast receiver to select desired channel frequencies.
These filters are used with radio receivers to filter out unwanted bands. RF filters sort out the signal frequencies and also reduce the interference of the external signals that affect the quality or performance of communication systems.
A significant increase in the number of mobile devices in various countries around the world is expected to facilitate growth of the bulk acoustic wave filter market. As smartphone penetration is increasing day-by-day, the adoption of radio frequency (RF) filters such as bulk acoustic filter is increasing in smartphones.
Bulk acoustic wave filters are used for toughest interference and it also delivers high speed and greater bandwidth by utilizing a wider spectrum.
What is the Impact of COVID-19 Crisis on Acoustic Wave Filter Production?
The COVID-19 pandemic tightened its noose around the world since early 2020. An increasing number of Chief Financial Officers (CFOs) in the U.S. have agreed that COVID-19 has the potential to significantly impact their business.
The technology sector has been severely affected by the unprecedented outbreak, which compelled organizations to reconsider their business strategies for the post-pandemic world. RF filter manufacturers have also shown negative trends in response to the impact of COVID-19.
Companies are monitoring the situation to ensure operations in supply chains and access to alternative logistical routes wherever possible. The estimated sales of acoustic wave filters have dropped by 10% to 15% during the course of pandemic in Q1-Q2 2020.
Country-wise Insights
How are Acoustic Wave Filter Manufacturers Faring in the U.S.?
The U.S. is predicted to remain one of the most attractive markets during the forecast period, according to Future Market Insights. According to the study, the U.S. is expected to account for over 89% of the North America market through 2031.
The U.S. exhibited growing demand for interface standards such as Wi-Fi and LTE for a range of services in wireless charging capabilities, voice control, blind spot awareness, and self-driving vehicles.
The rise in adoption of RF filter technology by aviation customers, such as Airbus and Boeing, along with increasing adoption from the U.S. Department of Defense, in RADAR systems, electronic surveillance, GPS, navigation, and ATC (Air Traffic Control) is propelling the demand for acoustic wave filters market in U.S.
In April 2021, Akoustis Technologies, Inc., which has a significant presence in the U.S., announced innovation of nine new patents covering BAW Filter devices and methods for 5G, WiFi 6, WiFi 6E and C-V2X. In addition to its patent portfolio, Akoustis' IP includes the ownership of valuable trade secrets associated with manufacturing its proprietary XBAW high-band RF filter products and single-crystal piezoelectric materials. Such developments have been ongoing in the country, thus augmenting the acoustic wave filters demand in the U.S.
Why is the Demand for Acoustic Wave Filters Increasing in Indonesia?
Demand in the Indonesia market is expected to rise at nearly 15.3% CAGR over the forecast period. Over the coming decade, the consumer electronics industry in Indonesia is expected to continue growing strongly. Moreover, the adoption of wireless technologies has experienced remarkable growth and development.
Increasing penetration of smartphone devices has increased the demand for RF filters in the country. As per the report, Indonesia is recognized as a primary market, and is expected to continue exhibiting high demand for acoustic wave filters through the forecast period.
How is India Contributing Towards Acoustic Wave Filters Sales?
By 2031, India will account for over 54% of share in the South Africa and Pacific market. India is one of the fastest growing economies and is expected to offer favorable market conditions for acoustic wave filters vendors.
The country is witnessing accelerated growth with rapidly increasing connectivity due to digital transformation and a growing demand for wireless systems. The major factor contributing to the high growth rate is increasing adoption of smartphones in India.
The country has many established SMEs, which are growing at an exponential rate to cater to the large customer base. In recent years, the country has experienced increasing demand for RF filters in applications such as electronic surveillance, GPS, navigation, smartphones to transit, filters, and receiver paths for 3G and 4G technologies.
Category-wise Insights
Which is the Preferred Acoustic Wave Filters Type?
Revenues from the bulk acoustic wave (BAW) filter segment grew at a robust 10.0% year over year in 2021. Demand for BAW filters increased 1.5% between 2020 and 2021, giving the combined market, year-over-year growth of 8.4% in 2021, according to Future Market Insights.
Based on filter type, BAW filters are expected to grow at 12.5% CAGR, accounting for a market share of 58.4% in 2031. BAW filters provide low insertion properties that makes it extremely efficient at dissipating heat at high power levels.
BAW filters also save board space by making filters smaller so that filters are easily integrated into RF front-end (RFFE) modules, which supports 5G requirements. The growing adoption of BAW filters in communication technologies like LTE networks and 5G technology, and Internet of Things (IoT) augments the demand of BAW filters segment, which is also set to assist market growth during 2021-2031.
How is the Preferred Material for Acoustic Wave Filters?
In the acoustic wave filter market, lithium niobate and lithium tantalate segments cumulatively accounted for US$ 6,127.0 Mn in 2021, according to the analysis conducted by Future Market Insights.
The lithium tantalate segment is estimated to grow the fastest with a CAGR of 13.4% during the forecast period 2021-31. Lithium Niobate is dominating the global acoustic wave filters market with a share of 43.4% by the end of 2021.
The growing demand for high-speed Internet for small and large-scale applications, and Internet of Things (IoT) technology making its debut in consumers' space will support developments.
A perpetual rise in the demand for communication networks with broad bandwidths will uphold the demand for lithium niobate crystals. The rollout of 5G networks in turn, holds the key to higher sales for the landscape.
Why Do Telecommunication Applications Hold Major Share in Global Market?
The telecommunications sector is expected to contribute maximum revenue share of more than 33.5% in the global demand for acoustic wave filters in 2021. Acoustic wave filters are majorly used in mobile devices/smartphones.
SAW/BAW filters are used in smartphones to transmit, filter, and receive paths for 3G, 4G, and also for 2G up to 15 bands, in addition to supporting Bluetooth, Wi-Fi, and other wireless communications. As the penetration of smartphones increases across the globe, the demand for acoustic wave filters is also expected to increase in the telecommunication sector.
Competitive Landscape
According to FMI's analysis, Qualcomm, Murata, Qorvo, Skyworks, Taiyo Yuden, and Broadcom are identified as key players in the acoustic wave filters landscape. Companies manufacturing acoustic wave filters are aiming at product innovation and strategic partnerships with other manufacturers to expand their product manufacturing capabilities to address the demand of an expanding customer pool.
For instance, in June 2021, Resonant announced Upgraded WaveX Design Software for Acoustic Wave Filter Development, Specifically Enhanced for 5G, Wi-Fi, and Ultra-wideband RF Filters. WaveX is the upgraded version of Resonant's legacy Infinite Synthesized Networks (ISN) design software. The new platform delivers full 3D finite element modeling simulation capability to design RF filters, and leverages a hybrid multi-cloud, large-memory GPU-powered implementation.
In February 2021, Qualcomm and TDK announced the launch of a joint venture. The joint venture will enable Qualcomm's RFFE business unit to deliver RF front-end (RFFE) modules and RF filters into fully integrated systems for mobile devices and fast-growing business segments, such as Internet of Things (IoT), automotive applications, and connected computing.
Manufacturers are also focusing on mergers and acquisitions to maintain their global presence.
In March 2021, Resonant acquired GVR Trade SA (GVR). With this acquisition, Resonant expanded its Enhanced ISN capabilities.
Scope of Report
Attribute

Details

Forecast Period

2021-2031

Historical Data Available for

2016-2020

Market Analysis

USD Million for Value

Key Countries Covered

US, Canada, Germany, U.K., France, Italy, Spain, Russia, China, Japan, South Korea, India, ASEAN, Australia & New Zealand, GCC Countries, Turkey, and South Africa

Key Segments Covered

Type, Material, Application, and Region

Key Companies Profiled

KYOCERA Corporation
Murata Manufacturing Co., Ltd
Skyworks Solutions, Inc.
Qualcomm Technologies, Inc.
Qorvo, Inc.
Tai-Saw Technology Co., Ltd.
Microsaw OY
Crystek Corporation
Anatech Electronics, Inc.
Taiyo Yuden Co., Ltd.
Abracon
Broadcom

Report Coverage

Market Forecast, Company Share Analysis, Competition Intelligence, DROT Analysis, Market Dynamics and Challenges, and Strategic Growth Initiatives

Customization & Pricing

Available upon Request
Key Questions Answered in the Report
Which region will reflect higher demand for acoustic wave filters?

South Asia and Pacific is projected to grow at the highest CAGR of 14.6% during the forecast period owing to increasing penetration of smartphones in countries such as India, Indonesia, and Thailand.

What is the acoustic wave filters market demand outlook?

Acoustic wave filters market is expected to rise at 10.6% CAGR between 2021 and 2031.

Which are some of the leading companies offering acoustic wave filters?

The leading companies in acoustic wave filters market are Qorvo, Murata, and Qualcomm. As per Future Market Insights, 47% of the market share is currently covered by the top 15 players.

In which application areas are acoustic wave filters highly integrated?

The telecommunications sector is expected to dominate the market with a revenue of US$ 8.4 Bn by 2031, owing to increasing commercialization of 5G technology across the globe.

What is the global acoustic wave filters market size?

The acoustic wave filters market will surpass ~US$ 8.2 Bn in 2021, and is estimated to grow at a steady pace through the forecast period.

What was the last 5-year acoustic wave filters market CAGR?

The market in last 5 years (2016 – 2020) grew at an impressive CAGR of 9.8%.

What are the key trends impacting the growth of acoustic wave filter sales?

Key trends in the market include focus on digital transformation, growing demand for wireless communication systems, and growing adoption of SAW/BAW filters for antenna routing and tuning for 5G networks.

What factors are driving the demand for acoustic wave filters?

Increasing adoption of acoustic wave filters in aerospace and defense applications, coupled with increasing demand in consumer electronics are spurring the growth of acoustic wave filters.

What are the top 5 countries driving acoustic wave filters demand?

The top 5 countries driving demand for acoustic wave filters include Indonesia, India, the U.S., Australia and New Zealand, and Malaysia.

What is the North America acoustic wave filters market Outlook?

North America will emerge as one of the most attractive markets during the forecast period. According to the study, the U.S. is expected to account for 89% of the North America market through 2031.

What are key market statistics in South Korea and Japan acoustic wave filters market?

Japan and South Korea markets were valued at US$ 1,034.3 Mn and US$ 300.4 Mn in 2020, and is projected to register CAGR of 9.5% and 6.3% respectively between 2021 and 2031.
Acoustic Wave Filters Market by Category
By Type:
SAW Filter

RF SAW Filters
IF SAW Filters

BAW Filter

Solidly Mounted Resonator BAW Filters
Film Bulk Acoustic Resonators
By Material:
Quartz
Lithium Niobate
Lithium Tantalate
Langasite
Others
By Application:
Consumer Electronics
Telecommunications
Automotive
Aerospace & Defense
Healthcare
Industrial
Others
By Region:
North America
Latin America
Europe
East Asia
South Asia & Pacific
Middle East and Africa (MEA)
Need specific information?