Introduction
No longer limited to offering basic phone and internet services, telecom industry is riding the wave of tech revolution and digital transformation to provide broader variety of services to customers.
This growth will continue as Future Market Insights (FMI) has estimated that deployment of AI-enabled testing tools will grow steadily in 2021 and beyond.
Efficient Customer Service and Network Operations
Due to shortage of staff, restricted access to sites, and lack of component supplies amid COVID-19 crisis, telecom firms will find it extremely difficult to offer maintenance and service, either via on-field personnel or call centers.
In many countries, call center service providers are closing or reducing the scope of operations despite significant rise in call volumes. Nevertheless, overwhelmed networks will exacerbate these factors, as such, pressure to fix faults and provide solutions to queries will increase considerably.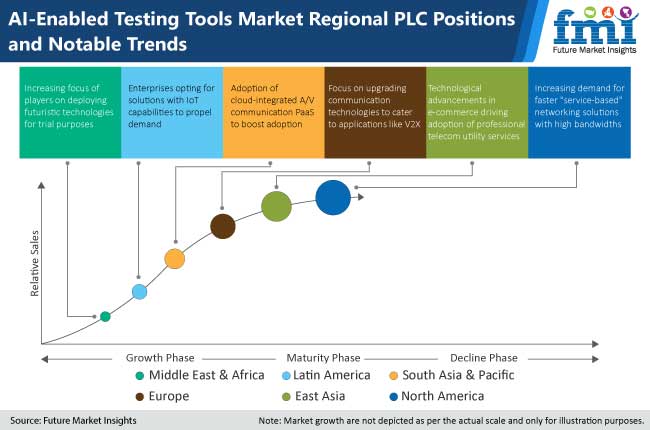 These concerns have influenced telecom firms to incorporate several data points such as earlier issues with similar networks and incidents per network load. These data points deliver accurate and dedicated support for higher-value customers, as AI can be incorporated to speed up reimagining of customer interactions to enhance customer experience (CX).
These tools enable telecom operators to provide services that back remote customers instantly and more effectively through smart search and chatbots. AI-enabled maintenance will allow automated management and maintenance of networks, easing pressure on IT support teams.
Success Story despite COVID-19 Shockwaves
Notable surge in bandwidth requirement and customer expectations amid COVID-19 pandemic has driven communication service providers (CSP) to the brink of advancing the intelligence of their network operations, optimization, and planning.
This consistent rise in network size, traffic volume, bandwidth expectations, and service complexity, is influencing CSPs to execute innovative approaches for customer assurance and network operations.
COVID-19 pandemic is - in certain ways – accelerating the adoption of AI-enabled testing tools to help firms leverage them to their benefit and make it through pandemic reverberations.
Key Challenges
As AI is progressively penetrating into telecom market, it is becoming increasingly vital to ensure that systems integrated with innovative technologies are functional, safe, and resilient. For this, testing of operational aspects of AI-enabled maintenance in telecom industry are also necessary.
However, there has not been any notable advancement in testing and maintenance of AI-based systems. These operational requirements are not being fulfilled, which, in turn, is hampering the efficiency of AI-enabled testing.
Region-wise Analysis
North America AI-enabled Testing Tools Market
With 5G being utilized for trial and partial commercial stages, various sensors are making forays in several fields such as automotive and industrial automation. Demand for automated and effective testing and maintenance of telecom infrastructure will soar considerably, thus, fueling adoption of AI-enabled testing in North America.
Communications service providers (CSP) are investing substantially (in billions) to roll out 5G technology and identify its notable improvements in connectivity, capacity, latency, openness, and reliability.
Combining these benefits with appropriate driving network and IT capabilities hold potential to unveil array of new services for customers and, above all, industrial applications.
To grab that potential, network framework has to be more high-performing, scalable, and flexible than ever before. It needs to be able to connect myriads of new sensors and devices, fulfil new traffic demands and various industry needs, and expand any service over any access technology.
This primarily accents for framework with cloud-centric capabilities, containerized micro services and agile, distributed architecture that supports analytics, programmability, and DevOps for fast service delivery – a 5G standalone (SA) core.
Request a sample specific to North America market
Europe AI-enabled Testing Tools Market
A similar trend can be seen in Europe as regional regulatory framework are striving to leverage the capabilities of 5G technology to incorporate connected vehicle-to-everything (C-V2X) infrastructure.
While initial C-V2X implementation has been relying on LTE (4G) networks, support for 5G connectivity is already underway.
The number of 5G trials in Europe grew in 2019 as mobile operators in the region have geared up for commercial launch of next-gen wireless network technology in at least one key city in each European Union (EU) member state by 2020.
Furthermore, the EU has allocated public funding of € 700 Mn through Horizon 2020 Program to support public private partnership on 5G, and will increase this investment by nearly 5X – to over € 3 Bn.
Request a sample specific to Europe market
East Asia AI-enabled Testing Tools Market
While investment growth rates in 5G slightly lesser in 2020 due to COVID-19 pandemic (excluding Japan and Greater China), CSPs in remaining regions are swiftly pivoting new and discretionary spending to establish 5G connectivity and 5G as a platform.
Greater China leads the pack worldwide in development of 5G connectivity, with 49.4% of global investment in 2020 attributed to the region. Cost-effective infrastructure in China in tandem with reduced regulatory barriers and state sponsorship is paving way for prominent CSPs in the country to aggressively establish 5G coverage.
These trends will propel adoption of AI-enabled testing in telecom market in East Asia to ensure accurate monitoring, handling and storage of data collected.
Category-wise Insights
Investment in AI-enabled Solution Growing
According to ThinkPalm, fraudulent activities and security breaches cost global telecommunications sector US$ 38 Bn every year, largely impacting industry's reputation. This accents the need for fraud detection tools, systems, and mechanisms.
AI-based tools, coupled with ML algorithms, are beneficial in detecting fraudulent activities. These tools are deployed on large number of operator data and customers to recognize characteristics of general traffic.
ML algorithms figure out abnormalities and with data visualization methods, reveal them as real-time alerts to analysts.
Integration with Machine Learning
AI-enabled testing tools integrated with machine learning (ML) and pattern recognition technologies will continue to capture leading revenue share over decade ahead.
These advanced tools help communication service providers (CSP) create self-optimizing networks (SON) that enable operators to automatically optimize network quality on the basis of traffic data by time zone and region.
In addition, they use advanced algorithms to recognize patterns within the data, allowing telcos to detect as well as forecast network defects, and enabling them to actively ward off issues before customers are negatively affected.
Growing Application in Network Intelligence
AI-enabled testing tools help companies to perform defect prediction and prevention (Predictive analysis) and offer enhanced services by utilizing sophisticated algorithms, data, and ML techniques to predict upcoming outcomes based on historic data.
That implies telcos can leverage data-backed insights to monitor equipment, predict abnormalities, and actively fix issues with communication hardware such as cell towers, power lines, datacenter servers, and even consumers' set-top boxes.
Network intelligence and automation - in short term - will help telecom operators for enhanced root cause assessment and prediction of issues. On the other hand, in long term, these cutting-edge solutions will support more strategic goals such offering better quality and user experiences (UX) and addressing evolving business requirements more effectively.
AI-enabled Testing Tools Market: Competitive Landscape
AI-enabled testing tools market players are capitalizing on increasing demand for machine learning (ML) based visual testing and verification technologies. These technologies are capable to spot differences in user interface (UI) which manual testing will most likely overlook. Market players are developing such innovative solutions that help end users by autonomously identifying visual bugs in UI of software solutions.
Applitools Eyes is drvien by Visual AI, which is the sole AI-powered computer vision that mimics human brain and eyes to swiftly detect visual and functional regressions. Testing infused with Visual AI are developed 5.8X swifter, function 3.8 more stable, and spot 45% more bugs compared to conventional functional tests. Moreover, testing driven by Visual AI leverages stability and ultrafast speed of next-gen cross browser testing - Ultrafast Grid.
SeaLights has recently rolled out Intelligent Test Execution that automatically recognizes and implements only precise subset of testing required to authenticate recent changes in codes. The cutting-edge solution increases release speed by over 90% as testing and build cycles are considerably curbed. This allows DevOps teams to attain true continuous delivery (CD) at enterprise level.
mabl Inc. has announced global collaboration with NIIT Technologies Limited – prominent global IT solutions firm – in order to provide AI-enabled automated technologies for cost-effective, faster, and enhanced application testing services. With further AI-enabled capabilities of mabl platform - auto-healing and quality insights - quality assurance (QA) teams can ramp up testing of applications in DevOps/Agile projects. This will allow them to provide error-free releases and attain overall quality goals.
In addition to these, some other key players in include AI-enabled testing tools players include,
Sauce Labs Inc.
testim
Appdiff, Inc.
ReTest GmbH
ReportPortal.io
SOFY
Diffblue Ltd.
Eggplant
apptest.ai Inc.
Functionize Inc.
testRigor
AutonomIQ
The list is only indicative – full list of AI-enabled testing tools market key players is available upon request.
AI-enabled Testing Tools Industry Report: Scope
| | |
| --- | --- |
| Attribute | Details |
| Forecast Period | 2020-2030 |
| Historical Data Available for | 2015-2019 |
| Market Analysis | USD Million for value |
| Key Regions Covered | North America, Latin America, Europe. Southeast Asia Pacific, East Asia, and Middle East & Africa (MEA) |
| Key Countries Covered | US, Canada, Brazil, Mexico, Germany, U.K., France, Italy, Spain, BENELUX, China, Japan, South Korea, India, ASEAN, Australi, New Zealand, GCC Countries, Turkey, Northern Africa, Israel, South Africa |
| Key Segments Covered | Solution, Technology, Application, and Region |
| Key Companies Profiled | Applitools; Sauce Labs Inc.; testim; SeaLights; Appdiff, Inc.; mabl Inc.; ReTest GmbH; ReportPortal.io; SOFY; Diffblue Ltd.; eggplant; apptest.ai, Inc.; Functionize, Inc.; testRigor; and AutonomIQ (only indicative list) |
| Report Coverage | Market Forecast, brand share analysis, competition intelligence, DROT analysis, Market Dynamics and Challenges, Strategic Growth Initiatives |
| Customization & Pricing | |
Regional Outlook
North America (US, Canada)
Latin America (Brazil, Mexico)
Europe (Germany, UK, Russia, France, Italy)
Southeast Asia Pacific (India, ASEAN, and Oceania)
East Asia (China, Japan, and South Korea)
Middle East & Africa (MEA) (Turkey, GCC Countries, and South Africa)
Key Questions Answered by the Report
Which is the largest market for AI-enabled testing tools market?

North America represents the largest market for AI-enabled maintenance tools in telecom sector globally, owing to well-established technology space and rising adoption of 5G connectivity.

Who are the leading vendors in global artificial intelligence enabled testing tools market?

Applitools, Sauce Labs Inc., testim, SeaLights, and Appdiff Inc. are among the leading market players.

What is the use of artificial intelligence in telecom industry?

AI-enabled maintenance and testing tools will enable telecom firms and CSPs to deal with fluctuating demand intensity, adapt to supply chain disruptions, and swiftly adjust to changes in consumer priorities and reliance.

What is the outlook on East Asia artificial intelligence in telecom market?

Artificial intelligence in telecom market in East Asia is experiencing meteoric growth, given rising need for blockchain technologies to process tremendous e-commerce data volumes.
World's Most Profilic Intelligence Engine
Get Access To The World's Largest Market Research Database. Ngage with a revolutionary intelligence engine that scale and pricing that flexes as per your needs
Sign Up Now
Key Segment
Solution
AI-based Tools

Data Wrangling and Pre-processing
Data Visualization
Feature Selection and Reduction
Others

Services

Professional Services
Managed Services
Technology
Machine Learning and Pattern Recognition
Natural Language Processing (NLP)
Computer Vision and Image Processing
Application
Agility and Coverage

Test and Maintenance Case Generation
Test and Maintenance Optimization

Quality and User Experience (UX)

Coverage and Risk Analytics
Defect Prediction and Prevention

Efficiency and Time-to-Market

Test Automation
Infrastructure Optimization
Data Analytics
Need specific information?