An Incisive, In-depth Analysis on the Analog Phase Shifter Market
This study offers a comprehensive, 360 degree analysis on the Analog Phase Shifter market, bringing to fore insights that can help stakeholders identify the opportunities as well as challenges. It tracks the global Analog Phase Shifter market across key regions, and offers in-depth commentary and accurate quantitative insights. The study also includes incisive competitive landscape analysis, and provides key recommendations to market players on winning imperatives and successful strategies.
COVID -19 : Impact Analysis
Request the coronavirus impact analysis across industries and markets
Request Covid -19 Impact
Telecommunications sector expected to pick up pace after 2020 in the global analog phase shifter market
Analog phase shifters are used for continuously variable phase, most often controlled by a voltage. Electrically controlled phase shifters use varactor diodes or nonlinear dielectrics. The major application of analog phase shifters is found in phased array antennas used in defence equipment satellites and weather monitoring radars. For a long time, analog phase shifters were catering to a limited number of applications in radars and satellite communication, and a major chunk of the market can be attributed to defence applications. However, this market scenario is set to change in the coming years, with 5G antennas integrating analog phase shifters within them. The widespread nature and ubiquity of telecommunication infrastructure will induce a substantial growth in the market for analog phase shifters. The telecommunications segment in the global analog phase shifter market is expected to pick up pace in 2020, when the segment is anticipated to reach a valuation of over US$ 60 Mn by the end of 2020. The other two segments – radars and satellites – are both expected to witness a CAGR of 4.9% during the forecast period 2017-2027. The telecommunications segment is expected to grow at a whopping CAGR of 59.2% during the forecast period.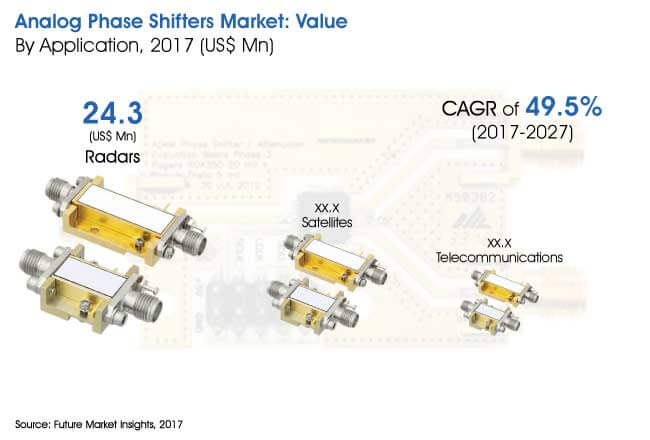 Analog phase shifter market to grow with arial defence gaining importance among security forces
As political instability and civil war continues in the Middle East, rich economies like the U.S. and Saudi Arabia are likely to spend heavily on their aerial defence programs. Procurement of air-to-surface missiles and up-gradation of military jets is also on the rise. Many countries are even implementing usage of drones into their arsenal. As phased array antennas are largely used in missile defence systems and military jets, the increasing focus on aerial defence will result in a favourable demand for analog phase shifters in the coming years. Phased array radars have become omnipresent to defence applications due to significant investments over a long period of time. Several technological advancements in this sector have garnered the interest of a number of industries. The application of phased array technology is done in many technologies such as air traffic control, weather monitoring, and automotive radar. Other than this, the usage of phased array antennas is also rampant in passenger airlines and private space explorers to develop applications on top of the currently available products. The current technologies have undergone a significant overhaul on their design and efficiency and thus, manufacturers have leveraged their technology skills gained from defence expertise into the development of commercial solutions.
Cost restrictions are expected to hinder revenue growth of the analog phase shifter market during the forecast period
Traditionally, phased array radars have been costly, inflexible, and complex to calibrate. This was acceptable in the case of defence applications because the defence industry is generally characterised with longer product development cycles and costlier products. However, airlines have put forward cost concerns as one of the primary reservations against the adoption of phased array radars. To meet the cost requirements, manufacturers have developed methods to mass produce analog phase shifters and phased array antennas by not using dielectric or meta-materials. What remains to be seen is the actual implementation of cost optimised radars and other analog phase shifter applications in the aviation sector and the subsequent benefits vis-à-vis the price points offered by manufacturers.
Extensive primary and secondary market research to obtain relevant data points
This research methodology is a strong combination of in-depth secondary research and extensive primary interviews with key industry stakeholders and domain experts to gather the necessary data and information pertaining to the specific market being researched; followed by a multi-layer validation of the gathered data to glean pertinent market insights capable of impacting critical business decisions. This exhaustive methodology has been followed during the study of the global analog phase shifter market and the findings and insights have been presented in a systematic manner in our new report titled "Analog Phase shifter Market: Global Industry Analysis 2012 – 2016 and Opportunity Assessment, 2017 – 2027."
The secondary research adopted in this market study incorporates manufacturers' market overview; production trends and forecast of the analog phase shifter market across various regions; historical and forecasted sales value trends; product type comparison and performance criteria; end-use industry growth projections; regional average pricing trends; manufacturers' product portfolio; and market dynamics across key assessed geographies. Primary research focusses on the present and future market scenario in developed nations and emerging economies; drivers, restraints, challenges, trends, and opportunities; manufacturers' top business strategies; criteria for market segmentation; segmental value split; and average product cost analysis. Data analysis comprises sales correlation of analog phase shifters; macroeconomic factor analysis; historical trend analysis; and statistical analysis.
Leveraging key market sources to gather pertinent market data
While researching this market, we have referred to authentic sources such as industry association publications, annual reports, publications, and presentations of key manufacturers of analog phase shifters, and sources such as World Bank, trade data, and government websites. Extensive primary interviews with industry experts, manufacturers and suppliers of analog phase shifters, and industry association members complete the data gathering process.
Market sizing and forecasting
This involves estimation of market value in US$ Mn; regional average pricing of products to arrive at revenue estimates; and factor analysis and CAGR and Y-o-Y growth used to deduce market projections. Data reporting involves establishing qualitative and quantitative data and facts as well as market dynamics.
Cohesive report structure for seamless flow of information and insights
The report on the global analog phase shifter market follows a systematic structure that enables report readers to grasp the nuances of the global market across the various segments and assessed regions in an easy-to-understand format. An executive summary that is essentially a snapshot of the global analog phase shifter market precedes the market introduction, market outlook, and market viewpoint chapters. The next few sections provide detailed information on the global analog phase shifter market analysis and forecast by application and region. These sections present a historical analysis of the global analog phase shifter market for the period 2012 – 2016 along with a detailed forecast for the period 2017 – 2027.
This is followed by an individual regional market analysis and forecast of the assessed geographies – focussing on the prominent countries within these regions and the different market segments. These regional forecasts indicate the regional pricing analysis (historical and current value forecasts) and highlight the drivers, restraints, and trends likely to impact the specific regional markets for analog phase shifters. Impact analysis of drivers and restraints, list of key regional market participants, and a competitor market presence intensity mapping conclude these sections.
The next and most important section of the report is based on the competitive landscape of the global analog phase shifter market. This section provides a dashboard view of the top companies operating in the global analog phase shifter market along with detailed company profiles including overview, financials, business strategies, and recent market developments. Information on the research methodology adopted and a list of assumptions and acronyms used throughout the publication conclude the report.
Market Segmentation
By Application

By Region

Radars

Satellites

Telecommunication

North America

Western Europe

Eastern Europe

Latin America

APEJ

Japan

MEA
Harish Tiwari
Global Head - Business Development
Akshay Godge
Client Partner - Global Business Development
CASE STUDIES
See how our work makes an impact.
At FMI, we design strategies that are adaptive, impactful, and implementable.