Introduction
Automotive bearings are a vital component in automobiles and are responsible for efficient and smooth running of the vehicle. Their main function is to enable linear or rotational movement along with handling high stress. They are the central part in various automobiles that allow the desired motion and compel relative motion.
They ensure efficiency and speed enhancement of the vehicle at the same time maintaining balance. Automotive bearings involve a ball with an external and internal frictionless metal surface that support the smooth movement of the bearings. The ball inside the bearing typically handles the load which in turn causes rotation of the bearing.
Future Market Insights has put forth a complete analysis of the global automotive bearing market by carrying out research on the emerging automotive sector and the bearing industry across key regions in the globe. The analytical research report on global automotive bearing market studies various facets associated with automotive bearings such as bearing types, material used and sales channels across key regions across the entire globe.
With the help of a weighted market segmentation future projections are carried out for five years starting from 2017 to 2022. These forecast insights can assist in slating important decisions with a view to achieve strategic advantage. The research also focuses on drivers, developments, economic aspects, restraints and trends influencing the growth of the global automotive bearing market.
According to the comprehensive research report on automotive bearing market, the global market is expected to grow at a significant rate during the period of forecast. The global automotive bearing market is estimated to reach a value of about US$ 180.9 Bn by the 2022 end from a valuation of around US$ 142.4 Bn in 2017. It is projected to grow at a steady CAGR throughout the forecast period 2017-2022.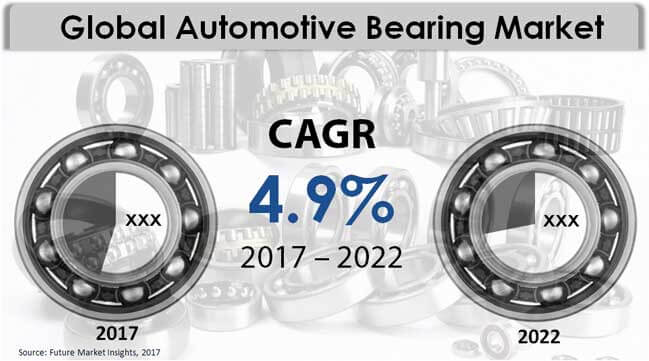 Ball Bearings to Roll to the Top
By bearing type, the ball bearings segment is expected to be the largest segment with respect to market value. In 2017, this segment lead the global market by bearing type and by the end of 2022, this segment is estimated to reach a valuation of about US$ 35.4 Bn growing at a steady CAGR during the period of forecast. Ball bearings are the used on a large scale in numerous applications owing to their load bearing capacity, strength, wear resistance and overall performance.
Revenue Generated from Compact Passenger Cars is Comparatively High
Bearings are used in different vehicle types. In the vehicle type category, compact passenger cars segment is expected to show high usage of automotive bearings owing to which they portray high market share as of 2017. This trend is expected to continue over the forecast period, thus reflecting dominance over other vehicle type segments in the global market. The compact passenger cars segment is projected to grow at 5% CAGR during the period of forecast.
Asia-Pacific excluding Japan Region (APEJ) to Present High Opportunities
The APEJ region is expected to be the most lucrative region presenting high opportunities to upcoming players and established giants in the automotive bearing sector in the years to come. The APEJ automotive bearing market is expected to grow at the highest rate by registering a high 5.2% CAGR during 2017-2022. The automotive bearing market in this region is also expected to represent a high market valuation by 2022 end.
Competitive Scenario
The research study on automotive bearing market has covered several key player profiles that includes their SWOT analysis, company overview, key financials, product portfolios and key developments. Companies such as ILJIN Bearing Co., Ltd., JTEKT Corporation, MinebeaMitsumi Inc., NRB Bearings Ltd., NTN Corporation, RKB Bearing Industries, Schaeffler AG and The Timken Company are profiled in this research study.
Market segmentation
Region
North America
Latin America
Europe
Japan
APEJ
MEA
Bearing Type
Ball Bearing
Roller Bearings
Ball Thrust Bearings
Roller Thrust Bearings
Tapered Roller Bearings
Specialized Bearings
Others
Material Type
Metal-Polymer
Engineered Plastics
Fiber Reinforced Composite
Metal and Bimetal
Sales Channel
Vehicle Type
Compact Passenger Cars
Mid-sized Passenger Cars
Premium Passenger Cars
Luxury Passenger Cars
Light Commercial Vehicles
Heavy Commercial Vehicles
Two-Wheeler
Need specific information?