An Incisive, In-depth Analysis on the Automotive Bearings Market
This study offers a comprehensive, 360 degree analysis on the Automotive Bearings market, bringing to fore insights that can help stakeholders identify the opportunities as well as challenges. It tracks the global Automotive Bearings market across key regions, and offers in-depth commentary and accurate quantitative insights. The study also includes incisive competitive landscape analysis, and provides key recommendations to market players on winning imperatives and successful strategies.
Automotive bearings are a vital component in automobiles and are responsible for efficient and smooth running of the vehicle. Their main function is to enable linear or rotational movement along with handling high stress. They are the central part in various automobiles that allow the desired motion and compel relative motion. They ensure efficiency and speed enhancement of the vehicle at the same time maintaining balance. Automotive bearings involve a ball with an external and internal frictionless metal surface that support the smooth movement of the bearings. The ball inside the bearing typically handles the load which in turn causes rotation of the bearing.
Future Market Insights has put forth a complete analysis of the global automotive bearing market by carrying out research on the emerging automotive sector and the bearing industry across key regions in the globe. The analytical research report on global automotive bearing market studies various facets associated with automotive bearings such as bearing types, material used and sales channels across key regions across the entire globe. With the help of a weighted market segmentation future projections are carried out for five years starting from 2017 to 2022. These forecast insights can assist in slating important decisions with a view to achieve strategic advantage. The research also focuses on drivers, developments, economic aspects, restraints and trends influencing the growth of the global automotive bearing market.
According to the comprehensive research report on automotive bearing market, the global market is expected to grow at a significant rate during the period of forecast. The global automotive bearing market is estimated to reach a value of about US$ 180.9 Bn by the 2022 end from a valuation of around US$ 142.4 Bn in 2017. It is projected to grow at a steady CAGR throughout the forecast period 2017-2022.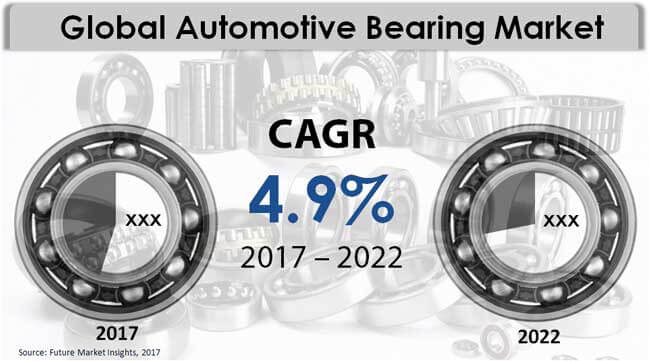 Ball Bearings to Roll to the Top
By bearing type, the ball bearings segment is expected to be the largest segment with respect to market value. In 2017, this segment lead the global market by bearing type and by the end of 2022, this segment is estimated to reach a valuation of about US$ 35.4 Bn growing at a steady CAGR during the period of forecast. Ball bearings are the used on a large scale in numerous applications owing to their load bearing capacity, strength, wear resistance and overall performance.
Revenue Generated from Compact Passenger Cars is Comparatively High
Bearings are used in different vehicle types. In the vehicle type category, compact passenger cars segment is expected to show high usage of automotive bearings owing to which they portray high market share as of 2017. This trend is expected to continue over the forecast period, thus reflecting dominance over other vehicle type segments in the global market. The compact passenger cars segment is projected to grow at 5% CAGR during the period of forecast.
Asia-Pacific excluding Japan Region (APEJ) to Present High Opportunities
The APEJ region is expected to be the most lucrative region presenting high opportunities to upcoming players and established giants in the automotive bearing sector in the years to come. The APEJ automotive bearing market is expected to grow at the highest rate by registering a high 5.2% CAGR during 2017-2022. The automotive bearing market in this region is also expected to represent a high market valuation by 2022 end.
Competitive Scenario
The research study on automotive bearing market has covered several key player profiles that includes their SWOT analysis, company overview, key financials, product portfolios and key developments. Companies such as ILJIN Bearing Co., Ltd., JTEKT Corporation, MinebeaMitsumi Inc., NRB Bearings Ltd., NTN Corporation, RKB Bearing Industries, Schaeffler AG and The Timken Company are profiled in this research study.
An extensive, systematically structured research report on "Automotive Bearing Market: Global Industry Analysis (2012-2016) and Forecast (2017-2022)" enables the reader to chalk down the strategies in order to progress with the changing pace of the global market scenario. The research report is backed up with a unique research methodology, which presents data and statistics with high precision. The global automotive bearing market research report covers an in-depth market segmentation which covers all angles thus giving a 3600 view of the market delivering necessary value addition with a strategic layout.
Benefit With a Seamless Research Perspective
The comprehensiveness of the automotive bearing market research report is proven, as it covers every single angle present in every single segment and sub-segment of the global market with respect to each sub region of important geographies which gives a holistic touch to the research study. The reader can get a broad idea regarding implementation of marketing strategies in order to achieve informed growth in the years to come. The geographical cover up includes intelligence on important landscapes of North America, Europe, Latin America, Asia-pacific excluding Japan (APEJ), Japan and Middle East and Africa (MEA). Each of these geographies are further sub-categorized country wise and assessed. Several aspects are analyzed which have an impact on the automotive bearings market growth along with the opportunities and threats that these regions reflect. Moreover, the macroeconomic aspects, trends, drivers and challenges are also discussed in this research study.
Complete Assessment of Competition
The global automotive bearing market research report dedicates an entire research chapter on competitive intelligence, which reflects key details of various tier companies involved in the market. The details such as company overview, product portfolio, SWOT analysis, key innovations and developments, key financial intelligence of these key players have been included in the research study.
The Global Automotive Bearing Market Research Report is Crafted Using a Unique Research Methodology
The research carried out for analyzing the automotive bearing market follows an exclusive research methodology that increases the accuracy percentage by reducing the deviations to a great extent. The one of its kind research methodology follows a repetitive pattern wherein each data point of every single parameter of each and every segment is evaluated multiple times and a re-validation gives a finishing touch that offers high precision with reduced errors followed by a triangulation method that raises the aspect ratio of credibility. There is no room for miscalculations due to such a streamlined and structured research process. Managed by domain experts, the analysts have crafted the automotive bearing market research report in such a way that it can be easily understood owing to simple yet matchless report structure.
Market Segmentation
| Region | Bearing Type | Material Type | Sales Channel | Vehicle Type |
| --- | --- | --- | --- | --- |
| | | | | |
| | | | | |
| | | Fiber Reinforced Composite | | |
| | | | | |
| | | | | Light Commercial Vehicles |
| | | | | Heavy Commercial Vehicles |
| | | | | |
Future Market Research provides intelligence support to its partnering organizations in every aspect such as end user intelligence, competition, consumer behavior across a variety of domains. It strives deliver value to its clients by providing
Holistic market research with unbiased market crunching

Considering every angle of the market which influences the global market growth by carrying out detailed market segmentation

Support with respect to conceptualization to commercialization of ideas

Highly accurate data an statistics

Weighted analysis and data interpretations and 24x7 analyst support to solve any queries

Key recommendations basis the opinions of the market domain experts
COVID -19 : Impact Analysis
Request the coronavirus impact analysis across industries and markets
Request Covid -19 Impact
CASE STUDIES
See how our work makes an impact.
At FMI, we design strategies that are adaptive, impactful, and implementable.