Carpal Tunnel Release Systems Market By Product (Open CTR systems, Endoscopic CTR systems), End User (Hospitals, Ambulatory Surgical Centers, Specialty Clinics) & Region - Forecast to 2019 - 2029
Carpal Tunnel Release Systems Market - Analysis, Outlook, Growth, Trends, Forecasts
January 2020

REP-GB-5965

201 pages
Open CTR Systems Make up for Nearly 80% Share
Accounting for around 4/5th of total revenue share, open CTR systems will remain the preferred treatment method throughout the forecast period. While open CTR systems have been the conventional approach to address CTS, they are likely to lose their share to endoscopic CTR systems in the near future. In line with surging demand for minimally invasive surgeries, endoscopic CTR systems are expected to garner prominence in the near future. Further, this study emphasizes maximum adoption of endoscopic CTR systems for treating CTS in 2022.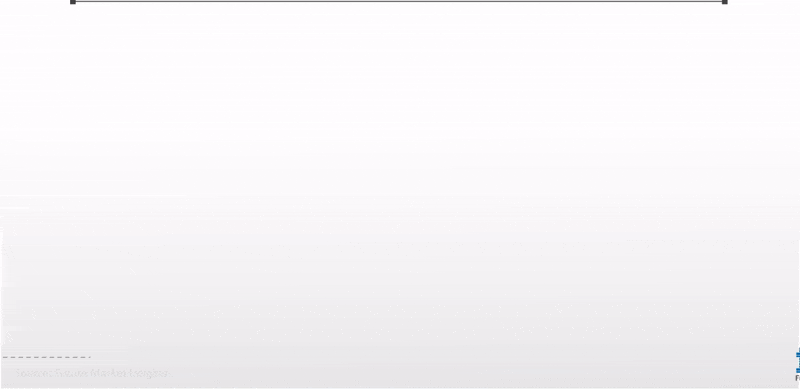 Developed Regional Markets Account for over 60% of Global Sales
The growth of carpal tunnel release systems market, in both developed and developing regions, will primarily be centered upon rising per capita healthcare spending and favorable reimbursement policies for out-patient surgical procedures. Europe and North America are currently the leading contributors to global market revenues. Although these developed regions collectively account for over 60% of total adoption, there are strong possibilities that developing regional markets such as Asia Pacific (APAC) will reflect an attractive growth prospect in the coming years.
Growth Strategies Abound in Product Innovation
In an effort to treat CTS in an effective manner, market players must follow an innovative approach. Moreover, they are entering into collaborations with contract manufacturing organizations for developing advanced CTR systems. For instance, A.M. Surgical, Inc. has developed an endoscopic carpal tunnel release system that delivers a clear view of surgical field and structure of median nerve. The market incumbent is also in agreement with Medigus Ltd for the development of an integrated visualization device.
How Growth will Unfold
Adoption of carpal tunnel release systems in hospitals, particularly in developed regions, is anticipated to remain strong going positive. Whilst increasing application in ambulatory surgical centers (ASCs) in East Asia, and Middle East & Africa (MEA) is likely to turn into increased market share. Notable rise in out-patient surgeries occurring ASCs, owing to faster clinical outcomes, and improved medical reimbursements, has been driving market players to focus on these end users.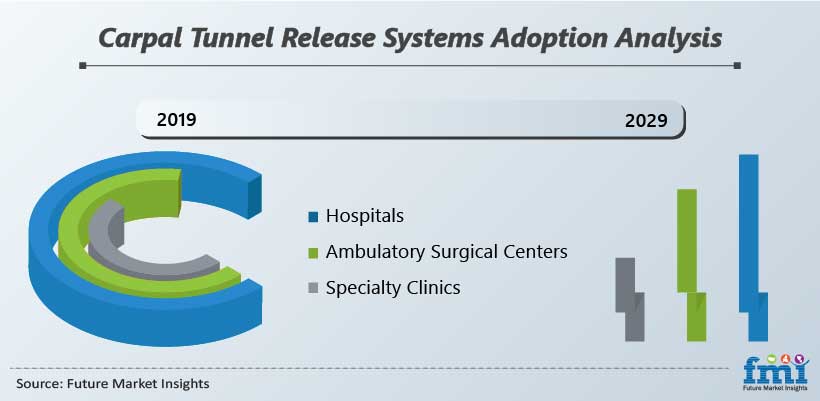 FREQUENTLY ASKED QUESTIONS ABOUT GLOBAL CARPAL TUNNEL RELEASE SYSTEM MARKET
Which will be the key factor responsible for increasing sales of carpal tunnel release systems?
Increasing prevalence of carpal tunnel syndrome (CTS) among industrial workers remains the key factor responsible for growing sales of carpal tunnel release systems. The prevalence is particularly high among phone operators, cafeteria operators, food & coffee shop counter attendants, electrical, electronic and electromechanical assemblers, and fabric, textile and coating mill workers.
Which trend is prominent in the carpal tunnel surgeries that favors the growth of carpal tunnel release systems market?
Over the last few years, carpal tunnel surgeries performed on outpatient have increased due to lower procedure costs and improved medical reimbursement coverage. Rising number of carpal tunnel surgeries is anticipated to fuel the demand for carpal tunnel release systems, particularly in developed countries.
Where does the major opportunity reside?
The demand is primarily emerging from countries such as the U.S. Germany, the U.K., and Australia. For example, in Germany, around 500,000 carpal tunnel syndrome surgeries are carried out each year. Enhanced emergency room coupled with affordability are factors contributing to the growing number of carpal tunnel surgical procedures.
How is development of minimally invasive surgical techniques encouraging innovations in carpal tunnel release systems?
Increasing demand for minimally invasive surgeries has encouraged manufacturers of medical devices to develop advanced surgical technologies. For example, Sonex Health's, launched SX-One MicroKnife that enables ultrasound-guided carpal tunnel release through a single micro-incision. A.M. Surgical, Inc., introduced STRATOSTM that works independently to confirm key anatomy and is completely protected along the length of the cannula prior to release.
How does the competition scenario in global carpal tunnel release systems market look like?
The global market for carpal tunnel release systems represents a highly consolidated competitive landscape, where a few key players maintain their market share through a strategic focus on developing strong distribution partnerships and joint ventures, aiming at stronger global footprint. The carpal tunnel release systems market has been growing moderately, which remains a key factor for its dynamic competitive nature.
World's Most Profilic Intelligence Engine
Get Access To The World's Largest Market Research Database.
Sign Up Now
CARPAL TUNNEL RELEASE SYSTEMS MARKET TAXONOMY
The global carpal tunnel release systems market is segmented in detail to cover every aspect of the market and present a complete market intelligence approach to the reader.
Product
Open CTR systems
Endoscopic CTR systems
End User
Hospitals
Ambulatory Surgical Centers
Specialty Clinics
Region
North America
Latin America
Europe
East Asia
South Asia
Oceania
Middle East and Africa
Need specific information?
Our Clients