Cosmetic Tubes Market Snapshot
[170 Pages Report] The global cosmetics tube market exhibited year-over-year growth by 4% between 2020 and 2021. As per Future Market Insights, demand for cosmetic tubes is expected to accelerate at 4.6% CAGR. Consequently the cosmetics tube market size is projected to top US$ 2.4 Bn in 2021.
Demand for cosmetic packaging tubes is expected to be driven by rapid expansion of the FMCG industry and the personal care industry. Rising awareness regarding personal hygiene, along with increasing adoption of skincare products driven by social media influence are expected to push sales of cosmetic tubes in the forthcoming years.
According to the study, sales of cosmetic tubes represented 8% of the US$ 30 Bn worth global cosmetic packaging market in 2020. Besides this, the demand for bio-based cosmetic tubes and tubes made from recyclable materials are expected to rise, augmenting the overall growth through 2031.
| | |
| --- | --- |
| Attribute | Details |
| Estimated Cosmetic Tubes Market Size 2021 | US$ 2.4 Bn |
| Value CAGR (2021-2031) | ~4.6% |
| 2020-2021 Year-Over-Year Growth | ~4% |
| Cosmetic Tubes Market Top Players Share in 2021 | 10%-15% |
2016-2020 Cosmetic Tubes Market Outlook in Comparison to 2021-2031 Growth Forecast
Demand for cosmetic tubes is expected to grow at a 4.3% CAGR over the forecast period 2021 to 2031, in comparison with the 3.7% CAGR registered between 2016 and 2020.
Growing demand for lightweight and portable packaging solutions in the cosmetics and personal care industry is expected to drive sales of cosmetic tubes over the assessment period. In addition to this, shifting preference for recyclable cosmetic packaging solutions is anticipated to augment growth of the market.
According to the United Nations Environment Programme (UNEP), about 300 million tons of plastic is produced every year, which is equivalent to the entire human population. Researchers estimate that around 60% of the plastic waste ends up in landfills of the natural environment.
As concerns regarding plastic pollution and disposal continue to grow, consumers are actively shifting towards sustainable cosmetic packaging solutions to reduce waste. This trend is compelling cosmetic tube manufacturers to invest in research and development for the development of biomaterials for recyclable packaging of cosmetics and personal care products.
In addition to this, social media influence and the introduction of new skincare trends by influencers across online platforms such as Pinterest, Instagram, Facebook, and Twitter are propelling sales of skincare products. This, in turn, is fuelling the demand for cosmetic tubes.
Against this backdrop, sales of cosmetic tubes are projected to increase at a 4.3% CAGR in terms of volume through 2031.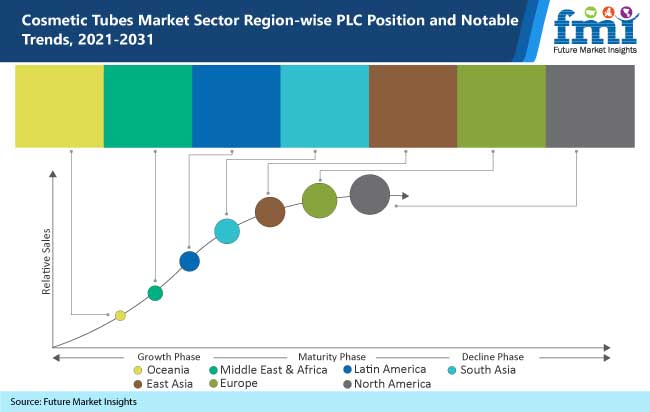 How is Focus on Recyclability Affecting Cosmetic Tubes Sales?
Innovative packaging in the cosmetics industry has always been a key factor for marketing. Decorative cosmetic tube printing, colors, themes, and shapes largely influence customers' purchasing decisions.
However, due to conscious efforts made by manufacturers and consumers to reduce plastic production and consumption, sustainability has become a crucial factor driving innovation in the cosmetic packaging sector.
As consumers are increasingly shifting towards lower and zero-waste lifestyle, questions surrounding the material used for cosmetic packaging are top-of-mind among manufacturers. Brands are realizing the significance of environmental health and are developing eco-friendly cosmetic packaging solutions including tubes. The move from plastic cosmetic tubes to more eco-friendly versions is happening sooner than expected.
For instance, Albéa, a leading cosmetic packaging manufacturer, Origins, a global skincare brand, The Estée Lauder Companies (ELC), a leader in prestige beauty, and SABIC, a global leader in chemical industry have entered in a strategic partnership to launch recyclable cosmetic tubes to the market in 2021.
Albéa will leverage its expertise to develop advanced recycled resins to provide Origins with a cosmetic tube made from a certified polymer resin developed by SABIC's certified circular polyethylene and polypropylene advanced recycling technology.
SABIC's certified circular polymer is a part of its TRUCIRCLE portfolio of circular solutions, through which the company can convert plastics back to their original polymer. Through this process, all four companies are helping to accelerate sustainability-based innovation to promote a circular plastic economy. Such developments are expected to provide impetus to growth of the cosmetics tube market over the forecast period, opines FMI.
How Will Portable Cosmetic Drive Cosmetic Tubes Demand?
Demand for miniaturized packaging for skincare and personal care products such as shampoos, facewash and moisturizers is rising in tandem with demand for eco-friendly packaging solutions. This trend is largely driven by growing preference for portable and on-the-go functionality in cosmetics packaging.
Manufacturers are developing dispensers and applicators attached with tubes to provide consumers with more control and convenience while using products. Instead of single use face masks, companies are going back to traditional tube packaging for face masks to offer more quantity and portability.
Apart from this, growing interest in hygiene-conscious and small sized packaging driven by COVID-19 outbreak is expected to propel sales of below 50ml or 50-100ml cosmetic tubes. Companies are reinterpreting large dosing packages to miniature sized or single-use disposable units to prevent cross contamination.
For instance, International Cosmetic Suppliers Ltd. (ICS), a global leader in beauty packaging solutions, is offering cosmetic tubes and bottles with built in applicators to promote hands-free application to keep the formulation and skin contamination-free.
The company is also offering mini and mono-dose cosmetic tubes for various beauty products to improve recyclability and reduce product wastage. As per FMI, these factors are expected to bode well for the cosmetics tubes market through 2031.
Country-wise Insights
Will Ecommerce Expansion Drive the U.S. Cosmetic Tubes Market?
As per FMI's analysis, sales of cosmetic tubes in the U.S. are expected to grow at a steady pace, with the North America cosmetic tubes market projected to expand at a 3.9% CAGR through 2031.
Increasing adoption of online retail channels by various beauty brands in the U.S. is propelling sales of cosmetic tubes. Consumers are largely preferring smaller versions of new products to test them first before buying the full-size version.
The presence of leading online beauty stores such as Sephora and Ulta Beauty in the U.S. is a chief factor pushing sales of cosmetic tubes. These online stores offer timely delivery, a wide range of cosmetics, makeup, and skincare products with easy payment options, which in turn is augmenting growth of the cosmetic tubes market in the U.S.
Furthermore, emerging brands are focusing on sustainable packaging in response to shifting preference for recyclable cosmetic tubes. For instance, U.S.-based shampoo brand Everist offers shampoo and conditioners in waterless form, making them lighter to transport and easy to carry. The shampoo comes in recyclable aluminum cosmetic tube, and the cap can be sent back free of charge to be recycled through Everist's CapBack program.
Such developments are indicative of lucrative growth prospects for cosmetic tubes market players in the U.S. over the assessment period.
How Will Sustainability Concerns Affect Germany Cosmetic Tubes Market?
In response to stringent regulations regarding carbon emission across the European Union (EU) countries, manufacturers of cosmetic tubes in Germany are focusing on the development of sustainable cosmetic tubes.
Consumers are also inclining towards packaging formats made form innovative materials. This is expected to create growth opportunities for existing players and entrants in Germany cosmetic tubes market. As per FMI, sales of cosmetic tubes across Europe are forecast to increase at a 3.4% CAGR.
The presence of prominent cosmetics and personal care product manufacturers such as L'Oréal, Procter and Gamble, Beiersdorf, Henkel and Unilever is a chief factor spurring demand for cosmetic tubes in Germany.
Apart from this, the implementation of German packaging law in 2019 (VerpackG) aims to reinforce regulations on recycling of packaging waste. Under this law, new entrants operating in the primary and secondary packaging market need to register with the National Packaging Register. Manufacturers must declare their packaging format and quantities of cosmetic products and must pay an eco-contribution.
Owing to these factors, sales of aluminum cosmetic tubes are expected to rise at a remarkable pace in Germany through 2031.
How is Social Media Influence Driving Sales in China Cosmetic Tubes Market?
Rising popularity of social media platforms such as Soyoung, Red (Xiaohongshu), Weibo and WeChat in China is propelling sales of cosmetics in the country. Beauty influencers and skincare enthusiasts are introducing the audience with the latest beauty and skincare trends.
This factor is driving sales of cosmetics, personal care, and makeup products in China. As a result, sales of cosmetic tubes are expected to rise at a remarkable pace during the forecast period, placing China as a lucrative cosmetic tubes market.
Domestic beauty brands in China such as Perfect Diary and Florasis are skillfully using social media platforms to improve sales. Millennial and Gen Z consumers in the country are getting introduced to beauty products through social media. This trend is expected to continue over the forecast period, augmenting growth of the China cosmetic tubes market through 2031.
Category-wise Insights
Why is the Demand for Plastic Cosmetic Tubes Continues to be High?
In terms of material type, plastic cosmetic tubes are projected to account for a leading share in the global cosmetic tubes market. Most manufacturers prefer plastic for creating cosmetic tubes because the material doesn't interact with contents within the tube.
Besides this, plastic can be easily molded and shaped in the desired form, enabling manufacturers to experiment with different shapes and sizes of tubes. Plastic also effectively protects cosmetics from external environmental factors that could possibly react with the contents and hamper product quality.
What is Driving Sales of 50-100ml Cosmetic Tubes?
Based on capacity, the 50-100ml segment is expected to expand at a remarkable pace over the assessment period. Growing consumer preference for affordable and easy to handle tubes is expected to drive growth of this segment through 2031.
These tubes are easily available in the market and are an ideal choice for frequent travelers and for people who are trying the product for the first time. In this way, consumers get full value of money and are also able to test the product effectively without wasting it. Owing to these factors, sales of 50-100ml cosmetic tubes are expected to rise over the assessment period.
Will Skincare Application of Cosmetic Tubes Continue Rising?
As per FMI, sales of cometic tubes for skincare products are expected to rise at a significant pace over the assessment period. Skincare products such as cleansers, moisturizes, hand creams and body creams are in liquid and semi-liquid state, which makes tubes the ideal form of packaging for them.
Cosmetic tubes can protect the products from leaking, are easy to handle and effectively protect contents of the tube. Skincare products are meant to maintain hygiene and tackle specific skin-related problems, which makes it imperative to preserve the quality of the product. Cosmetic tube made from plastic and aluminum do not react with the product and protect the contents from external environmental factors.
Competition Landscape
Leading cosmetic tubes producers are expanding their product portfolio by investing in research and development to launch sustainable cosmetic tubes. In addition to this, players are investing in mergers, acquisitions, and collaborations to expand their production facilities, catering to a large consumer pool. For instance:
In November 2021, LINDHART announced that it has acquired all three aluminnum tube production lines of Nussbaum Martizingen AG. With this acquisition, the company aims to strength its market position and improve sales of aluminum tubes for cosmetics and pharmaceutical applications.
In February 2020, Cosmetic packaging company Albéa unveiled a new production facility in China to capitalize on growing ecommerce opportunities. The company aims to expand its product portfolio through this new facility for the manufacturing of metal parts of cosmetic packaging.
Scope of Report
Attribute

Details

Forecast Period

2021-2031

Historical Data Available for

2016-2020

Market Analysis

Units for Volume and US$ Bn for Value

Key Regions Covered

North America, Latin America, Europe, East Asia, South Asia, Oceania, and MEA

Key Countries Covered

United States, Canada, Brazil, Mexico, Germany, UK, France, Italy, Spain, Nordic, Russia, Poland, China, India, Thailand, Indonesia, Australia and New Zealand, Japan, GCC countries, North Africa, South Africa, others.

Key Market Segments Covered

Capacity Type, Material, Application and Region

Key Companies Profiled

Essel Propack Ltd
Montebello Packaging Inc.
Linhardt GmbH & Co KG
Berry Global Group, Inc.
Huhtamaki Oyj
Tubopress Italia Spa
Hoffmann Neopac Ag
Intrapac International Corporation.

Pricing

Available upon Request
FAQs the Study Answers
What is the global cosmetic tubes market value?

The global cosmetic tubes market is expected to reach a valuation of US$ 2.4 Bn in 2021.

At what rate did the global cosmetic tubes market grow between 2016 and 2020?

The global cosmetic tubes market grew at a 3.7% CAGR between 2016 and 2020.

What are the key trends boosting cosmetic tubes sales?

Growing demand for sustainable packaging solutions, along with rising trend of decorative and smart printing on cosmetic tubes are key trends expected to drive sales of cosmetic tubes over the forecast period.

What is the total share of top 5 players in the global cosmetic tubes market?

Top 5 players in the global cosmetic tubes market are expected to hold around 10-15% of the total market share.

Who are the leading cosmetic tubes market players?

Albéa Beauty Holdings S.A, Essel Propack Limited, CCL Industries Inc., Montebello Packaging, Berry Global Group, Inc. are some of the leading players operating in the global cosmetic tubes market.

What is the North America cosmetic tubes market demand outlook?

North America cosmetic tubes market is projected to grow at a 3.9% CAGR during the forecast period.

At what rate will the Europe cosmetic tubes market grow?

The cosmetic tubes market in Europe is anticipated to expand at a 3.4% CAGR between 2021 and 2031.

What is the Japan and South Korea cosmetic tubes market share?

Japan and South Korea are anticipated to hold 15% and 8% of the East Asia cosmetic tubes market share respectively.
World's Most Profilic Intelligence Engine
Get Access To The World's Largest Market Research Database. Ngage with a revolutionary intelligence engine that scale and pricing that flexes as per your needs
Sign Up Now
Cosmetic Tubes Market by Category
By Capacity Type:
Below 50 ml
50 ml – 100 ml
100 ml – 150 ml
150 ml – 200 ml
Above 200 ml
By Material Type:
Plastic
Aluminum
Laminated
By Application:
Skin Care
Hair Care
Make Up
Others (Nail Care & Hygiene Products)
Region
North America
Latin America
Europe
East Asia
South Asia
Oceania
Middle East & Africa
Need specific information?