Introduction
Cosmetic tube packaging, essentially packaging of cosmetic products includes cosmetic tubes as one of the innovative packaging solutions. They are containers that are used to enclose a cosmetic product, store and also transport it to the target audience. Cosmetic tubes are typically a packaging of the primary type as they come in direct contact with the product within. They house the cosmetic product and are covered by another packaging, called secondary packaging for safety purposes.
These tubes can promote the cosmetic products as well as protect and store them. The secondary packaging of the tube can be printed upon, with the help of which new brands can be promoted among consumers. Cosmetic tubes are an effective means that deliver as well as dispense cosmetics to the end users.
Future Market Insights has done extensive research on cosmetic tubes. Recently it has published an insightful and analytical research report on cosmetic tubes market by understanding various facets of the market on a global basis, covering important regions across the world. Several aspects that influence the growth of the global cosmetic tubes market have been scrutinized. Trends, developments, macroeconomic factors, innovations, restraints and drivers supporting the growth of the global market have been studied and included in this research report.
The qualitative analysis along with these aspects adds value to the reader's perspective with the help of which different strategies can be devised to overcome challenges and set foot on the growth path for further expansions. The cosmetic tubes research study also provides future projections for a period of five years, from 2017 to 2022.
According to Future Market Insights, the global cosmetic tubes market is expected to grow at a significant pace to reach a noteworthy value over the forecast period. As per market statistics, during the 2017-2022 timeline, the global market is projected to witness a moderate CAGR to reach a market valuation a little over US$ 2.8 Bn by 2022 end.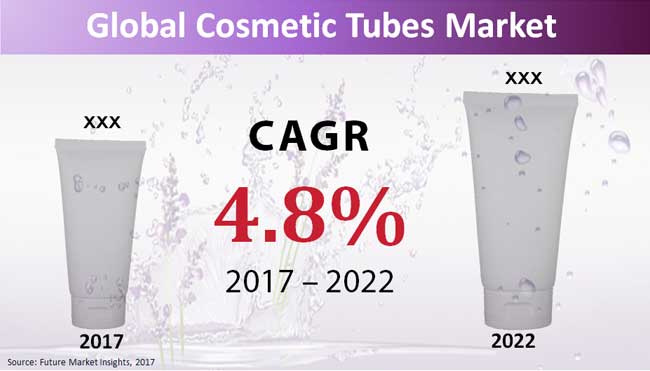 50-100 to Reach 200 by 2022 End
The 50-100 ml segment by capacity type is expected to be the most attractive segment in the years to come. This segment is estimated to account for the largest market share by 2017 end and is likely to retain its status quo till 2022 end, thereby leading the global market by capacity type. The growth of this segment can be attributed to the rising consumer preference for 50-100 ml capacity tubes that are comparatively cost efficient than the above 200 ml capacity tubes and are easily available and afforded by any class of consumers. This segment is also expected to witness robust growth rate during the forecast period and reflect the highest BPS of 200 by end of the forecast period.
100-150 ml Segment Gaining Traction; Above 200 ml Grows Sluggish
The 100-150 ml segment by capacity type has been gaining traction since 2016 and by 2017 end the segment is poised to reach a significant value and is expected to continue to grow in the years to come. By 2022 end, this segment is expected to gain a high BPS, and is poised to register a steady 5.6% CAGR throughout the forecast period. On the contrary, the above 200 ml segment is expected to show sluggish growth with a minimal market share in the years to come.
Plastics Extensively Used in the Making of Cosmetic Tubes
Plastic cosmetics tubes segment by material type is the largest segment, as plastics are highly used in the manufacturing of cosmetic tubes owing to several benefits they offer. The plastic material does not react with the cosmetic product within the tube, and provides protection against external chemical agents. This segment is expected to dominate the global market with a high market share in the years to come and is projected to grow at a healthy 5.6% CAGR during the forecast period. It is also expected to gain the highest BPS by the conclusion of the forecast period. The aluminium cosmetics tubes and laminated cosmetics tubes segments by material type are anticipated to grow at slow rates during the forecast period.
Competitive Landscape
The global cosmetic tubes market research report has profiled key players involved in the market. Companies like Albéa Beauty Holdings S.A, Essel Propack Limited, CCL Industries Inc., Montebello Packaging, LINHARDT GmbH & Co. KG., Berry Global Group, Inc., Huhtamaki Oyj, Tubopress Italia SPA, Hoffmann Neopac AG and IntraPac International Corporation are profiled in this study.
Market segmentation
Region
North America
Latin America
Europe
Japan
APEJ
MEA
Capacity Type
Below 50 ml
50 ml – 100 ml
100 ml – 150 ml
150 ml – 200 ml
Above 200 ml
Material Type
Plastic
Aluminum
Laminated
Application
Skin Care
Hair Care
Make Up
Others (Nail Care & Hygiene Products)
Need specific information?