Cosmetics ODM Market Snapshot
Continuous technology improvements, partnership among key players, and increasing demand for luxury products are key factors expected to propel market growth. Frequent technology innovations such as 3D printing and green packaging are contributing towards growth of the cosmetics ODM market. Future Market Insights (FMI) has forecast the market to register a year-on-year growth rate of 5.4% in 2021.
As per the FMI analysis, the cosmetics ODM market size will surpass US$ 12.02 Bn in 2021. Between 2021 and 2031, the market is expected to exhibit compound annual growth rate (CAGR) of 6.2%. Among hair care segment, hair tonics are set to reflect a positive growth trajectory with an above average CAGR of 10.1% through the assessment period.
Key Points Covered in the Cosmetics ODM Market Report
Market estimates and forecast 2015-2031
Key drivers and restraints impacting market growth
Segment-wise, country-wise, and region-wise analysis
Competition mapping and benchmarking
Brand share and market share analysis
Key product innovations and regulatory climate
COVID-19 impact on cosmetics ODM Market and how to navigate
Recommendation on key winning strategies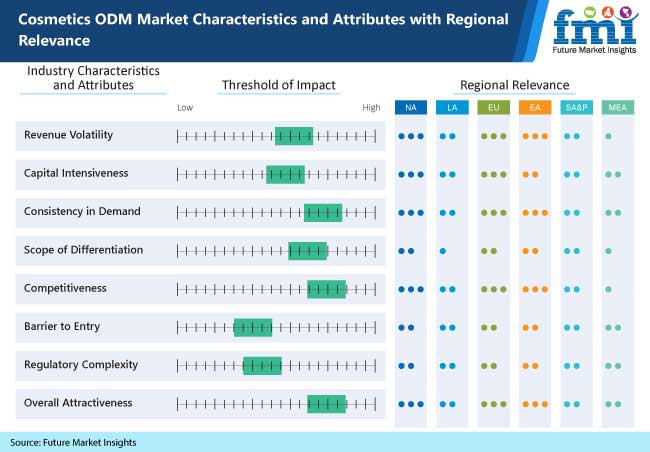 2021-2031 Cosmetics ODM Market Outlook in Comparison to Sales Registered in 2016-2020
Advancements in 3D-printing technology and airless packaging, rising demand for personal care products due to varying climate and shifting preference of consumers towards organic and natural beauty products are expected to be the key factors driving growth. FMI has forecast the cosmetics ODM market to rise at 6.2% CAGR between 2021 and 2031 in comparison to the 4.9% CAGR registered during 2016-2020.
Factors such as changing consumption pattern and lifestyle have increased the demand for high priced premium cosmetics. These factors will cumulatively drive the market for cosmetics ODM products worldwide. In addition, manufacturers have introduced products that will distinctly cater to grooming requirements of women and men.
Product launches for men's cosmetics, which target and aid their specific skin issues will further propel the growth of the market.
As per FMI, with the increasing consumer awareness regarding environment, the demand for eco-friendly cosmetic packaging solutions is increasing. Customers have become more conscious in choosing packaging and products that support eco-friendly or green packaging solutions. Innovations in the product lines also play important role in the growth of the market.
Growing concerns about the side effects of chemicals on the skin, such as skin irritation, allergies and dry skin are among leading factors enabling market growth. Dissemination of knowledge on the benefits of natural and organic skin care has led consumers to view eco-friendly, sustainable, natural skin care products with greater product content transparency since synthetic beauty products are laden with chemicals.
Consequently, manufacturers are paying attention to research and development (R&D) initiatives for integration of natural ingredients in cosmetics. This is expected to favor the overall market growth.
How is 3D Printing Technology Personalizing Cosmetic & Skincare Product?
Brands in the cosmetic and skincare sectors are increasing their ability to customize and personalize products by incorporating 3D-printing technology in their products. This change caters to consumers seeking personalization in all aspects of their lives.
Be it fitness, mental health or personal care, consumers are continuously engaging themselves into self-care. They are constantly looking for new products and services to enhance their routine. Personalization is becoming a key determinant of how much a product/service will draw in a customer – as finding items that fit the exact needs is critical in the self-care process. All these factors has contributed to the growth of the cosmetics ODM market over the past few years.
For instance, Kolmar Korea has commercialized its newly developed 3D-printed skin cream, and is set to release 3D-printed makeup as lipstick and compact powder.
What is the Impact of the COVID-19 Crisis on the Cosmetics ODM Market?
The pandemic outbreak has had a significant impact on the cosmetics ODM industry. The beauty industry experienced a temporary downswing, especially in certain beauty sectors. The pandemic had both negative as well as positive affect on the market.
For instance, on one side the players in the market experienced a temporary downswing and on the other side the demand for certain products increased as consumers resorted to self-care. A demand and supply gap also existed temporarily in certain beauty sectors.
Apart from this, consumers drastically resorted to making purchase online which forced the manufacturers and players to stimulate their online penetration to capitalize on sales opportunities. All such drastic operational changes due to outbreak of novel coronavirus resulted in certain temporary challenges on the part of players.
Country-wise Insights
How are emerging Korean-beauty trends driving the demand for cosmetics ODM in South Korea?
South Korea is expected to account for over 21.9% of market share in East Asia through 2021. The increasing awareness about the uniqueness and benefits of K-Beauty products among consumers across the globe creates vast opportunities for expansion among the market players of K-Beauty products. As a result, customers are investing in beauty products coming from South Korea.
These products are manufactured using natural ingredients that are clearly labeled on their packaging. K-Beauty primarily focuses on skincare and at the same time ensures that their products are cool and affordable which is creating a lot of traction among young generation.
One of the most important elements to the global popularity of K-beauty products is the influence through social media. Video tutorials and advertisements through online platforms such as Instagram and Facebook have made a tremendous impact on the audience, resulting in the growth of the market for K-beauty products.
How is the Cosmetics ODM Market Faring in France?
France is predicted to be one of the most attractive markets during the forecast period, according to Future Market Insights. France is expected to account for over 22.0% of market share in Europe through 2021.
Increasing demand for beauty products coupled with the rising awareness about environment-friendly products is expected to drive the growth. Rising consumer awareness about the side effects of chemical content in cosmetics is driving the manufacturers to introduce natural products. Further, skin sensitivity is another factor driving the growth of the organic and natural skin care products market. This has driven the manufacturers to increase their R&D expenditure to manufacture more products made of natural contents. This trend is expected to continue in the France market over the forecast period.
Other aspects like increasing standard of living on the part of consumers, growing influence of beauty experts, promotional strategies undertaken on the part of players are all together driving the demand for natural beauty products in the market.
How is the Adoption of New Technologies Boosting Cosmetics ODM Sales in the U.S?
The U.S. is expected to account for over 87.6% of market share in North America through 2021. Increasing formula advancement services and affordability of technology innovations, is expected to increase the usage of Cosmetics ODM technologies including advanced printing technology, creative beauty technology and multicolor compression technology, in the region. The adoption of differentiated manufacturing technology is anticipated during the forecast period to meet the ever-increasing global demand for cosmetics ODM.
Moreover, waves of technology have influenced all aspects of the cosmetic industry, from product packaging to product ingredients. With the aim of gaining a competitive edge in the market, Cosmetics ODM players are rapidly advancing their innovation through extensive R&D.
In addition, players operating in the ODM cosmetics market are making several efforts to encourage product design. The shift towards sustainable packaging solutions is one such indicator that points towards the revolution in product design.
Why is the Demand for Cosmetics ODM Increasing in India?
In 2021, India will account for over 32.6% market share in South Asia. An important factor contributing to the growth of cosmetics ODM market is support from various governments. Government in India is supporting the incorporation of automation systems in the cosmetics ODM market to improve the quality of products.
Cosmetics Contract Manufacturing (ODM) companies have grown by expanding their customer base from cosmetics companies to emerging brands. Moreover, governments are also offering support to some of the major cosmetic companies to improve their brand power and enhance their product development capability.
Additionally, many millennials are now actively taking up routine skin care regimen to maintain their skin. This indicates that Indian millennials today do not hesitate to spend on beauty products, which is likely to positively impact regional growth in the sales of cosmetic products in the India.
Category-wise Insights
Why is Skin Care to Remain Top-selling Category?
Cream and lotion account for a significant share in the skin care segment. However, creams holds the lead, accounting for 28.1% of the market in 2021. Availability of wide variety of skin brightening creams, sun-cream, and anti-aging creams in the market is anticipated to boost the market growth further.
Moreover, the growing awareness about the various benefits of using skin care products has resulted in a rise in their demand over the years. It has further increased the demand for natural and organic skin care products, making it a major segment in the cosmetics industry.
Which Packaging Type Holds Major Revenue Share?
In terms of packaging type, pumps and dispensers is still dominant, accounting for a notable share of 21.2% in 2021. The dominance can be attributed to its durability. They are widely preferred as these are light in weight (which makes them easy to carry) and are not prone to breakage.
Also, with the growing trend of sustainable fashion and natural cosmetics, many manufacturers are offering push-up tubes and bamboo jars made from eco-friendly and recyclable materials. They are also adopting innovative strategies like developing tree free paper with waste limestone from construction material to reduce the environmental impact of packaging.
Outpouring 'Indie' Brands to Create Potential Sales Opportunities
Indie brands are expected to account for a notable share of 26.3% by the end of 2021. With a greater emphasis on personal grooming among both women and men, unprecedented product launches and an endless stream of trends across social platforms for new, better and safer beauty products, consumers are becoming increasingly environmentally conscious.
Consequently, new 'indie' brands – positioning themselves as 'environment-friendly' and better alternative to conventional beauty companies – are born daily, applying creative solutions to the emerging customer demands, and the result is likely to remain instrumental in the growth of natural cosmetics ODM market.
Why is Demand for Natural Cosmetic Rising?
The natural category is expected to register growth at a CAGR of 7.9% during the forecast period. Rising awareness regarding cruelty-free beauty is expected to be one of the key trends escalating market growth.
Consumers around the world are increasingly aware about the impact of their purchasing preferences and pattenrs on the environment and the society. Consumers are now more conscious of choosing products and they also pay attention to the raw material and the source of origin.
Moreover, the growing trend of veganism, especially among the youth, is playing an important role in market growth. With the millennial adopting a vegan lifestyle, this can no longer be considered unusual. It is now trendy, with many A-list celebrities promoting vegan lifestyle and an increase in options available online and on the high street.
In recent times, a significant increase in the number of beauty blogs and social media accounts committed to the benefits of going chemical-free has worked in favor of the market by enhancing consumer's information.
Competitive Landscape
Companies operating in the Cosmetics ODM market are aiming at strategic collaborations and partnerships with other manufacturers to expand their product portfolio to address the demand of an expanding pool of consumers.
COSMAX Corporation introduced a sensitive-skin-friendly cosmetic line. The company has developed the SensiFilter™ system, which completely excludes ingredients that have been banned or restricted in South Korea, China, Europe, and other leading countries, and only utilizes verified ingredients.
Fareva LATAM acquired a new lab with complementary R&D expertise in regulatory, formulation and packaging development.
Intercos Group acquired the leftover 50% of the Shinsegae Intercos Korea Inc. joint venture from Shinsegae International Inc. The acquisition is a strategic move to leverage the position of Korea in the beauty industry.
Scope of Report
Attribute

Details

Forecast Period

2021-2031

Historical Data Available for

2016-2020

Market Analysis

USD Million for Value

Key Regions Covered

North America, Latin America, Europe, East Asia, South Asia, Oceania, and the Middle East & Africa

Key Countries Covered

US, Canada, Germany, U.K., France, Italy, Spain, Russia, China, Japan, South Korea, India, Thailand, Malaysia, Indonesia, Australia, New Zealand, GCC Countries, Turkey, Northern Africa, and South Africa

Key Segments Covered

Product Type, Nature, Packaging Format, End Use and Region

Key Companies Profiled

COSMAX Corporation
Toyo Beauty Co. Ltd.
Nox Bellcow Cosmetics Co. Ltd.
Picaso Cosmetic Laboratory Group
Kolmar Korea
Ancorotti Cosmetics S.r.l.
Cosmo Beauty Company Ltd.
Cosmecca Korea
The Fareva Group
B. Kolormakeup & Skincare S.p.a.
BioTruly Group
ANC Corporation
Intercos Group
Francia Beauty
Nowcos Co. Ltd.
Sanshokaken K.K., Global Cosmetics (HK)
Japan Colmar Co. Ltd.
Quality Plus Aesthetic International Co. Ltd.
Milliona Cosmetics
Caolion Cosmetics

Report Coverage

Market Forecast, Company Share Analysis, Competition Intelligence, DROT Analysis, Market Dynamics and Challenges, and Strategic Growth Initiatives

Customization & Pricing

Available upon Request
Key Questions Answered in the Report
How much is the Cosmetics ODM market worth?

In 2021, the Cosmetics ODM market is expected to reach a valuation of over US$ 12,029.6 Mn.

What was the rate of growth for Cosmetics ODM sales in the last 5 years?

The Cosmetics ODM market grew at a CAGR of 4.9% from 2016 to 2020.

What is the share of the top players in the Cosmetics ODM market?

COSMAX Coporation, Toyo Beauty Co. Ltd. and Nox Bellcow Cosmetics Co. Ltd are leading market players, cumulatively accounting for a 10.1%% value share.

Which are the top countries driving demand for Cosmetics ODM?

The France, the U.K., Germany, China, South Korea and India are major countries reflecting consistently high demand for Cosmetics ODM.

Which countries are key producers of Cosmetics ODM?

China, South Korea, the U.S, Germany, and Japan are the leading manufacturers of Cosmetics ODM.

What are the global growth statistics for the Cosmetics ODM market between 2020 and 2021?

The Cosmetics ODM market grew by 613.2 Mn between 2020 and 2021.

What is the North America Cosmetics ODM market outlook?

The market in North America is set to rise at a 6.2% CAGR through the end of 2031.

How fast will the sales of Cosmetics ODM grow in Europe?

The Europe Cosmetics ODM market is set to rise at an impressive 5.1% CAGR through the assessment period.

What are the key statistics of the South Korea and Japan Cosmetics ODM market?

Japan and South Korea account for 30.6% and 21.9% of the East Asia Cosmetics ODM market in 2021.
Market by Category
By Product Type:
Skin Care

Creams
Lotions
Toners
Facial Cleansers
Sunscreen
Face Packs/ Masks
Others

Hair Care

Shampoos
Conditioners
Hair Rinses
Hair Dyes
Hair Tonics
Hair Styling Products

Makeup

Facial Products
Lip Products
Eye Products
Nail Products
Other Color Cosmetics

Body Care

Soaps
Shower Gels
Creams
Foot Creams
Others
By Nature Type:
Natural/Organic
Synthetic
By Packaging Format:
Bottles
Compact Cases
Droppers
Folding Cartons
Jars
Pallets
Pouches
Pumps and Dispensers
Roll On
Roll On Sticks
Sachets
Sticks
Tubes
Wraps
Others
By End Use:
Prestige Brands
Private Labels
Mass Brands
Indie Brands
By Region:
North America
Latin America
Europe
East Asia
South Asia
Oceania
Middle East and Africa (MEA)
Need specific information?
Talk Show:
The Rise of Intelligent Packaging
Personalized, Connected and Sustainable
November 18, 2021
11:00-11:45 AM PST (USA & Canada)
This is a LIVE session