Cosmetics ODM Market - Key Research Findings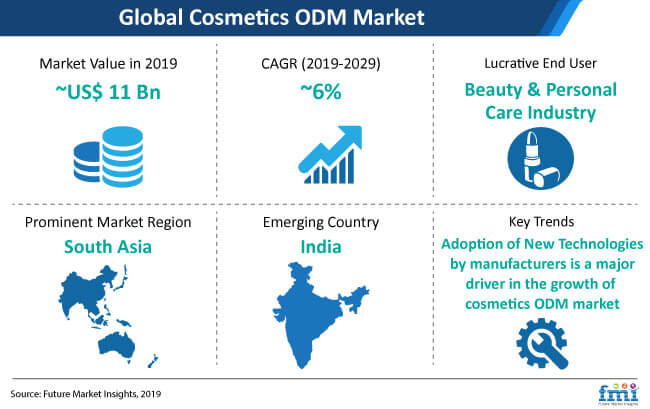 The global cosmetics ODM market size expected in 2019 - ~US$ 11 Bn.
The cosmetics ODM market is expected to grow at a CAGR of ~6% during the forecast period of 2019-2029.
In addition to the adoption of protective and waterproofing functions, increasing demand for aesthetically appealing structures has been recently driving the sales of cosmetics ODMs.
Collectively, East Asia and Europe are likely to account for half of the revenue shares in the cosmetics ODM industry by the end of 2029.

Europe, owing to the strong presence of beauty and personal care product manufacturers, will continue to be a prominent regional market for cosmetics ODM manufacturers.

By product type, the skincare category is expected to remain the highest revenue-sharing segment in the cosmetics ODM market.

Creams and lotions are gaining popularity in the cosmetics ODM market due to the higher usage rate of consumers. Skincare creams can be defined as facial creams & moisturizers such as daily care creams, face moisturizers, and anti-ageing creams.
Key Factors Shaping the Cosmetics ODM Market
Consumers, whether men or women, are taking a more proactive approach to personal grooming products

Strong inclination of the masses towards cosmetics products, especially in the developing countries of the East Asia and Latin America regions, which is driven by the increasing disposable income, has contributed to the growth of the cosmetics ODM market over the past few years.

Support from regional governments boosting the cosmetics ODM market

An important factor contributing to the growth of cosmetics ODM market is support from various governments. Governments across the world are supporting the incorporation of automation systems in the global cosmetics ODM market to improve the quality of products. Cosmetics Contract Manufacturing (ODM) companies have grown by expanding their customer base from cosmetics companies to emerging brands. Moreover, governments are also offering support to some of the major cosmetic companies to improve their brand power and enhance their product development capability.

Adoption of new technologies by cosmetics ODM companies enabling the launch of new products

Rapid improvements in technology pertaining to the cosmetics ODM industry across the globe have witnessed significant growth in this market in terms of volume. These have resulted in growth in the availability of skincare care products such as styling products, conditioners, and colorants.

This factor, along with an increase in the number of cosmetic products and the affordability of technology innovations, & formula advancement services, is expected to increase the usage of cosmetics ODM technologies such as multicolour compression technology, advanced printing technology, and creative beauty technology, on a global scale. The adoption rate of differentiated research and development technologies as well as manufacturing technology is estimated to increase during the forecast period to cater to the ever-rising global demand for cosmetics ODMs.

Companies are Focusing on Strengthening their Premium Market Leadership

Changing lifestyles and increase in the purchasing power of consumers have created the preference for premium products such as green or natural cosmetics products and colour cosmetics. The premiumization trend is bridging the gap between luxury and mass markets to offer all consumers access to unique or high-quality products. Moreover, globalization & economic growth, especially in developing countries, is offering lucrative opportunities for various companies to capitalize on the premiumization of their cosmetic ODM product portfolio to strengthen their market position.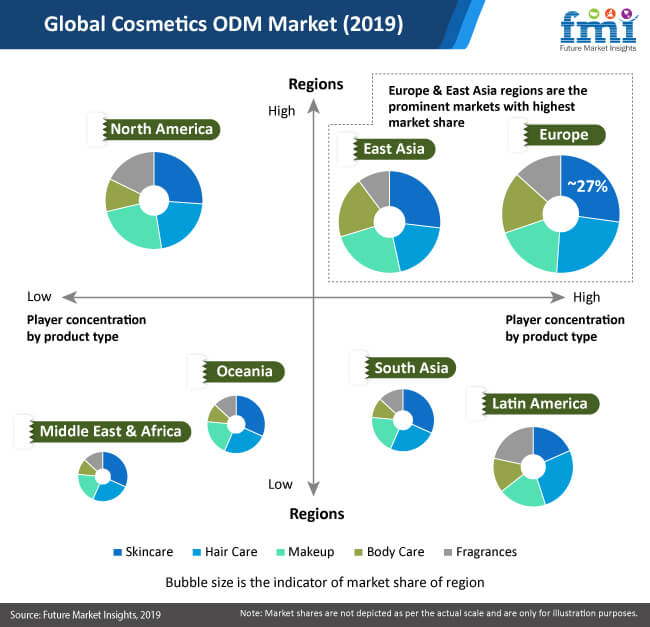 Cosmetics ODM Market Structure Analysis
The global cosmetics ODM market represents a fairly consolidated competition landscape, where a majority of key players maintain their strategic focus on the development of solid distribution partnerships and joint ventures, thus targeting a firmer global footprint.
The cosmetics ODM market has been relatively moderate in size, which remains a key factor responsible for its dynamic competitive nature.
Leading manufacturers of cosmetics ODMs are currently prioritizing R&D and new product launches to resonate with the booming consumption of eco-friendly coatings in North America, Europe, and China.
Portfolio extension is also identified to remain one of the key developmental strategies adopted by manufacturers of cosmetics ODMs.
For a stronger foothold in target markets, cosmetics ODM manufacturers will continue to rely on inorganic strategies such as mergers and acquisitions.
Deeper understanding of the market trends and preferential shifts of end-use segments across various regions are likely to create a bottleneck for prominent players looking forward to untapped opportunities in the cosmetics ODM market.
Cosmetics ODM - Reimaging Future Trends in the Beauty Industry
The cosmetics industry has been on a tear for years, constantly evolving with changing consumers demand while new developments appear with the arrival of innovative technologies. Additionally, the changing economics of production and supply chain in line with preferential shifts among consumers have been pushing cosmetics original design manufacturers (ODM) to explore radically new ways of creating and capturing value.
Although modern-day world has been heralded as more and more connected, paradoxically it is more local and individualistic. In recent times, consumers are seeking products and services with a tinge of 'personal' attributes, while 'customization' has taken place in creating products attractive to specific niche markets.
As impressive as consumer preferences driving innovation in cosmetics ODM, major scientific advancements continue to break plenty of new ground when it comes to formulating cosmetics and personal care products. In the view of popular trends such as 'clean beauty' or 'herbal beauty' and growing environmental concerns, cosmetic scientists are returning to traditional and chemical-free substances to create new formulations.
In addition, new technologies are rigorously being incorporated into cosmetic ODM for ingredient discovery as well as to ensure product transparency, which are likely to take the beauty industry to whole new heights.
Outpouring 'Indie' Brands to Create Potential Sales Opportunities
With greater emphasis on personal grooming among both men and women, unprecedented product launches, and an endless stream of trends taking over social platforms, the beauty industry continues to defy gravity – creating sustained opportunities for cosmetic ODM market players. Amid strong desire for new, better, and safer beauty products, today's consumers are increasingly becoming conscious of the environment, and the social and ethical ramifications of production and consumption.
Consequently, new 'indie' brands – positioning themselves as 'environment-friendly' and better alternative to conventional beauty companies – are born daily, applying creative solutions to the emerging customer demands, and the result is likely to remain instrumental in the growth of natural cosmetics ODM market.
A massive wave of technologies continues to impact every aspect of the cosmetics ODM industry. In line with leading beauty brands embarking on high-tech overhauls of product development, manufacturing, packaging, marketing and ultimately the customer experience, cosmetics ODM market players are redefining their strategies to retain and attract new segment of customers.
In addition to taking R&D initiatives, stakeholders are intensifying their focus on leveraging highly advanced technologies such as AI and 3D printing not only to create ultra-personalized products for customers but also to gain cosmetic packaging benefits.
Implementing the Luxury' Strategy to Tap into Opportunities across Geographies
An exponential rise of men's skincare products & gender neutral makeup, 'premiumization' trend, and rapid adoption of direct-to-consumer distribution channels are deemed to shape the future of cosmetics ODM market. North American and European markets continue to remain in the vanguard, and are constantly evolving in tandem with consumers' pursuit for healthy living and 'green' consumption, leading to deep embedment of premium and personalized beauty.
In search of new sources of revenues, manufacturers are looking outside of the developed markets and starting to capitalize on opportunities represented by developing countries in Asia Pacific. Extending their brands into these nations and introducing regional varieties of products also remain key focal points of stakeholders.
Varying Consumer Expectations to Drive Innovations in the Market
Changes in consumer preferences and expectations in line with industries committing to a responsible use of resources in development and production have caused a radical upheaval in the beauty sectors including cosmetics ODM market. While the trend of 'personalization' in the beauty industry continues to influence the growth strategies, a number of market players are turning into organic and plant-based ingredients, aligning with strong desire among customers for cosmetics and personal care products to be 'chemical-free' and 'cruelty-free'.
With consumers' experiences increasingly being associated with health, wellness, and fitness, the trend of 'athleisure beauty' is on the rise, thereby compelling cosmetics ODMs to bring innovations in both formulations and final products.
Pressures of ingredient transparency and 'clean labels' of products have been generating a new impact on the cosmetics and personal care space. Cosmetic ODMs are leveraging smaller packaging formats such as sachets to enable the access of premium products to consumers even in low- and mid-income countries. In addition, a focus has been placed on 3D printed packaging, especially for premium personalized products, in an attempt to curb the issues of waste, cost, and timeliness of deliveries.
How Growth Will Unfold
While significant advances in technologies pertaining to cosmetics ODM industry along with development of 'smart' formulas are creating lucrative sales opportunities, stakeholders still have more ground to cover. Lack of standardization in both raw materials and technologies adopted for cosmetic ODM products is likely to represent a threat to the market players.
In addition, the authorized ban on certain chemicals and ingredients used in cosmetic products by European Union and the FDA along with introduction of several regulations to ensure safety of cosmetics and personal care products could possibly put the manufacturers to test in the foreseeable future. On the one hand, with rapid penetration of e-commerce sites and strategies aligning with consumers buying sentiments, market players are set to witness a period of sustained demand.
Key Segment
By Product Type
Skin care

Creams
Lotions
Toner
Face cleanser
Serum
Mask
Scrub
Face Packs

Hair care

Shampoo
Conditioner
Hair Rinses
Hair Dye/Colors
Hair Tonics
Serum
Mask

Makeup

Face Products
Eye Products
Lip Products
Nail Products

Body care
Fragrances
Cologne
By End User
Prestige Brands
Mass Brands
Indie Brands
Private Labels
By Packaging Format
Bottles
Compact Cases
Droppers
Folding Cartons
Jar
Pallete
Pouches
Pumps and Dispensers
Roll On
Roll on sticks
Sachet
Sticks
Tube
Wraps
Others
By Region
North America
Europe
Middle East and Africa (MEA)
East Asia
South Asia
Oceania
Latin America
Need specific information?