By 2030, for Every US$ 1 Incremental Spending on Cosmetic Products, US$ 0.05 Will be Generated by Halal Cosmetic Products
FMI delivers key insights on the global halal cosmetics market in its latest report titled 'Halal Cosmetics Market: Asia Pacific Industry Analysis and Opportunity Assessment 2015–2020.' The long-term outlook on the global halal cosmetics market remains positive with the market value expected to increase at a CAGR of 9.9% during the forecast period (2015-2020).
Among product types, the color cosmetics segment is expected to expand at a significant CAGR, in terms of value, over the forecast period. The global halal hair care market is estimated to be valued at US$ 358.3 Mn by the end of 2018.
Southeast Asia is estimated to account for a value share of 61.5% in the global halal cosmetics market by 2018 end and it is anticipated to retain its dominance throughout the forecast period. In this report, FMI throws light on drivers and restraints likely to impact the market during this period.
Muslim Population Wields Massive Power
Muslim population has emerged as a prominent consumer base and holds massive power due to rising disposable income. This has prompted consumer and personal care product manufacturers to capitalize on the emerging latent opportunities.
Companies are optimistic with regards to the purchasing power of members of this population and it is more than likely that over the span of the next four to five years, companies will be focused on developing innovative products and designing market level strategies to leverage the potential opportunities emerging due to growing Muslim population consumer base.
Opportunities Opening up in Wider Product Categories
As young Muslim women are combining religious practices with fashion, new opportunities are opening up in cosmetics and personal care categories. In addition to oral care and soaps, which traditionally are dominated by halal product category, a whole new range of halal products, such as skin care, hair care and color cosmetics, are now dominating the category.
New products, such as halal foundations, blushers, lipsticks, anti-agers and skin whitening products, have surfaced into the market in the last five years. Nail polish represents one of the most challenging product categories as the pigmented layer conflicts with the ablution process mandatory according to Islam. Nonetheless, market players have now come up with formulations with a permeable texture that allows water to pass through.
The halal cosmetics market has become non-exclusive to Muslims and has gained acceptance among non-Muslim consumers who are now associating halal with ethical consumerism. The appendage of "Halal" is not just a guarantee that the product is permitted for Muslims. "Halal" has become a global symbol for lifestyle choice and quality assurance. This trend is evident by the increasing participation of the population from non-Muslim countries and organizations where Halal is emerging as a standard of choice.
Global issues, such as animal welfare, environment protection and sustainability, have paved way for the potential growth of the halal industry. In the last few years, the halal industry has undergone further evolution as the governments have started formulating policies and standards for helping the industry develop its own economy.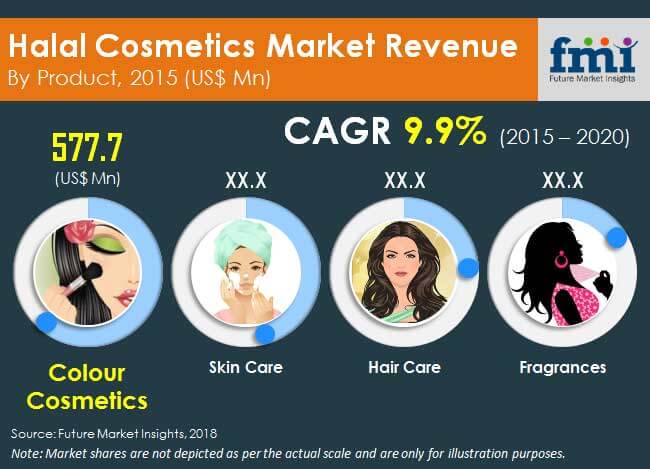 Halal Cosmetics Market Dominated by Niche Players
The Halal cosmetics products market is so far dominated by niche players. For example, in Indonesia, Wardah's share gain in colour cosmetics coincided with share loss of 0.3% points from Oriflamme. Similarly, Unilever's local brand Citra lost 0.1% point in facial care in the year 2014.
For multinationals to succeed in this space, a targeted portfolio is critical along with better understanding of the specific needs of members of the Muslim community. For example, Wardah has a specific range for Hajj/Umrah and multinationals will need to show similar acumen in order to remain competitive.
This trend will evolve over the next three or five years as there are currently a number of regional halal cosmetics and consumer product companies, such as Ivy Beauty Corporation (Malaysia), Wipro Unza Group (Malaysia), Wardah Cosmetics (Indonesia), Farmasi Cosmetics (Turkey), Amara Halal Cosmetics (U.S.), INIKA (Australia), Mihri (Turkey) and Iba Halal Care (India), among others
Multinationals Face a Gamut of Challenges When It Comes to Halal Cosmetics
It is not only the lure of this white space, but for multinationals, it is also about protecting their shares. Majority of cosmetics and consumer products are produced by global players, such as Avon, Maybelline, etc., which are majorly into production of non-halal products.
These global brands are recognized players and have established supply chain and marketing strategies for non-halal products as compared to that of halal products.
While scaling up operations in halal beauty may benefit multinationals, there are still a number of challenges. For instance, consumers are more likely to closely connect with local/ niche brands than a distant multinational headquartered in a non-Muslim country, producing in bulk for a diverse consumer base. Multinationals need to develop a distinct brand identity with a clear marketing message in addition to product certifications.
Certification and Infrastructure Are Essential to Cater to Both the Muslim Consumers as well as a Wider Audience
Global standardization and certification methods are highly fragmented, which creates concerns about the credibility of halal products among consumers. A number of halal certifications agencies, such as government certification agencies and independent certification authorities, exist in the market
. Credibility of government certification agencies is higher than that of independent agencies. Preference for halal certification varies from country to country, as most countries have their own halal certification agencies.
There are a number of halal certification authorities globally, of which some are globally accepted. Jabatan Kemajuan Islam Malaysia (JAKIM) is one of the most reputed certificates in the market along with Assessment Institute for Foods, Drugs and Cosmetics, of the Indonesian Council of Ulama (AIDC ICU/LP POM MUI). Currently however, there is no global standard applicable in all countries, but unified halal certification is anticipated to become a reality in near future.
Growth of the Market is the Mirror of Consumer Knowledge
Halal product consumers represent a relatively untapped market and while opportunities exist, cautious steps must be taken. Success of this segment will be primarily determined by providers' ability to meet market demand by offering genuine and authentic products to Muslim consumers. Halal status should be preserved and not misused.
If credibility is lost, consumers will lose confidence in products with Halal status. Success of this segment among non-Muslims will be determined by marketers' ability to connect emotions.
Segmentation Analysis
The halal cosmetics market is segmented on the basis of product type and distribution channel. Segmentation by product type includes skin care, color cosmetics, hair care and fragrances.
Color cosmetics is further categorized into lip care, eye care, face care and nail care. Halal Cosmetics Market Distribution Channel Analysis includes modern trade, company owned stores, salon/spas, e-commerce etc. Company-owned stores are losing their appeal across countries in Asia Pacific. Contribution by company-owned stores was 11.3% to the total Asia Pacific halal cosmetics market in 2017.
The segment is expected to lose 360 basis points by 2020 due to growing consumer preference for hypermarkets and supermarkets. By end of 2017, hypermarket/supermarket was the most dominant distribution channel in terms of market share and is likely to remain the dominant distribution channel for halal cosmetics in Asia Pacific until 2020 and will be followed by salons/spas. Internet retailing is expected to be an attractive distribution channels due to wide acceptance by consumers of various age groups across the region.
Regional Market Projections of APAC Halal Cosmetics
The APAC halal cosmetics market is expected to represent significantly high incremental opportunity between 2018 and 2028. The market of halal cosmetics in APAC is expected to represent market value of US$ 2,478.4 Mn by end of 2020.
APAC Halal Cosmetics Market Participants
Detailed profiles of the providers have also been included under the scope of the report to evaluate their long-term and short-term strategies, key offerings and recent developments in the Asia-Pacific Halal cosmetics space. Key competitors covered are INIKA, Marth Tilaar, Wipro Unza, Clara International, Brataco Group of Companies, Ivy Beauty Corporation Sdn Bhd and Paragon Technology and Innovation.
Additional Questions Answered
key concerns related to Halal Certification

How logistics and supply chain management is a critical element (as it requires compliance from source to customer)?

Difference in Marketing Strategies of Muslim Dominated Economies and Mix Economies

How Advertisement is playing a key role in promoting Halal cosmetics?

How Companies are leveraging Social Media & Digital Marketing for Halal Products?

Which countries to invest in?

Which consumer base to target?
Key Segments Covered in the APAC Halal Cosmetics Market Report:
On the basis of product type, the APAC Halal Cosmetics market can be segmented into:
Skin Care
Hair care
Fragrances
Color Cosmetics
Lip Care
Eye Care
Nail care
Face Care
On the basis of distribution channel, the APAC Halal Cosmetics market can be segmented into:
Hypermarket/Supermarket
Company-owned Stores
Internet Retailing
Salons/Spas
Others
By Region, the APAC Halal Cosmetics market can be segmented into:
Southeast Asia
East Asia
South Asia
Oceania
Need specific information?