About the Report
The halal cosmetics market is driven by the increasing demand for cruelty-free and vegan products, especially among younger generation. This demand side want has played a significant role in encouraging innovation in the market. Efforts on the part of the market players to promote their innovative products, which are also intended at establishing a strong foothold in the competitive environment, are expected to enable steady growth in the coming years.
ESOMAR-certified consulting and market research firm Future Market Insights (FMI) offers detail insights about key drivers and factors driving the demand for halal cosmetics. The study tracks down global sales of halal cosmetics in 20+ high growth markets, along with the COVID-19 analysis on the industry in general.
What is the Future Outlook For Halal Cosmetics Market in Comparison to Historical Pattern?
The halal cosmetics market is quite dynamic in nature and has been expanding at a fast pace. The Muslim population, aligned, with their religious beliefs, prefer halal products. However, these products are gradually catching up universally, especially since consumers across all sectors are showing inclination towards cruelty-free beauty products.
This trend has been restricting the beauty sector, subsequently creating opportunities for halal cosmetics sales. Market players are consistently finding different ways to deliver innovation with new functionalities and features.
The Muslim-dominated countries are the pillars of the rapidly growing halal cosmetics market. Besides this, the increasing awareness among the younger generation regarding the availability of halal color cosmetics, is driving the global halal cosmetics market. Undoubtedly, halal cosmetics are preferred for its identity connects, but product quality and price are the important factors influencing purchase decision.
Besides this, growing environmental concerns have further encouraged adoption of veganism that guarantees sustainability over the forecast period. These are few factors that are expected to drive and reshape the future trends in halal cosmetics during the forecast period. FMI projects the global halal cosmetics market to grow at CAGR of 11.6% throughout the forecast period 2021-2031.
How is Quality Determining Sales of Halal Cosmetics?
Beliefs and philosophy of Muslims are the prime vectors behind an increasing demand for halal cosmetics across the globe, more prominently in Muslim dominated counties.
The global standardization and certification methods are highly fragmented, which create concerns about the credibility of halal products among consumers. A number of halal certifications agencies exist in the market such as government certification agencies and independent certification authorities. Credibility of government certification agencies is higher than that of independent agencies. Preference for halal certification varies from country to country, as most countries have their own halal certification agencies.
Quality and safety of halal certified cosmetics products is another factor increasingly gaining prominence. In fact, rising number of affluent Muslim population, gaining awareness and the changing lifestyle of the younger generation is becoming crucial parameter for the growth of halal cosmetics market.
What is the Commercial Potential of Sustainability Trend within the Halal Cosmetics Market?
The younger generation is more conscious of adopting sustainable practices. Halal is the recent addition to the family of sustainability. Consumer awareness regarding ingredients associated with cosmetics production has remarkably increased over the past few years. Changing behavior pattern among consumers, which has been making them more emphatic towards animal welfare has been causing shift towards more sustainable and environment-friendly alternatives.
Halal beauty products are sourced and manufactured with ingredients that are "permissible" under Islamic law. "Halal" is an Arabic word which means permitted or acceptable according to Islamic law. The halal cosmetics do not contain any ingredient derived from any forbidden animals, be it pork or any animal dead prior to slaughtering, blood, alcohol or carnivorous animals. The term halal therefore, promotes cruelty-free products and hence the upward trajectory of the halal cosmetics market.
Country-wise Insights
What is Potential for Halal Cosmetics in Malaysia?
As per the FMI analysis, South Asia is dominating the global market space and is anticipated to continue throughout the course or duration of forecast period. The increasing focus on sustainability and rising demand for color cosmetics have been facilitating growth in Malaysia.
Demand is increasing in Malaysia and as a matter of fact Malaysian firms are tipping off the demand to neighboring countries like India, targeting not only the Muslim population as consumers but also the non-Muslim segment rooting for sustainable practices and cruelty-free products.
India's Halal Cosmetics Demand Likely to Experience a Higher Growth
The present era is also parallel known as the era of a digital consumer. Consumers are more aware and connected than they were ever before. This has been resulting into the proliferation of e-commerce channels. Digitalization and social media have influenced the consumer behavior and are inflicting a positive demand within the halal cosmetics market.
Celebrity influence and social media motivation has improved brand presence in the country, paving way for start-ups to invest and exploit the potential to the maximum caliber. An improved supply chain, logistics, and marketing strategy is the key for higher demand within the market.
Will Germany Exhibit High Demand for Halal Cosmetics?
Halal cosmetics and personal care is slowly seeping through regional boundaries. Germany is slowly imbibing the cruelty-free culture, in turn exhibiting demand for halal cosmetics within the beauty and personal care sphere. Germany is European Union's second-largest house for Muslim population, behind France; yet, the demand is just initiating because of the lack of awareness of halal cosmetics available in the market.
Continued confinement with regard to the sales channel for halal cosmetics is a major factor to be looked upon. Another of the concern associated with halal cosmetics market is that Halal labeling is lesser understood and carries lower trust when compared to organic, sustainable, vegan and natural products. German halal-certified brand VIE Halal is a prominent player in the German halal cosmetics market, defining the halal trend offline as well as online.
How Big is the Opportunity Halal Cosmetics Market in US?
Completely vegan beauty and body products are gaining prominence among the consumers in the U.S. Manufacturers are tapping this consumer behavior as an opportunity and building a cruelty-free brand to cater to a larger section of the population.
Besides endorsing halal brands within the female cosmetics sector, manufacturers are fast turning their focus towards other demographics, especially kids. Animal testing has been the ugly side of the beauty industry and consumers are supporting such vendors who have shunned the practice. Consumers and producers are becoming more open to the usage of natural cosmetics.
Is Supply Chain Restructuring Defining the UK Halal Cosmetics Market?
Increasing market internalization has resulted in more product choices for the consumers, also encompassing new ingredient formulations. The emphasis on the importance of Halal compliant products demands more transparency in the supply chain. Halal Certifying Organizations (HCOs) play a pivotal role in the entire supply chain for cosmetic products. The authoritative bodies hold the responsibility towards defining and regulating the market. The importance of supply chain transparency lies in the fact that the issues of fake, fraudulent, outdated or unauthorized products can be disbarred from the retail space as counterfeiting is a major challenge to the halal cosmetics market.
Category-wise Insights
Which Product Category is Projected to Reflect High Growth?
The adoption and penetration of halal cosmetics is high both in volume as well as value term. However, the halal skin care products are expected to register high growth during the forecast period as their adoption is increasing at a rapid pace. Since skin care is a significant part of daily routine, men and women are equally demanding halal skin care products.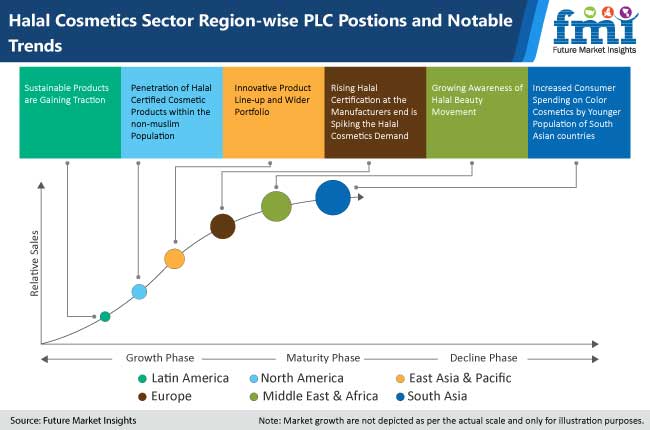 Halal cosmetics have rapidly gained millennial attention. Sustainable, organic, vegan and natural have already tapped the consumers worldwide. Nowadays, the demand for halal products is coming from all demographics. These factors point out towards a positive growth trend in adoption of halal cosmetics in the coming few years.
What's the Market Share of Makeup?
Makeup is fast becoming a mandate regular routine among women across the globe. Globally the Muslim population is approximately 1.8 billion and the market for halal cosmetics is growing at an exponential rate. New, innovative brands are introducing various cosmetics and makeup products that are halal certified and permissible to use according to the Islamic law. Leading players are managing halal labeling and certification to cater to the needs of ingredient-conscious consumers.
Companies are shifting towards halal ingredients, as well as packaging, so as to market the products as completely halal. Amara Cosmetics, a halal certified company manufactures products certified by the Islamic Food and Nutrition Council of America (IFANCA) and are manufactured and packaged in California according to Islamic law.
According to the analysis of FMI, the halal makeup category is expected to reach an approximate 41.6% market share by 2031.
How is Online Retailing Benefitting the Market?
E-Commerce is redefining the commercial activities around the world. In fact, the Covid-19 pandemic and lockdown effects have tipped the involvement of e-Commerce within all industries. The segment of population not prevalent with internet retailing has also adopted it, it being the only resort.
There is a lot of opportunity for companies and online services to work together to offer greater engagement to consumers. Halal cosmetics brands can partner with online forums and portals to understand what consumers are looking for and cater their products accordingly. Additionally, this will help build word-of-mouth for brands. In return, these online portals will benefit by associating with a brand that consumers recognize and this will help them reach a larger audience.
Competitive Landscape
Market players are undertaking various strategies to survive in the highly competitive environment. With an aim to create brand name and survive in the competitive environment, the companies are focusing innovations and developments also to be ahead of consumer wants and needs.
Players operating in the market also are focusing on merger and acquisition strategy with an aim to leverage their business operations and strengthen their in house expertise.
Companies are also actively engaging in strategic collaborations and partnerships in order to gain competitive advantage by business reach and offerings. Besides these, product launches remain highly sought-after.
For instance:
In August 2020, ex-Loreal executives launched halal brand to cater to the diverse consumer base
India's first halal cosmetics brand, called Iba Halal Care was launched in 2014
Biozer, which is a Brazilian cosmetic company from Amazon region, secured Halal certification for its range of product called Simbioze Amazonica range in December 2019
Some of the leading companies operating in the market are:
Iba Cosmetics
Martha Tilaar Group
Clara International
Kao Corporation
Andalou Naturals
Ivy Beauty Corporation Sdn Bhd
Nature's Dream
Prolab Cosmetics
Inglot Cosmetics
One Pure
Talent Cosmetics
*The list is not exhaustive, and only for representational purposes. Full competitive intelligence with SWOT analysis available in the report.
Scope of the Report
Attribute

Details

Forecast Period

2021-2031

Historical Data Available for

2016-2020

Market Analysis

USD Million for value and '000 Tonnes for Volume

Key Regions Covered

North America, Latin America, Europe, East Asia, South Asia, Oceania Middle East & Africa

Key Countries Covered

US, Canada, Germany, U.K., France, Italy, Spain, China, Japan, South Korea, India, Thailand, Malaysia, Indonesia, Australia, New Zealand, GCC Countries, , Northern Africa, South Africa

Key Segments Covered

Product Type, Sales Channel, and Region

Key Companies Profiled

Iba Cosmetics
Martha Tilaar Group
Clara International
Kao Corporation
Andalou Naturals
Ivy Beauty Corporation Sdn Bhd
Nature's Dream
Prolab Cosmetics
Inglot Cosmetics
One Pure
Talent Cosmetics

Report Coverage

Market Forecast, brand share analysis, competition intelligence, DROT analysis, Market Dynamics and Challenges, Strategic Growth Initiatives

Customization & Pricing
Key Questions Answered in the Report
Which is the most lucrative market for halal cosmetics?
South Asia currently leads the global market for halal cosmetics. The increasing demand for sustainable and natural products has played a significant role in facilitating regional growth.
Which is the top-selling halal cosmetics category?
As per a FMI analysis, skin care is the top selling category and is anticipated to witness a growth trajectory over the forecast period. High purchase frequency and an increased inclination towards clean label products has facilitated increase in its sales.
Which is the prominent sales channel in the halal cosmetics market?
Sales through specialty stores and multi-brand stores still account for a notable share in the industry. The penetration of specialty stores and multi-brand stores is high in the developing regions like Asia-Pacific and Middle East and Africa. Online sales are further expected to register high CAGR during the forecast period.
Which are some of the leading companies offering halal cosmetics?
Some of the leading companies offering halal cosmetics include Iba Cosmetics, Martha Tilaar Group, Clara International, Kao Corporation, Andalou Naturals, Ivy Beauty Corporation Sdn Bhd, Nature's Dream, Prolab Cosmetics, Inglot Cosmetics, One Pure, and Talent Cosmetics.
Which is a prominent factor driving sales of halal cosmetics?
Growing personal disposable income on one hand and stepping up innovation on the other side on the part of suppliers is playing a significant role in accelerating growth. Moreover, the younger generation is inclined towards adoption of sustainable practices, offering a growth platform to the global market.
Key Segments
Product Type
Skin Care

Creams & Lotions
Face Cleanser
Others

Hair Care

Shampoo
Conditioner
Hair Oil
Others

Makeup

Facial Products
Eye Products
Lip Products
Nail Products

Body Care

Soaps
Shower Gels
Lotions
Others

Fragrance
End User
Sales Channel
Hypermarkets/Supermarkets
Convenience Stores
Specialty Stores
Multi-brand Stores
Online Retailing
Other Sales Channel
Region
North America
Latin America
Europe
East Asia
South Asia
Oceania
Middle East and Africa (MEA)
Need specific information?
Talk Show:
The Rise of Intelligent Packaging
Personalized, Connected and Sustainable
November 18, 2021
11:00-11:45 AM PST (USA & Canada)
This is a LIVE session