An Incisive, In-depth Analysis on the Dewatering Pumps Market
This study offers a comprehensive, 360 degree analysis on the Dewatering Pumps market, bringing to fore insights that can help stakeholders identify the opportunities as well as challenges. It tracks the global Dewatering Pumps market across key regions, and offers in-depth commentary and accurate quantitative insights. The study also includes incisive competitive landscape analysis, and provides key recommendations to market players on winning imperatives and successful strategies.
Economically developed regions are witnessing decent growth in dewatering pumps market, attributed to opportunities in existing commercial and industrial processes. Whereas, emerging economic regional markets are expected to witness robust growth in demand from the upcoming infrastructure projects across municipal construction and mining. Increasing urbanization in the emerging as well as developed economies coupled with growing middle class population has led to a surge in worldwide constructional activities. Another factor that strengthens the above sentence is the migration of people from sparsely populated villages to densely populated cities. These factors have led to an increased demand for housing and infrastructural developments around the world that favors the growth of dewatering pump market, especially the centrifugal pump segment, which is widely used for construction as well as industrial sector.
The global GDP is mainly propelled by major developing countries, such as India, China and some other Asian countries, owing to the high emphasis being put on infrastructural developments and propulsions in industrial production. Due to political and strategic transformations, several countries have managed to emerge lucrative for investors.
China is likely to take the lead in the utilization of dewatering pumps, globall
Rapid industrialization and urbanization in emerging economies such as China, India and ASEAN region are expected to lead to increase in investment in energy and water infrastructure development. Most pump manufacturers have established a base in Asia Pacific to take advantage of low-cost labor in the region. Most global pump suppliers, have garnered a high percentage of their raw material for pump manufacturing from China, with emphasis on metal castings, followed by rubber and plastics goods. Low priced pumps offered by Chinese players is a major barrier to overcome for most global players operating in the centrifugal pump market but is certainly beneficial for the Chinese players. China has been the longstanding exporter of centrifugal pumps and is expected to retain its dominance in the market over the forecast period.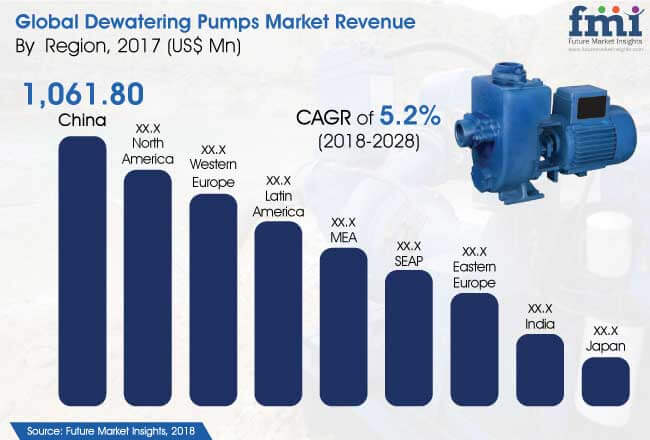 North America will closely trail China in terms of adoption
Oil and gas industry, particularly in the U.S. and Canada, is anticipated to be strong particularly driven by hydraulic fracturing in oil &and gas extraction and shale gas production. This trend is anticipated to drive demand for pumps in North America. With increasing demand for energy and power, end users are impelled to enhance oil and gas recovery processes from existing fields, as well as explore new fields. This trend, coupled with demand for automation, energy-efficient and environmental-friendly pumps, are expected to offer considerable growth opportunities for manufacturers in North America. In 2014, the U.S. was the largest producer of oil and natural gas, overtaking Saudi Arabia and Russia, driven by extraction of energy from shale rocks (shale oil).
The dewatering pump market is slated to grow significantly over the forecast period owing to the dramatic growth of the oil & gas industry. This growth can be attributed to significant production of hydraulic fracturing, also referred to as fracking, in the oil and gas industry supplemented by shale gas hydraulic fracturing as well. Higher crude shipments, surging natural gas exports, and robust fuel flows will help the United States become a net energy exporter, in turn, increasing the market demand of dewatering pumps. Moreover, increasing demand for dewatering pumps in the chemical industry to move chemicals is also expected to contribute to the market growth. Furthermore, rising concerns regarding waste water treatment and actions being taken for the same in North America will fuel market growth to a great extent.
Global industrial automation market outlook along with an overview of the global dewatering pumps market
Players in the industrial automation and equipment industry continue to face an environment that remains hyper-competitive. Evolution in end-user demand is influencing players in the industrial automation and equipment landscape to optimize their manufacturing process. Sluggishness in the oil & gas industry, muted growth in automotive sales, and stagnancy in the agriculture sector have posed challenges to players in the recent past.
With the increase in oil rigs and natural gas projects being quoted, various companies are making reinvestments, to either cater requirement of preventative maintenance or for generating a better ROI. Investing in infrastructure development remains a top priority for the industrial automation and equipment companies, with improvements in energy- and operational-0efficiency gaining center stage.
The development of streamlined 2-3 layer automation systems helped the industry in lowering maintenance costs and enhancing performance. The trend towards simplification of 5 layer system model, which the automation industry has been focusing on over the years, is witnessing acceleration. Innovation in development of controllers, sensors and intelligent devices has meant that today's computing processes are more effective.
Continuous advances are witnessed in the progressive integration of information technology (IT) and operational technology (OT), along with the evolution of business systems for handling real-time transaction processing. Building blocks are being offered by innovators, designed specifically for accomplishing the aim of 'connected enterprise'. New intelligent nodes, operating at the network edge for improving efficiency and performance of manufacturing processes, are offered by rapid propagation of technologies & concepts associated with Internet of Things (IoT).
A major challenge encountered by the global industrial automation and equipment industry is absence of multi-vendor application portability. Innovation is stifled without open ecosystems offering portable applications to vendor platforms. On account of this, non-traditional suppliers have embarked on launching next-generation products that are embedded with IoT software.
List of factors tracked in the Industrial Automation Market Report
Manufacturing and electrical machinery industry value add

Penetration of semi-autonomous and autonomous technologies

Industry spending on automation

Infrastructure Spending

Historical growth of top players

Growth in associated markets

Cumulative growth in installed base
Research Methodology
FMI utilizes robust methodology and approach to arrive at market size and related projections. The research methodology for this report is based on 3 dimensional model. We conduct about 45-60 min duration detailed interviews with product manufacturers; apart from this we also collect market feedback from industry experts. To validate this data, we interact with senior panel members having more than 10 years of experience in relevant field. The panel members help in validating the findings and fill the gaps if any. In addition, we leverage on our existing pool of information, paid database and other valid information sources available in public domain. Usually industry interactions extend to more than 50+ interviews from market participants across the value chain.
Data Collection
FMI collects data from secondary sources including company annual reports, association publications, industry presentations, white papers, and company press releases apart from these we leverage over paid database subscriptions and industry magazines to collect market information and developments in exhaustive manner. After being done with desk research, detailed questionnaire and discussion guide is formulated to initiate primary research with key industry personnel; the discussion aims at collecting key insights, growth perspectives, prevalent market trends and quantitative insights including market size and competition developments. Both of these research approaches help us in arriving at base year numbers and market hypothesis.
Data Validation
In this phase, FMI validates the data using macro and micro economic factors. For instance, growth in electricity consumption, industry value added, other industry factors, economic performance, growth of top players and sector performance is closely studied to arrive at precise estimates and refine anomalies if any.
Data Analysis and Projection
Data analysis and projections were made based on proprietary research frameworks and statistical analysis, which was further validated from industry participants. These frameworks include Y-o-Y growth projections, macro-economic factor performance, market attractiveness analysis, key financial ratios, and others.
For public companies we capture the data from company website, annual reports, investor presentations, paid databases. While for privately held companies, we try to gather information from the paid databases (like Factiva) and based on the information we gather from databases we estimate revenue for the companies. In addition, the team tries to establish primary contact with the companies in order to validate the assumptions or to gather quality inputs.
Standard Report Structure
Executive Summary

Market Definition

Macro-economic analysis

Parent Market Analysis

Market Overview

Forecast Factors

Segmental Analysis and Forecast

Regional Analysis

Competition Analysis
Market Taxonomy
The global dewatering pumps market has been segmented into:
By Equipment

By Capacity

By Region

By Application

By Technology

Civic Infrastructure Construction

Commercial Construction

Tunnels

Mining & Metals

Paper & Pulp

Chemicals

Power Generation

Food & Beverages

Municipal

Others

0.5-3 hp

3-10 hp

10-50 hp

Above 50 hp

North America

Latin America

Western Europe

Eastern Europe

Middle East & Africa

China

South East Asia & Pacific (SEAP)

India

Japan

Sludge Pumps

Slurry Pumps

Drainage Pumps

Hybrid Pumps

Positive Displacement Type

Centrifugal Type
COVID -19 : Impact Analysis
Request the coronavirus impact analysis across industries and markets
Request Covid -19 Impact
CASE STUDIES
See how our work makes an impact.
At FMI, we design strategies that are adaptive, impactful, and implementable.