Digital Elevation Model Market By Tool (Software, Services, Rendering 3-D Visualization, DEM Maps in 2D or 3D CAD), Application (Hydrological Modelling and Bathymetric Analysis, Disaster Prevention, Infrastructure), Industry (Telecommunication, Planning and Construction, Transportation and Tourism, Oil and Mining) & Region - Forecast to 2019 - 2029
Digital Elevation Model Market - Analysis, Outlook, Growth, Trends, Forecasts
November 2019

REP-GB-2774

350 pages
Digital Elevation Model Market - Key Research Findings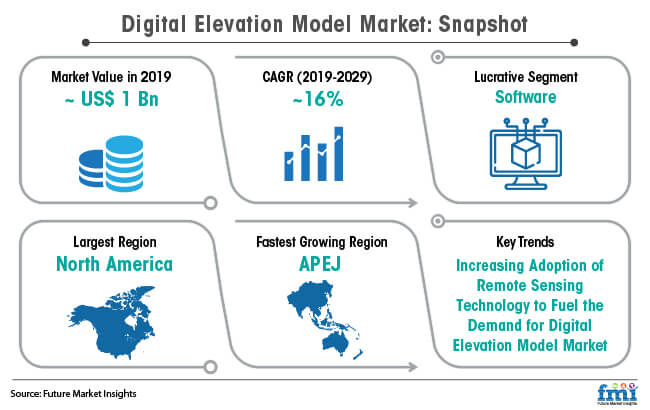 The global digital elevation model market was valued at ~US$ 942 Mn in 2018 and will exhibit a CAGR of ~16% during the forecast period of 2019-2029.
Geological explorations and surveys conducted by governments are creating potential growth opportunities for the digital elevation model market.
A few other factors that would significantly contribute towards the growth of market include the launch of 5G module, economic construction of infrastructure, and expansion of the telecommunication industry.
North America is a prominent regional market in terms of value and currently accounts for over a fourth of global market revenues.
High opportunistic potential of hydrologic modelling, resource monitoring, mapping and visualization will majorly underpin growth of digital elevation market in this region.
Rising investments in construction and military & defence industry applications are projected to be responsible for the prominence of Asian markets.
Key Factors Shaping the Digital Elevation Model Market
Rampant Infrastructural Developments
Infrastructural development and urbanization in developing regions are expected to propel the digital elevation model market growth across the globe. Digital elevation models are used for infrastructure planning and mapping, urban environmental planning to assess construction, road design and construction for transportation, drainage, and green landscaping. It also helps in infrastructural construction, maintenance and management such as highways, airport, and railroad track inspection.
Furthermore, the market is projected to experience a significant growth over the forecast period, owing to several factors such as increasing demand for high-voltage power line and pipeline maintenance, waterway maintenance, other layout, and construction of infrastructures.
Increased Application in Video Games
A map generally constitutes of elements in many games, especially video games. Games that are played through mobile devices and computers consist of various 2D and 3D terrain models that use various GIS technologies, spatial datasets, and cartographic methodology. Adoption of games with better map resolution is gaining traction among youths, globally. This is made possible through digital elevation model. This factor is expected to drive the global digital elevation model market growth during the forecast period.
Many gaming companies such as EA sport and various other PC gaming companies are focusing on war games with better resolution and actual mapping, which are made possible by the usage of digital elevation model.
Growing Adoption for Monitoring Sea Level in Coastal Areas
The demand for digital elevation model in coastal areas to manage reliable technological advances in mapping and monitoring, and assessment of coastal climate change impacts are expected to further accelerate the growth of the digital elevation model market throughout the forecast period.
The need for monitoring sea level, shoreline delineation, and general coastal management in coastal application are estimated to create an opportunity of driving the demand for digital elevation model in the coming years. Moreover, there has been an adoption of digital elevation model in coastal areas for underwater application such as seafloor morphological assessment and underwater archaeology.
Opportunities Spotted in Asia Pacific
The digital elevation model market providers are focusing on increasing their business opportunities across countries in the Asia Pacific region such as China, South Korea, and India, due to rising expenditure for military and defence applications and developments in planning and construction sectors. All these factors are supporting the increasing demand for digital elevation model.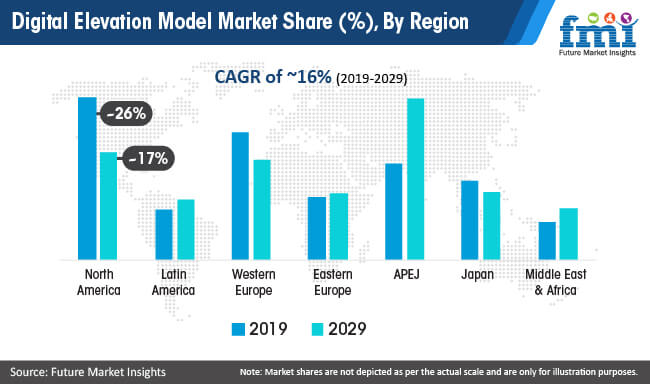 Digital Elevation Model Market Structure Analysis
The global digital elevation model market consists of competition landscape, where majority of key players are strategically focusing on new innovations, mergers & acquisitions, and strategic partnerships and collaborations to target a strong global footprint.
The global digital elevation model market represents a fairly consolidated competition landscape, where prominent key players focus on the development of IfSAR mapping techniques for technological advancements, 3D elevation mapping, joint ventures, and wide distribution networks.
Leading digital elevation model providers account for ~45% of the overall market. Participants such as TomTom International B.V, Imprivata, Inc., NIRAS A/S, CompassData, Inc. and Telespazio S.p.A. are among the largest in the digital elevation model market, with a significant regional coverage across the globe.
In order to offer digital elevation model, providers are opting for mergers and acquisitions with other prominent players to meet its growing demand in various end-use industries, including agricultural, infrastructural, mapping, and military and defence. For instance, in October 2018, Harris Corporation merged with L3 Technologies, to become a global defence technology leader. It also focused on developing differentiated and mission critical solutions for customers around the world.
World's Most Profilic Intelligence Engine
Get Access To The World's Largest Market Research Database.
Sign Up Now
Digital Elevation Model Market: Segmentation
The global digital elevation model market is segmented in detail to cover every aspect of the market and present a complete market intelligence approach to readers.
Tool
Software
Services
Rendering 3-D Visualization
DEM Maps in 2D or 3D CAD
Building Layouts and Relief Maps
Rectification of Satellite Images and Aerial Photograph
Drainage and Sight Analysis
Application
Hydrological Modelling and Bathymetric Analysis
Disaster Prevention
Infrastructure
Agriculture
3D Visualization
Mapping
Gravity Measurements Terrain Correction or Reduction
Industry
Telecommunication
Planning and Construction
Transportation and Tourism
Oil and Mining
Aviation
Geological
Weather
Military and Defence
Region
North America
Latin America
Western Europe
Eastern Europe
Asia Pacific
Excluding Japan
Japan
Middle East & Africa
Need specific information?
Our Clients