Drag Reducing Agent Market By Product (Polymer, Surfactant, Suspension), Application (Crude Oil, Multi-phase Liquid, Refined Products), End User (Oil & Gas, Chemicals & Petrochemicals, Power & Energy) & Region Forecast to 2019 - 2029
Drag Reducing Agent Market - Analysis, Outlook, Growth, Trends, Forecasts
August 2019

REP-GB-8274

294 pages
Drag Reducing Agent Market - Key Research Findings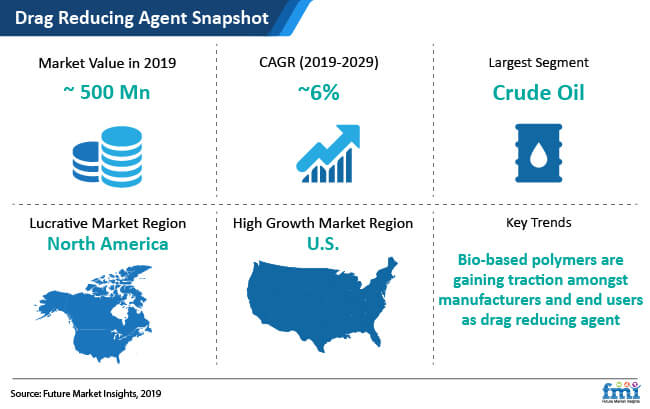 The global drag reducing agent market size in 2018 was ~ US$ 500 Mn.
The drag reducing agent market is expected to grow at a CAGR of ~ 6% during the forecast period of 2019-2029.
The exploration of new oil & gas reserves in various regions is expected to have a positive impact on the drag reducing agent market. New oil reserves will generate demand for drag reducing agents.
Solely, North America is expected to account for half of the revenue shares in the drag reducing agent industry, by the end of 2029.

North America, attributing to its strong presence of oil & gas industry, will continue to be a prominent regional market for manufacturers of drag reducing agent.

The pipeline industry is expected to remain as one of the prominent end users to invest in by drag reducing agent market players.

The pipeline industry has witnessed a significant growth over the recent years owing to the increase in demand of better oil & gas distribution network. Drag reducing agent is expected to benefit the pipeline industries in making them more efficient and profitable by recovering maintenance cost.
Key Factors Shaping the Drag Reducing Agent Market
Increasing Oil Production Activities Across the World
The production of oil and natural gas has witnessed steady growth in the recent years. Eastern Europe and North America are the key regions contributing to the growing production of oil and natural gas, which is expected to boost the production processes and in turn, drive the drag reducing agent market growth in the upcoming years.
Countries such as Russia, Venezuela, and Iran that have higher reserve capacities are expected to be prominent markets for the growth in sales of drag reducing agent.
Oil & Gas Industry to Surge Demand for Drag Reducing Agent
Recovering oil & gas prices, coupled with the increasing demand for oil & gas from end-use industries, such as plastics, chemicals, and polymers, are the major factors that drives the growth of the oil & gas industry. In the recent years, the oil & gas industry has witnessed a steady recovery of oil & gas prices. So, multiple manufacturers are accentuating towards expansion of new facilities and completion of withheld production plans during the downturn period.
Increasing demand for oil & gas has pushed manufactures towards development of oil & gas distribution network system. Manufacturers are focusing on a more efficient and economically-feasible method of extraction and transportation, which is a positive sign for drag reducing agent in the coming future.
Enhance Productivity Due to Growing Requirement of Drag Reducing Agent
Drag reducing agents are widely used to control the turbulence and overcome frictional losses in the pipeline. The use of drag reducing agents have allowed pipeline systems to greatly increase in traditional capacity and extend the life of existing systems. The higher flow rate that is possible on long pipelines have also increased, which makes it more efficient.
Adoption of drag reducing agents increases the pipeline throughout and reduces the delayed time for tanker loading/offloading, and helps in saving energy. Hence, the adoption of drag reducing agent is estimated to be economical for a longer run prospective. Use of drag reducing agents have allowed the users to increase the pipeline and distribution network to a considerable extent. End users have benefited from the use of drag reducing agents as it helps in improving efficiency, which is a positive sign for the expansion of business.
Increasing Number of Oil & Gas Pipeline Projects to Boost the Market
Rising global energy consumption, along with the rising oil & gas exploration activities, have resulted into increase in the number of new oil & gas pipeline projects.
Increasing number of pipeline projects in oil & gas as well as refining industries is estimated to positively influence the drag reducing agent market in the forecast period.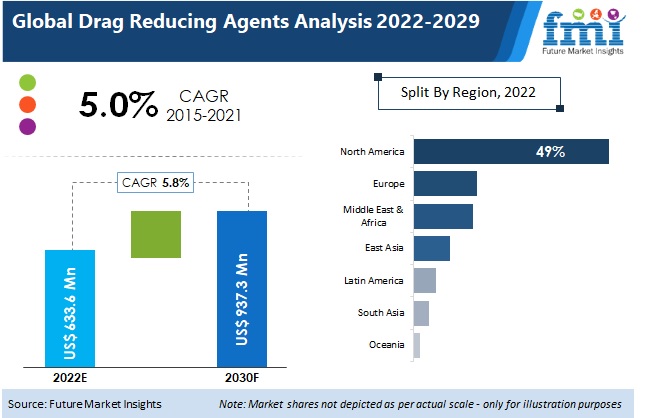 Drag Reducing Agent Market Structure Analysis
The global drag reducing agent market represents a fairly consolidated market, where majority of the key players maintain their strategic focus on the development of solid distribution partnerships and joint ventures, targeting a firmer global footprint.
The drag reducing agent market has been relatively moderate in size, which remains a key factor for its dynamic competitive nature.
Leading manufacturers of drag reducing agent are currently prioritizing R&D and capacity expansion to resonate with the increasing oil & gas exploration activities as well as new pipeline projects.
Portfolio extension is also identified to remain one of the key developmental strategies adopted by manufacturers of drag reducing agent.
For a stronger foothold in target markets, drag reducing agent manufacturers will continue to rely on inorganic strategies, such as mergers and acquisitions.
Deeper understanding of the market trends and preferential shifts of end-use segments across various regions are likely to create a bottleneck for prominent players, looking forward to untapped opportunities in the drag reducing agent market.
Drag Reducing Agent - Keeping the Fuel Flowing
The global oil & gas industry has remained influenced by the volatility of prices and regulatory overhangs amidst newer business opportunities. A supply boom and strong demand for crude oil and natural gas across the globe have been enabling a highly advantaged environment of midstream & related companies.
In addition, a rise in domestic crude oil production has brought significant changes in supply and demand patterns of Gulf Coast crude oil, thereby creating increasing need for pipeline capacity. Although the reliance on liquid fuels are expected to reduce as they get supplemented by bio-based fuel and electricity energy sources, it will be a number of decades before they are replaced or phased out completely.
To that end, major O&G companies are turning into 'smart drilling' which gradually open up more sources of cheap production, and in turn contributing to expansion of midstream industry.
Amid oil bottlenecks in the key producing regions, the usage of pipeline additives such as drag reducing agents (DRAs) is ramping up, as they efficiently reduce the contact between the oil and wall of the pipe, allowing more crude to flow through. DRAs have come a long way since they were first commercialized in early 1970s, and have garnered significant traction as a reliable tool for the pipeline industry.
Demand Bolstered by the Worsening Pipeline Capacity Crisis
In the face of pipeline capacity crisis, drag reducing agent has been providing a helpful push. In recent times, oil prices have recovered from the extreme lows, and drilling has picked up, potentially raising the demand for DRAs. Additionally, new pipelines are increasingly considering DRA usage during the design stage, to minimize capital and operating costs and enhance pipeline safety, as an increase in crude oil production couples with mounting concerns over the negative consequences of pipeline pressures losses during the transportation of heavy crude oil.
For long, pipeline operators have kept the benefits of DRAs quiet, believing they gave them a competitive advantage, and even now, several companies still decline to disclose how much DRA they produce. However, in the view of rising demand, manufacturers are placing their bets on expanding the output, as matching up supply and demand is becoming critical to maintaining a profitable business.
Technological innovations have not only impacted the oil & gas industry, but are rapidly reaching the sub-markets. For instance, as 'smart drilling' promises to provide the solid ground needed to keep the O&G industry running for decades to come, DRA manufacturers are focusing on R&D initiatives and leveraging new technologies to offer the latest generation of products such as 'nano-fluids' with best-in-class performance potential.
North America Takes the Center Stage
The demand for DRAs is currently based on ongoing exploration of new oil & gas reserves, new advances in chemicals & petrochemicals industry, and increasing number of O&G pipeline projects.
North America will continue to be at the forefront of the drag reducing agent market, given the ramping up of U.S. oil production and energy demand increasing at above-average levels, and recent bottlenecks in a number of North American pipeline routes. Furthermore, a steady and growing demand for DRAs is expected from politically volatile regions to help maintain volumes in aging pipelines, and subsequently to maintain or boost output.
Does the Future Lie in Bio-based Polymers?
The ability to increase the capacity and enhance the efficiency of existing as well as planned pipelines with relatively low capital expense has a strong appeal to midstream companies, producers and shippers alike. As a result, refined-product flow improvers including drag reducing agents have gained immense momentum over the years.
As pipeline remains the safest and most economical way to transport, midstream companies are focusing on catching up with growing oil production and a jump in natural gas output, and the result is likely to lead to increasing demand for DRAs.
DRAs are extensively used for optimizing pipeline efficiency and for significant reduction in the systems' overall costs. Realizing the severe worldwide depletion of fossil fuels and increasing environmental concerns, an embrace of R&D is under way in the market and several bio-based polymers (biopolymers) such as 'mucilage' are being assessed as promising DRAs for the potential replacement of conventional synthetic polymers with high molecular weight.
How Growth Will Unfold
An exponential rise in exploration activities and increasing number of refinery projects continue to increase the profit margins for drag reducing agent market players. However, 'sustainability' is no longer a niche issues of energy companies, and is gradually moving to the center of growth strategies and investment decisions; growing investments in alternative renewable energy resources and stepping efforts to reduce carbon footprints are likely to cause a disruption in O&G and chemicals value chains, and eventually representing a threat to the DRA market growth.
Stakeholders are on an acquisition spree to strengthen their geographical footprint and to cover all aspects of midstream activities across the globe. Further, greater emphasis has been put on strategic partnerships with end-use verticals to gain distinct competitive edge.
World's Most Profilic Intelligence Engine
Get Access To The World's Largest Market Research Database.
Sign Up Now
Key Segment
By Product Type
Polymer
Surfactant
Suspension/ Suspended Solids
By Application
Crude Oil
Multi-phase Liquid
Refined Products
Heavy, Asphaltic Crude
Water Transportation
By End Use
Oil & Gas
Chemicals & Petrochemicals
Power & Energy
Agriculture
Others
By Region
North America
Latin America
Europe
South Asia
East Asia
Oceania
Middle East & Africa (MEA)
Need specific information?
Our Clients