DUAL AND MULTI-ENERGY COMPUTED TOMOGRAPHY (CT) MARKET - KEY RESEARCH FINDINGS
The global dual and multi-energy computed tomography market in 2018 was valued US$ 2.6 Bn. The market is expected to expand at a CAGR of 8% during the forecast period of 2019-2029.
Growth in the prevalence of chronic diseases, increase in technological innovation, and rising adoption of minimally-invasive diagnostic procedures are the primary factors for the growth of dual and multi-energy computed tomography market. Moreover, inclination towards the use of dual and multi-energy CT, and growing prevalence of chronic diseases, mainly cardiovascular diseases and tumorigenic cancer, are factors expected to drive market growth.
Collectively, Europe and North America are expected to account for half of the revenue share in the global dual and multi-energy computed tomography market by the end of 2029.

North America will continue to be a prominent regional due to increasing prevalence of chronic diseases and increase in government support towards effective diagnostic services.
Dual-source CT remains the most preferred product type in the global dual and multi-energy computed tomography market. The adoption of dual-source CT is increasing because of its accurate nature and efficient availability.

Hospitals will continue to be prominent end users due to the wide availability of dual and multi-energy CT in hospitals.
In terms of clinical application, CT angiography is expected to hold a large revenue share in the overall market.
KEY FACTORS SHAPING DUAL AND MULTI-ENERGY CT MARKET
Increasing Aging Population and Need for Medical Imaging
Increase in the aging population due to longer life expectancy, especially in high-income countries, is anticipated to boost the medical and healthcare industry.
According to data of the National Institutes of Health, patients age 65 and older undergo diagnostic imaging two or more times that of younger people. Women also tend to use imaging slightly higher than men. This results in an increase in the number of diagnostic procedures and more effective treatment.
Increasing patient expectations in relation to quality of care is also driving the demand for advances in imaging technology, and hence, boosting the overall imaging market.
The COVID-19 pandemic has put a huge strain on the healthcare sector, with the number of confirmed cases crossing 2 million, as of now. This accents the need for advanced medical imaging techniques to diagnose the coronavirus patient pool. Dual and multi-energy CT would be essential in diagnosing affected persons, and curb the mortality rate.
CT scans are commonplace in detecting lung cancer in the elderly having a history of smoking. Driven by recent breakthroughs in the field of medical imaging, dual and multi-energy CT will play an instrumental role in the mass scanning and diagnosis of suspected cases of coronavirus.
Increasing Preference of Minimally-invasive Diagnostic Procedures
Imaging procedures have improved the ability of skilled personnel to properly diagnose and treat conditions, while also allowing patients to avoid more invasive procedures.
For many conditions such as brain tumors, imaging is the only non-invasive diagnostic method available. However, the appropriate choice of imaging modality depends on the disease, organ, and specific clinical questions to be addressed. Many open surgical procedures can now be replaced with minimally-invasive procedures under CT guidance. For example, fluoro-CT imaging is now used to guide a number of minimally-invasive procedures.
This may result in increased global demand for dual energy CT scanners, which is expected to increase the growth of global dual and multi-energy CT market.
Increased Funding for Research & Development
Due to increase in the incidence of injuries and diseases, such as cancer and orthopedic disorders, among others, various governments in developed countries are actively funding R&D activities to develop cost-effective and efficient medical devices.
For instance, John M. Boone, a UC Davis medical physicist and professor of radiology, has been awarded a US$ 2.88 million grant from the National Cancer Institute to further develop and research computed tomography to detect breast cancer. By increasing the performance of breast cancer screening in a practical and cost-efficient manner, the government is trying to improve care and increase survival in women suffering from the disease, and most importantly, also to reduce over-treatment of women with benign findings.
Market Growth in Emerging Economies
Increasing prevalence of chronic and cardiovascular diseases, and other diseases, in the Asia Pacific region, is offering a strong impetus to the growth of the dual and multi-energy computed tomography market. The launch of advanced technological devices prominently accounts for the growing popularity of dual and multi-energy CT across developing regional markets.
DUAL AND MULTI-ENERGY CT MARKET: STRUCTURE ANALYSIS
The dual energy and multi-energy CT market is a consolidated market space.
There are a few key players and three main key players present in the market.
Siemens Healthineers is expected to hold a large revenue share, i.e. approximately 40% of the overall market.
Key players continue to focus on product development, which can increase the growth of the overall market at a significant rate.
Dual-Source CT Attracts Greater Investments

Dual-source CT eliminates the need for a second photon counting detector, and the scanning process is achieved with existing hardware. By 2029, dual-source CT will represent a multibillion-dollar opportunity. Market players are also placing their bets on rapid kilovoltage (kVp) switching, as the technique offers greater flexibility and good temporal and spatial registration.
Over one-third of total market stack would be realized by rapid (kVp) switching. However, this study states that, the adoption of rapid (kVp) switching is likely to falter in the near term.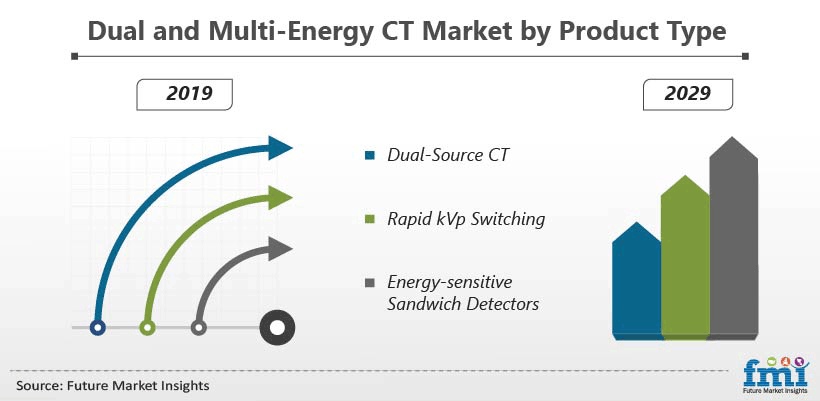 Developed Regions Capture Over 60% Share
Both, North America and Europe would remain the epicenter of growth opportunities in dual and multi-energy CT market over the next decade. Governments in these developed regions are showing ample support for the establishment of diagnostic centers to address the expanding patient pool of chronic diseases. Further, the Centers for Medicare & Medicaid Services (CMS) reveals that, U.S. healthcare spending is expected to reach around one-fifth of its GDP by 2020.
Moving ahead, governments in Asia and the Middle East & Africa (MEA) are encouraging startup companies as well as multinational corporations (MNCs) to boost growth in the healthcare and medical device industry. As such, market players in the dual and multi-energy computed tomography market are targeting these regions to strengthen their business foothold.
Future Lies in Research Activities
Players in the dual and multi-energy CT market are focusing on performing rigorous research on conventional methods. While existing clinical techniques mainly describe material separation, ongoing research activities consist of abdominal imaging, which includes detection and stratification of liver steatosis and fibrosis.
Furthermore, researchers are comparing different types of techniques used in dual energy CT scanners, and are laying greater emphasis on multi-energy CT. Continuous research activities on dual and multi-energy CT will thus create a fertile environment for market players over the years ahead.

How Growth will Unfold
Hospitals will continue to remain the immediate end user of dual and multi-energy CT throughout the projection period, procuring over half of overall revenue. Rising caseloads of diseases and injuries that require effective diagnostic imaging services are translating to increasing number of hospitals across continents. As such, market players are significantly investing in hospitals to ensure profitable margins. In addition, they are also targeting diagnostic centers, which are exhibiting a growth rate nearly identical to that of hospitals.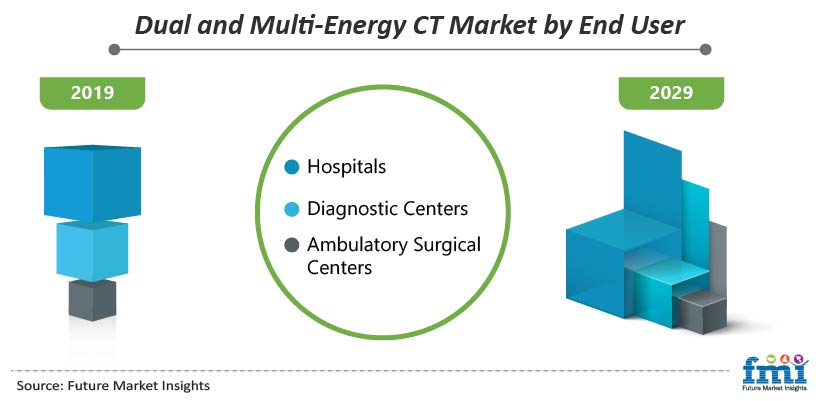 REPORT SCOPE
Base Year considered - 2018

Actual Estimates/Historical Data - 2014 - 2018

Forecast Period - 2019 - 2029

Forecast Units - Value (USD) Mn

Segments Covered - Product Type, Clinical Application, End User, and Region

Regions Covered - North America (US & Canada), Europe (UK, Germany, France, Spain, Italy, Russia, BENELUX and Rest of Europe), Latin America (Brazil, Mexico, and Rest of LA), East Asia (China, Japan and South Korea) South Asia (India, Indonesia, Malaysia, Thailand and Rest of South Asia), Oceania (Australia and New Zealand) and MEA (GCC, South Africa, Turkey, Northern Africa, and the Rest of MEA)

Key Players - Koninklijke Philips N.V., GE Healthcare, Siemens, and Healthineers

Report Coverage - Revenue forecast, company share, competitive landscape, growth factors, and trends
DUAL AND MULTI-ENERGY COMPUTED TOMOGRAPHY (CT) MARKET TAXONOMY
FMI's study on the dual and multi-energy computed tomography market offers information divided into four important segments - product type, clinical application, end user, and region. This report offers comprehensive data and information about the important market dynamics and growth parameters associated with these categories.
Product Type
Rapid kVp Switching
Energy-Sensitive Sandwich Detectors
Dual-Source CT
Clinical Application
Virtual Mono-energetic Imaging
CT Angiography
Perfused Blood Volume
Virtual Non-contrast-enhanced Images
Atherosclerotic Plaque Removal
Virtual Non-calcium Images
Urinary Stone Characterization
Crystalline Arthropathies
Others
End User
Hospitals
Diagnostic Centers
Ambulatory Surgical Centers
Region
North America
Latin America
Europe
East Asia
South Asia
Oceania
Middle East and Africa
Need specific information?