Sales of Duct Tapes to Generate US$ 7 Bn in 2029
The packaging industry is undergoing a radical shift from rigid to flexible plastic packaging formats. Duct tapes are particularly witnessing healthy demand from myriad end-use industries, majorly for adhesive application in sealing and waterproofing. Global adoption of duct tapes is anticipated to surge at a promising pace, with revenues exceeding the value of US$ 7 Bn by 2029 end. This FMI report forecasts that substantial consumption of duct tapes will be observed during the period of 2024 - 2026.
FREQUENTLY ASKED QUESTIONS ABOUT DUCT TAPES MARKET
What are future prospects of the duct tapes market?
There will be promising growth in the demand for duct tapes over the next decade, with market value increasing from US$ 4 Bn in 2019 at a healthy CAGR through 2029.
Which region will lead the global sales in duct tapes market?
North America remains the largest shareholder in the global duct tapes market. The US has emerged as a dominant region in the duct tapes market in terms of consumption. However, East Asia and South Asia are expected to show higher growth over the coming years. 
What revenues can market stakeholders derive from the HVAC industry over the next decade?
In 2019, duct tapes worth over US$ 1.4 Bn were sold to the HVAC industry, and the number is set to maintain an average 5.7% yearly increase during the forecast period (2019-2029).
What are the major challenges for the duct tapes market?
Presence of alternatives such as injected aerosol sealants for HVAC ducts, and limited applicability of duct tapes in extreme conditions are hindering the growth of the global duct tapes market.
Which companies are investing significantly in the development of innovative products?
Some of the leading players in duct tapes market include 3M Company, Berry Global Group Inc., Shurtape Technologies LLC, Scapa Group plc., and tesa SE Group.
Professional Grade Duct Tapes Hold Half of Total Revenues
Carrying the benefits of better durability, holding power, and removal properties, professional grade and specialized high strength duct tapes continue to define stakeholders' bottom lines. Particularly in Japan, adoption of the former is on the rise owing to high export of electronic goods in the country. However, professional grade duct tapes are likely to lose some of their share to their counterparts - utility duct tapes and removable duct tapes - as these packaging tapes are relatively expensive.
Construction Industry's Progress Argues Well for Asian Markets
The duct tapes market in North America, collectively with that in Europe, is capturing a major pie of total market revenues. However, this study suggests that East Asia will outperform these developed regional markets during the latter half of the projection period. Spearheaded by China and Japan, the East Asian market will see an upsurge in adoption of duct tapes on the back of booming construction, and heating, ventilation, and air conditioning systems (HVAC) industries. South Asia is also echoing these growth prospects, attributing to the swelling infrastructure investments, particularly in fast developing countries such as India, Indonesia, and Thailand.
Unleashing Potential Application Opportunities in Non-traditional Areas
Influenced by their economical nature and excellent tacking property, duct tapes are making forays in various indoor applications such as sealing ductwork, and dustproofing filter banks. In addition to this, consumers are increasingly banking on duct tapes for different small-scale Do-it-Yourself (DIY) projects. Apart from these household applications, duct tapes are widely used in the manufacturing industry for waterproofing, reinforcing and color-coding of packaging, owing to their excellent resistance properties. Such potential application areas for duct tapes are reflecting white spaces to market players.
Professional grade duct tapes hold leading revenue share
Utility duct tape sales to grow at a higher rate
Natural rubber-based adhesives account for voluminous share
Synthetic rubber-based adhesives to see increasing adoption
High application in sealing
Usage in waterproofing to rise
High adoption projected in HVAC industry
Demand from building & construction industry to soar
How Growth will Unfold
Adoption of duct tapes will remain prominent in sealing of HVAC insulation systems throughout the forecast period. Accounting for over a third of total market revenues, manufacturers are eyeing this end-use category for higher profits. By 2025, duct tape consumption by the HVAC industry will account for revenues of over US$ 2 Bn. Meanwhile, the building & construction industry is also reflecting an opportunistic potential for market growth, where adoption of duct tapes would most likely join the billion-dollar club in 2021.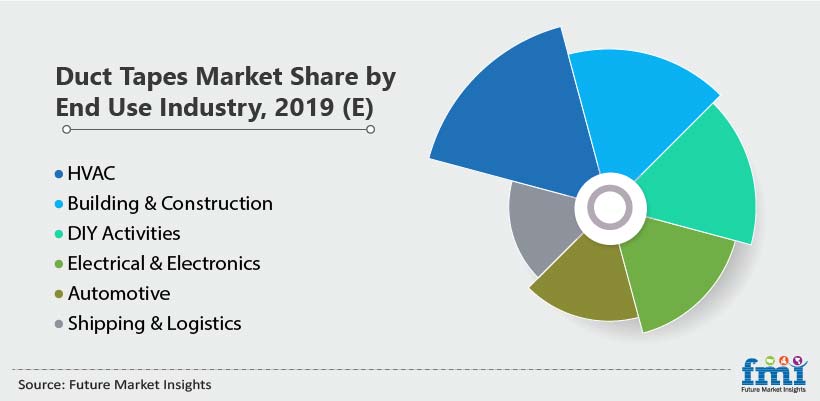 * This data is only a representation. Actual data may vary and will be available in report.
Click Here To Know How The Growth Will Unfold
Custom Market Research Services
FMI offers custom market research services that help clients to get information on their business scenario required where syndicated solutions are not enough.
Overview
Duct Tapes Market Analysis 2019-2029
A recent market report published by FMI on the duct tapes market provides global industry analysis for 2014-2018 & forecast for 2019-2029. The report offers a comprehensive assessment of the most important market dynamics. After conducting thorough research on the historical, as well as current growth parameters of the duct tapes market, the growth prospects of the market are obtained with maximum precision.
Duct Tapes Market Taxonomy
The global duct tapes market is segmented in detail to cover every aspect of the market and present complete market intelligence to readers.
Product
Removable Duct Tapes
Professional Grade Duct Tapes
Utility Duct Tapes
Specialized High Strength Duct Tapes
Adhesive
Natural Rubber-based adhesives
Synthetic Rubber-based adhesives
Backing
Plastic

Polyethylene
Polyvinyl Chloride
Polyester

Foil
Cloth
Application
Sealing
Repairing
Holding
Waterproofing
Coding
Strapping
Splicing
Others
Thickness
< 10 Mil
10 to 15 Mil
> 15 Mil
End Use Industries
HVAC
Building & Construction
Shipping & Logistics
Automotive
Electrical & Electronics
DIY Activities
Region
North America
Latin America
Europe
South Asia
East Asia
Oceania
Middle East & Africa
How the research was conducted?
Primary Research
Primary research interviews with key opinion leaders and other participants were conducted for data collection and validation of the below information:
Key Segments in the Duct tapes Market
Market Share Analysis
Average Selling Price (US$) and Market Growth
Key Regulations in Packaging Industry
Market Size
Key Trends & Developments
Competition & Key Vendor Strategies
Secondary Research
Industry Journals
Annual Reports/SEC Filings/Investor Presentations
Primary Interview Splits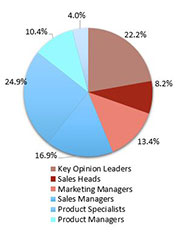 To Learn More About our Comprehensive Perspective on Duct Tapes Market,
Get in touch
COVID -19 : Impact Analysis
Request the coronavirus impact analysis across industries and markets
Request Covid -19 Impact
CASE STUDIES
See how our work makes an impact.
At FMI, we design strategies that are adaptive, impactful, and implementable.