Manufacturers Prefer Silicone and Polyurea for Developing Elastomeric Coatings
About one-third of the elastomeric coatings market value would be realized by silicone-based variants. However, silicone-based elastomeric coatings are likely to lose their grip on market revenue in due course of time, as they are not preferred for roof-based waterproofing applications. Manufacturers, thus, are turning to other materials, including polyurea, which will witness a top-line growth in the near future. Their benefit of excellent atmospheric moisture sensitivity and other mechanical properties is making polyurea coatings sought-after by market players.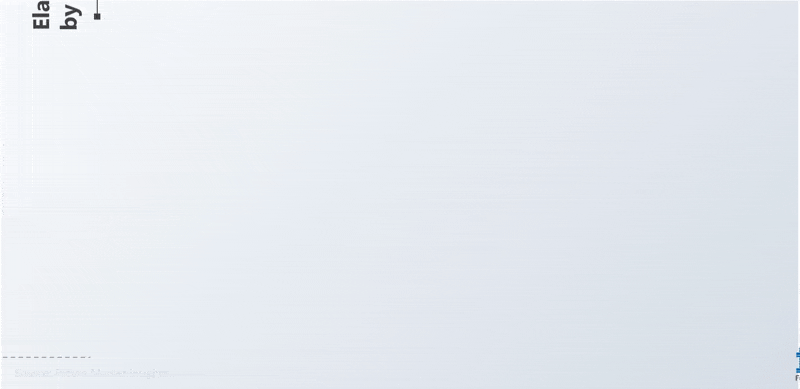 North America and Asia - Linchpin of Growth Opportunities
The elastomeric coatings market in North America and Asia will reach US$ 3 Bn towards the end of the projection timeframe, respectively. As these regions house the fastest-growing markets for infrastructure expenditure - China, India, and the US - manufacturers are focusing on conspicuous investments in innovation in these countries. Moreover, China is banking on lean and industry 4.0 techniques for production boost to address labor-cost inflation. This would further garner huge attention from market players.
Greater Focus on Product Customization
Manufacturers must lay extra focus on customizing products and formulations to align with specific customer requirements. Variations in the concentrations of isocyanate, polyether, polyester amine, chain extenders, and other additives have a noteworthy impact on the final properties of elastomeric coatings. For instance, Acrymax Technologies Inc. has developed customized elastomeric coatings that offer color matching, which is one of the prominently demanded customer services. Additionally, the company has manufactured a low-viscosity waterproof coatings formulation for specific client requirements.
How Growth will Unfold
Ailing infrastructure assets and demographic growth are influencing governments to scale up their expenditure in several construction projects. Influenced by these shifts, manufacturers continue to reap substantial value creation from the building & construction sector, which captures about 3/5 of overall revenue. Moreover, benefits of elastomers such as high anti-corrosive and anti-scratch aspects are making them a favorite in the automotive & transportation industry, where they are used in rail car linings and railway track containers.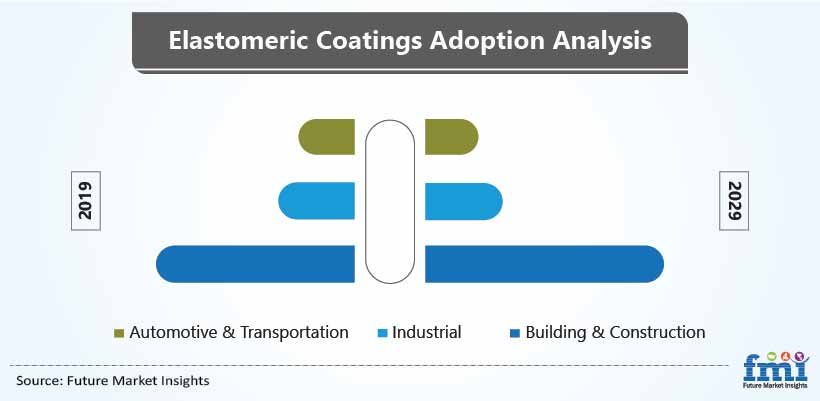 ELASTOMERIC COATINGS MARKET - KEY RESEARCH FINDINGS
The global elastomeric coatings market size is expected to reach US$ 10 Bn by 2028.
The market is projected to record a CAGR of 7% during the forecast period (2019-2029).
Silicon-based elastomeric coatings hold about 1/3rd of the total revenue, while polyurea variants are expected to witness strong demand over the forecast period.
Demand for elastomeric coatings in building and construction industry will continue to grow on a significant pace, while industrial application will create profitable growth opportunities for market players.
Increasing scope of application in automotive industry is expected to complement the elastomeric coatings market growth.
North America and Asia are expected to account for major shares of the global elastomeric coatings market, generating collective revenue of US$ 3 Bn by 2029.
KEY FACTORS INFLUENCING ELASTOMERIC COATINGS MARKET
Growing Usage in Building and Construction Industry
For the past few years, building and construction industry has been a significant end user of elastomeric coatings. These coatings are employed in bridging cracks on roof tops, exterior concrete walls, and stucco, which prevent water from penetrating into interior constructed walls.
Moreover, elastomeric coatings provide resistance to the walls and roofs from dew formation and settling of dirt, and stability under different climate conditions. Silicone, acrylic, and polyurethane polymers are the common elastomeric coatings. These polymers stop water droplets from entering the interior concrete layer and have high surface tension that causes beading of rainwater.
New Window of Application in Manufacturing Biodegradable Cardiovascular Stents
Cardiovascular stents continue to evolve - enhancing the efficacy and reducing the risk associated with these devices. Cardiovascular stents coated with elastomeric coatings prevent cracking and peeling of coat which can lead to inflammatory reactions as imperfect stents can lead to uneven drug level release by vessel wall. In recent years, biodegradable stents have been gaining huge traction across the globe. It is highly corrosion resistant and reduces thrombotic deposition in vitro cardiovascular stents. The result is likely to lead to increased demand for elastomeric coatings.
High Growth Prospects in North America and APAC
North America and APAC will continue to generate higher revenue share in the elastomeric coatings market over the forecast period. These regions are the major volumetric contributor to the elastomeric coatings market, due to their large consumer base along with rising building & construction activities. Moreover, China is currently executing a large number of airport construction projects and the government has also rolled out massive construction plans for next 10 years. This, in turn, will boost the demand for elastomeric coatings.
ELASTOMERIC COATINGS MARKET STRUCTURE ANALYSIS
The elastomeric coatings market is consolidated with the presence of a fewer number of players across the globe.
Some of the major companies will continue to hold their strong foothold in the global elastomeric coatings market.
These market players are focusing on entering the related industries, which will enable elastomeric coatings manufacturers to overcome the effects of volatile economy, increase revenue, and enhance their business portfolio.
Base Year - 2019
Forecast Period - 2019-2029
Market value in 2018 - US$ 5.2 Bn
CAGR over 2019-2029 - More than 7%
Segments Covered - Type and Application
Regions Covered - North America, Latin America, Europe, East Asia, South Asia, Oceania, and MEA
Growth Drivers -

Growing building and construction projects
Greater adoption of advanced coating technologies
Scope of application in biodegradable stents

Key Companies Covered - PPG Industries Inc., Teknos Group, Covestro AG, and DowDuPont Inc.
ELASTOMERIC COATINGS MARKET TAXONOMY
The global elastomeric coatings market is segmented in detail to cover every aspect of the market and present a complete market intelligence approach to the reader.
By Type
Acrylic
Polyurethane
Epoxy
Silicone
Polyurea
Others
By Application
Building & Construction

Roofs
Walls
Floors
Bridges
Others

Industrial
Automotive & Transportation
Others
By Region
North America
Latin America
Europe
South Asia
East Asia
Oceania
Middle East and Africa
Need specific information?