An Incisive, In-depth Analysis on the Encapsulated Flavours Market
This study offers a comprehensive, 360 degree analysis on the Encapsulated Flavours market, bringing to fore insights that can help stakeholders identify the opportunities as well as challenges. It tracks the global Encapsulated Flavours market across key regions, and offers in-depth commentary and accurate quantitative insights. The study also includes incisive competitive landscape analysis, and provides key recommendations to market players on winning imperatives and successful strategies.
Chocolate Flavours Segment Emerges Dominant
The chocolate flavours segment is expected to increase at a CAGR of 5.3% over the forecast period. The segment is expected to be valued at more than US$ 1,300 Mn by the end of 2027, creating an incremental $ opportunity of a little more than US$ 550 Mn between 2019 and 2027. The general fruit flavours segment is expected to account for a relatively high value CAGR in the global encapsulated flavours market over the forecast period. The segment is expected to be valued at more than US$ 1,000 Mn by the end of 2027, creating an incremental $ opportunity of more than US$ 400 Mn between 2019 and 2027.
Rising Demand for Savoury Flavours and Flavoured Drives Growth
Demand for encapsulated flavours in convenience food has grown rapidly and continues to increase at a significant rate. In developed markets, preference for readymade meals, savoury soups and snacks is increasing, leading to higher demand for spicy, ethnic and exotic flavours. The addition of spicy and exotic flavours to existing product lines continues to be one of the key strategies adopted by global manufacturers to attract consumers' attention in more mature markets of the U.S. and Canada. Growing prevalence of ethnic food and drinks has led to the incorporation of hotter, spicier and more striking flavour profiles, thereby driving revenue growth of the flavour type segment in the global encapsulated flavours market.
The trend towards natural, wholesome and healthy products is increasing, but poor properties of these ingredients are major challenges in the food industry. To avoid such issues, companies are focusing on trapping the original flavour of the products by encapsulating it using different techniques. The addition of flavours in different types of food products such as biscuits, cookies, and ice-creams is preferred by consumers these days, which is also expected to increase demand for encapsulated flavours. Moreover, growing health awareness and time constraints along with the ensuing demand for functional and convenience foods is expected to continue to fuel the growth of the flavour type segment.
Consumers have started preferring fizzy and flavoured drinks that are expected to lead to an upsurge in revenue growth of the flavour type segment across the assessed regional markets. Due to the known poor health effects of artificial flavours, consumers have opted to switch to drinks that contain artificial flavours. Health conscious individuals are preferring plant-based drinks over other beverages. This is a major factor that is anticipated to drive revenue growth of the flavour type segment.
Global Encapsulated Flavours Market Structure
The global encapsulated flavours market is primarily characterised by the presence of a large number of regional and multinational companies that operate in the global market. An approximate share of 70%-75% is accounted for by multinational players, who are also the price regulators of the market. North America and Western Europe are the two main regions targeted by these companies due to increasing number of health conscious consumers and a growing demand for food and beverages in the market.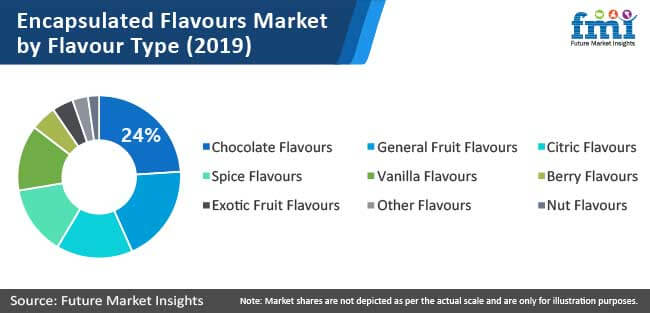 FREQUENTLY ASKED QUESTIONS ABOUT Encapsulated Flavours Market
At what rate of growth will the encapsulated flavours market rise?
The global encapsulated flavours market will rise at a CAGR of 5.7% between 2019 and 2027
Which flavour type will witness highest demand in the encapsulated flavours market?
Among various flavours available in the market, the chocolate flavours segment will witness the highest demand.
What is the present and future market potential of encapsulated flavours by application?
The encapsulated flavours market will witness considerably high demand across diverse segments. Of these, beverages and instant drinks segment is expected to retain their dominance in the market through the course of the forecast period.
Which region will dominate the global market?
Regionally, Asia Pacific is likely to emerge as one of the most lucrative markets. The region is expected to hold dominance in the global encapsulated flavours market through the course of the forecast period. North America is likely to remain steady as the second-leading market for encapsulated flavours.
What are the chief factors driving encapsulated flavours market?
The sale of ready-to-eat meal is increasing in developed regions leading to higher demand for spicy and exotic flavours. Around the world there is a considerable increase in demand for ethic flavours. Spurred by this, the encapsulated flavours market will exhibit high rate of growth in the coming years.
Encapsulated Flavours Market Statistics - 2027
Development of cost-effective encapsulation methods is a key focus area for players in this market, both at international as well as regional levels. Recently, Tatsetech Ltd. has developed a menthol flavouring solution for confectionery and chewing gum. The flavouring is offered in free-flowing powder form with no re-crystallisation. According to our analysts who have recently come up with a new publication titled "Encapsulated Flavours Market: Global Industry Analysis (2013-2018) and Opportunity Assessment (2019–2027)," there is need to efficiently blend ingredients while ensuring taste, flavour and shelf-life stability of finished products. Companies also need to focus on enhancing encapsulation technology for enhanced product life in applications such as dairy products, beverages and animal nutrition products. It has been observed that manufacturers also have to focus on developing innovative products while complying with regulations for food grade material usage. In order to offer the cost advantage to companies, local players have started offering encapsulation technology at comparatively lower prices, primarily in countries such as China and India. In addition, growing demand for functional food products in these countries is projected to increase options for various new entrants in the global market in the near future. Companies are developing products in accordance with demand from varied applications such as developing encapsulated systems to offer two different flavours in chewing gums. This is intended to offer distinct taste and flavour to consumers.
We have observed that the encapsulated flavours market in APEJ offers relatively high potential growth opportunity, followed by North America and Western Europe. The growth of the market in APEJ is attributed to rising investments by companies in the encapsulation industry for packaged food. International companies in Western Europe are focussing on innovative manufacturing technologies. This is predicted to fuel market growth during the forecast period.
Key Market Insights
GDP growth is one the important macro-economic factors that positively impacts the encapsulated flavours market. Emerging and developing economies are expected to contribute significantly to global economic growth. The economies of Latin America, South East Asia, Eurasia and the Middle East and Africa are expected to witness gradual growth. On the other hand, global warming is adversely affecting the availability of raw material required for flavour production. Some plants grown under lower temperature may be less likely to offer spices required for the production of spice flavour. The quality of raw material is also affected by the temperature variation. The quality of the raw material is the most important parameter for natural and organic encapsulated flavour production, which is trending the global market.
By Flavour Type

By Application

By Encapsulation Process

By Region

Citric Flavours
Berry Flavours
Spice Flavours
Nut Flavours
General Fruit Flavours
Exotic Fruit Flavours
Chocolate Flavours
Vanilla Flavours
Other Flavours

Bakery & Confectionary
Cereal and Oatmeal
Snack Food
Frozen Food
Dairy Products
Beverages & Instant Drinks
Pharmaceutical & Personal Care
Others

Spray Drying
Spray Congealing/ Chilling
Fluid Bed Coating
Glass Encapsulation
Others

North America
Western Europe
Eastern Europe
Latin America
APEJ
Japan
Middle East and Africa
Market Segmentation
Research Methodology
Systematic research approach has been adopted to study the global encapsulated flavours market. In-depth secondary research is used to determine the top industry players, products, applications, overall market size, industry connotations, and to identify distributors and manufactures. Our analysts have formulated a detailed discussion guide to interview industry experts. We have conducted interviews with key industry participants for data collection and verification. Data is validated by the triangulation method, wherein secondary and primary data along with Future Market Insights' analysis is consolidated to develop the final data. List of industry players such as encapsulated flavours producers and manufacturers and industry specialists is developed by our expert team of analysts for the purpose of carrying out extensive primary research.
COVID -19 : Impact Analysis
Request the coronavirus impact analysis across industries and markets
Request Covid -19 Impact
CASE STUDIES
See how our work makes an impact.
At FMI, we design strategies that are adaptive, impactful, and implementable.