Ethylene Dichloride Market – Key Research Findings
Global ethylene dichloride market value in 2017 - Nearly US$ 16 Bn
Ethylene dichloride market estimated to expand at a 3.7% value CAGR over 2018-2028
East Asia and North America are poised to remain most lucrative markets for ethylene dichloride (EDC) manufacturers

North American market for ethylene dichloride is driven by strong presence of major manufacturers of polyvinyl chloride (PVC), such as Solvay, Shin-Etsu Chemical, and Axiall Corporation.
Ethylene dichloride consumption rate within North America is considerably high.
East Asia is also projected to grow at a healthy CAGR through 2028 owing to rapid industrialization, particularly in China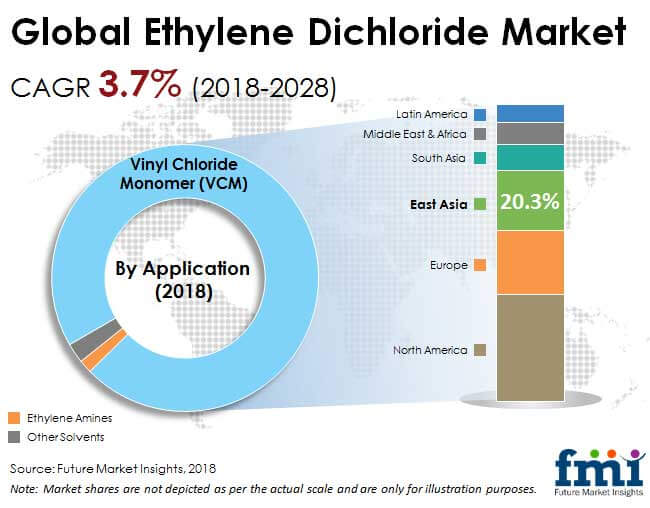 Vinyl chloride monomer likely to remain a prominent segment in the global ethylene dichloride market

The demand for PVC has been increasing, primarily driven by the thriving construction industry.
Increasing acceptance and execution of 'smart city' concept will further boost PVC consumption.

Oxy chlorination production process is most favoured for ethylene dichloride production

In a bid to reduce harmful emissions from EDC production as well as ensure high accuracy, the oxy chlorination process has gained preference over the conventional direct chlorination production process.
Top 3 Factors Shaping the Ethylene Dichloride Market
Increasing Applications of PVC Resins to Drive Demand for Ethylene Dichloride
Poly Vinyl Chloride (PVC) is the third largest plastic in terms of production and consumption. PVC finds a wide range of applications in pipes & fittings, flooring, wires, power & signal cables, films and sheet, and other applications. In terms of PVC or vinyl chloride monomer production, ethylene dichloride is used as one of chief raw materials, which in turn is expected to drive the demand for ethylene dichloride at a healthy growth rate.
Upsurge in Demand for Gasoline to Complement Ethylene Dichloride Market Growth
While the oil industry has been slated for steady growth owing to the increasing demand for gasoline and fuels, vendors have been concentrating on expansion of refinery capacities to cater to rising demand for crude oil products. Conventionally, ethylene dichloride is used as a lead scavenger in petrol and as a result, an increase in petrol or gasoline demand is expected to fuel the ethylene dichloride demand in the near future.
Stringent Regulations Dictate Production and Consumption of Ethylene Dichloride
Attributing to the toxic nature of ethylene dichloride, it causes nausea and drunkenness in humans and also creates a negative impact on the environment. Thus, government authorities have implemented strict rules and regulations on the consumption pattern of ethylene dichloride.
For instance, ethylene dichloride is included under the Clean Air Act, section 112(b) List of Hazardous Air Pollutants regulated by the U.S. Environmental Protection Agency. Thus, stringent environmental regulations on ethylene dichloride are expected to hamper the global market in the near future.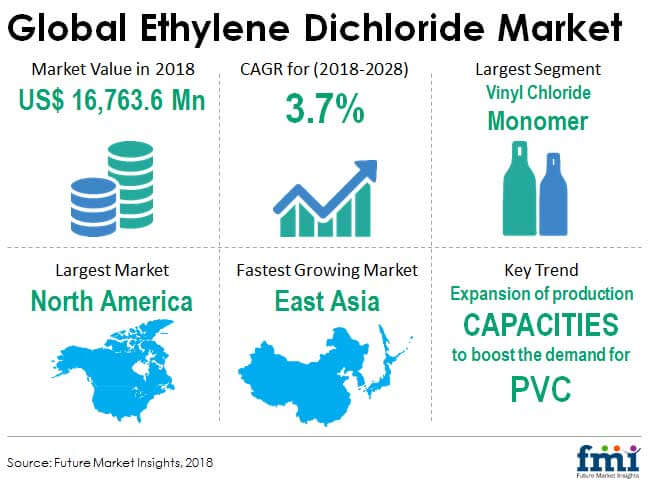 Ethylene Dichloride Market Structure Analysis
The ethylene dichloride market is highly fragmented as a large number of smaller players exist in the competitive landscape, besides established international companies.
Tier 1 & tier 2 companies hold more than half the market share, according to FMI's report.
Key vendors of the ethylene dichloride market include Occidental Chemical Corporation, Formosa Plastic Corporation, Olin Corporation, Vynova Group, Tosoh Corporation, and SABBIC among others.
While most of the key players maintain strategic emphasis on North American and East Asia markets, research highlights that the environmental regulations on ethylene dichloride have negatively impacted the market position of a few players
Over the past few years, the captive consumption rate of ethylene dichloride has increased due to the increasing number of PVC production plants across EDC players
In 2017, Olin Corporation signed an agreement with The NRC Group for the distribution of chemical products including ethylene dichloride, epoxy resins and curing agents for coating, civil engineering, adhesive and composite industries across Europe.
World's Most Profilic Intelligence Engine
Get Access To The World's Largest Market Research Database. Ngage with a revolutionary intelligence engine that scale and pricing that flexes as per your needs
Sign Up Now
Key Segment
By Application
Vinyl Chloride Monomer (VCM)
Ethylene Amines
Other Solvents
By Production Process
Direct Chlorination
Oxy Chlorination
By Region
North America
Latin America
Europe
South Asia
East Asia
Middle East & Africa
Need specific information?