A Paradigm Shift towards Environment Friendly Approach
Wood pellets are inert to exogenous factors such as, fossil fuels, making them affordable. Wood pellet heating systems exhibit high calorific value – a kg of wood pellet produce ~5kW energy. Wood pellet heating systems are environment friendly following the amount of the carbon dioxide released during the burning process equating the amount absorbed during the growth of the trees. In addition, the wood pellets or biomass pelllets comprise of residual wood materials, and saw dust as compared to their conventional counterparts relying on non-renewables – oil, and gas.
Advanced microprocessors in wood pellet heating systems help in regulating the amount of fuel and air delivered to the combustion room, ensuring significant efficiency - up to 90, and ultra-low releases. Regulated feed auger screw system feeds the fuel automatically into the boiler from the fuel store. Although, initial cost of wood pellet heating systems is comparatively high, reduced electricity bills will recover the expenses.
Europe Wood Pellet Heating Systems Market - Key Research Findings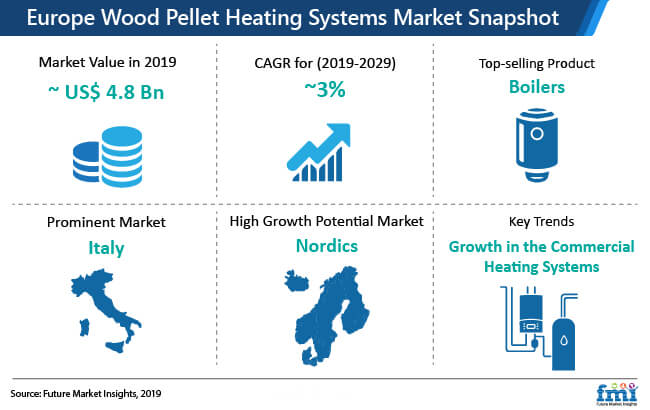 The Europe wood pellet heating systems market was valued at ~US$ 4.7 Bn in 2018.
The wood pellet heating systems market is expected to grow at a CAGR of ~3% during the forecast period of 2019-2029.
Operational efficiency & economic benefits ensure high demand for wood pellet heating systems.
Collectively, Italy and France markets are estimated to account for ~50% of the sales in the wood pellet heating systems by the end of 2029.

Italy is expected to be the key revenue maker for wood pellet heating systems, owing to government subsidies and incentives for installation of biomass heating systems.

Commercial sector is expected to remain a prominent investment area for wood pellet heating systems market players.

Noteworthy application potential of wood pellet heating systems has been identified in heat and energy generation purposes.
Key Success Factors Shaping the Wood Pellet Heating Systems Market
Growth in Commercial Wood Pellet Heating Systems
Commercial wood pellet heating systems are gaining traction among several end users due to several benefits such as low operating costs, relatively low per residence installation price of the system, smoke-free residence, etc. Manufacturers in the wood pellet heating systems market will need to focus on the development of commercial heating systems, owing to their growing penetration all over Europe. Capital investment is relatively high while using commercial wood pellet heating systems.
Manufacturers, to achieve sustainability, are focusing on offering wood pellet heating systems with advanced technologies such as WLAN connection and application-operated heating systems. Additionally, manufacturers are developing products with add-on features such as control units, etc. Many manufacturers are expanding their businesses across various European regions by establishing a strong dealers and sales partner network. Fröling Heizkessel- und Behälterbau Ges.mbH, Ferroli S.p.A, ÖkoFEN Research and Development Ges.mbH, Linea Trovata, HAAS + SOHN OFENTECHNIK GMBH, etc. are establishing strong distribution network by increasing the number of dealers and sales partners throughout Europe. The combined effect of these factors is expected to contribute significantly to the rising demand for wood pellet heating systems.
Wood Pellet Stoves to Grow at a Slow but Steady Pace in Europe
In European countries, the demand for wood pellet heating systems is driven by the increasing requirement to control atmospheric temperature along with comfort. Nordic Countries, followed by Benelux, are estimated to gain momentum in the coming years owing to factors such as growth in commercial heating systems, government incentives and subsidies, and changing weather conditions in the respective regions. Italy is estimated to be a prominent shareholder of the Europe market, followed by France and Germany. Rising prices of fossil fuels and federal environmental sustainability strategies are the key factors expected to bolster the demand for wood pellet heating systems in France, Italy, and Germany.
Germany and Austria are becoming manufacturing hubs for wood pellet heating systems from the last several years. Austrian and German manufacturers are expected to hold majority of the Europe market share over the forecast period. Rising consumption of renewable sources as fuels, along with sustainability strategies in European countries are expected to drive the Europe wood pellet heating systems market growth.
Wood Pellet Boilers to Surpass the Market Share of Wood Pellet Stoves
It has been observed that, in Europe, wood pellet boilers continue to account for major share of manufacturers' bottom lines as compared to stoves and biomass gasifiers. Wood pellet heating systems have applications in residential and commercial sectors. In addition to these sectors, wood pellet boilers are gaining significant momentum in industrial space. Commercial wood pellets heating systems have been garnering robust traction for their cost-effectiveness, and the trend is likely to continue over the forecast period.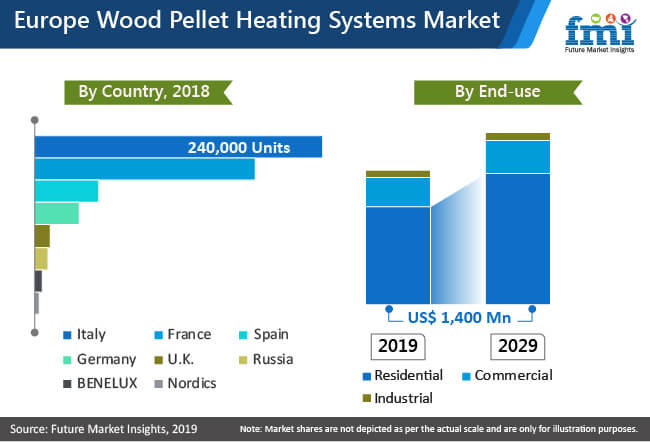 Wood Pellet Heating Systems Market Structure Analysis
The Europe wood pellet heating systems market represents a fairly fragmented competition landscape, where a majority of the key players maintain their strategic focus on the development of the distribution network by strengthening the dealers' and sales partners' network.
Prominent manufacturers of wood pellet heating systems are currently participating in trade shows and exhibitions for effectively marketing product offerings.
Winning awards for excellent design and quality of wood pellet heating systems demonstrates the superior quality and standard, along with gaining a competitive advantage.
Training to sales partners for effective marketing and knowledge is also identified to remain one of the key developmental strategies adopted by leading manufacturers of wood pellet heating systems.
Deeper understanding of the market trends and preferential shifts of end-use segments across various European regions are likely to create a bottleneck for prominent players, looking forward to untapped opportunities in the wood pellet heating systems market.
Enhancing User Experience with Advanced Software Technologies
Advanced software technologies are becoming commonplace in residential, and commercial spaces in light of time and operational efficacy. Manufacturers are pulling in mobile application designers to develop apps equipped with eye-catching features. The mobile apps enable users to operate wood pellet heating systems within a few taps on the smartphones as per convenience from any corner of the home. In addition, the apps are compatible with diverse platforms, including Android, and iOS.
The online weather data evaluation manages the heating system according to the weather forecast. The entire set up runs on WLAN (Wireless Local Area Network), eliminating wireworks in the boiler chamber completely. Illuminated graphic display at the top of the wood pellet heating systems features convenient special functions for enhanced user experience. The mobile app notifies the users to activate energy saving mode while going out. Post activation, the adaptive air feed in the controller reduces the room temperature until the return of users, thereby decreasing heating expenses.
Italy and France Offer Platter of Opportunities
Market players are targeting the European countries – Italy, and France – citing surging consumption of wood pellets. By the next year, bioenergy is anticipated to contribute to half of the European Union's 20% renewable energy target – a trailblazer for manufacturers to ramp up the production of biomass heating systems in the target countries. Environmental sustainability policies of countries - Germany, Austria, Italy, and Switzerland, are offering alluring subsidies and incentives to consumers exercising the usage of biomass heating systems. While countries, including Russia, are imposing penalties on manufacturers for not abiding by the standards.
'Customer-Centric' and 'Regulatory Compliance' – Key Winning Imperatives
Realizing upsurge in installation of boilers with output energy below 50 kW in countries, including Austria and Germany, manufacturers are honing in on the production of wood pellet heating systems in the target nations. Environmental amendments across Europe, particularly in France and Switzerland, are issuing clarion call for increasing the consumption of biomass fuels to achieve sustainability. As such, market players are shifting their focus towards the development of biomass heating systems. Furthermore, user experience always remain at the top of the list when it comes to designing innovative products – a factor influencing participants to include advanced features such as, touchscreen and smart warming via servers in wood pellet heating systems.
Surging applicability in residential
Commercial application accelerating
High applicability in residential sector
Commercial use to pick pace
How Growth will Unfold
High energy output, and economical efficiency are accelerating the demand for wood pellet heating systems in Europe. Rising prices of fossil fuels and natural gas due to changing government policies and high levied taxes are influencing consumers to rely on cost-effective wood pellet heating systems. About three-fourth of the total European demographics resides in urban and suburban areas, corresponding to increasing requirement of convenient, and effective heating solutions.
On the flip side, fulfilling certification criteria tends to remain a pain point owing to fluctuating wood pellets procurement policies across various countries. For instance, a majority of wood pellets are approved with DINplus certification in Germany. Further, in order to export wood pellet heating systems to neighboring countries such as, France, Italy, and the United Kingdom, Germany needs to comply with specific certifications, including the EN 303-5 performance level.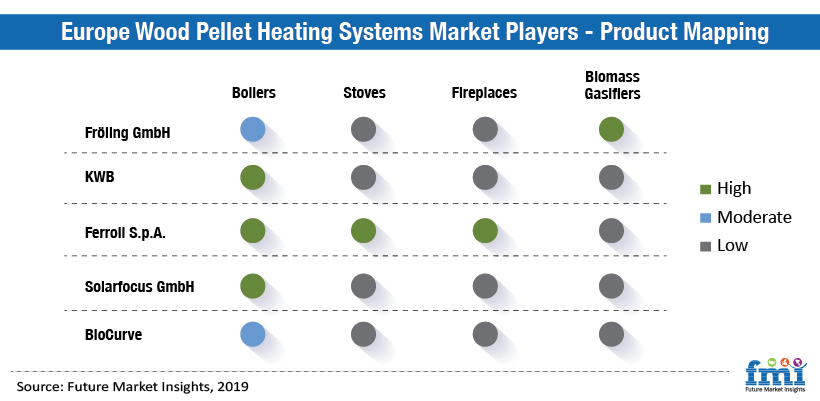 * This data is only a representation. Actual data may vary and will be available in report.
Click Here To Know How The Growth Will Unfold
Custom Market Research Services
FMI offers custom market research services that help clients to get information on their business scenario required where syndicated solutions are not enough.
Overview
Wood Pellet Heating Systems Market: Europe Industry Analysis 2019 - 2029
A recent market study published by FMI on the wood pellet heating systems market includes Europe industry analysis 2014-2018 & opportunity assessment 2019-2029, and delivers a comprehensive assessment of the most important market dynamics. After conducting thorough research on the historical as well as current growth parameters of the wood pellet heating systems market, the growth prospects of the market are obtained with maximum precision.
Europe Wood Pellet Heating Systems Market Taxonomy
The Europe wood pellet heating systems market is segmented in detail to cover every aspect of the market and present complete market intelligence to the reader.
Product Type
Boilers

1- 10 kW
10- 50 kW
50 kW -200 kW
200 kW -500 kW
500 kW- 1,000 kW
1,000kW – 5,000kW

Stoves
Fireplace
Biomass Gasifiers
End Use
Residential
Commercial
Industrial
Country
Germany
Italy
France
U.K.
Spain
Nordics
Benelux
Russia
Rest of Europe
How the research was conducted?
Primary Research
C - Level Executives
Marketing Directors
Product Managers
Business Development Officers
Production Managers
Procurement Heads
Sales Executives
Distributors
Traders
Raw Material Suppliers
Industry Experts
End Users
Current market dynamics and challenges
Yesteryear trends
Market characteristics
Market performance and growth quadrants
Competition structure and market structure
Strategic growth initiatives
Near-term and long-term market growth prospects
Market segment splits and authenticity
Opinions on market projections and validity of assumptions
Secondary Research
Industry Publications

Bioenergy Europe
Eurostat
EPC Survey,2018

Industry Associations

European Pellet Council
European Pellet Buyers Group
European Biomass Association

Factiva
Company Press Releases
Annual Reports and Investor Presentations
Research Papers
Government Websites and Publications
Trade Websites
Primary Interview Splits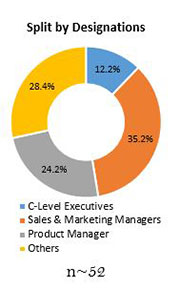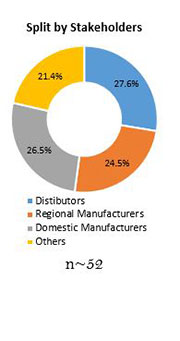 To Learn More About our Comprehensive Perspective on Europe Wood Pellet Heating Systems Market,
Get in touch
COVID -19 : Impact Analysis
Request the coronavirus impact analysis across industries and markets
Request Covid -19 Impact
CASE STUDIES
See how our work makes an impact.
At FMI, we design strategies that are adaptive, impactful, and implementable.