Eye Infections Treatment Market By Drug Class (Antibiotics, Antivirals, Antifungals), Dosage Form (Tablet, Capsule, Ophthalmic Ointment, Eye Drops), Causative Agents (Virus, Bacteria, Fungus, Allergens), Distribution Channel (Hospital Pharmacies, Retail Pharmacies) & Region - Forecast 2020 - 2030
Eye Infection Treatment Market - Analysis, Outlook, Growth, Trends, Forecasts
May 2020

REP-GB-1300

256 pages
EYE INFECTION TREATMENT MARKET - KEY RESEARCH FINDINGS
The global eye infection treatment market was valued at about US$ 6.8 Bn in 2020.
Antibiotics segment is expected to remain as the most preferred drug class segment in the eye infection treatment market.

Growth of this segment is primarily attributed to growing prevalence of bacterial eye infections and increasing ocular surgical conditions.

North America is stipulated to account for over a third of eye infection treatment market revenue by 2030.

The North America market continues to offer lucrative opportunities for eye infection therapeutic manufacturers, owing to high risk of infections from increasing contact lenses use, and technology advancements in early diagnosis and treatment.

Hospitals pharmacies will continue to be as prominent distribution channel in eye infection treatment market.

Antibiotics and corticosteroids are expected to witness relatively high demand in public and private hospital pharmacies, owing to their use as primary drugs for effective treatment of eye infections.
As such, expanding patient pool in hospital pharmacies owing to higher number of eye procedures are anticipated to drive the market for eye infections treatment, globally.
KEY FACTORS SHAPING THE EYE INFECTION TREATMENT MARKET
Covid-19 Crisis Impact - Significant Delays and Rescheduling of Diagnosis and Treatment
The coronavirus (COVID-19) pandemic has set forth significant operational and economic challenges. Also, considerable time is needed for development and commercialization of effective treatment options for new pathogen of COVID-19. This uncertainty is expected to delay and reschedule the diagnosis and treatment of eye infection for coming two to three quarters.
The eye infection treatment market is expected to gain pre-pandemic market demand during the first quarter of 2021, owing to availability of treatment and recovery of developed and emerging economies from COVID-19 pandemic. In addition, local government redirection of healthcare resources towards COVID-19 pandemic situation is also expected to engage most of healthcare workers to tackle the COVID-19 situation. This is also expected to slow down the market growth for short term.
High Prevalence of Eye Infection
Eye infections incidences are expected to rise globally. Emergence of new pathogens, increasing number of post-operative eye infections and poor eye hygiene practices are responsible for increasing eye infections worldwide. For instance, the National Ambulatory Medical Care Survey indicated that Americans made over 4 million visits to ambulatory physicians for bacterial conjunctivitis in 2005. Approximately 70% of patients with acute conjunctivitis consult primary and urgent care providers, accounting for 1% of overall primary care office visits.
Adenoviruses account for 65-90% of cases of viral conjunctivitis. In addition, global incidence of herpes simplex keratitis was calculated at approximately 1.5 million with 40, 000 new cases of severe monocular visual impairment or blindness a year.
Technology Advancements Aiding in Early Diagnosis and Treatment
Leading diagnostic industry players are focusing on development and commercialization of rapid point-of-care diagnostic technologies for eye infections. This rapid diagnosis is expected to boost accurate usage of anti-infective therapeutics. For instance, AdenoPlus is a single use, point-of-care diagnostic test for adenoviral conjunctivitis. AdenoPlus test is commercialized by Rapid Pathogen Screening and received CE mark in June 2011. The test is cheaper compared to current gold standard PCR test and is expected to accelerate early diagnosis and treatment for viral eye infections.
EYE INFECTION TREATMENT MARKET STRUCTURE ANALYSIS
The global eye infection treatment market is a fairly consolidated market. Approximately 50% share of the market is held by leading market players.
In high-impact markets such as the US and Europe, there are more stringent regulations for approval of eye infection treatment products. Moreover, approval of eye infection treatment products for medical use is needed to fulfil the safety and efficacy requisites through clinical trials, and regulatory submission.
Continuously rising R&D funding by leading players in development and launch of highly effective and safer eye infection treatments has led to greater availability of highly effective anti-infective products. Such new developments are boosting the growth of eye infection treatment market.

Some of the major players in eye infection treatment market are the Pfizer Inc., Allergan, Plc. Alcon Laboratories, Inc., Akron Pharma Inc., and Bausch Health Companies Inc.

Global eye infection treatment market players are also focused on emerging markets such as China, Brazil, and India, thanks to their strategic marketing network. Moreover, driven by significant partnerships and tie-ups with independent third-party sales organizations and presence of international global offices in other geographies, major manufacturers are able to deliver their product offerings efficiently.
REPORT SCOPE
Base year considered - 2019
Actual estimates/ Historical data - 2015 - 2019
Forecast period - 2020 - 2030
Forecast units - Value (USD) Mn
Segments covered - Drug Class, Dosage Form, Indication, Causative Agent, Distribution Channel, and Region
Regions covered - North America (US & Canada), Europe (UK, Germany, France, Spain, Italy, Russia, and Rest of Europe), Latin America (Brazil, Mexico, Argentina and Rest of LA), East Asia (China, Japan and South Korea) South Asia (India, Thailand, Indonesia, Malaysia, and Rest of SA), Oceania (Australia, and New Zealand), and MEA (GCC Countries, South Africa, Turkey, Northern Africa and Rest of MEA)
Key Players - Pfizer Inc., Allergan, Plc., Alcon Laboratories, Inc., Akron Pharma Inc., Bausch Health Companies Inc., and Others Major 20 players covered.
Report coverage - Revenue forecast, Covid-19 impact, company share, competitive landscape, growth factors, and trends
Eye Infection Treatment Market Analysis by Drug Class
Antibiotics continue to remain the preferred drug class, owing to rising caseloads of bacterial eye infection, as well as infection due to ocular drug delivery system. Given their efficacy in eye infection treatment, antibiotics are witnessing adoption upsurge in private and public hospital pharmacies. By 2022, market players would reap over US$ 4 Bn from antibiotics. Corticosteroids are also gaining traction in eye infection treatment. However, they are associated with side effects, including temporary and mild blurred vision.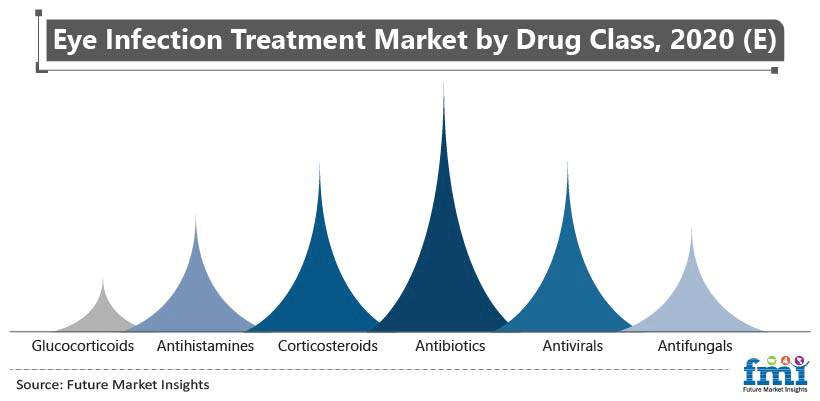 Eye Infection Treatment Market Regional Insights
North America's market is characterized by strong presence of prominent players. The region continues to gain the first-mover advantage in terms of tech-enabled advances in early diagnosis and eye infection treatment. Government, especially in the US, are organizing several campaigns to spread awareness regarding ophthalmic disorders and augmenting investments in ophthalmic diagnostic equipment.
Further, increasing risk of infections driven by rising dependence on contact lenses is supplementing the prospects of eye infection treatment market in North America. The study reveals that North America would generate over 40% total returns to shareholders (TRS) through 2030.
Governments' Role Crucial
In light of the rise in eye infection cases, Who and other international organizations maintain their focus on raising awareness. Efforts in diagnosis and eye infection treatment are ramping up. Case in point, VISION 2020 has been established with the aim to integrate a comprehensive, sustainable, and top-notch eye care system into national healthcare infrastructure. Such initiatives are highly beneficial for countries such as India, where cataract surgeries are performed for free via government programs, aiming to cover untapped sections of the society.
How Growth will Unfold
Hospital and retail pharmacies continue to shape revenue growth of eye infection treatment market. About 8 out of 10 drugs associated with eye infection treatment are distributed via both these channels. FMI states that, the trend would persist over the decade ahead. Market players are also uncovering new revenue lines in drug stores and online pharmacies, which would collectively register about US$ 3 Bn revenue in 2030. Nevertheless, players would stay glued to hospital and retail pharmacies for outsized returns.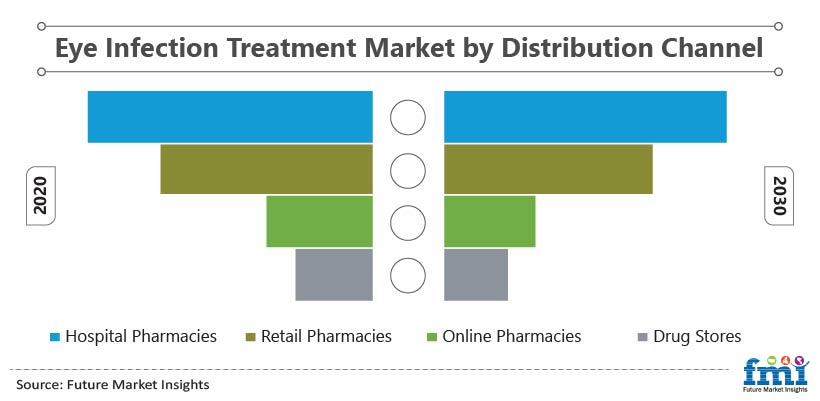 World's Most Profilic Intelligence Engine
Get Access To The World's Largest Market Research Database.
Sign Up Now
EYE INFECTIONS TREATMENT MARKET TAXONOMY
The global eye infection treatment market is segmented in detail to cover every aspect of the market and present a complete market intelligence approach to the reader.
Drug Class
Antibiotics
Antivirals
Antifungals
Antihistamines
Corticosteroids
Glucocorticoids
Dosage Form
Tablet
Capsule
Ophthalmic Ointment
Eye Drops
Others
Indications
Conjunctivitis
Keratitis
Endophthalmitis
Blepharitis
Stye or Sty (Hordeolum)
Uveitis
Cellulitis
Ocular herpes
Causative Agents
Virus
Bacteria
Fungus
Allergens
Distribution Channel
Hospital Pharmacies
Retail Pharmacies
Online Pharmacies
Drug Stores
Regions
North America
Latin America
Europe
South Asia
East Asia
Oceania
Middle East & Africa
Need specific information?
Our Clients