Fertigation Control System Market - Key Research Findings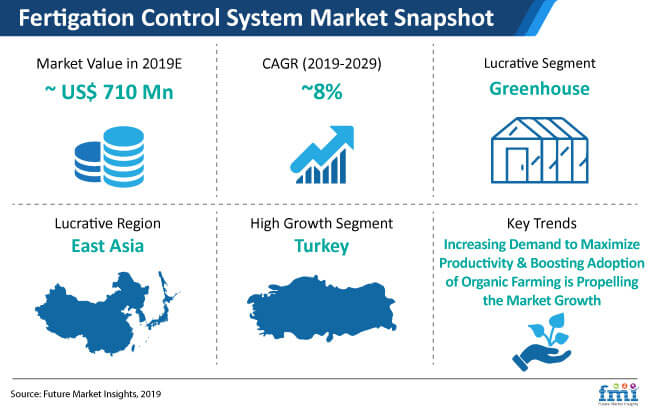 The global Fertigation Control System market size is expected to reach ~US$ 710 Mn by 2019 end.
The Fertigation Control System market is anticipated to grow at a CAGR of ~8% during the forecast period of 2019-2029.
Increase in demand of nutrient management for higher productivity of agricultural crops have been recently driving the sales of Fertigation Control System.
Collectively, South Asia, North America and East Asia are likely to account for half of the revenue shares in the Fertigation Control System industry by the end of 2029.

East Asia, owing to the strong presence Fertigation Control System manufacturers, is expected to continue to be a prominent regional market for Fertigation Control System.

The Greenhouse segment is expected to remain a key consumer orientation area to invest in for Fertigation Control System market players.

The Organic Farming has witnessed significant growth over the recent past, because of increasing demand to maximize productivity.
Key Factors Shaping the Fertigation Control System Market
Increasing demand to maximise food productivity
Fertigation Control System has various advantages as we can set the nutrient need of crops to maximise their growth. We can take an example, many players are offering Fertigation Control System which can regulate dosing of chemicals to maintain the required pH value and other parameters of soils which are essential for the growth of the plant.
Also with the help of Fertigation Control System, dosing of nutrient in irrigation water to maintain the diluted nutrient solution is possible. As Fertigation Control System reduces the manpower required, volume of nutrient and amount of dosing required, it is cost effective solution.
Boosting adoption of organic farming
The food products produced organically are largely accepted across the globe, in which farmers are using various irrigation techniques with fertigation system as per nutrient management plan. Moreover, the required nutrient in irrigation water estimated to enhance overall organic food production, which is witnessing the market growth of fertigation control system.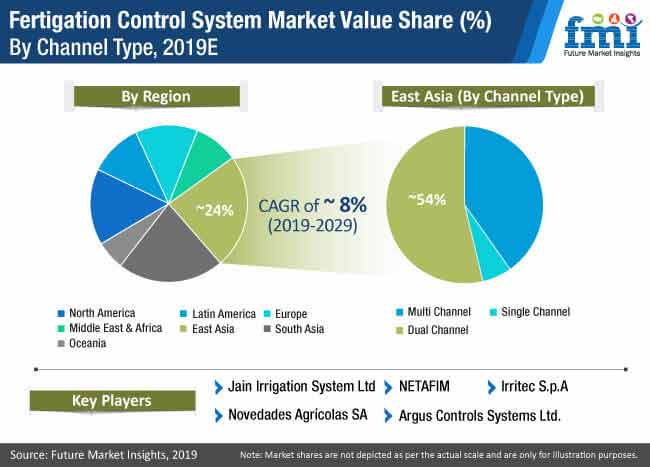 Fertigation Control System Market Structure Analysis
The global Fertigation Control System market constitute a fairly consolidated competition landscape, where a majority of key players maintain their strategic focus on the development of solid distribution partnerships, therefore targeting a stronger global footprint.
The Fertigation Control System market is of dynamic competitive nature because of its moderate size.
Leading manufacturers of Fertigation Control System are currently focusing on R&D and new product launches to resonate with the booming consumption of products in South Asia and East Asia.
Portfolio extension has been identified as one of the key development strategies adopted by the manufacturers of Fertigation Control System.
Manufacturers of Fertigation Control System will continue to believe on strategies like mergers and acquisitions for their stronger foothold in market.
Deeper understanding of the market trends and preferential shifts of end-use segments across various regions are likely to create a bottleneck for prominent players who are looking forward to capitalise on the untapped opportunities in the Fertigation Control System market.
Fertigation Control System - Marching into an Era of 'Smart Farming'
A massive wave of technology continues to impact a number of industries, and it is rapidly reaching one of the most traditional industries – agriculture. Although the farming sector has remained largely unaffected by the technological revolution, it is ready for a paradigm shift as world's rising demand for food couples with newer opportunities. The world's food system is desperate for an overhaul, as the two significant demand drivers – population and income – are on the rise.
An increase in population has also resulted in scarcity of arable land and depletion of water & related resources, potentially raising the need for a profound change in the farming industry. High-tech innovations, such as precision farming, driverless tractors, seeds genetically altered to require less water, and produce growing in huge climate-controlled warehouses are making, or about to, make farms smarter, more productive, and highly efficient.
With the leap from prototype to commercial operation of new agricultural machines, farming operations are becoming more sophisticated. As environmental regulations continue to get stricter and consumer concern over the use of agrochemicals increases, the developments in precision farming in general, and 'Fertigation Control System Market' in particular, warrant an in-depth understanding and unbiased analysis.
Increasing Need to Maximize Food Production
Today's crops crisscross the globe, and the challenge of increasing the food production to feed the growing population – with less and less land – has become a global concern. In consequence, scientists are hard at work initiating a new revolution, and farmers are rapidly turning into new technologies to evolve their standard practices and benefit from the improve outcomes.
Fertigation control system, used to deliver plant nutrients and water to produce crop quality and higher yields, continues to garner significant traction for its specific advantages over broadcast and band fertilization. Continual innovative transformations in fertigation control systems have to led to widespread of automation increased scope of application in many areas.
As the need for efficient farm management systems is on the rise, manufacturers are focusing on incorporating newer technologies such as Internet of Things (IoT) in their products. Apart from the technological revolution, the emergence of 'organic farming' has brought significant transformation in the agriculture sector, and the result is likely to lead to increased demand for fertigation control systems.
However, the high price tag of the system and lack of awareness among farmers, especially in low- and mid-income countries continue to represent a threat to the stakeholders.
Where the Fertigation Control System Market is Taking Off?
The trend of 'smart farming' is not only pertinent in developed countries, developing countries are also realizing its immense importance. Asia Pacific remains in the vanguard of fertigation control system market, owing to increasing adoption of agricultural technologies through favorable government schemes and robust funds from financial institutions. The emergence of highly populous countries, China and India, as the world's largest food producers and consumers have also led to realignment of stakeholders' strategies.
Greater acceptance and awareness of new technologies will complement the market to flourish in North America and Europe. High growth opportunities are expected in Latin America and MEA, due to growing adoption of improved technology and better management system to boost crop production and reduce the dependence on food imports.
Winning Growth Models of the Market Players
Realizing the advantages of smart farming and its massive impact on the agricultural economy, the governments of several countries are taking initiatives to promote precision farming techniques in line with wide-scale deployments of smartphones and IoT systems. The expansion of fertigation control system market will continue to weigh on the same scale as rapid adoption of precision agriculture solutions.
Apart from upgrading their products to enhance efficiency and productivity, manufacturers are focusing on improving their services to capitalize on a wide range of applications including hydroponics, commercial potted plant producers, living walls, and high-tech growing facilities. In addition, rapid growth in number of agricultural and greenhouse projects worldwide will continue to work to the advantage of manufacturers.
Considering the growing popularity of precision farming techniques, manufacturers are placing their bets on advanced solutions that can help farmers grow more food with less resources. For instance, in 2018, Netafim introduced a digital irrigation solution, 'NetBeat', which provides farmers with real-time recommendations based on data related to plant, soil, and weather conditions to personalize their irrigation programs.
Market Growth 2.0 Led by 'Customization'
In recent years, the trend of 'customization' has been impacting the growth of fertigation control system market. Greater adoption of controlled environment agriculture (CEA), vertical farming, indoor urbanized farming, and hydroponic growing methods have provided high opportunities for market players to offer customized services and solutions.
Between today's labor shortages and ever-increasing demand for food, farmers are constantly seeking out technology to predict and prevent threats to millions of acres of crops across the globe. Innovations in agriculture solutions such as fertigation control systems will not only help manufacturers lift their profit pools but also help propagate the growth of farming crops.
Key Segment
By Channel Type
Multi-Channel
Single Channel
Dual Channel
By Technology Type
Automated fertigation control system
Manual Fertigation System
By End Use
Greenhouses
Open Field (Farm)
Research Body
Others
By Region
North America
Latin America
Europe
South Asia
East Asia
Oceania
MEA
Need specific information?