Frozen Ready Meal: Moving Beyond Conventional Model of Cooking
In recent years, ready-to-eat food is becoming one of the most dynamic sectors in the global packaged food industry. Strengthening of convenience trend and concurrent increase in demand for individual meals solutions have resulted in robust demand for frozen ready meals. From frozen desserts to appetizers and meals, frozen section in the F&B industry is deemed to be one-stop shop for consumers on the go.
Traditionally, frozen ready meals were not highly significant, on the account of shorter shelf life and higher cost than fast food. However, with advancements in cold chain infrastructure and growing investments by discounters in frozen ready meals shelves, popularizing the product, the market is expected to grow from strength to strength.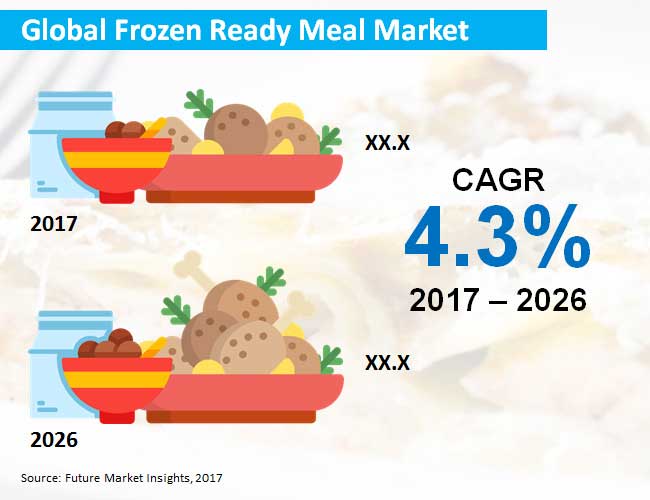 Frozen Ready Meal Market Outlook
High demand for frozen ready meals is witnessed in the developed regions, on the back of their microbial- and fungal-free attributes. The current trend for manufacturers in the frozen ready meal market is to add nutritional value alongside flavour to attract wider demography seeking health and taste.
During the spread of the coronavirus, a large segment of people have increased their focus on their health. As a result, they are being wary of what they are consuming. Since frozen ready meals have high amounts of preservatives and sodium, the potential risk of high blood pressure remains. The addition of preservatives for adding life to the food products might work against the normal sales cycle for the frozen ready meal market.
On the other hand, pandemic also did some good to the frozen ready meal market, owing to its convenience. As numerous bachelors were locked in their individual apartments and homes, they had to resort to instant and frozen food for survival. Lockdown and social distancing norms meant that restaurants and other eateries were not operational, which, in turn, led to a boost in demand for frozen ready meals.
Post COVID-19 scenario would bring in mixed perception for the frozen ready meal market. Manufacturers need to look into the sentiments of consumers, who seek high convenience and less health risk in frozen ready meals. As a result, organic and gluten-free meals with cold storage facilities are seen as viable options by manufacturers to reduce the number of preservatives in their food products.
Besides this, the addition of different cuisines and meals such as appetizers, breakfast, lunch, dinner, snacks, and more in frozen form is managing to gain popularity among consumers leading a hectic lifestyle. All-in-all, the frozen ready meal market is expected to grow at a steady rate during the forecast period.
Changing Lifestyles Prepare Ground for Frozen Ready Meal Market Growth
In terms of product offerings and quality, frozen ready meals have come a long way. Progressive urbanization in various regions, enhancement of shelf life and frozen food packaging, investments in technologies to store refrigerated or partially cooked food, and significant developments in retail landscape provide market players with prospects of healthy growth in near future. By 2026, the frozen ready meal market is projected to be valued over US$ 47 Bn, according to Future Market Insights' new business intelligence report.
While frozen ready meals are still perceived as the second fiddle to fresh produce, manufacturers are cracking the code to get consumers to frozen food aisle with cleaner labels. As consumers' inquisitiveness about food and their sourcing is increasing, manufacturers are focusing on reversing the frozen food stigma with healthy meal offerings, in addition to improving 'convenience' status.
Chicken Meals Gain High Traction, Vegetarian Meals Close in
Frozen chicken meals continue to account for major share of manufacturers' bottom lines. However, mounting concerns over animal welfare issues and environmental impact of animal agriculture has led to rise of vegan culture and vegetarian trend. Manufacturers are thus focusing on increasing the production of frozen vegetarian meals to capitalize on growing number of consumers inclining towards plant-based food products. In addition to ease and convenience, studies have shown that frozen ready meals have the same or more amount of nutrients than fresh food, which attracted huge attention from consumers who tend to opt for whole, fresh foods.
Food Chain Services Propel Frozen Ready Meals Forward
Sales of frozen ready meals through food chains services continue to account for relatively high revenue share. Increasing assortment of frozen ready meals at convenience stores and reaching the unmet market potential through online sales are expected to result in increased revenue share in foreseeable future.
Frozen ready meals are immensely growing in popularity in developed regions, where consumption levels are higher as compared to other regions. In developing countries such as China and India, sprung in number of working population and trend towards longer and varying working hours have led to gradual shift away traditional model of everyday cooking. This, in turn, is projected to contribute to the growth of the frozen ready meals in these countries.
Frozen Ready Meal Market - Report Scope
Attribute

Details

Forecast Period

2012-2016

Historical Data Available for

2017-2026

Market Analysis

US$ Mn for Value

Key Regions Covered

North America, Latin America, Europe, Japan, APEJ, and Middle East & Africa (MEA)

Key Countries Covered

U.S, Canada, Mexico, Brazil, Argentina, rest of Latin America, France, Germany, Italy, UK, Spain, Rest of Europe, Japan, ASEAN, Australia, New Zealand, China, India, Rest of APEJ, GCC, Israel, North Africa, Turkey, Rest of MEA, & South Africa

Key Segments Covered

Product Type and Sales Channel

Key Companies Profiled

General Mills
Nestle S.A.
McCain Foods Ltd.
Dr. Oetker GmbH
Daiya Foods Inc.
Connies Pizza
Conagra Brands, Inc.
Atkins Nutritionals, Inc.
California Pizza Kitchen.
H.J. Heinz
FRoSTA AG

Report Coverage

Market Overview, Key Market Trends, Key Success Factors, Demand Analysis, Market Background, COVID-19 Analysis, Segmental Analysis, Regional Profiling, Market Structure & Competition Analysis

Customization & Pricing
Market Taxonomy
The report has segmented the market on the basis of product-type, end-user, and region. The global frozen ready meal market taxonomy has been illustrated below.
Region
North America
Latin America
Europe
Japan
APEJ
MEA
Product Type
Vegetarian Meals
Chicken Meals
Beef Meals
Other Meals
End User
Food Chain Services
Modern Trade
Departmental Stores
Online Stores
Other Distribution Channel
Need specific information?
Talk Show:
The Rise of Intelligent Packaging
Personalized, Connected and Sustainable
November 18, 2021
11:00-11:45 AM PST (USA & Canada)
This is a LIVE session