An Incisive, In-depth Analysis on the Frozen Ready Meal Market
This study offers a comprehensive, 360 degree analysis on the Frozen Ready Meal market, bringing to fore insights that can help stakeholders identify the opportunities as well as challenges. It tracks the global Frozen Ready Meal market across key regions, and offers in-depth commentary and accurate quantitative insights. The study also includes incisive competitive landscape analysis, and provides key recommendations to market players on winning imperatives and successful strategies.
Frozen Ready Meal: Moving Beyond Conventional Model of Cooking
In recent years, ready-to-eat food is becoming one of the most dynamic sectors in the global packaged food industry. Strengthening of convenience trend and concurrent increase in demand for individual meals solutions have resulted in robust demand for frozen ready meals. From frozen desserts to appetizers and meals, frozen section in the F&B industry is deemed to be one-stop shop for consumers on the go. Traditionally, frozen ready meals were not highly significant, on the account of shorter shelf life and higher cost than fast food. However, with advancements in cold chain infrastructure and growing investments by discounters in frozen ready meals shelves, popularizing the product, the market is expected to grow from strength to strength.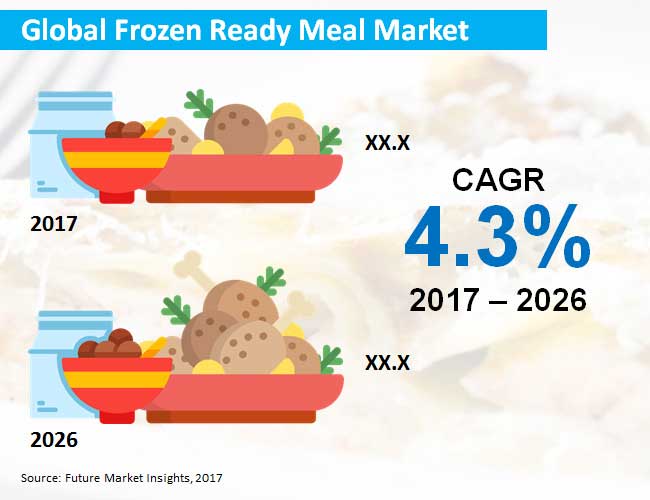 Changing Lifestyles Prepare Ground for Frozen Ready Meal Market Growth
In terms of product offerings and quality, frozen ready meals have come a long way. Progressive urbanization in various regions, enhancement of shelf life and frozen food packaging, investments in technologies to store refrigerated or partially cooked food, and significant developments in retail landscape provide market players with prospects of healthy growth in near future. By 2026, the frozen ready meal market is projected to be valued over US$ 47 Bn, according to Future Market Insights' new business intelligence report.
While frozen ready meals are still perceived as the second fiddle to fresh produce, manufacturers are cracking the code to get consumers to frozen food aisle with cleaner labels. As consumers' inquisitiveness about food and their sourcing is increasing, manufacturers are focusing on reversing the frozen food stigma with healthy meal offerings, in addition to improving 'convenience' status.
Chicken Meals Gain High Traction, Vegetarian Meals Close in
Frozen chicken meals continue to account for major share of manufacturers' bottom lines. However, mounting concerns over animal welfare issues and environmental impact of animal agriculture has led to rise of vegan culture and vegetarian trend. Manufacturers are thus focusing on increasing the production of frozen vegetarian meals to capitalize on growing number of consumers inclining towards plant-based food products. In addition to ease and convenience, studies have shown that frozen ready meals have the same or more amount of nutrients than fresh food, which attracted huge attention from consumers who tend to opt for whole, fresh foods.
Food Chain Services Propel Frozen Ready Meals Forward
Sales of frozen ready meals through food chains services continue to account for relatively high revenue share. Increasing assortment of frozen ready meals at convenience stores and reaching the unmet market potential through online sales are expected to result in increased revenue share in foreseeable future.
Frozen ready meals are immensely growing in popularity in developed regions, where consumption levels are higher as compared to other regions. In developing countries such as China and India, sprung in number of working population and trend towards longer and varying working hours have led to gradual shift away traditional model of everyday cooking. This, in turn, is projected to contribute to the growth of the frozen ready meals in these countries.
The report on global frozen ready meal market published by Future Market Insights offers 10-years forecast. The key objective of this report is to deliver insights on developments and changing undercurrents in frozen ready meals market. The comprehensive study demonstrates dynamics of the market by addressing the factors influencing the present environment and future growth of the global frozen ready meal market over the assessment period. The report aims to deliver updates on drivers, value forecasts, restraints, trends as well as opportunities for the players operating in the global frozen ready meal market.
Global Frozen Ready Meals Market: Segmental Analysis
The first section of the global frozen ready meal market report comprises of an executive summary coupled with comprehensive definition as well as taxonomy of the global aircraft tires market. The dynamics of the market have been categorized into trends, drivers, market opportunities, restraints in the market. To determine the market attractive index, market segments have been studied through BPS analysis, which has been included in the report distinctly. To reveal the new opportunities in the global frozen ready meal market, the report has employed vital metrics such as CAGRs and absolute dollar opportunity. Y-o-Y growth and BPS analysis is highlighted in the report to deliver a detailed section on the market outlook and regional adoption to concentrate on the performance of the global frozen ready meal market. The report also forecasts Y-o-Y growth along with the key drivers that influence regional frozen ready meal market.
Another section in the report discusses market competition and highlights various factors shaping the internal and external competition in the market. Rising number of small domestic players and large number of providers of frozen ready meal resulted in high internal competition between manufacturers of frozen ready meal. The global frozen ready meal market is experiencing an external competition from number of distributors of raw material as well as other food processors that are adopting backward and forward integration strategies and further improving their own facilities to manufacture frozen ready meal products. Further, different industry barriers are analyzed and rated on the basis of their influence on the competition levels in the market.
The last section in the report compresses a competitive landscape to deliver readers with a dashboard view of frozen ready meal manufacturers, material suppliers, and retailers operating in the global frozen ready meal market. Detailed profiles of various competitors has been included in the report to evaluate their short-term and long-term strategies, recent developments, and key offerings in frozen ready meal market.
Market Taxonomy
The report has segmented the market on the basis of product-type, end-user, and region. The global frozen ready meal market taxonomy has been illustrated below.
| | | |
| --- | --- | --- |
| Region | Product Type | End User |
| | | |
| | | |
| | | |
| | | |
| | | Other Distribution Channel |
| | | |
Research Methodology
Future Market Insights has directed this study to create credible insights and put forth presumptive scenarios that can help manufacturers of frozen ready meals attain better assessment of the future. Robust research methodologies have been employed in the development of this report. The findings and market size estimations have been validated through a series of authentic data screenings and quality checks. The scope of the report is to provide detailed competition assessment and reveal the key strategies of each market player. Companies can refer to the inferences provided in the report to plan their next steps towards future market direction
COVID -19 : Impact Analysis
Request the coronavirus impact analysis across industries and markets
Request Covid -19 Impact
CASE STUDIES
See how our work makes an impact.
At FMI, we design strategies that are adaptive, impactful, and implementable.