Frozen Pizza Market By Crust Type (Thin Crust, Thick Crust, Stuffed Crust), Toppings (Cheese, Meat, Fruits and Vegetables), Sales Channel (Store based Retailing [Convenience Stores, Discounters, Forecourt Retailers, Hypermarkets, Supermarkets, Food Specialist], Online Retail), Size Type (Small, Medium, Large) & Region - Forecast to 2021 - 2031
Frozen Pizza Market - Analysis, Outlook, Growth, Trends, Forecasts
July 2021

REP-GB-13329

250 pages
Frozen Pizza Market Snapshot
[250 pages Report] According to Future Market Insights, the frozen pizza market size is forecast to reach US$ 18.32 Bn in 2021. The frozen pizza demand outlook is expected to remain positive with the market value projected to reach US$ 32.89 Bn by 2031 at a CAGR of 6.0% during 2021-31.
Frozen foods emerged among the fastest-growing grocery categories amid COVID-19. Large sized frozen pizzas sales are expected to account for more than 50% of the global value share, through 2031.
Key Points Covered in Frozen Pizza Market Study
Frozen Pizza Market estimates and forecast 2016-2031
Key drivers and restraints impacting frozen pizza market growth
Segment-wise, Country-wise, and Region-wise Analysis
Competition Mapping and Benchmarking
Brand share and Market Share Analysis
Key Product Innovations and Regulatory Climate
COVID-19 Impact on Frozen Pizza Market and How to Navigate
Recommendation on Key Winning Strategies
Frozen Pizza Market Outlook 2016-2020 in Comparison to 2021-2031 Growth Forecast
Frozen pizza sales were estimated to grow at a CAGR of 4.8% between 2016 and 2020. Forecasts for growth remain optimistic, with the market predicted to grow at a CAGR of 6.0% between 2021 and 2031.
The COVID-19 crisis forced people to eat at home more often, resulting in a spike in frozen pizza sales. The industry is expected to continue to grow in the coming decade, influenced by companies' knowledge about consumer preference in terms of variety and pricing of frozen pizzas, coupled with how frequently consumers are likely to buy them.
The frozen pizza market is growing due to rising urbanization, disposable incomes, and the demand for western-style diets. Increasing demand for high-quality ingredients that will fulfil the desire for innovation in the free-from and "on the go" food categories is expected to move the business forward.
Additionally, frozen pizza can also be preserved for longer periods. Longer storage durations, easy availability, and affordable pricing, are factors supporting the market.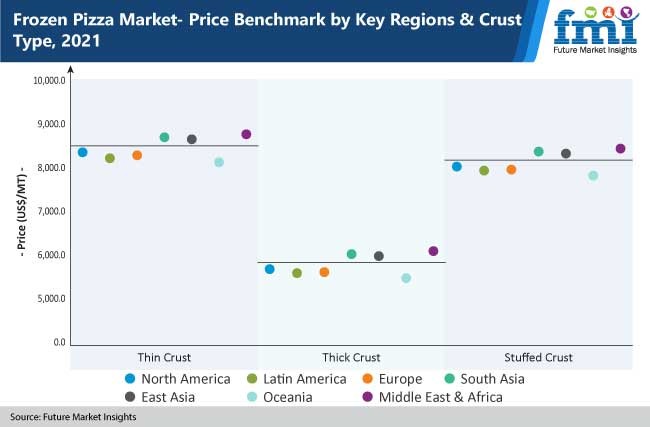 How is Rising Consumption of Ready-To-Eat Foods Influencing Growth?
The rising consumption of ready-to-eat and packaged foods is a chief growth driver. The usage of ready-to-cook, ready-to-eat, or processed food which requires minimal preparation before consumption, is a prominent factor driving the frozen pizza market.
Furthermore, components utilized in the pizza including herbs, fruits, and vegetables, are heavily dependent on freezing technologies, pushing market expansion. Cryogenic equipment, which is used in freezing processed bakery products is a recent breakthrough in the frozen food sector.
Is Rising Usage of Vegan Ingredients Beneficial for the Frozen Pizza Market?
A significant factor boosting the frozen pizza market is the increasing use of vegan ingredients. Changing lifestyles in addition to increased health concerns and busy schedules of individuals all over the world, are moving the market forward.
Furthermore, the widespread popularity of cakes and pizzas at affordable prices has bolstered consumption as a part of day-today diets.
What are the Common Challenges Faced by the Frozen Pizza Market?
Preferences for freshly prepared food and rising raw material prices are two factors that may limit the expansion of the frozen pizza market. As health awareness continues to grow, the need for diets rich in vegetables and plant-based proteins has gained importance.
To suit this demand, businesses are constantly introducing items that may stymie market growth in terms of non-vegetarian topping frozen pizza products.
How are Quality Claims and Certifications Lending Credibility to Frozen Pizza?
Consumer demand for high-quality items and their willingness to pay premium prices for them, is on the rise. As a result, quality promises have become critical for product launches. When it comes to frozen pizza, claims such as Kosher and Halal are gaining consumer attention.
Companies with these certifications have a solid reputation in the marketplace. These certifications instill trust in the brand. For Instance, General Mills Inc., a renowned frozen pizza maker, is certified to meet the following standards: HACCP, GMP, ISO 9001:2015, KOSHER and FSSC 22000.
Furthermore, Conagra Brands, Inc. operates in compliance with both external and internal standards. This contributes to the items' and company's security. Because the organization believes that quality should be assessed, it can also match the needs of consumers whose concept of quality includes very specific standards such as Organic, non-GMO, or Kosher.
How is Online Retail Influencing Frozen Pizza Distribution?
Participants in the frozen pizza business have seen tremendous growth thanks to the implementation of creative marketing methods. Manufacturers have sought to raise knowledge about the health benefits of frozen pizza by investing appropriately at each level of product development.
Frozen pizza has become a staple in many households, hence the most effective route of distribution for producers is online shopping via various e-commerce websites and applications.
Additionally, as people were forced to stay at home during the pandemic, online retailers allowed them to order frozen pizza, which allow storage and logistical benefits. Due to the frenetic nature of modern living, online retail offers door-to-door delivery services. As a result of this unique marketing campaign, frozen pizza has become extremely popular.
Moreover, consumers today prefer to shop online owing to a wider access to brands and products in addition to attractive deals and discounts. As a result, being on e-commerce platforms is critical for manufacturers looking to establish a presence in the industry.
Frozen Pizza Market - Country-wise Insights
How is the Frozen Pizza Market Faring in the U.S.?
According to FMI, North America dominates the frozen pizza market. The U.S. is anticipated to account for over 79.3% of the North America market in 2031. The frozen pizza business is expected to rise in the country due to technological advancements in cost-effective production.
Rising innovation in product developments in terms of nutrition and health including low trans-fat, low fat, whole wheat, multigrain, and low-on-artificial-preservatives offerings will support sales in the long-term.
How is the Demand for Frozen Foods Affecting Growth in Nordic Countries?
The rising demand for instant frozen food products acts as a chief growth driver for the frozen pizza market. The Nordic frozen pizza market is expected to be accountable for over 20.4% in the year 2031.
The rising demand for healthy and instant fast food is driving the demand for frozen pizza and is also expected to bolster growth in the country as leading manufacturers seek to implement geographic expansion strategies.
What are the Growth Prospects for Frozen Pizza in Singapore?
With a significant rise in urbanization, the Singapore frozen pizza market is likely to gain a share of the South Asia Pacific market during the forecasted period 2021-2031. By 2031, the country is expected to account for more than 22.4% of frozen pizza consumption within South Asia.
How Large is the Opportunity for Frozen Pizza Manufacturers in China?
According to a recent study by FMI, China is expected to account for more than 41.9% of the East Asia Market in 2021. For more than two decades, the Chinese economy has maintained a high rate of growth, which has been fueled by repeated gains in industrial output, import and exports.
Growing consumer demand and capital investment driven by a massive population base and the resultant demand for instant food is exponentially helping the market of frozen pizza to grow.
Why is the Demand for Frozen Pizza Rising in India?
In 2021, India is expected to command a market share of more than 26.6% in South Asia. Over the forecast period, the India market is expected to continue growing at a CAGR of 9.0% in South Asia.
The frozen pizza market in India is still in its infancy, but it is predicted to grow strongly in the near future. Foods like fish, shellfish, vegetables, and fruits used as toppings can also be frozen to extend their shelf life while maintaining their nutritional value. This allows the market to maintain stability in pricing.
Additionally, the frozen pizza market in India is supporting with the evolution of modern retail outlets like DMart, Food Bazaar and Spencers, in addition to online grocery stores like Big Basket.
Frozen Pizza Market - Category-wise Insights
Which Crust Type Holds a Larger Market Share?
Thin crust accounts for a maximum share of 63.3% of the global frozen pizza market in 2021. Thinner the crust gets baked faster. Furthermore, calorie-conscious consumers choose thin crust owing to lower calorie and fat levels.
Which Toppings are Preferred More in Frozen Pizza Market?
Owing to increased meat consumption globally, particularly among millennial and Gen-Z demographics, meat toppings are expected to be valued at US$ 13,649.9 million and grow with a CAGR of 6.8% in the forecast period.
The essential nature of cheese in pizza preparation will keep growth of the topping going strong for the foreseeable future with an above average CAGR of over 6%.
Which Sales Channel are Preferred for Frozen Pizza Products?
Store based retailing is the most preferred and holds a dominant share of more than 66.3% in 2021 and is expected to grow at a CAGR of 5.6% over the forecast period.
Supermarkets are widely the most preferred channel for purchasing frozen pizza holding a market share of 31.9% in 2021, which is expected to rise to 34.4% in 2031.
Which is the Most Commonly Consumed Size of Frozen Pizzas?
Large pizzas are popular among consumers, as pizza is increasingly considered for shared meal formats. The segment accounted for 51.3% of the global market in 2021, and is expected to drop gradually to 50.4% in 2031.
This can be attributed to small pizzas that are making inroads in the market and gradually eating into the share of medium and large sized alternatives, supported by the ease of servings.
Frozen Pizza Market - Competitive Landscape
Growing frozen pizza consumption is encouraging manufacturers to create products with longer shelf lives. Leading food and beverage firms are expected to contribute to the growth of the global frozen pizza market by with strategies to develop new flavor formulations, and explore previously untapped markets in emerging economies.
In June 2021, Brazi Bites announced the launch of a new product line – Pizza'nadas, a fusion of frozen pizzas and empanadas, for sales to consumers in the U.S.
Dr. Oetker announced the expansion of its Ristorante frozen pizza range, with the launch of a new Vegan Society certified Ristorante Margherita Pomodori pizza for consumers in the U.K.
Ole & Lena's Pizzeria announced expansion plans to include wholesaling operations for frozen pizza offerings through retailers such as Walmart for select locations in the U.S.
Frozen Pizza Market - Scope of Report
Attribute

Details

Forecast Period

2021-2031

Historical Data Available for

2016-2020

Market Analysis

USD Million for Value

Key Regions Covered

North America, Latin America, Europe, East Asia, South Asia, Oceania, and the Middle East & Africa

Key Countries Covered

US, Canada, Germany, U.K., France, Italy, Spain, Russia, China, Japan, South Korea, India, Thailand, Malaysia, Indonesia, Australia, New Zealand, GCC Countries, Turkey, Northern Africa, and South Africa

Key Segments Covered

Crust Type, Toppings, Sales channel, End-Use, Size type and Region

Key Companies Profiled

Jubilant Foodworks Limited
Convenio Foods Pvt. Ltd
Giovanni's Frozen Pizza
Monte Pizza Crust B.V
General Mills Inc
Nestle S.A.
McCain Foods Ltd
Dr. Oetker GmbH
Daiya Foods Inc.
Connies Pizza
Conagra Brands, Inc.
Others

Report Coverage

Market Forecast, Company Share Analysis, Competition Intelligence, DROT Analysis, Market Dynamics and Challenges, and Strategic Growth Initiatives

Customization & Pricing

Available upon Request
World's Most Profilic Intelligence Engine
Get Access To The World's Largest Market Research Database.
Sign Up Now
Frozen Pizza Market by Category
By crust type, frozen pizza market is segmented as:
Thin Crust
Thick Crust
Stuffed Crust
By toppings, frozen pizza market is segmented as:
Cheese
Meat
Fruits and Vegetables
Others
By sales channel, frozen pizza market is segmented as:
Store based Retailing

Convenience Stores
Discounters
Forecourt Retailers
Hypermarkets
Supermarkets
Food Specialist

Online Retail
By size type, frozen pizza market is segmented as:
By region, frozen pizza market is segmented as:
North America
Latin America
Europe
East Asia
South Asia
Oceania
The Middle East and Africa (MEA)
Key Questions Answered in the Report
What is the current valuation of the frozen pizza market?
The frozen pizza market is projected to surpass a valuation of US$ 18.3 Bn by 2021 end.
At what rate did the frozen pizza market expand in the last 5 years?
The frozen pizza market exhibited steady growth at a CAGR of 4.8% in the last five years from 2016 to 2020.
What is the frozen pizza market demand outlook?
The frozen pizza market is expected to register steady growth amid the COVID-19 pandemic in 2020. The market will register a CAGR of 6% between 2021 and 2031.
What are the key trends prevailing in the frozen pizza market?
Leading frozen pizza manufacturers are focusing on product launches and flavor options. Also, there is a growing focus on nutrition and health including low fat and low-calorie options in the country.
What are the key factors driving the sales of frozen pizzas?
Increasing demand for frozen convenience foods, improvements in recipes and frozen food storage and transport technology improvements are factors boosting frozen pizza sales.
Who are the key importers of frozen pizza?
Nordic, Israel, New Zealand, Sweden and the U.K. are the leading importers of frozen pizza.
What is the cumulative share of the top five companies in the frozen pizza market?
The top five companies operating in the frozen pizza market are Nestle S.A., General Mills Inc., Dr. Oetker GmbH, Conagra Brands Inc., and Schwan's Company. These companies will cover 86% of the overall market in 2021.
Who are the key exporters of frozen pizza?
The U.S., Italy, Switzerland, Germany, and India are the leading exporter countries for frozen pizza.
Which are the top 5 countries exhibiting high demand for frozen pizzas?
The U.S., China, Brazil, Italy and India are among the leading markets for frozen pizza, exhibiting consistently high demand.
Which countries are the key producers of frozen pizza?
As per Future Market Insights, the U.S., Germany, Switzerland, Italy and India are the top producers in the global frozen pizza market.
Need specific information?
Our Clients