Vegan Cheese Market By Product Type (Mozzarella, Parmesan, Cheddar, Cream Cheese), Form (Shreds, Blocks and Wedges, Slices), End Use (Food Processing, Baked Goods, Sauces, Dips and Dressings, Snacks), Nature (Conventional, Organic) & Region - Forecast to 2019 - 2028
Vegan Cheese Market - Analysis, Outlook, Growth, Trends, Forecasts
January 2020

REP-GB-7772

356 pages
Vegan Cheese Brands to Promote their Availability in Diverse Flavours
[356 Pages Report] Most people are apprehensive about going vegan since they find it difficult eliminating cheese from their favourite foods. While consumers may find it difficult to abstain from burgers, pizzas, and other popular food preparation where cheese is a key ingredient, opting for healthier alternative can bring about a positive change. Leading vegan cheese brands are therefore amplifying their promotional strategies to spread the word about their product. This will help manufacturers can gain significant traction.
This can woo consumers, spoiling them with options in plant-based alternatives to replace most popular cheese types, including cheddar, parmesan, ricotta, cream cheese and others adorning shelves across retail chains. As a result of their efforts, vegan cheese pizza, sauce, and ingredients are now extensively and commercially available.
Stoked by the ongoing vegan cheese market growth, manufactures will witness impressive sales opportunities. In addition to this, a wholesome plant-based diet could prove cheaper than omnivorous diet. This is acting as a chief growth driver increasing demand across various product categories such as mozzarella, cheddar, parmesan, ricotta, cream cheese, and others.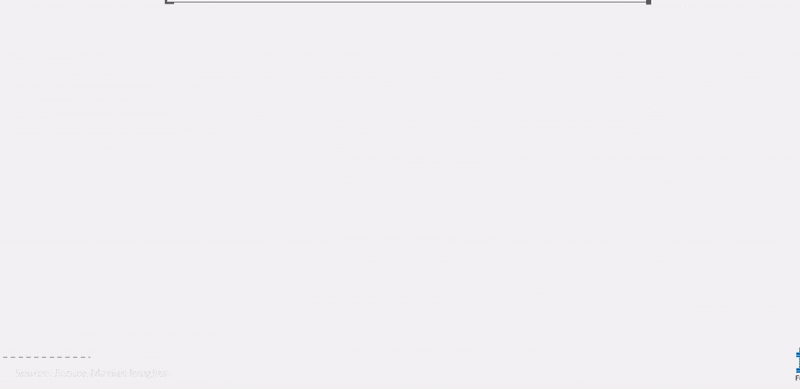 North America Surges Ahead as Leading Region in Global Market
Among key regional markets, North America is anticipated to record the highest demand for vegan cheese. The region boasts advanced production capabilities supported by the presence of mature markets. It accounted for the dominant share of 31.6% in the global vegan cheese market in 2019. While North America is projected to remain the leading region, Western Europe will follow it closely, registering the second-leading share in the market.
In addition to this, experts foresee impressive rise in demand from emerging markets across Asia Pacific since it is home to a majority of global population. Besides this, preference for dairy alternatives is positively rising among consumers in Asia Pacific, supporting the overall market growth.
Rising Awareness about Health Benefits of Vegan Cheese will Boost Sales
Vegan cheese is entirely plant-based and is considered a rich source of soy protein. Because it is cholesterol free, vegan cheese is increasingly used in bakery products, vegan snacks, and fast food products such as pizza, burgers, and others. A key point to note here is that, vegan cheese is made from coconut oil, soy milk, and plant milk extracted from nuts such as almonds, pine nuts, and cashews. Rising health consciousness among consumers is likely to stoke sales of vegan cheese in the coming years.
How Growth will Unfold
Veganism is becoming a mainstream, which is a key factor encouraging growth in the market. With an increasing number of people across Europe and other developed regions going vegan, the demand for vegan cheese is expected to increase considerably in the forthcoming years. Even in developing nations, the demand for vegan food products has incredibly increased.
This is expected to bolster growth opportunities for the market. Growth will be further supported by the increasing demand for food products derived from natural sources. As consumers incline increasingly towards non-dairy sources of protein, the demand from vegan cheese derived from sources such as almond milk, soy milk, cashew milk, coconut milk, and others will rise.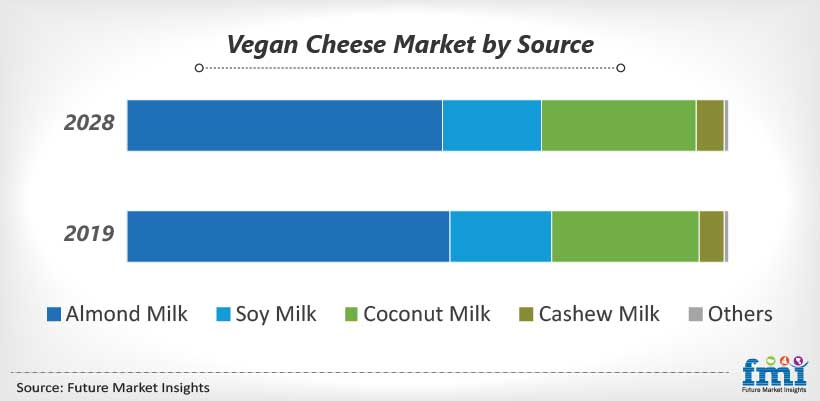 KEY HIGHLIGHTS
WHAT ARE SOME OF THE LEADING VEGAN CHEESE BRANDS?
Some of the leading brands in the vegan cheese market are:
Daiya Foods, Inc.,
Galaxy Nutritional Foods, Inc.,
Violife, Miyoko's Kitchen, and
Tofutti.
Which is the most popular variety of vegan cheese?
Mozzarella vegan cheese is currently in high demand. This type of cheese possesses melty and stretchy qualities very similar to conventional mozzarella. It is therefore used in the preparation of vegan cheese pizza and pasta. Its demand is rising especially among consumers who love to eat healthy but without compromising on taste.
What is vegan cheese made of?
Vegan cheese is entirely plant-based. It is often considered a rich source of soy protein. It is made from coconut oil, soy milk, and plant milk derived from nuts such as almonds, pine nuts, and cashews.
What drives vegan cheese market?
The rising demand for plant-based alternative drives the vegan cheese market. It is expected to rise at over 8% CAGR between 2018 and 2028. Rising disposable income of consumers, coupled with their willingness to spend on healthier alternatives of their favourite foods will aid the vegan cheese market growth.
Are there any negative effects of vegan cheese?
While vegan cheese is considered exceptionally healthy, especially for lactose intolerant people, solely relying on its consumption may have adverse health impacts. For instance, replacing milk products entirely with vegan cheese can cause anaemia in pregnant women and growth deficiency in children. Nonetheless, companies are likely to introduce more efficient and healthier options in the future to mitigate aforementioned concerns.
World's Most Profilic Intelligence Engine
Get Access To The World's Largest Market Research Database.
Sign Up Now
VEGAN CHEESE MARKET TAXONOMY
The report segments the global vegan cheese market in detail to present an executive-level blueprint to the reader
Product Type
Mozzarella
Parmesan
Cheddar
Cream Cheese
Ricotta
Others
Form
Shreds
Blocks and Wedges
Slices
Source
Almond Milk
Soy Milk
Coconut Milk
Cashew Milk
Others
End Use
Food Processing
Baked Goods
Sauces, Dips and Dressings
Snacks
Processed and Packed Foods
Ready Meals
Dairy and Desserts
Food Service/HoReCa (Hotels, Restaurant, Cafes)
Household/Retail
Nature
Sales Channel
Direct Sales
Indirect Sales
Hypermarkets/Supermarkets
Convenience Stores
Specialty Retail Stores
Traditional Grocery Stores
Online Retailers
Need specific information?
Our Clients