Vegan Cat Food Market By Product Type (Kibble/Dry, Dehydrated Food, Treats and Chews, Freeze-Dried Raw, Wet Food, Frozen, Powder, Freeze-Dried Food), Age Group (Kitten, Adults), Distribution Channel (Store-based Retailing, Online Retailers), Packaging (Pouches, Bags, Folding cartons, Tubs & Cups, Can, Bottles & jars) & Region - Forecast to 2021 - 2031
Vegan Cat Food Market - Analysis, Outlook, Growth, Trends, Forecasts
July 2021

REP-GB-13677

300 pages
Vegan Cat Food Market
The vegan cat food market is expected to increase steadily, surpassing a total value of US$ 10,560.4 Million in 2021. As per Future Market Insights (FMI), vegan cat food sales are expected to surge at 7.2% CAGR between 2021 and 2031. Overall growth forecast for the market will remain positive for the assessment period.
Vegan cat food is made entirely from plant-based and natural components, with no trace of animal-derived raw materials. The vegan cat food market will gain momentum in the coming years due to factors such as the proliferation of vegan trend, the humanization of pets, and the growing number of pet owners.
Key Points Covered in Vegan Cat Food Market Survey
Market estimates and forecast 2016-2031
Key drivers and restraints impacting market growth
Segment-wise, Country-wise, and Region-wise Analysis
Competition Mapping and Benchmarking
Brand share and Market Share Analysis
Key Product Innovations and Regulatory Climate
COVID-19 Impact on Vegan Cat Food and How to Navigate
Recommendation on Key Winning Strategies
2016-2020 Vegan Cat Food Sales Record in Comparison to 2021-2031 Demand Outlook
The vegan cat food market is predicted to grow at a CAGR of 7.2% during the forecast period of 2021-31 in comparison to sales growth registered at a CAGR of 4.8% between 2016 and 2020.
Human diet with less or no animal meat is increasing in popularity since the last decade. This trend however is no longer limited to human food items, but has made its way into the pet food sector as well.
A rising number of cat owners are concentrating on feed diets that are healthy for their cats. Recently, plant-based and vegetarian diets are introduced in the pet food market, providing a potential tenacity to the moral predicament for vegans and vegetarians who share their homes with carnivorous and omnivorous cats.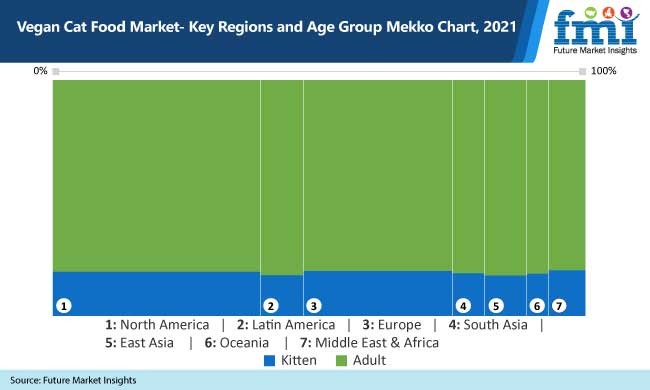 Additionally, as people's attitudes about their pets shift, vegan cat food manufacturers face new challenges in meeting customers' demand to feed cats like people.
The rising demand for organic and high-quality ingredients, increasing pet spending, and soaring consumption of vegan cat food are often intended to mitigate side effects of conventional dairy or animal-based diets such as occurrences of allergies, skin issues, improve bad breath, and maintain weight.
Vegan cat food will become more popular as cat adoption rises. Increasing cat ownership is a major driver of non-discretionary and discretionary product demand, including toys, treats and other food items. Millennials, the ageing population, and single-person homes are all factors to consider in the growth of the vegan cat food market.
Nowadays, pet owners are well-informed about the pet food they buy, including the ingredients and nutritional benefits. Nutrition has become increasingly important in the last few years and sales of items that fail to satisfy customer expectations in this area are frequently hampered.
Consequently, manufacturers of vegan cat food have begun to integrate high nutritional value into their products. For this reason, manufacturers have begun to obtain nutrients from sources such as pea protein to boost the nutritional content of vegan cat food.
How is Pet Humanization Impacting Vegan Cat Food Sales?
There's nothing those folks won't do for their cats and this mentality has only grown in recent years. A majority of pet owners in the United States consider their pets to be family members. This trend parallels the growing popularity of certain vegan cat food categories, such as vegan nutritional snacks, vegan specialty pet meals, and other higher-end options.
Cat owners are willing to spend more money on high-quality premium vegan food and products to improve their cats' health and quality of life, which is driving the market growth. By informing customers about ingredient sources, unique processing techniques, functionality, and certifications, packaging claims and labels can help establish brand equity and confidence.
Customers also want confidence that the freshness of their cat' food will be maintained, as this is crucial to their health. Cat owners routinely replace the packaging with various storage containers to ensure food safety, but new packaging alternatives allow for direct decanting and fully secure closing mechanisms. Reusable packaging benefits consumers since it adds value and eliminates waste.
What is the Impact of the Vegan Trend on Vegan Cat Food Market?
Since the last decade, human diets with less or no animal meat have grown in popularity. Pet owners have a higher level of empathy towards animals than people who do not have pets. As a result, a rising number of pet owners are focused on feeding nutritious meals to their animals.
Plant-based and vegetarian diets have recently been introduced into the Vegan Cat Food industry, offering a potential solution to the moral dilemma faced by vegans and vegetarians who live with carnivorous and omnivorous cats.
Constipation, yeast infections, rashes, vomiting, dry and itchy skin, gas, eye discharge and hair loss are all signs of food allergies in cats. Long-term exposure to allergens is harmful to one's health since it weakens the immune system. Plant-based foods are inherently allergy-friendly, so the cat can finally receive some relief from unpleasant symptoms.
Why Is The Demand For Premium Products In The Vegan Cat Food Market Increasing?
From 2013 to 2019, trading-up has helped increase average unit costs in cat food by almost 24%. This is due to pet owners' growing willingness to pay more on premium, high-quality food to improve their pets' health and welfare. Additionally, as transparency became more important, natural, meat-free, and ancestral diet ideas gained popularity.
Despite this shift, the focus of luxury vegan cat food has remained on the content of the ingredients. For decades, there has been an overarching focus on product development. This transformation is the outcome of broader dietary changes. Consumers are shifting away from processed foods and toward chilled or refrigerated goods that maintain a "fresh" or "less processed" image.
Country-wise Insights
How is Product Development Driving Growth in the U.S. Market?
The U.S. market for vegan cat food is expected to be valued at US$ 2,616.28 Mn in 2021. The CAGR is forecasted at 5.1%.
Many Americans are turning to plant-based food products for themselves as well as their pets as their worry about the environmental implications of livestock agriculture and meat availability grows.
Furthermore, Gluten allergy in pets is becoming increasingly common in the United States. As a result, demand for vegan cat food made from non-wheat sources has skyrocketed. Food claims have become extremely significant for both manufacturers and customers, as they are the only assurance that consumers have.
How is Demand for Frozen Foods Affecting Sales of Vegan Cat Food in China?
According to FMI, the China vegan cat food is expected to account for over 39.0% in the year 2021 of the East Asia market.
Targeting emerging economies, which are quickly becoming opportunity hotbeds for numerous worldwide industries, holds the actual potential for growth in the global vegan cat food industry.
Emerging economies provide the extra potential for manufacturers to fulfil pet owners' dietary changes due to significant expansion in the number of pet owners, a high prevalence of urbanization, and higher disposable incomes.
What is the Growth Prospect for Vegan Cat Food Market in the U.K.?
According to FMI's analysis, U.K. is expected to hold a market value share of 24.0% of the European market for the year 2021.
Crunchy snacks is the fastest-growing vegan cat food category in the United Kingdom, demonstrating that pet owners enjoy spoiling their pets. Because the vast majority of cat owners consider themselves "pet parents" rather than "pet owners," they naturally feel a high sense of responsibility for their pets' well-being.
How large is the Opportunity for Vegan Cat Food in Germany?
Germany vegan cat food market is estimated to account for 16.1% of the European market by 2031 at a compounded annual growth rate of 6.1%.
Concerns over animal cruelty in the country, as well as the negative environmental effects of meat and dairy consumption, are the driving vegan cat food market in the country.
Furthermore, the growing focus on pet health in Germany has bolstered the market for functional vegan cat food. Cat owners are on the lookout for foods with a higher nutritional value. The need for functional vegan cat food is being fueled by a growing awareness of healthful vegan cat food.
How is Humanization of Pets Affecting Vegan Cat Food Demand Outlook in Japan?
In 2021, Japan would command a market share of more than 48.3% in East Asia. Over the forecast period of 2021 to 2031, Japan is expected to develop at a CAGR of 6.2% in East Asia.
Because of changing lifestyles in Japan, demand for and frozen Vegan Cat Food is expanding. Customer's perceptions of cat health are changing, resulting in a surge in demand for frozen vegan cat foods.
Category-wise Insights
Which is the Top-selling Vegan Cat Food Type?
Kibbles or dry vegan cat food holds the maximum share of 25.3% in 2021 and witnesses a CAGR of 7.8% in the forecast period.
Dry vegan cat food is created by making dough out of dry and wet ingredients. In the extrusion process, the dough is cooked under pressure, then driven through a die machine, which slices the kibbles as they expand due to the pressure shift.
Kibbles come in a variety of sizes and shapes, depending on the product. The kibbles are dried, cooled, and sprayed with a protective coating. Extrusion isn't the only approach to create a product.
Which Age Group is dominating the Vegan Cat Food Industry?
Adult vegan cat food is dominating the global vegan cat food industry with a market share of 65.3% in 2021. Cats are defined as a kitten just for 6 months from birth while the rest of its life span which is an average of 5-15 years is spent as an adult.
Which Sales Channel is More Preferred for Sales of Vegan Cat Food?
Store-based retailing is the most popular sales channel, accounting for more than 86.4% of the market in 2021 and predicted to increase at a CAGR of 6.2% over the forecast period. Supermarkets are the most favored channel for purchasing Vegan Cat Food, with a market share of 42.0% in 2021 and 33.4% projected in 2031.
What type of Packaging is Mostly Preferred?
Bags holds the maximum share of 35.8% in 2021. In the Vegan Cat Food packaging market, the use of stand-up bags is the newest trend. It's a more cost-effective alternative to the cumbersome containers and jars that were once used in packing. Shipping and transportation costs are greatly reduced due to their lightweight.
Competitive Landscape
Leading vegan cat food manufacturers are focusing on strengthening their internet presence and spending in research and development (R&D) to reach out to customers. Multinational vegan cat food companies are focusing their efforts on expanding their manufacturing facilities and acquiring local players in order to diversify their product offerings.
Growing technical advancements to improve product development, as well as rising vegan cat food spending in emerging economies, would further contribute to the expansion of the vegan cat food market in the above-mentioned projected timeframe by offering vast potential.
Recently Aistra launched its vegan pet food store in India as Aistra's founders noticed a need in the Indian market for healthy vegan pet food and are on a mission to assist people to make compassionate, aware decisions by offering cruelty-free and vegan pet foods from leading global brands such as Benevo and Ami.
Scope of Report
Attribute

Details

Forecast Period

2021-2031

Historical Data Available for

2016-2020

Market Analysis

USD Million for Value

Key Countries Covered

US, Canada, Germany, U.K., France, Italy, Spain, Russia, China, Japan, South Korea, India, Thailand, Malaysia, Indonesia, Australia, New Zealand, GCC Countries, Turkey, Northern Africa, and South Africa

Key Segments Covered

Product type, Age Group, Packaging, Sales Channel Channel, and Region

Key Companies Profiled

Wysong
Evanger's Dog & Cat Food
Nature's Recipe
My Aistra
Evolution Diet
Cannapple
Nature's diet
Dr.goodpet

Report Coverage

Market Forecast, Company Share Analysis, Competition Intelligence, DROT Analysis, Market Dynamics and Challenges, and Strategic Growth Initiatives

Customization & Pricing

Available upon Request
World's Most Profilic Intelligence Engine
Get Access To The World's Largest Market Research Database.
Sign Up Now
Vegan Cat Food Market by Category
By Product Type:
Kibble/Dry
Dehydrated Food
Treats and Chews

Pastes
Creames/Cream Snacks
Crunchy Snacks
Chew Sticks
Tablets
Biscuits

Freeze-Dried Raw
Wet Food
Frozen
Powder
Freeze-Dried Food
By Age Group:
By Distribution Channel:
Store-based Retailing

Hypermarkets/Supermarkets
Convenience Stores
Mom and Pop Stores
Pet Stores
Discounters
Independent Grocery Retailers
Drugstores
Other Retail Formats

Online Retailers
By Packaging:
Pouches
Bags
Folding cartons
Tubs & Cups
Can
Bottles & jars
By Region:
North America
Latin America
Europe
South Asia
East Asia
Oceania
MEA
Key Questions Answered in the Report
What is the market value of the global vegan cat food market?
The global vegan cat food market is expected to surpass a valuation of US$ 10,560.40 Mn by 2021.
What is the vegan cat food market demand growth outlook?
The vegan cat food market will register a steady rise in demand through 2021. As per FMI, the market is expected to register a CAGR of 7.2% in the forecast period.
What are the key trends shaping the vegan cat food market?
Key determining variables affecting growth are the increasing preference for vegan ingredients among pet food manufacturers as they aim for meeting regulatory criteria.
What are the key factors propelling the sales of vegan cat food?
Increasing health concerns have resulted in increased demand for meat-free cat food, as cat owners have become more concerned about their cats' health and well-being.
What is the North America vegan cat food market outlook?
North America is a leading market for vegan cat food, registering a 4.8% CAGR through the end of 2031.
What is the cumulative share of the top ten companies in the vegan cat food market?
The top ten companies operating in the Vegan Cat Food market are Benevo, Wysong, Evanger's Dog & Cat Food, Nature's Recipe, My Aistra, Evolution Diet, Cannapple, Eco Dog and Cats, Nature's diet, Dr.goodpet holding a market share of 35 to 40% of the global vegan cat food market.
At what rate will the vegan cat food market growth in Europe?
Future Market Insights has forecast the Europe vegan cat food market to exhibit a CAGR of 6.7% between 2021 and 2031.
Which are the top 5 countries exhibiting high demand for vegan cat foods?
The U.S., Canada, U.K., Japan, Germany and France are among the leading markets for vegan cat food, exhibiting consistently high demand.
What is the share of the Germany and China vegan cat food markets?
As per Future Market Insights, Germany Vegan Cat Food market accounts for 16.1% in Europe, while China accounts for 37.3% of the East Asia market.
Need specific information?
Our Clients