Medicinal Properties Aiding in the Demand
Traditionally, grapes along with leaves and sap have been used as treatments for their nutritional and medicinal properties in Europe for thousands of year. Grape seed extracts help healing wounds and in treating diseases. For instance, balance of cholesterol, blood pressure, atherosclerosis and macular degeneration are some of the diseases, which can be cured with the help of grape seeds intake. Moreover, it is used to prevent nerve damages, UV radiation damage and cancer.
It is observed that grape seed extracts more effective than chemotherapy in advanced cancer, however, more research are going on grape seeds for better medical value for cancer patients. Grape seed extracts are industrial derivatives from whole grape seeds. Grape seed extracts have a large concentration of vitamin E, linoleic acid and flavonoids.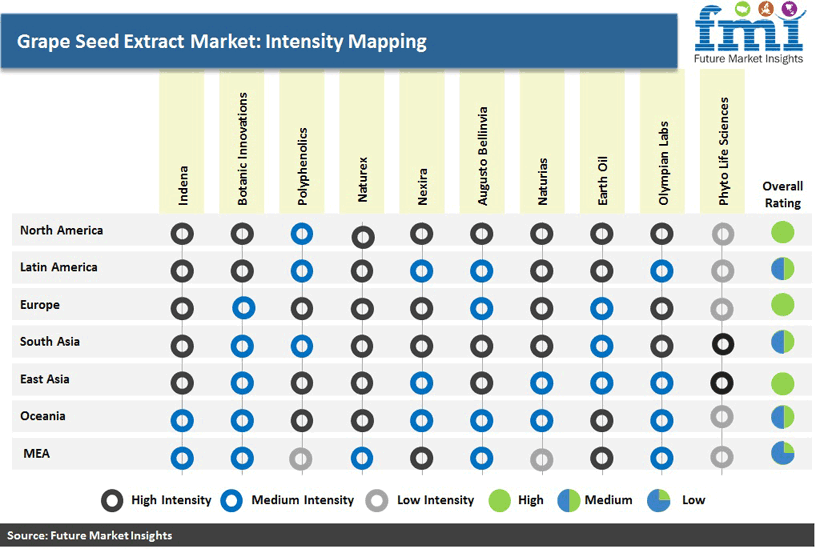 Growing Disposable Income Boosting the Market Growth
In 2018, North America dominated the global grape seed extract market, accounting for more than 40.0% of the total revenue. Growing consumer awareness regarding following a medicine-free lifestyle is a key factor driving the market. Consumer spending on health, fitness, and wellness has increased tremendously in recent years, supported by high disposable income.
The increasing usage of personal care products and dietary food supplements has created a significant demand for grape seed extracts in North America. The strong foothold of processing firms in U.S. is also anticipated to propel market growth. However, restricted demand due to coronavirus outbreak and disrupted supply-chain may negatively impact the market.
Asia Pacific is the fastest growing market. Increasing consumer awareness about healthy living and growing disposable income, especially in developing countries such as China and India, is expected to boost the growth of the market. It has been observed that Indian consumers are increasing their spending on wellness and fitness products.
This will give the market a major boost, enabling the country to emerge as the fastest growing market in the region. Due to COVID-19 outbreak, entire China supply chain is disrupted, global travel has been disrupted, the impact that this has on the spending that happens because of this has stopped.
Nutritional Supplements Dominating the Market
The nutritional supplements segment dominated the grape seed extracts market in 2018, accounting for a share of over 40.0% that year. Grape seed extract is usually included in supplements as it is a more economical way of gaining plant-based antioxidants. Such supplements are available for different purposes, such as beauty, cardiovascular support, and improving vision. Companies are investing in product innovation to compete in this product segment.
Most dietary and nutraceutical supplements are contain the powdered form of grape seed extracts and consumers prefer this form as it is affordable and very convenient to use. U.K.-based company Bulk Powder launched seed extract powder made from red grapes, which can be consumed by gluten- and lactose-intolerant consumers.
How Growth will Unfold
The market for grape seed extract is driven mostly by health consciousness among consumers and the multitude of health benefits this product brings with it. Heart disease is one of the two gravest since grape seed extract (GSE) and American health concerns, has been proven helpful in preventing cancer, it is one of the reasons for driving the demand of this product in North America.
The food industry is dominating the global grape seed extract market. Grape seed extracts are widely used in the food industry. Grape seed extracts are extensively used across in numerous applications such as functional food, functional beverages, and dietary supplements among others. The increasing trend of maintaining a healthy lifestyle by following organic and natural eating habit is expected to foster the grape seed extracts market growth positively.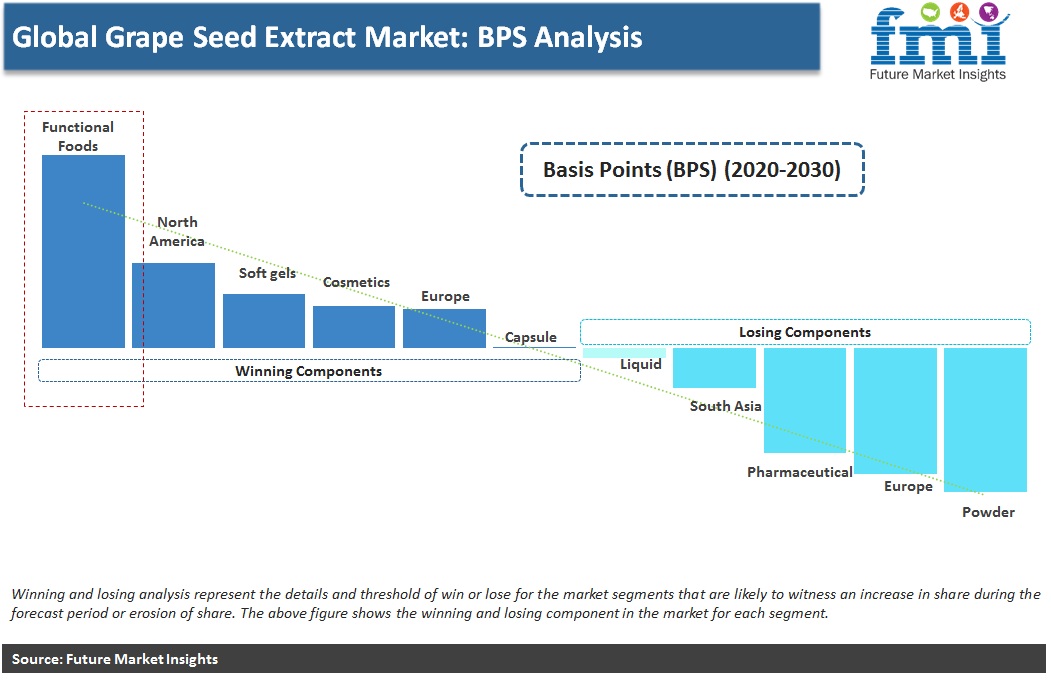 GRAPE SEED EXTRACT MARKET TAXONOMY
The global Grape Seed Extract Market is segmented in detail to cover every aspect of the market and present complete market intelligence to readers.
Form Type
Application
Food Industry
Pharmaceutical Industry
Personal Care Industry
Region
North America
Latin America
Europe
East Asia
South Asia
Oceania
MEA
Need specific information?