About the Report
There is an increase in the consumption of grape skin extract productsdue to the rising demand of nutritive supplements. Grape skin extract market is witnessing lucrative growth opportunities due to increasing application in medicines and food industries.
Grape skin extract contains trans-resveratrol and anthocyanin which help in combating blood cloths.The increasing demand for natural ingredients in cosmetic and skincare productsis creating growth opportunities. Grape skin extract is a rich source of vitamin c and antioxidantsand it fight free radicals in the body, reducing wrinkles, dark spots, and scales. These factors are expected to increase the use of grape skin extract in skin care products.
In its new study, ESOMAR-certified market research and consulting firm Future Market Insights (FMI) offers insights aboutkey factors driving demand for grape skin extract. The report tracks the global sales of grape skin extractin 20+ high-growth markets, along with analyzing the impact COVID-19 has had on the food and beverage industry in general, and grape skin extractin particular.
What is Future Outlook for Grape Skin Extract Market in Response to Historic Sales?
Branding has become an integral part of the product in the last few years. For any manufacturer gettinga competitive edge andbuildinga strong and positive brand image are of utmost important. In order to attract consumers,manufactures are creating products that are environment friendly and that includes ingredients that are natural and not synthetic.
Grape skin extractfinds use in alcoholic drinks like wine. Over the years people have realizedits functional properties that are very beneficial for curing several lifestyle diseases.This has helped in the overall expansion of the market. According to FMI's analysis, grape skin extract market sales have grown at 5.2%CAGR between 2016 and 2020.
Application within the cosmetics and skin care industry has considerably surged in in the last few years because grape skin extracts help anti-aging, improving skin elasticity, and depigmentation. Grape skin extract boosts the collagen levels in the skin thus making the skin look radiant and healthy. Manufacturers are continuously making efforts to launch new skin care products such as face serums, face mask, lotions and creams with grape skin extract as the key ingredient.
Consumers are demanding grape skin extract products especially in dietary supplements to address cholesterol, blood pressure, and heart related health issues. Also, the increasing awareness about clinical utility of grape skin extract due to its antioxidant properties has been increasing its use in medicines used for the treatment of degenerative diseases like cardio-vascular disease and diabetes.
All of the key markets for grape skin extract have been affected by the unprecedented COVID-19 outbreak.Given the unbridled spread of the infection, the sales of the grape skin extract could get affected and hamper product availability.
But the situations are expected to improve as economic activities return to normalcy. Given the scenario, the report has projected the global grape skin extract market to grow at 6.1%CAGR through 2021- 2031.
How Will Use of Grape Skin Extract in Skincare and Cosmetic Industries Affect Sales?
Grape skin extract based derivatives such as linoleic acid and vitamin E are used widely in cosmetic, skin, and hair care products. These ingredients are often included in hair care products because they provide better strength and natural shine to hair and helps in strengthening hair folliclesby increasing blood circulation which boosts hair growth, eventually reducing hair fall.
Skin care regimen has become an important part of any individual's life today due to increasing pollution and climatic changes. As a result consumers are demanding skin care products that protect skin from harmful environmental changes. Grape skin extract protects skin from ultra violet rays. Skin tightening, cell renewal and epidermis repair are foremost benefits of using grape skin extract in cosmetics and skin care products.
As a result of these benefits grape skin extract has emerged as a key ingredient used in various skin care products.Some of the leading brands are aiming at capitalizing on the demand for grape skin extract.
For Instance, in 2016,a key manufacture AMWAY has launched an entire skin and hair care product range that contains grape skin extract as the major component. Glossy hair repair shampoo and conditioner is the product that has patented formula of grape skin extract.
What are Prospects for Grape Skin Extract Application in Pharmaceutical Industry?
Rising incidence of various chronic ailments has fuelled the demand for effective treatment and medications. The pharmaceutical industry is responding to the increasing demand by investing in various experiments to discover the most effective and suitable ingredients for use in various medicinal compositions.
Grape skin extract has proven to be extremely beneficial in maintaining a healthy lipid and triglycerides profile that eventually prevents heart attacks. Trans-resveratrol, a golden component found in grape skin extract, inhibits blood cloths that can prevent heart arrest.
With trends such as detoxification gaining traction, application of grape skin extract will increase in the pharmaceutical industry, especially to formulate capsules and chewableand powdermedicines tohelp in blood purification.Also the considerably rising demand for ingredients derived from natural ingredients will push application of grape skin extract in the industry.
How is Robust Supply Chain Enabling Growth?
The robust supply chain of grape skin extract ensures that the raw material is easily available and on time to help the direct the flow of products. Current supply chain models have are designed to ensure that products reach directly to customers without any hurdles. Warehousing and storage have improved over the years in terms of capacity and technology. Cold storage facilities help in maintaining the supply for a longer time frame.
Online sales through e-commerce websites have strengthened the marketplace and has helped it to thrive. Conventional means are also used for sales of grape skin extract, but from e-Commerce websites, any individual from anywhere in the world can make purchase from suppliers. Presence of a robust supply chain will therefore enable growth in the market through the forecast period.
Country-wise Insights
Why is France Considered a Lucrative Grape Skin Extract Market?
The France grapes skin extract market is projected to hold a significant share in termsof production as grapes. France produces the most exotic varieties of grapes, which are used in the production of exquisite French wine. FMI has projected France to continue offering lucrative growth opportunities through the forecast period. One of the crucial factors supporting growth in France is the high spending power of the country's population.
As France also is home to several key manufacturers of skin care brands, it is expected to create a conducive environment for the growth of the market. Major wine making takes place in France thus the production of grapes is also on the higher side. These factors will continue supporting expansion of the market in the country.
How large is the Opportunity in India?
India remains among the leading markets for grape skin extract. Increase in lifestyle diseases in the past few years has been fuelling the demand for healthy food products in the country. Increasing incidence of various chronic ailments, including cardiovascular diseases, cancer diabetes, and other will continue fuelling the demand for food containing healthy ingredients derived from nature.
Grape skin has shown positive results in fighting these health issues, consumers in India are including grape skin extract products in their diet. Besides this, the presence of various emerging and local companies will continue aiding growth in India.
According to FMI, India will hold more than 4.37% of share in global grape skin extract market in year 2021. Also economic development, purchasing power, and increasing standard of living are among other factors creating growth opportunities in the country.
What is Fuelling Grape Skin Extract Demand in Australia?
Detoxification trend that's catching up consumer's attention in Australia is contributing to rise in demand for grape skin extract, becauseit has such functional properties that purifies blood and reduces oxidative stress in the body which eventually helps in healthy skin, heart and liver function.
Due to the growing demand from vegan population for plant based products,the demand for grape skin extract supplements is rising in the country. Another factor is that Australia being in the temperate zone is perfect for grapes cultivation as it needs warm climatic conditions thus the production capacity of grapes skin in Australia has increased in the past years.
How Big Is The Opportunity For Grapes Skin Market In U.S.?
The U.S. will remain one of the leading markets over the assessment period. It accounts for nearly 88.8% of sales in North America. The increasing inclusion of grape skin extract in break-fast items in smoothies, milkshakes and protein shakes is a key trend observed in this country.
With the incidence of various health conditions rising, the country will showcase higher demand for healthy food and snack items. This will create positive opportunity for the growth of the market. Also, the rising demand for clean-label food will aid the overall expansion in the U.S.
How Did COVID-19 Impact Grapes Skin Market in Brazil?
Brazil being one of the leading countries in Latin America where maximum trade transaction takes place was negatively affected by the outbreak of the novel coronavirus. Due to lockdown imposed on the country, sale of products went on hold thus impacting the producers of grapes skin extract. Despite this, increasing focus on health and wellness will continue fuelling the demand in the country.
Category Wise
Why are Organic Grape Skin Extracts More Preferred?
Due to the increasing demand for healthier food products consumers have become very choosy about ingredients' label. The production process, ingredients used, and environmental impact of ingredients used are considered before a purchase decision is made.
In order to give the best to their body consumers are willing to pay a premium price for products that arederived from organic and authentic sources. Producers are therefore encouraged to replace chemicals and harmful fertilizers with more sustainable alternatives.
According to the report, conventional sources continue accounting for majority of grape skin extract produced, however, the use of organic sources is increasing at a higher pace.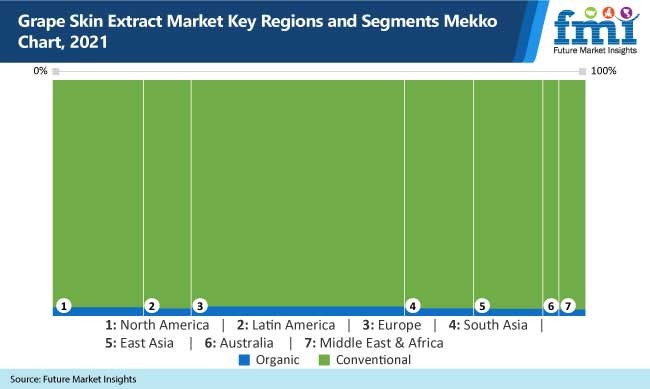 Which is the Top-selling Grape SkinExtract Type?
The most preferred type of grape skin extract is red grapes as it is good in taste and has enormous health benefits. Red Grapes type has been estimated to account for amarket share of 85.5% in 2021. Red grapesare gaining increasing traction in U.S., since red grapes plantation is practiced widely across the country.
The increasing focus on health and wellness on account of rising prevalence of diabetes and obesity will continue fuelling the demand for grape skin extract derived from red grapes in the U.S.
Who is the Leading End User of Grapes Skin Extract?
Currently, food and processing industryholds the dominant market share. The increasing use of grape skin extract in bakery, confectionery, and in snacks production will continue fuelling demand in the segment.
Besides this, the demand from dietary supplements, cosmetics, and skin care segments is expected to increase considerably.The pharmaceutical segment also is witnessing rapid growth as grapes have proven to be very useful medically.
Competitive Landscape
Companies operating in the market have been focusing on improving their production capacity as well as portfolio. Product launches remain a key strategy adopted by the market players.
For Instance, in 2020, a manufacturer called as HumanN came up with a new product launch called as super grapes chews, it is the only chew that is loaded with Unique Grape Seed Extract for blood pressure control and energy support.
There also is increasing focus on developing advanced technologies to incorporate the superior health benefits of grape skin extract in diverse products.
For Instance, Marks and Spencer's has developed a skin care formulation to create the product range, called Pure Super Grape which has been clinically proven to improve skin radiance and boost hydration.
Some of the leading companies operating in the market are:
GRAP'SUD
Plamed Green Science Group
Nans Product
NFC Industry Co., Limited
Nutra Food Ingredients
Alvinesa Natural Ingredients
AlpspureLifesciences Private Limited
Natacgroup
PanteleyToshev Ltd
Vital herbs
Tangshan EusaColors Int'l Group(EUSA COLORS)
Presque Isle Wine Cellars
Parchem Trading Ltd.
*The list is not exhaustive, and only for representational purposes. Full competitive intelligence with SWOT analysis available in the report.
Scope of the Report
Attribute

Details

Forecast Period

2021-2031

Historical Data Available for

2016-2020

Market Analysis

USD Million for value and MT for Volume

Key Regions Covered

North America, Latin America, Europe, South Asia, East Asia, Australia, and MEA

Key Countries Covered

US, Canada, Brazil, Mexico, Argentina, Peru, Chile, Rest of LA, Germany, France, Italy, Spain, U.K., BENELUX, Nordic, Russia, Poland, Rest of Europe, India, Thailand, Malaysia, Singapore, Rest of SA, China, Japan, South Korea, Australia, GCC Countries, South Africa, North Africa, Rest of MEA

Key Segments Covered

Nature, Product Type, End Use Application and Region

Key Companies Profiled

Keller Juices S.R.L
GRAP'SUD
Plamed Green Science Group
Nans Product
NFC Industry Co., Limited
Nutra Food Ingredients
Alvinesa Natural Ingredients
AlpspureLifesciences Private Limited
Natacgroup
PanteleyToshev Ltd
Vital herbs
Tangshan EusaColors Int'l Group(EUSA COLORS)
Presque Isle Wine Cellars
Parchem Trading Ltd.

Report Coverage

Market Forecast, brand share analysis, competition intelligence, DROT analysis, Market Dynamics and Challenges, Strategic Growth Initiatives

Customization & Pricing
Key Questions Answered in the Report
Which is the most lucrative market for Grapes Skin Extract?

Europe currently leads the global market for grape skin extract. Europe is expected to hold nearly 40% of the global market in 2021.

Which is the top-selling type of grapes skin extract?

Red grapes skin extract has emerged as the preferred product type, accounting for more than three quarter of the overall market.

Who is the leading end-user of grape skin extract?

Food and beverages processing has emerged as the leading end-user of grape skin extract.

Who are some of the leading companies offering grape skin extract?

?Some of the leading companies offering dairy alternative reseller Juices S.R.L, GRAP'SUD, Plamed Green Science Group, Nans Product, NFC Industry Co., Limited, Nutra Food Ingredients, Alvinesa Natural Ingredients, AlpspureLifesciences Private Limited, Natacgroup, PanteleyToshev Ltd, Vital herbs, Tangshan EusaColours Int'l Group (EUSA COLORS), Presque Isle Wine Cellars, Parchem Trading Ltd.
Grape Skin Extract Market by category:
By Nature
By Product Type
By End Use Application
B2B

Cosmetics and Personal Care

Creams
Lotions
Masks
Shampoos
Food & Beverage Processing

Bakery Products
Confectionery & Snacks
Gums
Meat Products
Beverages
Others (processed food, etc.)
Pharmaceuticals
Dietary Supplements

Capsule
Chewable
Liquid extract (tincture)
Powder
B2C

Modern trade
Specialty Stores
Wholesale Stores
Health & Pharmacy stores
Online Retailing
Other Retail Formats
By Region
North America
Latin America
Europe
South Asia
East Asia
Australia
Middle East and Africa (MEA)
Need specific information?
Talk Show:
The Rise of Intelligent Packaging
Personalized, Connected and Sustainable
November 18, 2021
11:00-11:45 AM PST (USA & Canada)
This is a LIVE session