Grass Fed Beef Market Snapshot
[300 Pages Report] The grass fed beef market is expected to reach a valuation of US$ 11.6 Bn in 2021. As per Future Market Insights (FMI), the overall market value is forecast to total US$ 17.9 Bn by 2031, rising at a 4.4% CAGR between 2021 and 2031.
Growing awareness regarding health benefits and consumption of a balanced diet, along with increasing sales of bulk food ingredients via online retail channels are expected to provide impetus to grass fed beef market growth. Considering this, FMI has projected the sales of grass fed beef to expand at a 3.7% CAGR through 2031 in terms of volume.
| | |
| --- | --- |
| Projected year (2021) Market Value | US$ 11.6 Bn |
| Projected year (2031) Market Value | US$ 17.9 Bn |
| CAGR% (2021-2031) | 4.4% CAGR |
2016-2020 Grass Fed Beef Market Outlook Compared to 2021-2031 Forecast
Demand for grass fed beef is rising consistently due to its advantages over organic and grain fed beef. Grass fed beef consumption maintains blood and heart health and provides a substantial amount of electrolytes. Cattles fed with only grain, or a mixture of grass and grain normally generate more calories in human body when consumed. As a result, sales of grass fed beef are expected to soar over the forecast period.
The USDA has updated regulatory terms according to which farmers need to get a certification on the organic label. For obtaining organic label certification farmers need to complete some formalities which can take as long as three years to be able to sell the product in the market.
Due to this reason, farmers and manufacturers are opting for grass fed beef to reduce go-to-market time and improve sales. Owing to these factors, FMI has projected sales of grass fed beef to grow at a steady 4.4% CAGR over the assessment period.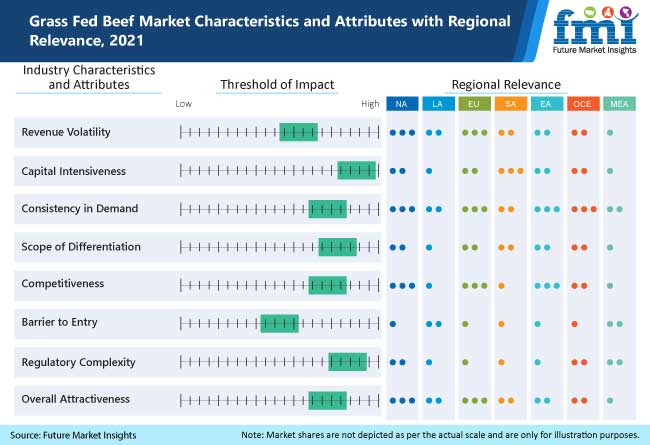 How are Health Benefits Derived from Grass Fed Beef Influencing Sales?
Grass fed beef contains less amount of total fat, contributing to fewer calories than other beef products. Composition of fatty acids in grass fed beef is also different, it contains less monounsaturated fat, and omega-6 polyunsaturated fats, which are harmful for the human body. Grass fed beef contains beneficial elements, such as high amount of omega-3 fatty acids (5x higher than normal beef products) and 2 times higher conjugated linoleic acid (CLAs).
Grass fed beef is more nutritious as it is loaded with vitamin B3, B6, and B12. It is also a good source of iron, zinc, and selenium. High quality protein and amino acids, such as carnosine and creatine, and antioxidants derived from grass fed beef are vital for brain and muscle growth.
When compared to conventional beef products, grass fed beef also contains various lesser-known nutrients, such as carotenoid precursors (beta carotene), vitamin A, and vitamin E, which protect human cells from oxidation. Owing to these factors, demand for grass fed beef is expected to rise at a steady pace through 2031.
What are the Factors Limiting Sales of Grass Fed Beef?
Although grass fed beef is considered a sustainably-derived meat product, environmental concerns still raise the question of ecological impact of using this product. Grass fed cattle generally requires 9 acres of land to raise (for conventional beef, it is only 3 acres) and uses 35% more water and 30% more land than conventional cattle. In addition to this, one pound of grass fed beef generates 500% more greenhouse gases than the conventional beef.
Rising concerns regarding conscious eating and sustainable manufacturing practices in response to increasing carbon emissions is expected to have a negative impact on grass fed beef sales.
Though facts stated above can impede market growth, but in reality, both grass fed and conventional cattle contribute to methane and nitrous oxide emissions. Moreover, it is stated that grass fed cattle facilitates soil improvement and improves grass production, which can sequester carbon dioxide level underground.
In response to this, manufacturers are focusing on analysing the regional conditions and environmental regulations to regulate the harmful impact of grass fed beef production.
What is the Impact of COVID-19 on the Grass Fed Beef Market?
As the COVID-19 pandemic has disrupted manufacturing operations to an extent, independent processors of grass fed beef market have had an opportunity to shine. Shutting down of meatpacking facilities in the industrial system structure have resulted in meat shortage in grocery stores and bulk processing plants. While small packers, slaughterhouses, and butchers are filling up the gap with adequate supply and ramped up production.
Small market players faced high competition before the onset of the pandemic where large meatpackers held a big chunk meat sales by using CAFOs (concentrated animal feeding operations) to process meat inside large plants by utilizing cheap labor and fast line speeds.
As a result, processed beef offered by large market players was getting sold at significantly lower prices in grocery stores, putting independent producers out of business.
The situation has completely been altered after the lockdown, as large retailers were compelled to shut down factories and operational centers due to the pandemic, cutting off the supply chain system. To keep up with growing demand, large organizations are entering in partnerships with pasture-based and small-scale farmers and processors to work on an alternative system for production and supply to improve sales.
Country-wise Insights
Why Demand for Grass Fed Beef is High in the U.S.?
The grass fed beef market in the U.S. is a small but significant industry that is growing its consumer base gradually. Though some primary obstacles such as price premiums (up to 70% more than conventional products) and consumer understanding of labeling of the product are prevalent, growth is mainly hindered due to lack of standards and regulations. Also, low quality products were being labeled as grass fed beef, which resulted in lowering consumer expectation and satisfaction.
The USDA (US Department of Agriculture) has issued some standards for grass fed beef labeling to improve product quality. According to the research, imports of beef meeting grass fed labeling criteria can be very cheap and can account for almost 80% of annual sales of US labeled grass fed beef market.
What is Supporting Sales of Grass Fed Beef in Estonia?
Estonia made huge strides in the Europe grass fed beef market in 2015 by taking up an initiative to remove dependency on conventional systems to offer more value added services to farmers while controlling the supply chain of the market.
According to the EU Commission report on promotion of agricultural products, a campaign was introduced to spread information regarding qualities of Estonian grass fed beef in a national quality label.
As per the report, a farmer known as Liivimaa Lihaveis is trying to improve the production-processing-marketing process regarding the quality scheme of the national grass fed beef system. As grass fed beef production solely relies on grasslands, related environmental and social advantages such as preservation of landscapes, biodiversity, rural vitality, and organic farming, were highlighted in the campaign.
These developments are indicative of lucrative growth prospects for grass fed beef manufacturers in Estonia over the forecast period.
What Will Drive Grass Fed Beef Demand in Japan?
Demand for grass fed beef is anticipated to rise at a consistent pace over the forecast period, backed by the presence of robust meat industry and packaged food industry. As of now, the country only imports grass fed beef from the U.S., which is available in Japanese supermarkets regularly. Labeling for 100% grass fed as well as organic certifications are mandatory for brands selling grass fed beef in Japan.
Why is New Zealand is Considered an Attractive Grass Fed Beef Market?
Brands in New Zealand are actively investing in research and development to create sustainable and approachable sources of deriving grass fed beef. For instance, grass-fed beef brand First Light Farms is mixing the famous Wagyu beef with grass fed beef concept. Wagyu is a specialty breed of cattle raised in mainly Japan New Zealand and the U.S. The species is well known for its marbling and tender texture and has an incredible flavor.
In Japan, the cattle are fed with a mixture of grass and grain. But in New Zealand, most cattle are being grass fed. Brands are using this concept to utilize Wagyu while raising the cattle on a 100% grass fed diet to improve sales.
Category-wise Insights
Why is Demand for Processed Grass Fed Beef Rising in the Food Sector?
In terms of form, the processed meat segment is projected to account for a dominant share of the global grass fed beef market. Increasing consumption of ready-to-eat meals, along with high demand for convenient packaged food products among the population will continue pushing sales of processed grass fed beef.
Which Format of Grass Fed Beef is Most Preferred?
Based on format, the frozen grass fed beef segment is projected to lead the category over the forecast period. Packaging meat in frozen condition minimizes moisture loss. As moisture loss can impact the color, flavor, and texture of the product, consumers prefer frozen meat products. Till the time the temperature of the grass fed beef goes below -12°C, no microbial problems will occur and the product will be safe to consume.
Which is the Most Lucrative Distribution Channel for Grass Fed Beef?
Sales of grass fed beef from direct sales channel remained high before the pandemic. However, due to lockdown restrictions, sales through direct channels went down severely. As an alternative, indirect sales channels like online retailing kicked off and became the most chosen option. This trend is expected to continue over the forecast period.
Which is the Chief Application of Grass Fed Beef?
When it comes to applications in the food service sector, grass fed beef is used in a variety of products such as sauces, dressings, glaze, baked products, ready meals, instant noodle/pasta, marinades, soups, stocks and bouillon, and the many others. Consumers increasingly preferring grass fed beef due to concerns regarding side effects of grain and antibiotic fed beef products.
As health is the utmost priority for consumers, awareness regarding harmful effects of excessive use of antibiotics and dietary choices is pushing sales of grass fed beef. Consumers are making a conscious shift to grass fed beef products gradually and hotels, restaurants, and cafés are identifying the opportunities to capitalize on this trend.
Competitive Landscape
Key players operating in the global grass fed beef market are focusing on promoting sales of grass fed beef by providing more information regarding the safety and health advantages of the product. Apart from this, in response to high demand, manufacturers are investing in mergers, acquisitions and collaborations with regional players to expand their production facilities. For instance:
Hong Kong-based Chinese business WH Group and Brazilian red meat processor JBS had undertaken an MoU to supply beef and other meat products in China in January 2020. JBS has invested US$ 17.08 Mn in the acquisition and construction of the plant and is offering a portfolio of Seara and Friboi products in the Chinese market, such as Do Chef Friboi, Maturatta Friboi, Reserva Friboi, Swift Black, and 1953 Friboi.
Scope of Report
Attribute

Details

Market Size Value in 2021

US$ 11,681.1 Million

Market Forecast Value in 2031

US$ 17,967.5 Million

Global Growth Rate

~4.4%

Forecast Period

2021-2031

Historical Data Available for

2016-2020

Market Analysis

MT for Volume and US$ Million for Value

Key Regions Covered

North America, Latin America, Europe, East Asia, South Asia, Oceania and MEA

Key Segments Covered

Form, Format, End-Use, Distribution Channel and Region (North America, Latin America, Europe, East Asia, South Asia, Oceania, and MEA).

Key Companies Profiled

JBS Foods ® (Brand - Grass Run Farms)
Tyson Foods
Australian Agricultural Company Limited
Hormel Foods Corporation
Cargill, Inc.
Conagra Brands, Inc.
Creekstone Farms Premium Beef, LLC
Sysco Corporation
Others

Report Coverage

Market Forecast, Company Share Analysis, Competition Intelligence, DROT Analysis, Market Dynamics and Challenges, and Strategic Growth Initiatives

Customization and Pricing

Available upon Request
Key Questions Answered
What is the grass fed beef market value?

The grass fed beef market is projected to total US$ 11.6 Bn in 2021.

What is the grass fed beef market demand outlook?

The grass fed beef market is forecast to grow by 4.4% CAGR to total US$ 17.9 Bn by 2031.

What are the key trends shaping the grass fed beef market?

Mergers and acquisitions undertaken by leading companies, besides strategies adopted to expand presence and production capacity are key trends shaping growth of the market.

At what rate did the demand for grass fed beef grow in the last five years?

The demand for grass fed beef increased by 3.7% CAGR between 2021 and 2031.

Who are the top players in the grass fed beef market and what is the market share?

JBS Foods, Tyson Foods, Australian Agricultural Company Limited, Hormel Foods Corporation, Cargill, Inc., and Conagra Brands, Inc. are the top market players accounting for nearly 30% to 50% of global sales.

What is the North America grass fed beef market outlook?

Demand in North America is expected to grow by 3.3% CAGR between 2021 and 2031.
At what rate will the demand for grass fed beef rise in Europe?

The demand for grass fed beef will increase by 3.8% CAGR over the assessment period.
World's Most Profilic Intelligence Engine
Get Access To The World's Largest Market Research Database. Ngage with a revolutionary intelligence engine that scale and pricing that flexes as per your needs
Sign Up Now
Grass Fed Beef by Category
By Form:
Fresh Processed

Cured
Smoked
Restructured
Slices
Chop meat
Steak cuts
Cuts
Patties
Sausages
Nuggets
Meatloaf

Dried
Others (Fermented, Pickled, etc.)
By Format:
Chilled
Frozen
Shelf Stable
By End-Use:
Food Processing Industry
Foodservice (Hotels, Restaurants, Cafés

Sauces, Dressings and Glazes
Snacks
Baked Products
Ready Meals
Processed Meat Products &Marinades
Seasoning
Instant Noodle/Pasta
Soups, Stocks and Bouillon
Others (Pie Gravies, etc.)

Institutional
Household (Retail)
By Distribution Channel:
Direct Sales/B2B
Indirect Sales/B2C
Hypermarkets/ Supermarkets

Specialty Meat Outlets
Groceries/Mass Retailers
Wholesale Club Stores
Butcher Shops
Ranch

Online Retailing
By Region:
North America
Latin America
Europe
East Asia
South Asia
Oceania
MEA
Need specific information?