High protein yogurt Market Outlook & Key Findings
Future Market Insights (FMI) forecasts positive growth for global high protein yogurt market at a CAGR of 8% between 2020 and 2030
Consumer preferences are inclining towards maintaining a healthy lifestyle, which has led to the higher consumption of high protein products with potential health benefits.
Over 82% of high protein yogurt accounts for flavored. Despite availability in regular, flavored high protein yogurt will remain consumer favorite, finds FMI
Spoonful high protein yogurt is valued at US$ 26,612.3 Mn in 2020 and is anticipates to reach US$ 58,436.5 Mn with a value CAGR of 8.2%
Focusing on developing plant-based probiotic yogurt creating opportunities for the manufacturers in the high protein yogurt market
Freshness and Authenticity Define Future Growth Parameters
Fresh, authentic, and natural taste experiences, are driving consumer demand around the world. Even in diverse markets like China, Brazil, Poland and India, consumers prioritize authentic and natural-tasting food. A recent survey carried out by Koninklijke DSM N.V., a science-based company active in health, nutrition, and sustainable living, revealed that more than half (55%) urban consumers' believe a 'natural or fresh' flavor makes food taste delicious.
This consumer demand for fresh and natural tastes, pose a challenge for food producers as they have to meet these taste expectations without forfeiting convenience and comprehensible labelling. High protein yogurt allow food and beverage manufacturers to leverage the fact that consumers tend to find flavors yogurt products as natural and fresh. Hence, yogurt manufacturer are updating their inventories with more products having a natural flavor.
A Drift of Preference Towards Drinkable Yogurt from Plant based Sources
A closed scrutiny of global high protein yogurt market presents a vivid spectrum that how the market share might change over the course of next ten years. A paradigm shift in sources of high protein yogurt is anticipated, as a large number of customer will switch to plant sources in comparison to dairy based sources. The global high protein yogurt market is forecast to gain at least 200 bps in market share between 2020 and 2030.
Segments that are collectively anticipated to gain the market share over the span of next ten year is organic - in terms of nature, drinkable - in terms of product type. Regional market is also poised to reflect a drifted market behavior with heightened demand from Asia-Pacific region. A marginal shrink in share will be reported from North America and Europe, but volumes and value growth in these two regions will hardly witness any hindered growth.
Exhibit below explains anticipated changes in market share across regions.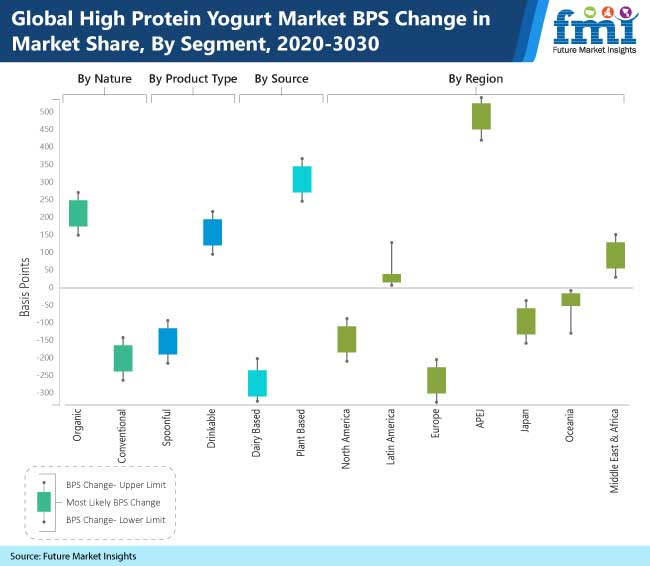 Clean Label Products Offer a Chance for Manufacturers
Increase in number of health conscious people across the world is encouraging various high protein manufacturers in the market to offer healthier alternatives for dairy-based products. Many consumers are turning vegetarian or vegan to maintain healthy lifestyles.
Customers are becoming more and more alert about their food consumption habits, which are uplifting the manufacturers in the global high protein yogurt market to come up with various products that have natural ingredients, so as to attract the health conscious population. Targeting vegan or vegetarian customers is becoming another popular driver that is boosting the plant based high protein yogurt market across the globe.
Preferences for Drinkable Yogurt Catching up Fast in Breakfast Category
Demand for more protein, improved nutrition and convenience is driving sales growth of drinkable yogurt as a way to fuel the body at the start of each day. Yogurt and fruit smoothies containing non-fat yogurt are becoming a part of many people's daily routines, and have greater nutritional value than most other popular breakfast options. In addition to yogurt's ability to help strengthen and build muscles and control appetite, it can also help consumers regulate digestion.
Food manufacturers can leverage these benefits in their formulations, making it easier to appeal to clean label initiatives and to comply with new label standards. While drinkable yogurt already stands out from spoonful forms, there are additional ways these products can capture the attention of shoppers.
In the past, mainstream flavors such as vanilla, strawberry and other fruit flavors were the norm, but innovative manufacturers are offering indulgent and appealing flavor profiles with reduced sugar and fat.
Strong Promotional Approaches to Construct Market Awareness
Strong promotional strategy is very helpful for the high protein yogurt market; with the help of informative and eye-catching advertisements, key producers can improve the customer base, as day-by-day consumers are becoming aware of the health benefits of plant-based high protein products.
Promotions or advertisements can be done via audio-visual means, or short films such as social media and distribution of leaflets. Social media is one of the best platforms for promotions of any product, and producers can take benefit of the large viewer base of common influencers to push their products portfolio.
In 2018, Epi Ingredients is introducing a product of high-protein yogurt made using ultra-filtered dairy powders, called SoBenefik. The latest launch is part of the SoUnik series of finish product concepts intended to highlight the capabilities of Epi Ingredients' offering.
Technological-based Product Innovation Open New Opportunities
With the increased expenditure on research and development, new and innovative sources are being researched with unique plant-based sources. Pea-based yogurt has been introduced by yogurt manufacturers in the market, opening new choices for consumers and creating new opportunities. Oats and oats-based products are gaining more popularity due to consumer's perception of oat as a super-food.
High protein yogurt made from oat milk is being introduced in the market by manufacturers, which is providing very wide range for the consumer preferences. Thus, high protein yogurt based on oat-milk has increased sales opportunities for the market. The technological advancement in food science is assisting the food ingredient producers to provide new solutions to surge the consumer demand for high protein yogurt. Starting from the procurement of raw materials till the final product, the authenticity of the product is maintained.
High Protein Yogurt Market Challenges- Stringent Government Regulations Expected to Hinder the Growth
Stringent government regulations are anticipated to be among the restraining factors for the high protein yogurt market. According to the data published by Vitafoods Europe, more than 50% of the nutrition companies face challenges because of the strict regulations that are present throughout Europe. Thus, severe rules and regulations are anticipated to hamper the sales of high protein yogurt. These regulatory frameworks differ among world countries, yet they all aim at regulating the safer use of stirred yogurt culture and thus, providing higher food quality.
Use of microorganisms and microorganism-derived food products is regulated by FDA, which has a status for safe use known as Generally Recognized As Safe (GRAS) in the U.S. If the microorganism or derived product for yogurt culture lies in the category of GRAS, it is approved by FDA for its utilization in the manufacturing of yogurt.
Top High Protein Yogurt Players in the Market
Companies operating in the global high protein yogurt market are expected to go through a stagnant phase in the forecast years owing to the unprecedented COVID-19 outbreak. This is expected to result in economic slowdown for the next 3-4 years.
As high protein yogurt is a convenience product and not a necessity for a large share of the population, the demand is expected to decline for a year or two and then gain regain momentum. The manufacturers of the high protein yogurt could concentrate on expanding their reach and launch products with proven health benefits.
FMI profiles some of the leading companies in the market. These include:
Americas
General Mills, Inc.
Chobani LLC
Stonyfield Farm, Inc.
Europe
Fage International S.A.
Groupe Danone
The Coconut Collaborative
Holos Integra
Epi Ingredients
High protein yogurt: The Way Forward
The real dollars in the global F&B industry lie in Asian economies that are fast becoming opportunity hotbeds for various global markets. Burgeoning population growth, high rate of urbanization, and increased disposable income ha lead to a rise in the basic standard of living in emerging economies.
These markets offer greater potential for F&B manufacturers to address the dietary shifts of consumers towards high-value products catering to local needs and tastes. F&B companies are implementing robust go-to-market strategies including collaborations and partnerships, M&A and divestitures, and organic growth to expand their presence in these high growth region to gain an edge in the market. An emerging middle class and increasing urbanization in the Asian country expected to have a positive impact on high protein yogurt sales in the upcoming years.
Key Segment
Nature
Product Type
Source
Flavor
Regular
Flavored
Berries
Vanilla
Chocolate
Peach
Mango
Banana
Apple
Others
Sales Channel
Food Service (HoReCa)
Store Based Retailing
Hypermarkets/Supermarkets
Food & Drink Specialty Stores
Independent Small Grocery
Online Retail
Global
North America
Latin America
Europe
East Asia
South Asia
Oceania
MEA
Need specific information?