Introduction
The report covers comprehensive information about the HSS (High-Speed Steel) Tools market dynamics, volume (Units) and value (US$ Mn) projections, competitive landscape and recent developments for the study period 2018 to 2028. The global HSS tools market, estimated to register a robust CAGR of 5.9%, is expected to reach over US$ 8,100 Mn by the end of 2028.
Positive Outlook Anticipated for Automotive Sector to Impact Market Growth
Growing demand for electric and hybrid vehicles in Europe and China has substantially increased the usage of new cutting tools for cutting and other manufacturing applications. High-Speed Steel tools, commonly known as HSS tools, are witnessing high adoption across the automotive industry and the market is likely to witness substantial growth in the coming years. Automotive OEMs are investing in retooling to improve their current manufacturing facilities, which in turn, will lead to high demand for HSS tools.
According to data provided by Chinese Bureau, the growth of the HSS tools market in China has been more average level of machinery industry this year, especially the profit growth is relatively higher.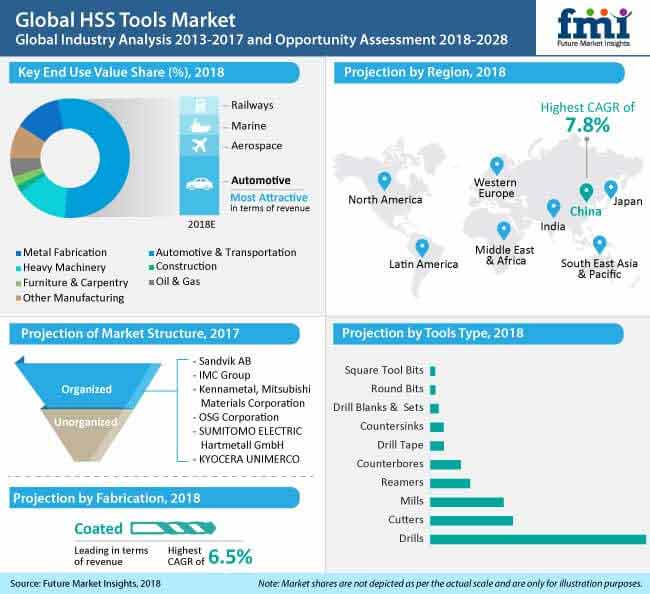 Federal Policies Pertaining to Manufacturing Industry Set to Trigger HSS Tools Market Growth
The Made in China 2025 Plan is a high-level industrial policy aimed at transforming China into a global manufacturing leader. Promoting indigenous innovation and domestic brands is the primary motive of this national plan. Further, with growing industrialization, urbanization and agricultural modernization, domestic demand for HSS tools is increasing.
From industrial equipment, heavy machinery, and marine, to aerospace and national defense, the demand for HSS tools will increase across many applications. This growth in domestic HSS tools demand will support rapid improvements in manufacturing technologies, improved commodity quality and safety and public infrastructure. The launching of new policies and strategies will further strengthen the demand outlook for HSS tools in China.
Drills to witness Notable Adoption Rate in HSS Tools Market
Most of the drilling operations are carried out using high-speed steel (HSS tools) drills only. In some cases, carbide tipped drills are employed for drilling operations. Solid carbide drills are costly and also suffer breakages as they are hard and brittle and hence, cannot withstand shock normally experienced in drilling operations. Further, more than 50% of metal cutting operations in the industry involve drilling. Subsequently, the demand for HSS tools will remain high in several industry applications.
Robust Machinery Production and Hefty Investments Creating Positive Outlook for HSS Tools Market
The long-term outlook for production of aircrafts and air transport MRO services remains positive. Increasing personal income has led to growth in travel across the globe, which in turn, is leading to growth of the HSS Tools market as well. At a macro level, expanding global economy is catalyzing urbanization and has led to emergence of the middle class, which will be great boosters for the market.
Moreover, the shipbuilding and ship repair and maintenance services industry plays a pivotal role in ensuring effective growth of overall seaborne trade and tourism business. Subsequently, modest demand for ships across the globe will also support the demand for cutting and HSS tools in the marine industry.
In an illustration below, FMI has presented the HSS Tools market share analysis by product type.
HSS Tools Market – Competitive Landscape
According to the analysis, the global HSS Tools market is primarily fragmented and a handful of stakeholders held significant market shares in 2018. In the global HSS Tools market, the top 6 to 8 players collectively account for more than 58% of the market share.
In the recent past, the HSS Tools market has witnessed significant developments from a competition perspective. Asia-Pacific is the prominent buyer of HSS tools, led by strong demand from China, India and South Korea.
Subsequently, demand for HSS tools is likely to increase in the coming years. Geographical expansion, product launches and development of new compositions in prominent regions, such as China, India and ASEAN, are some of the strategies being opted by prominent players to sustain in the global HSS Tools market.
Seco Tools, a division within the Sandvik Machining Solutions, acquired Kunshan Ousike Precision Tools Co., Ltd., a renowned supplier of round HSS tools in China with an aim to establish its presence in the country
The company YG-1 Co., Ltd. opened a new manufacturing plant in Brazil to focus on the production of end mills and other HSS tools in a bid to expand its business in the Latin America region in the coming years
Prominent players covered in this HSS tools market study include KYOCERA Corporation, Sandvik AB, YG-1 Co., Ltd., Makita Corporation, CERATIZIT S.A., Mitsubishi Materials Corporation, Guhring Limited, Allied Machine & Engineering Corp., IMC Group, OSG Corporation, Kennametal Inc., Elementos de Mecanismos, S.A. de C.V. (Elmec), Fullerton Tool Company, Sumitomo Electric Hartmetall GmbH, Xinrui Industry Co., Ltd., Sorma S.p.A., Fratelli Vergnano Srl, TDC Cutting Tools Inc., TSUNE SEIKI CO.,LTD. and Cutoutil Hardware Tools Co., Ltd.
Key Questions Answered in the Report
How has the HSS Tools market evolved over the past five years?
What shape is the HSS Tools market expected to take, in terms of volume and value, during the study period?
What are some of the prevailing market dynamics in the HSS Tools market?
What are some of the important competition developments and trends in the HSS Tools market?
What are the underlying macro-economic and industry factors impacting the growth of the HSS Tools market?
Which are the key opportunities, challenges and improvement factors for the market players in the HSS Tools market?
What are the market positioning and key strategies of key manufacturers as per the market taxonomy?
How is the competition structured in the HSS Tools market at present and how has it evolved over the past few years?
Key Segments
By Tool Type
Product Type
Drill Blanks & Setss
Square Tool Bits
Counterbores
Round Bits
Mills
Drills

Extra Length Drill
Double Ended Body Drill
Straight Flute Drill
Spiral Drill
Slow Helix
Tapin Pin Drills
Straight Shank Drills
Taper Shank Drills
Parallel Shank Drills
Aircraft Extension Drills
Worm Pattern Drills
Centre Drills
Spade Drills
Spot Drills
Slot Drills

Cutters

Back Spot Face Cutters
Slot Cutters
Routing Cutters
Corner Rounding Cutter
Single Flute Deburring Cutter
Annular Cutters
Dovetail Cutters
Woodruff Cutters

Countersinks

Single Flute Based
Flute Based

Reamers

Drill Reamers
Socket Reamers
Ball Pin Reamers
Taper shank Bridge Reamers
Angle Reamers
Sprue Bush Reamers
Extra Length Reamers
Chucking Reamers
Diemakers Based Reamers

Drill Taps

Combo Taps
Spiral Flute Taps
Spiral Point Taps
Taper Pipe Taps
Fluteless Taps
By Fabrication
By Configuration
By End Use
Metal Fabrication
Automotive and Transportation

Automotive
Railways
Aerospace
Marine

Heavy Machinery
Construction
Furniture & Carpentry
Oil & Gas
Other Manufacturing
By Region
North America
Western Europe
South East Asia & Pacific (SAEP)
Latin America
Eastern Europe
Middle East and Africa (MEA)
China
Japan
India
Need specific information?