Global HDPE Bottles Market Analysis: The APEJ region is projected to be highly attractive throughout the forecast period
Chemical and stress-crack resistance is an important property owing to which the use of HDPE bottles is increasing for chemicals, homecare products, milk products, pharmaceuticals, beauty & personal care items, and various others. The global HDPE bottles market is projected to expand at a CAGR of 3.1% by the end of 2028. The HDPE bottles market is segmented on the basis of cap type, bottle capacity, visibility, product type, end-user industry, and barrier type.
The popularity of plastic bottles for packaging is increasing over time due to their high durability, flexibility, and cost-effectiveness. In the global market, PET & HDPE bottles are used by end-users as per the need and nature of packaged products. End users opt for HDPE bottles instead of PET or other containers as they require excellent barrier-resistant and chemical-resistant containers.
HDPE bottles are an important packaging format in dairy products, juices, chemicals, pharmaceuticals, personal care & cosmetics, and home care & toiletries.
APEJ (the Asia Pacific excluding Japan) is projected to account for more than 40% of the market share in 2018 and grow at the highest CAGR among other regions. The reason behind this growth is the increased consumption of HDPE bottles from end-user industries such as healthcare and homecare.
HDPE bottles are better options for end users as compared to glass or PET bottles in terms of durability and cost. Due to the need for aseptic packaging and small-sized containers for drugs, the demand for HDPE bottles from the pharmaceutical industry is projected to grow at a remarkable rate.
In the APEJ region HDPE bottles market, India is projected to witness fast-paced market growth due to the increased population and development of medium-scale enterprises related to pharmaceuticals and chemical packaging industry.
China is expected to dominate the HDPE bottles market in the APEJ region
In the APEJ HDPE bottles market, China is projected to be the most important country due to high consumption and rapid growth in manufacturing of HDPE bottles. In China, government investments, growing industrialization, and exports to other developed economies are the key reasons for the improvement of the HDPE bottles market. The competition is mostly fragmented and served by various local and small-scale manufacturers.
Chinese consumers mostly prefer home care products packaged in 500 ml to 1 liter and above 1 liter HDPE bottles. In terms of pharmaceuticals production volume, China is the most prominent in terms of output, creating a large market for HDPE bottles. China and India together account for around 1/4th of the global pharmaceuticals production volume.
30 ml–100 ml HDPE bottles are widely used in the APEJ region
In the five main size ranges of HDPE bottles, the 30 ml–100 ml size format is ideal for the packaging of food additives, spices, paint additives, cosmetic products, drugs, ointment, and others. These products help to boost the demand for 30 ml-100 ml HDPE bottles. In the APEJ region, dropper and screw caps are commonly used closure types for the 30 ml–100 ml HDPE bottles.
The APEJ market is experiencing high demand for fluorinated HDPE bottles
The demand for fluorinated HDPE bottles is increasing from chemical, pharmaceuticals, and home care industries. The processing of HDPE bottles with fluorine offers cost-effective high barrier packaging solution as the production of single layer HDPE bottles and then adding a fluorine layer is highly economic relative to the production of multi-layer plastic bottle. Fluorinated HDPE bottles are an attractive option for the APEJ region end-users as the other alternatives such as, glass and metal containers, are expensive.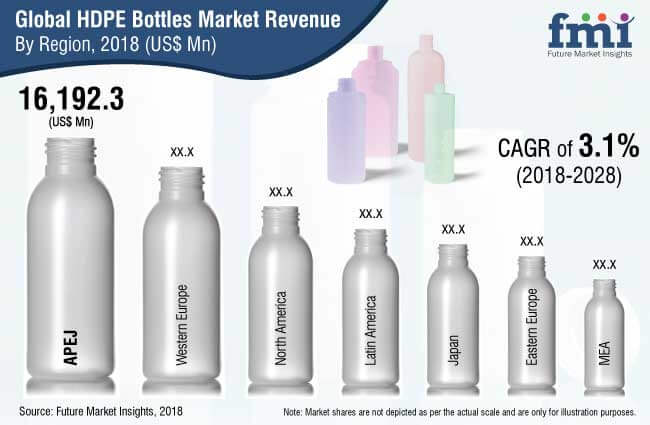 The homecare & toiletries industry is a highly attractive end-user segment for HDPE bottles in the APEJ region
In the APEJ region, about 1/4th of the HDPE bottles are used for the packaging of home care products and toiletries. High abrasion and chemical resistance to strong acids and alkalis are the key properties due to which manufacturers of homecare & toiletries prefer HDPE bottles. HDPE bottles have an excellent moisture barrier which is useful in packaging household cleaners.
Owing to good rigidity and stiffness, HDPE bottles are preferred for products such as disinfectants, drain cleaners, ammonia bleach, scouring powders, fabric cleaners, oven cleaners, polishes, detergents, dish-washing liquids, metal polishes, and stain repellents. By the end of the forecast period, the pharmaceutical industry is expected to be the biggest end user of HDPE bottles in the APEJ region due to its increased growth.
Detailed profiles of companies are also included in the HDPE bottles market report to evaluate their strategies, key product offerings, and recent developments. The key players in the global HDPE bottles market are Silgan Plastic Closure Solutions, O Berk Company LLC, Amcor Limited, CL Smith, RPC Group Plc, Gerresheimer AG, Berry Global Group Inc., Graham Packaging, Nampak Ltd, and ALPLA Werke Alwin Lehner GmbH & Co KG.
Market Segmentation
Analysis of HDPE bottles market, by Neck Type
Screw Closures
Snap Closures
Push-Pull Closures
Disc Top closures
Spray Closures
Dispensers
Dropper
Analysis of HDPE bottles market, by Bottle Capacity
Less than 30 ml
30 ml – 100 ml
101 ml – 500 ml
500 ml – 1L
Above 1L
Analysis of HDPE bottles market, by Visibility
Analysis of HDPE bottles market, by Product Type
Narrow Mouth Bottles
Wide Mouth Bottles
Analysis of HDPE bottles market, by End Use
Food & Beverage

Dairy Products
Juices
Others

Chemicals

Agro Chemicals
Industrial Chemicals
Lubricants & Petrochemicals
Specialty Chemicals

Pharmaceuticals
Personal Care & Cosmetics
Homecare & Toiletries
Analysis of HDPE bottles market, by Barrier Type
Low-barrier Bottles
High-barrier Bottles

Fluorinated Bottles
Polyamide (PA) Layers
Ethylene Vinyl Alcohol (EVOH) Layers
Analysis of HDPE bottles market, by Region
North America
Latin America

Brazil
Mexico
Rest of Latin America

Western Europe

Germany
France
U.K.
Spain
Italy
Benelux
Nordic
Rest of Western Europe

Eastern Europe

Russia
Poland
Rest of Eastern Europe

APEJ

China
India
Australia & New Zealand
ASEAN
Rest of APAC

Japan
MEA

GCC Countries
Turkey
South Africa
North Africa
Rest of MEA
Need specific information?