High Performance Message Infrastructure Market - Key Research Findings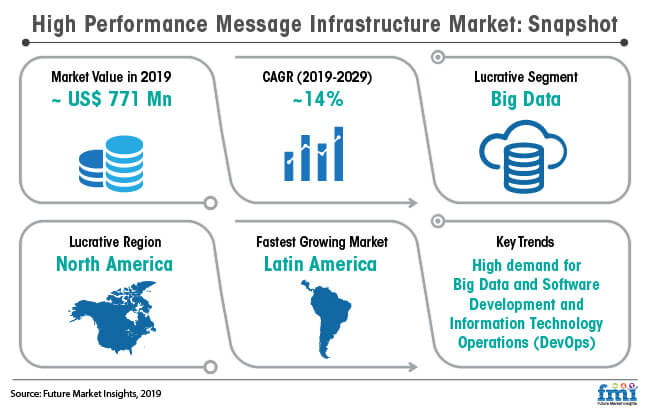 The global high performance message infrastructure market is set to be valued at ~US$ 771 Mn in 2019.
The high performance message infrastructure market is expected to grow at a CAGR of ~14% during the forecast period of 2019-2029.
Rapid growth of IT infrastructure, increasing scope for big data and software development and information technology operations (DevOps), and growing demand for cloud computing solution are factors that have been driving the high performance message infrastructure market growth.
North America is a prominent region for the high performance message infrastructure market, which accounted for a value share of approximately 28% in 2018. However, APEJ (Asia-Pacific excluding Japan) is expected to overtake North America during the forecast period, and become the most significant market for high performance message infrastructure.

APEJ and Latin America regions, due to their strong economic growth, rising industrialization, and growing IT infrastructure demand and supply, are expected to continue to be among the prominent regional markets for high performance message infrastructure.

In order to offer high performance message infrastructure, providers are opting for business collaborations and acquisitions with other small and regional players in the market to meet the growing demand in various end-use industries including BFSI, government, transport, and logistics.

For instance, in June 2019, Oracle Corporation and VMware, Inc., announced an expanded partnership to help customers leverage companies' enterprise software and cloud solutions. Through this new partnership, customers will be able to support their hybrid cloud strategies by running VMware Cloud Foundation on Oracle Cloud Infrastructure.

In May 2019, VMware Inc. acquired Bitnami, a leader in application packaging solutions, which provides the largest catalog for click-to-deploy applications and development stacks for major cloud and Kubernetes environments. This can accelerate application delivery for multi-cloud and Kubernetes and expand Bitnami in the enterprise.
Key Factors Shaping the High Performance Message Infrastructure Market
Persistent Storage to Back up Message Queue
High performance message infrastructure middleware consists of an inter-connected communication solution that mainly depends upon asynchronous message passing, as contradictory to request and response architecture. The message queue offers provisional storage, when the program is unavailable or busy, in case of asynchronous messaging.
Most asynchronous messaging middleware systems provide persistent storage back-ups for the message queues. Such factors are estimated to motivate enterprises to adopt high-performance message infrastructure solutions, contributing significant growth to the market over the forecast period.
Pairing Enterprise Service Bus (ESB) with Java Messaging Service (JMS)
Developers are offering Java Messaging Service (JMS) solutions paired with middleware solutions, such as Enterprise Service Bus (ESB), to face challenges posed by standalone JMS. The ESB generally resides on-top of the Enterprise Messaging System (EMS). This makes it simpler to board new systems by managing content routing and data transformation, which in turn, creates an agile application infrastructure featuring high adaptability to changes.
Rising Adoption of High Performance Message Infrastructure on IoT Platform
The foundation of Internet of Things (IoT) platform is an enterprise's messaging infrastructure. Such services include a device registration element and the associated status for handling the data. The portion of authentication/authorization to provide control of access to a network supply system provide computer software updates. Such core services use the underlying business communication network to communicate in the field with connected devices as well as with each other.
Growth Opportunities in Asia Pacific
Leading players in the high-performance message infrastructure market are focused on expanding their business across Asian Pacific countries such as India and China. Increasing investments by the governments in digitalization infrastructure led different high-performance message service providers to expand their businesses in these countries.
In addition, healthy economic growth in the region along with the continuing adoption of advanced technology including IoT and Platform-as-a-Service (PaaS) are generating significant growth opportunities for the high-performance message infrastructure market players.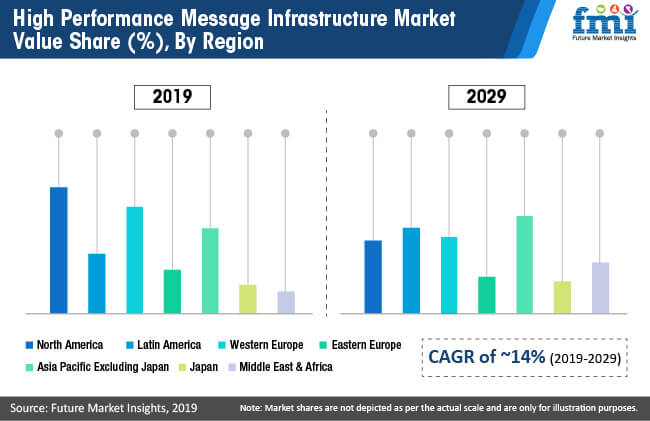 High Performance Message Infrastructure Market Structure Analysis
The global high performance message infrastructure market has a moderately concentrated competition landscape, where majority of key players are maintaining strategic focus on acquisitions & partnerships and new product innovations to target a stronger global footprint.
Increasing scope of applications and a competitive market have resulted in product differentiation and expansion strategies by providers of high performance message infrastructure. These factors give a competitive edge and strengthen their market share, specifically to the desired end-use industry.
Tier-1 energy & power quality meters providers account for ~46% of the overall market. Vendors such as IBM, Oracle, and SAP SE are among the largest and most experienced in the industry, and have a significant regional coverage across the globe.
Enabling Uninterrupted Operation via Asynchronous Communication
High performance message infrastructure offers a single and safe mutual messaging support for simpler integration of applications and services on various platforms, avoiding loss of information and ensuring uninterrupted functioning of systems despite fluctuating connectivity. In cloud frameworks, applications are disintegrated into tiny individual elements for easier design and coding. High performance message infrastructure enables the split cloud-based applications to interact with each other or with on-premises systems.
High performance message infrastructure improves architecture dependence following the messages are stored to disk until the service receiving the message confirms processing. The infrastructure allows applications and systems existing in different clouds - public or private - to interact, regardless of the locations.
Employing a high performance message infrastructure enhances fault resilience as well as protects information from being forged or compromised across topographically and technically distinct systems. Decoupling of services enable individual component to function regardless of the failure of neighboring services or applications – asynchronous communication network.
Furthermore, high performance message infrastructure find purpose in scenarios demanding high levels of security, fault tolerance, and precision, including flight reservations, or updating healthcare patient records.
Advanced Message Queuing Protocol for Effective Business Messaging
Banks, credit card firms, or exchange enterprises rely significantly on transference of information, where myriads of messages are exchanged a second and delayed arrival of news or messages becomes cost-prohibitive. AMQP (Advanced Message Queuing Protocol), combined with a messaging broker, assures efficient data transmission, as well as message storage in queues, enabling asynchronous communication - sender and receiver needn't have to operate around all and sundry.
AMQP runs at the application layer to enable message orientation, queuing, and routing, whilst offering concurrence, dependence and safety for transmitting information between businesses and applications.
The recipient (customer) gathers messages from the queue during available capacity rather than simply accepting and processing the information, followed by confirming the receipt to the sender (producer). As such, the producer is granted the opportunity to continue the operation, eliminating the issue of idle time and improving high throughput.
The advanced message queuing protocol forms a mutual base per se, allowing various applications to be scripted in diverse programming languages – C, .NET, and Python. Programs in various enterprises are able to straightforwardly interact with each other. Further, free availability of AMQP permit companies to leverage the protocol sans additional expenses.
APEJ Offers Plethora of Opportunities
Countries in APEJ, including China, and India, are spectated to lead the pack in the global high performance message infrastructure market. Customers are turning to digital mediums for monetary transactions, and apps to fulfil diverse purposes. Further, increased connectivity of electronic gadgets and consumers, resulting in generation of heaps of data requires digital engagement with authentic and approved messages. As such the demand for high performance message infrastructure surges in a bid to process voluminous data.
Stakeholders Benefit from Innovations in Cloud Computing, Machine Learning, and IoT
Innovation tops the list of market players' strategies while designing new solutions. IBM Corporation has launched Apache Kafka, a go-to solution, for creating highly scalable event-based systems. The solution offers swiftly improving capabilities for an event streaming platform that developers can use in modern business solutions.
Cloud services provide cost-effective solutions, for instance, Oracle Corporation has introduced Oracle Cloud Native Framework, a cloud native solution covering public, on-premises and hybrid cloud deployments with a rich set of cloud native managed services and on-premises software.
Market players are entering into collaborations to collectively deliver companies the ability to create a mutual enterprise employment framework to enable functioning of big data chunks in a hybrid way across on-premises, multi-cloud and edge architectures.
Service providers are focusing on innovation in machine learning, artificial intelligence, Internet of Things, and server-less computing to allow straightforward use for developers to build sophisticated machine learning models. Coupled with the performance and efficiency of reactive programming with a more flexible architecture, giving customers a strong foundation for building distributed, reactive message-driven applications.
How Growth Will Unfold
Data has emerged as a new currency of the digital economy and a new fuel for innovation. Developers, startups, and businesses, as well as government, education, and non-profit organizations are banking on high performance message infrastructure to operate their applications domestically, serve end-users with lower latency, and broader feature set. High performance message infrastructure is supporting airlines provide customer-specific items and services comprehensively, exhibiting an optimum high level of performance.
Utilizing blockchain technology will deliver users a single data source while handling account activity in real-time to manage rewards. With cloud - software-as-a-service (SaaS) model – witnessing significant upsurge, service providers will focus on offering cloud-based high performance message infrastructure.
Key Segment
Component
Hardware
Middleware
Managed Services
Use Case
Hybrid Cloud
Internet of Things(IoT)
Integration Platform-as-a-Service(iPaaS)
Platform-as-a-Service(PaaS)
Application Programming Interfaces (APIs) & Protocols
Software Development and Information Technology Operations (DevOps)
Big Data
Event-Driven Architecture
Other Use Cases
Industry
Energy
BFSI
Government
Manufacturing
Retail
Transport & Logistics
Telecommunication
Other Industries
Region
North America
Latin America
Western Europe
Eastern Europe
Asia Pacific
Excluding Japan
Japan
Middle East & Africa
Need specific information?