An Incisive, In-depth Analysis on the Hybrid Rice Seeds Market
This study offers a comprehensive, 360 degree analysis on the Hybrid Rice Seeds market, bringing to fore insights that can help stakeholders identify the opportunities as well as challenges. It tracks the global Hybrid Rice Seeds market across key regions, and offers in-depth commentary and accurate quantitative insights. The study also includes incisive competitive landscape analysis, and provides key recommendations to market players on winning imperatives and successful strategies.
The birth of hybrid rice seeds took place in the province of Hainan, China, in the year 1970, and the seeds were released for actual commercial cultivation in 1976. Today, China is the world's largest hybrid rice producing country, with around half of the rice cultivation in the country done with hybrid rice seeds. For the past few years, hybrid rice seed technology has been adopted by other neighboring countries as well. However, moderate to slow growth in the adoption of hybrid rice seeds is being seen. Rice is a staple food for most Asian countries, and is becoming a staple food in Latin America and African countries too, since people from these countries are now depending on rice for their source of daily protein and energy. Increasing rice demand around the world is driving the global hybrid rice seeds market.
Hybrid Rice Seeds – the Solution for Food Security for the Increasing Number of Mouths to Feed
Hybrid rice seeds play an important role in securing food for the future. Around half of the world's population is dependent on rice. Current rice production accounts for more than 715 million MT annually, and around half of it is produced in Asia under the rain-fed system that is highly dependent on climatic conditions. Due to global warming, frequent fluctuations in climatic conditions prove to be highly unfavorable and affect rice production, and challenges the food security for the future, which can be dealt with by using hybrid rice seeds. With the current fertility rate of 2.1, world population forecasted by the UN in 2050 is expected to be around 9.8 billion. Hence, rice production needs to increase proportionately as well. But with the area of land under cultivation for rice not increasing at a similar rate, and limitations in agricultural input such as the limit as to how much fertilizers can boost cultivation, farmers are facing challenges in improving yield. Hybrid rice seed varieties with improved heterosis yield around 15-20% more rice than the inbred rice varieties. The hybrid rice seeds market is likely to show promising growth in the future.
Hybrid Rice Seeds with Improved Adaptability to Certain Environmental Stresses
Tailor-made hybrid rice seeds can possess properties that fight adverse weather conditions or other stresses. Such hybrid rice seeds show better salinity tolerance, drought tolerance, flood tolerance, and low-temperature tolerance. Rice farmers in Indian states such as Uttar Pradesh, Bihar, and Maharashtra, as well as in Nepal, cultivate rice in rainfed lowlands with little irrigation or drought stress. Hybrid rice seeds that are the drought-tolerant variety will certainly have increased demand in these regions. Also, hybrid rice seeds possessing better tolerance for salinity provides an excellent solution for rice farmers in Vietnam who follow the a rice-after-shrimp farming method. These adaptabilities offered by hybrid rice seeds are helping in improving the livelihood of small farmers in such regions.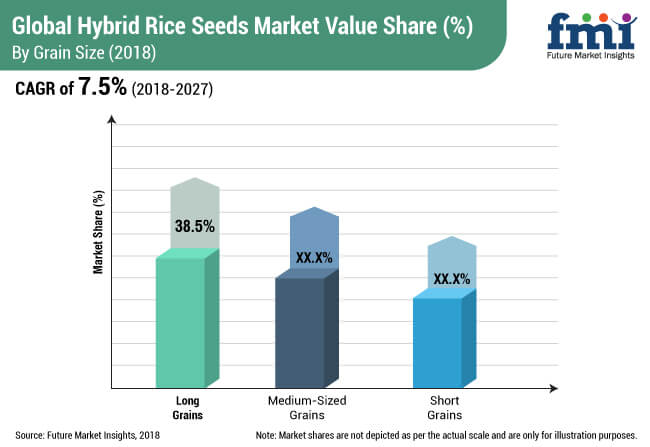 Phase V of Super Rice Breeding Program of China to Enhance Hybrid Rice Seeds
The hybrid rice seed technology in China is advanced as compared to other countries in the world. A program called Super Rice Breeding Program was introduced by the Government of China in 1996, with the target of increasing the yield of hybrid rice seeds for the increasing population. During the last two decades, there has been major developments through which scientists have successfully developed high yielding hybrid rice seeds. The program consisted of a total of four phases - recent phase III and phase IV hybrid rice seeds of the Super Rice Breeding Program achieved their goals in 2014 of reaching the desirable yield. Phase V hybrid rice seed breeding was announced in the year 2015, with the objective of reaching a rice yield of 16 tons per hectare. The constant efforts by rice breeders in China to develop new hybrid rice seeds has led to a yield breakthrough. Moreover, the Chinese government focuses on expanding its role for the aid and development of hybrid rice seed technology in Asian countries such as the Philippines, Vietnam, and Indonesia, through technology transfer. According to FMI analysts, the global volume of hybrid rice seeds in 2018 is estimated to be around 400,000 MT, of which China alone accounts for around 40%.
Artificial Intelligence to Aid Hybrid Rice Seed Technology in the Coming Years
This is the artificial intelligence era that started back in the 1950s to aid in collecting and analyzing huge amounts data, which otherwise was too cumbersome. Artificial intelligence is now aiding hybrid rice seed technology. The International Rice Research Institute, also known as IRRI, is collaborating with a Germany-based company, Computomics, to enhance the hybrid rice seed breeding process. Computomics is a biotechnology company that will use the latest bioinformatics tools to analyze the huge data available at IRRI. With the help of Computomics' artificial intelligence system, algorithm processing will enable the analysis of a large amount of data of genotype, phenotype, progeny, and grain quality of the parent rice, and provide millions of potential rice crosses to provide hybrid rice seeds in less time. This will allow IRRI to develop and test new and innovative hybrid rice seed varieties effectively, enhancing the growth of the hybrid rice seeds market.
FMI has compiled a study on hybrid rice seeds, which offers an analysis and forecast of the hybrid rice seeds market, in its publication titled, 'Hybrid Rice Seeds Market: Global Industry Analysis 2013–2017 and Opportunity Assessment 2018–2027'. This report on the hybrid rice seeds market covers some of the vital facets that are key influencing factors on the demand and supply of hybrid rice seeds over the next several years. An in-depth review of the growth drivers, potential challenges, unique trends, and opportunities for market participants equip readers to fully comprehend the overall landscape of the hybrid rice seeds market. The report on the hybrid rice seeds market also covers analysis of the key regions and countries of particular interest that are anticipated to become frontrunners or remain laggards over the forecast period. The report covers a historical analysis of the market from 2013 to 2017, and provides forecasts from 2018 to 2027 in terms of volume in metric tons and revenue in US$.
Hybrid rice seeds are a type of rice seed that is bred via a specialized seed production process using two different parent seed lines. As a result of controlled breeding, a variety of hybrid rice seeds with desirable characteristics is produced, which is generally termed as hybrid rice seeds that are non-identical to the parent seeds. The production and cultivation of hybrid rice seeds originated for the first time in China in 1976, and has been expanding in Brazil, U.S., and Asian countries such as India, Philippines, Vietnam, Bangladesh etc., in the past few years. Around half of the rice cultivated in China is from the hybrid rice seed variety, and the rice yield from hybrid rice seeds is more than that of the inbred rice variety. Hybrid rice seeds are developed with the point of view of developing high-yield hybrid vigor, i.e. high-yield heterosis, in order to achieve food security for the increasing population. Besides, characteristics such as drought-resistant, pest-resistant, etc., can also be introduced. The hybrid rice seeds that have been developed so far have shown an improved yield of around 15-20% over the inbred rice varieties, and research work is continuously being performed to reach an improved yield of 30%.
This report on the hybrid rice seeds market has been broken down into different chapters to enhance clarity and provide context. A brief executive summary at the beginning of the report consists of some of the key findings of the study on the hybrid rice seeds market, as well as market estimates and growth rates for important segments. The following chapter presents the definitions and scope of the study, as well as coverage in terms of the way the hybrid rice seeds market is structured. Subsequently, the chapter on the market background presents the evolution of hybrid rice seeds, relevant economic indicators such as GDP and per capita spending, including an assessment of the supply chain, policy developments, regulatory scenario, and dynamics impacting the hybrid rice seeds market, as well as an explanation of the factors considered important to develop forecasts and estimates. The report on the hybrid rice seeds market also includes a chapter on pricing analysis, highlighting price point variations between different regions and products, including pricing forecasts. The following chapters dive deep into the global hybrid rice seeds market, covering detailed information based on seed grain size and life cycle duration of the seeds. The next set of chapters provide region-wise analysis and forecasts of the hybrid rice seeds market, covering vital aspects of the markets in North America, Latin America, Europe, Asia Pacific excluding Japan, Middle East & Africa, and Japan.
A dashboard view of some of the key companies operating in the hybrid rice seeds market in terms of their offerings, regional presence, and other metrics is a precursor to the detailed profiles of these participants, including financial information, strategy overview, SWOT analysis, and market share, as well as analyst commentary. Some of the key players analyzed in the hybrid rice seeds market report include Bioseed Research India Pvt. Ltd., Biostadt India Limited, Krishidhan Seeds Pvt. Ltd., Nuziveedu Seeds Ltd., Rasi Seeds (P) Ltd., RiceTec Inc., Ankur Seeds Pvt. Ltd., Biostadt India Limited, DuPont Pioneer, Advanta Limited, Ganga Kaveri Seeds Pvt. Ltd., Syngenta AG, Bayer CropScience, etc.
For the estimation of the market size of hybrid rice seeds, production in various regions/countries was taken into account. Different grain sizes of the seeds were considered while collecting the data for the hybrid rice seeds market. To cross-reference the estimates of overall supply, the utilization of hybrid rice seeds as a proportion of the overall rice crop cultivated was taken into consideration. Regional production as well as the utilization of hybrid rice seeds was considered for market sizing. The market size of hybrid rice seeds with different ranges of life cycle was analyzed. This was cross-validated with the market share of hybrid rice seeds within the overall hybrid seeds market. The prices of hybrid rice seeds have been collected at the manufacturer level to arrive at the market size for hybrid rice seeds.
Our team of analysts review and interpret data from a variety of sources. Data attributed to 'FMI' is derived by using a combination of various approaches, which are then consolidated, interpreted, and extrapolated by FMI analysts. Data is sourced from government statistics, trade associations, company annual reports and investor presentations, press articles and directories, technical publications, and online databases, which are cross-referenced with FMI's reports and internal repository of data to filter and validate the collected information. Intelligence gathered from desk research is supplemented by extensive interviews with selected key expert participants across the value chain, not only to gain information specific to their roles and operations but also to obtain their perspective and insights of the issues impacting the hybrid rice seeds market.
Hybrid Rice Seeds Market: Segmentation
By Grain Size:
Long Grains

Medium-sized Grains

Short Grains
By Duration:
Up to 110 Days

111 to 140 Days

140+ Days
By Region:
North America

Latin America

Europe

Japan

Asia Pacific excluding Japan

Middle East & Africa
COVID -19 : Impact Analysis
Request the coronavirus impact analysis across industries and markets
Request Covid -19 Impact
CASE STUDIES
See how our work makes an impact.
At FMI, we design strategies that are adaptive, impactful, and implementable.