Introduction
The birth of hybrid rice seeds took place in the province of Hainan, China, in the year 1970, and the seeds were released for actual commercial cultivation in 1976. Today, China is the world's largest hybrid rice producing country, with around half of the rice cultivation in the country done with hybrid rice seeds.
For the past few years, hybrid rice seed technology has been adopted by other neighboring countries as well. However, moderate to slow growth in the adoption of hybrid rice seeds is being seen.
Rice is a staple food for most Asian countries, and is becoming a staple food in Latin America and African countries too, since people from these countries are now depending on rice for their source of daily protein and energy. Increasing rice demand around the world is driving the global hybrid rice seeds market.
Hybrid Rice Seeds – the Solution for Food Security for the Increasing Number of Mouths to Feed
Hybrid rice seeds play an important role in securing food for the future. Around half of the world's population is dependent on rice. Current rice production accounts for more than 715 million MT annually, and around half of it is produced in Asia under the rain-fed system that is highly dependent on climatic conditions.
Due to global warming, frequent fluctuations in climatic conditions prove to be highly unfavorable and affect rice production, and challenges the food security for the future, which can be dealt with by using hybrid rice seeds.
With the current fertility rate of 2.1, world population forecasted by the UN in 2050 is expected to be around 9.8 billion. Hence, rice production needs to increase proportionately as well. But with the area of land under cultivation for rice not increasing at a similar rate, and limitations in agricultural input such as the limit as to how much fertilizers can boost cultivation, farmers are facing challenges in improving yield.
Hybrid rice seed varieties with improved heterosis yield around 15-20% more rice than the inbred rice varieties. The hybrid rice seeds market is likely to show promising growth in the future.
Hybrid Rice Seeds with Improved Adaptability to Certain Environmental Stresses
Tailor-made hybrid rice seeds can possess properties that fight adverse weather conditions or other stresses. Such hybrid rice seeds show better salinity tolerance, drought tolerance, flood tolerance, and low-temperature tolerance. Rice farmers in Indian states such as Uttar Pradesh, Bihar, and Maharashtra, as well as in Nepal, cultivate rice in rainfed lowlands with little irrigation or drought stress.
Hybrid rice seeds that are the drought-tolerant variety will certainly have increased demand in these regions. Also, hybrid rice seeds possessing better tolerance for salinity provides an excellent solution for rice farmers in Vietnam who follow the a rice-after-shrimp farming method.
These adaptabilities offered by hybrid rice seeds are helping in improving the livelihood of small farmers in such regions.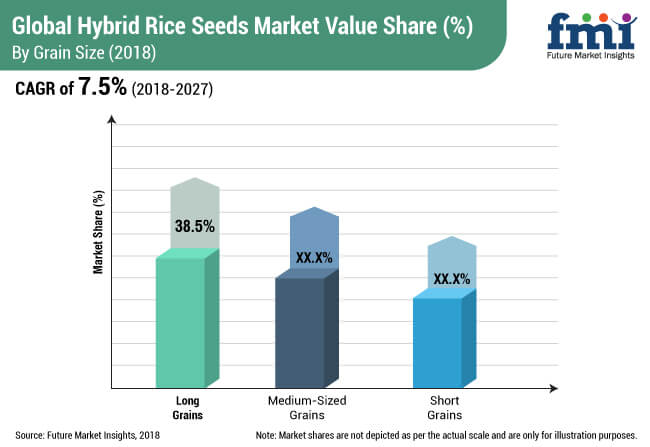 Phase V of Super Rice Breeding Program of China to Enhance Hybrid Rice Seeds
The hybrid rice seed technology in China is advanced as compared to other countries in the world. A program called Super Rice Breeding Program was introduced by the Government of China in 1996, with the target of increasing the yield of hybrid rice seeds for the increasing population.
During the last two decades, there has been major developments through which scientists have successfully developed high yielding hybrid rice seeds. The program consisted of a total of four phases - recent phase III and phase IV hybrid rice seeds of the Super Rice Breeding Program achieved their goals in 2014 of reaching the desirable yield.
Phase V hybrid rice seed breeding was announced in the year 2015, with the objective of reaching a rice yield of 16 tons per hectare. The constant efforts by rice breeders in China to develop new hybrid rice seeds has led to a yield breakthrough.
Moreover, the Chinese government focuses on expanding its role for the aid and development of hybrid rice seed technology in Asian countries such as the Philippines, Vietnam, and Indonesia, through technology transfer.
According to FMI analysts, the global volume of hybrid rice seeds in 2018 is estimated to be around 400,000 MT, of which China alone accounts for around 40%.
Artificial Intelligence to Aid Hybrid Rice Seed Technology in the Coming Years
This is the artificial intelligence era that started back in the 1950s to aid in collecting and analyzing huge amounts data, which otherwise was too cumbersome. Artificial intelligence is now aiding hybrid rice seed technology.
The International Rice Research Institute, also known as IRRI, is collaborating with a Germany-based company, Computomics, to enhance the hybrid rice seed breeding process. Computomics is a biotechnology company that will use the latest bioinformatics tools to analyze the huge data available at IRRI.
With the help of Computomics' artificial intelligence system, algorithm processing will enable the analysis of a large amount of data of genotype, phenotype, progeny, and grain quality of the parent rice, and provide millions of potential rice crosses to provide hybrid rice seeds in less time.
This will allow IRRI to develop and test new and innovative hybrid rice seed varieties effectively, enhancing the growth of the hybrid rice seeds market.
Hybrid Rice Seeds Market: Segmentation
By Grain Size:
Long Grains
Medium-sized Grains
Short Grains
By Duration:
Up to 110 Days
111 to 140 Days
140+ Days
By Region:
North America
Latin America
Europe
Japan
Asia Pacific excluding Japan
Middle East & Africa
Need specific information?
Talk Show:
The Rise of Intelligent Packaging
Personalized, Connected and Sustainable
November 18, 2021
11:00-11:45 AM PST (USA & Canada)
This is a LIVE session