Hydraulic Gear Pumps Market Outlook & Key Findings
Hydraulic gear pumps market will witness a growth rate of just about 3% in 2021 over that projected for 2020
In the following decade, these is expected rise in demand for material handling equipment and construction equipment will primarily drive the sales of hydraulic gear pumps
Increasing demand for low maintenance pump solution from various end users, as hydraulic gear pumps are having relatively high maintenance costs that lead to increasing operating expenses
Despite high maintenance costs, controllable output and ability to tackle a wide range of viscosities continue to drive preference for hydraulic gear pumps over other pump types
A majority of market participants are developing long-term agreements and collaborations with OEMs for long-term business opportunities and a competitive advantage in global market
In Sync with Construction Industry's Growth
Hydraulic gear pumps find their fitment in the various construction equipment. In developing economies, such as India, Brazil, China, Argentina, urbanization is taking place at a faster rate, which in turn is expected to boost the growth of the construction industry.
Rampant expansion of the residential sector to cater to surging demand for urban housing spaces, especially across fast developing economies, is also supporting the growth of construction industry, and thereby pushing sales a broad range of construction equipment, including hydraulic gear pumps.
Versatility, Price Range and Right Fitment Applicability - Key Growth Levers
Hydraulic gear pumps have been traditionally used in various end-use industries, owing to their simple design, flexibility, and ease of use along with their versatility. These characteristics make hydraulic gear pumps an ideal choice for application in various chemical and industrial processes. Additionally, hydraulic gear pump price remains within an affordable range when compared with other substitute pump types that are available on market.
Increasing demand for industrial equipment from a large number of industries is directly linked to the demand for hydraulic gear pumps. Rising demand for user-friendly pump solutions, coupled with right fitment, will continue to bolster the demand for hydraulic gear pumps throughout the forecast period, 2020 - 2030.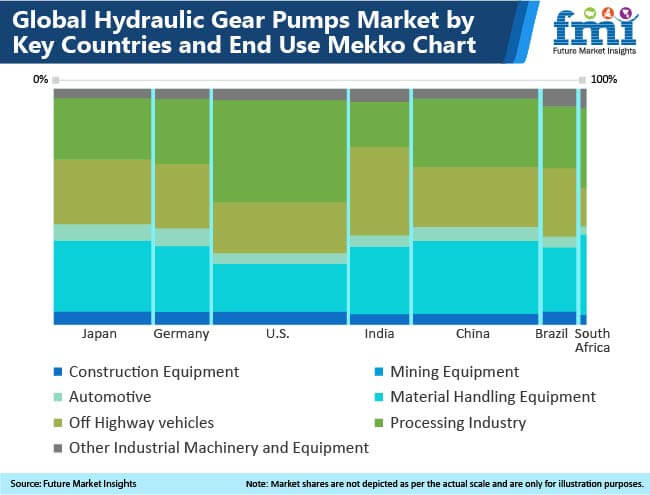 The share of hydraulic gear pumps in terms of end use varies in key markets. The above Mekko chart represents an elucidated view of end use share of hydraulic gear pumps in 7 key countries, including Japan, Germany, the US, India, China, Brazil and South Africa.
The share of off highway vehicles is higher compared to other end use segments, particularly in Japan, China and South Africa. Automotive and processing industry are also shown as the key end-use segments; the share of former is greater in India whereas that of latter is larger in the US.
Threat of Substitutes: Key Challenges Facing Hydraulic Gear Pumps Manufacturers
In the recent years, factory automation has steadily gained traction. The construction equipment industry players are significantly utilizing intelligent machines significantly to improve the rate of industrial production, making it more energy- and cost-efficient. They are also focusing on maintaining the sustainability quotient by minimizing waste generation.
To meet the evolving requirements of consumers across the globe, end users are utilizing alternative pump solutions hydraulic gear pumps, owing to their operational inefficiency as compared to other advanced counterparts available on the market. For instance, electrically controlled medium pressure pumps are often preferred over gear pumps in case of agricultural equipment.Increasing adoption of other alternative pumping solutions such as piston pumps is expected to hamper demand for hydraulic gear pumps over the forecast period.
Hydraulic Gear Pumps: Region-wise Analysis
In the global market, East Asia, especially China and Japan would remain leading consumers of hydraulic gear pumps owing to strong presence of several production facilities of the construction equipment, material handling equipment and construction equipment including key players such as Mitsubishi, Hangcha Group and Komatsu Ltd among others. Alone Japan is holding more market share than Latin America and Middle East & Africa.
Alternative option for China, majority of the end use industry players are planning to shift to their production facilities to India and ASEAN countries due to COVID-19 impact. Supporting government initiatives by these governments could attract the global players to these countries which directly influence the opportunity for the said region. Moreover, North America also remain another key market, it currently captures around 3X market value when compared with that of Middle East & African market
Leading Suppliers in Hydraulic Gear Pumps Market
The global hydraulic gear pumps market is fairly fragmented owing to the presence of several players across the globe. Market participants are entering long-term contracts with OEMs to maintain their stronghold on long-term business opportunities in market.
Strategic collaborations with domestic players will continue to be a preferred developmental strategy in an effort to gain a competitive advantage. Expansion of the product portfolio and development of the distribution network will also be the key strategic moves of top players in hydraulic gear pumps market. Some of the market leaders in hydraulic gear pumps market include,
Americas
Parker Hannifin Corp
Roper Pump Company
Viking Pump Inc.
Bailey International, LLC
Europe
CASAPPA S.p.A.
Bucher Hydraulics Gmbh
Bosch Rexroth AG
Linde Hydraulics GmbH & Co. KG
Settima Meccanica Srl
Asia Pacific
Dynamatic Technologies Ltd
KYB Corporation
Daikin Industries Ltd
Kawasaki Heavy Industries, Ltd.
*The list is not exhaustive, and only for representational purposes. Full competitive intelligence with SWOT analysis available in the report
Hydraulic Gear Pumps: The Way Forward
Demand for hydraulic gear pumps will remain largely influenced by the overall performance of end-use industries. The long-term outlook of hydraulic gear pumps market remains stagnant, with FMI's analysis estimating revenues to grow consistently at over 3%. Key market players have been focusing on strategic expansions by developing stronger distribution networks to enhance their market presence.
This strategy would help companies to expand their foothold in new markets to withstand in a competitive environment in the hydraulic gear pumps market. External gear pumps are estimated to remain popular at a global level by the end of the forecast period. FMI's analysis positions India and ASEAN countries as the top potential markets over the coming decade. Moreover, East Asia will retain its dominance in global market throughout the forecast period.
Hydraulic Gear Pumps Market: Taxonomy
The global hydraulic gear pumps market is segmented in detail to cover every aspect of the market and present complete market intelligence to the reader.
Type
External Gear Pumps
Internal Gear Pumps
Operating Pressure
Upto 15 bar
15 - 50 bar
50 - 150 bar
150 - 250 bar
250 - 300 bar
More than 300 bar
End Use
Construction Equipment
Mining Equipment
Automotive
Material Handling Equipment
Off Highway Vehicles
Processing Industry

Chemicals
Petrochemicals
Oil & Gas Refineries
Others

Other Industrial Machinery and Equipment
Region
North America
Latin America
Europe
South Asia & Pacific
East Asia
Middle East & Africa
Need specific information?