Agricultural Equipment Market Outlook & Key Findings
Agricultural equipment market is projected to witness growth of 4.8% during the forecast period 2020–2030
Utilization of advanced cropping and harvesting techniques to eliminate or reduce manual labor and turn-around time is a significant factor fueling market growth
Integration of agricultural equipment with smart farming techniques is leading to better crop quality and enhanced volume
High focus on farm productivity to maximize ROI remains key driver of agricultural equipment market growth
The use of AI through robotics and machine learning to control weeding is leading to reduced use of fertilizers thus incurring cost savings for farmers
Technology enabled agricultural equipment is assisting farmers in making strategic decisions with regard to pricing, demand and weather conditions thus improving the supply demand equation
Demand for Agricultural Equipment Scaling up with Generous Subsidies
By 2050, calorie requirements of an average person will increase by 3,130 calories, up 11% from the year 2003. This would further entail a 70% increase in agricultural production by the year 2050.
Thus developing countries, plagued by food scarcity are will scale up on the production and adoption of modern agricultural equipment and farm tools to sustain high demand for agricultural produce.
Technology has spread its tentacles in agriculture with greater penetration of cost-efficient agricultural machinery and equipment. Whilst many farmers especially in developing countries wish to avail these technologies, funding continues to remain a concern.
Thus governments of various countries are coming forward to finance small-scale farmers with subsidies in accordance with the latest trends. Subsidies at 25%-30% of the overall cost of the equipment have proved to be beneficial to farmers and this will be a key factor supporting the growth of the market. For instance:
In 2004, China introduced subsidies by phasing out
agricultural tax, increased its spending on the development of rural farming and incentivized modern agricultural tools
The federal government of US incurs an expenditure of more than US$ 25 Billion towards subsidies on wheat, cotton and rice cultivation which are high in demand
Government of India gives out subsidies to the tune of 40% of the total cost incurred by rural entrepreneurs for custom hiring and setting up of farm machinery banks
Subsidies for equipment such as tractors, rotavators, straw balers and post hole diggers are acquiring significance as they are commonly in use. These schemes are thus helping to reduce the overall cost of cultivation and also facilitating the purchase of indigenous machines for timely cultivation.
Agricultural Equipment Market not an Outlier in COVID-19 Crisis, Market to Witness Subdued Momentum
The institution of lockdowns in viral epicenters has led to massive disruptions in the supply chains of critical agricultural equipment. Further, demand for tractors and other farming equipment has diminished with inter-state border closures.
While labor shortages are compelling farmers to resort to mechanization, agricultural equipment dealerships are shuttered and credit lines are cut off. This is having an adverse impact on demand for tractors as 90%-95% of them are purchased on credit. As sales of tractors do not fall under the ambit of essentials, the uptake of tractors will be severely hindered in the near term.
Digital Leasing to Broaden Market Prospects in Foreseeable Future
Digital Leasing has positioned itself as a key denominator in agricultural equipment market growth. Governments and ministries in emerging regions are attuned to latest developments and have also launched new mobile phone applications for agricultural equipment rentals. These apps help poor farmers to rent tractors and rotavators on a flexible time scale.
These apps show custom hiring centers for equipment within a certain kilometer radius. Once the equipment is booked, it is delivered at the doorstep thus helping farmers access affordable and cutting-edge technology. Many stakeholders in this space are exclusively entering into on-demand rental services.
Bayer (Germany) uses innovative digital tools to help farmers with insights related to harvesting, planting and seeding. Similarly EM3 AgriServices in India launched a mobile phone application for farmers in the state of Madhya Pradesh, through which farmers can order and lease equipment in the comfort of their homes. Glen Isle Farms Ltd- an agricultural products supply company in Ontario US is using precision technology while hiring out its farming equipment.
How Contract Farming has Spearheaded a New Era of Agricultural Process Innovation
Countries such as India are highly attuned towards the needs of farmers. This has spearheaded the contract farming act which puts great emphasis on the protection of farmers' interests. The act has led the way for organized farming.
It also encourages companies engaged in food processing to invest in farming technology and provide the same for farmers. These are seasonal agreements that protect farmers from market risks, unpredictability. Such contracts do include the provision of agricultural equipment, technology and managerial skills that help align farmers with what the market wants.
In the present pandemic, contract farming is helping poor and small-scale farmers to mitigate the impact of the virus on their revenue earnings and secure supply chains. Further, through the introduction of appropriate farm equipment technology, better choices are being made by farmers with regard to field cultivation and harvesting.
Adoption of Smart Agriculture – A Billion Dollar Technology in the Offing
The penetration of technology has boosted the trend of incentivization for purchase of farm equipment. Smart farming has proliferated in a big way. At the helm of futuristic technology is IoT, AI, machine learning and predictive analysis which are being successfully incorporated into agricultural equipment.
Precision agriculture is helping small and large scale farmers to enhance crop yield. By deploying sensor technology and integrating it with agricultural equipment, farmers are able to conserve soil, measure its properties and carry out extensive and precision based mapping of their fields.
Manufacturers in the agricultural equipment market are also looking at the introduction of innovative solutions for small farms. Mini robots also called 'rowbot' are helping farmers in field processes such as mulching and fertilizing using precision technology.
Agricultural Equipment Market: Specialty Retailers and Imports to Pave Way for Prolific Offerings
Countries in APAC such as India have a very diverse equipment portfolio which caters to farmers' needs across the value chain. Specialty retailers in these countries offer tractors, tillers as main products of a very organized market. Similarly, the market is exhibiting consistent growth in the exports of agricultural equipment. This is largely seen in terms of value, driven by high demand for tractors which continue to capture a significant chunk of the trade pie.
However, the covid-19 crisis has affected sales from imports owing to unavailability of transportation. The challenge, as well as the opportunity, for retailers and local manufacturers will be to offer a broader range of products that consumers usually expect.
Lack of Access to Organized Finance Services and Various Emission Norms: Key Challenges for Agricultural Equipment Industry
Many farmers still lack access to organized finance and depend on unorganized moneylenders. Furthermore, high interest rates in certain countries, such as Brazil, restrain the farmers' capacity to purchase agricultural equipment.
Various rules and regulations are also forced on the use of agricultural equipment which is creating challenges for the market growth. Furthermore, wide variety of choices for the customers coupled with increasing fragmentation of land is the challenge for the growth of the market in coming years.
The products sold/imported in the EU countries must comply with the extensive EU regulatory schemes. These include REACH (Registration, Evaluation, Authorization and Restriction of Chemicals), WEE (Waste Electrical and Electronic Equipment Directive) and RoHS (the Restriction of Hazardous Substances Directive)
Agricultural Equipment Market Regional Analysis: Europe Remains Largest Manufacturer
Europe is scaling up in a big way when it comes to farming machinery and agricultural equipment. The region also remains a key export region of agricultural tools and equipment. The country's forte lies in agricultural equipment for grasslands, arable fields and livestock.
Many of the biggest names in Europe are successfully showcasing their unique brand through agricultural machinery manufacturing of feeding equipment, tilling equipment and spraying.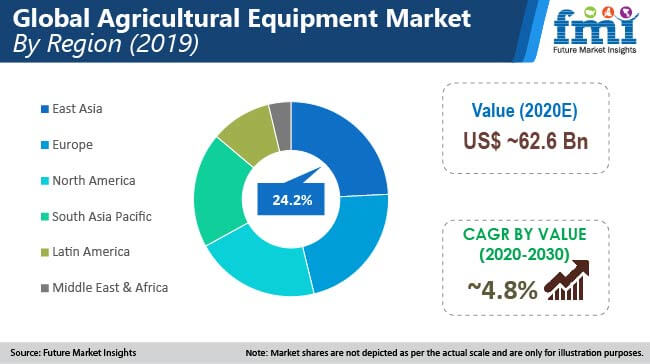 North America, in particular, the US will capture a significant revenue share. Farmers in US are conversant with the latest technologies to improve crop yield.GPS tracking systems and telematics to gauge machinery speed are boosting market prospects within the country.
The agricultural equipment market has consistently shown significant growth rate in Latin American countries such as Mexico, Brazil, etc. and the region is set to grow at over 15% in 2020.
East Asia as a region showcases a bright market outlook for agricultural equipment. Many economies in the region are in the midst of a transition from outdated farming practices to mechanization. High labor costs and the soaring numbers of agricultural subsidies are some of the major reasons for high growth of the market in this region.
Agriculture Equipment Market: Competitive Intelligence
The agricultural equipment market is consolidated in nature. Deere & Company, Kubota Corporation and Mahindra & Mahindra Ltd are some of the leading players.
Market leaders are playing a key role in providing modern agricultural equipment for improved crop yield and reducing time and effort for farmers.
For instance, Mahindra & Mahindra limited offers state of the art rice transplanter solutions for farmers at the time of rice production. Its tractor brand has continued to record the highest sales. It portfolio also includes intricately designed harvesters that are highly suitable for smaller sized lands and help in reducing grain loss at the time of harvest.
New entrants on the other hand are targeting their offerings at small-scale farmers with smaller holdings. In emerging regions for instance, new start-ups are collaborating with tractor owners through integrated technology for farm equipment sharing.
Agricultural Equipment Market: The Road Ahead
With modern agriculture becoming highly mechanized, the market for agricultural equipment looks promising and is slated for more security in terms of crop yield.
Farmers having consistent access to agricultural machinery and equipment will be harvesting crops in a more sustainable and cost-effective manner. We anticipate a highly evolved market landscape with nuanced Agtech solutions that will remain key to feeding an ever increasing population.
Agricultural Equipment Market: Taxonomy
The global Agricultural Equipment market is segmented in detail to cover every aspect of the market and present a complete market intelligence approach to the reader.
By Product type
Tractors
Rotavators
Threshers & Dehuskers
Power Tillers
Power Weeder
Plough
Baler
Seed Drill
By Category
Tractor Pulled / Attachment
Self-Propelled
By Ownership
By Regions
North America
Latin America
Europe
East Asia
South Asia & Pacific
Middle east & Africa
Need specific information?