Agriculture Nets Market By Type (Shading Nets, Anti-hail, Anti-insects), Form (Woven, Non-woven Form), Application (Farming Area, Animal Husbandry, Horticulture and Floriculture), End Use (Industrial Agriculture, Sustainable Agriculture), Material Type (Metal, Plastic, Rubber) & Region - Forecast to 2020-2030
Global Agriculture Nets Market - Analysis, Outlook, Growth, Trends, Forecasts
August 2020

REP-GB-12302

200 pages
Key Research Findings – Global Agriculture Nets Market
Global agriculture net market to register a CAGR of 5% between 2020 and 2030
Increasing interest in gardening to raise usage of agriculture nets
Use of agriculture nets in aquaculture and animal husbandry to create new revenue streams
Food self-sufficiency initiatives to boost sales of agriculture nets across agrarian societies
South Asia and Pacific to dominate global agriculture net market as economies within region remain focussed on agriculture for primary sustenance
Self-sufficiency to Boost Demand for Uptake of Agriculture Net to Increase Crop Yield
Agricultural activities are based on detailed effort toward preserving the crops. From pesticides to sheltering the crops, it is vital that farmers make the right investments in agricultural equipment. As the food crisis looms, Future Market Insights has observed a high demand for agriculture nets.
Also known as shade nets, these primarily protect the crop from eminent danger amongst many other things.
The demand for agriculture nets is expected to soar in the coming decade as countries across the globe aim at self-sufficiency to feed national population and reduce dependence on other countries.
Increasing focus towards national food self-sufficiency, after the food crisis of 2006-2007, the demand for agriculture nets has witnessed a definite spike.
A little over a decade later, as the world tries to navigate its way through a pandemic, agricultural yield is being reassessed by countries, boosting the demand for equipment. Thus, analysts predict that agriculture nets will gain a renewed interest and momentum in the coming ten years.
Emerging Trend of Permaculture in Agricultural Activities Shifts Focus towards Maintaining Temperatures in Greenhouses
While technological advancements are always spoken about and garner attention, there is a shift in this trend across urban and rural landscapes. Growing number of farmers are going back to ethics of farming with permaculture principles to build a genuine yield that is healthy and nutritional.
A system based on reducing monocultures to rectify the extensive usage of fertilizers, pesticides, and overall decreased oil quality has increased the demand for agriculture nets. These nets provide remarkable protection from insects, fungus, and mildew amongst others.
The biggest demand in the agriculture sector to reduce the cost of energy is also being served by use of these nets. A shade cloth can effectively lower energy costs by reducing the need for fans by keeping the inside temperature cooler for crops to grow in warmer months.
For the same purpose, farmers both large and small scale ones are expected to install reflective shade cloths that reflect the sun's radiation outwards instead of absorbing it and raising the temperature in the greenhouse.
The unique quality of reflective agriculture nets keeps the daytime temperature cooler and night time temperature warmer, making it exceptionally conducive for plants and crops to grow.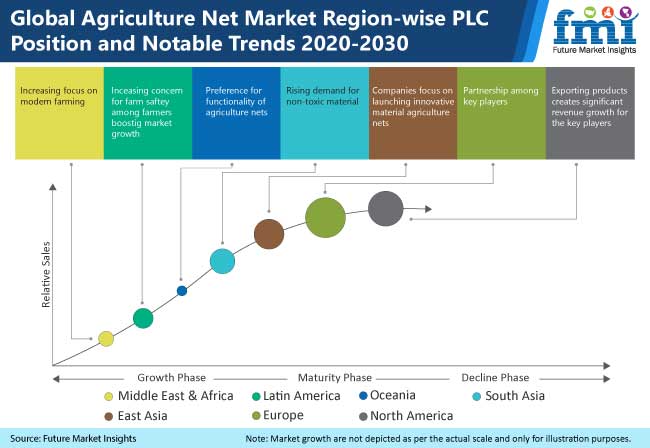 The increasing focus on modern farming and need to prevent crops from over exposure to the sun, heat, and dust is expected to drive the demand for agriculture nets in the Middle East and Africa.
Latin America's concern about safety from insects and bugs is expected to coax farmers to ensure farmlands and crops remain adequately covered with shade nets.
Partnerships will be seen as an evolving trend in the Europe agriculture nets market. On the other hand, Oceania and South Asia will focus on functionality of the product and usage of non-toxic materials to prevent harmful exposure to crops.
Interest in Terrace Gardens and Urban Jungles Creates Wider Scope for Agriculture Nets
Future Market Insights states that the demand for agriculture nets will be extensive in not just commercial farming but also in household farming. Growing awareness about self-sufficiency and increasing focus on better eating habits has got many people interested in growing kitchen gardens.
With more and more number of people building their own kitchen gardens, the sale of agriculture nets is sure to see a rise. Built on terrace spaces, these household greenhouses are ideal for generating a yield for a small family unit.
With access to knowledge about how to build a small vegetable garden, terrace greenhouses are sure to give the global market for agriculture nets a shot in the arm.
Ability to grow your own crop in the most organic way possible is projected to play critical role in driving consumers to build terrace greenhouses, thereby boosting demand for agriculture nets.
Need to keep the crop safe from birds, pests, unwanted insects, and mildew will create a steady growth rate for this market from the household segment in the coming decade.
The global agriculture net market is also garnering attention from gardening enthusiasts. In recent years, the intensifying trend of building urban jungles has created a moderate demand for agriculture nets. Not particularly grown in greenhouses, but certain houseplants are nurtured in protective spaces before they are added to homes.
This has also led to a booming number of nurseries, which always need agriculture nets to keep plants for cultivation prior to sale. Availability of a variety of agriculture cloths that offer varying degrees of shade from 5% to 95% has also given the vendors in the market a wider scope to sell products.
Furthermore, from loosely woven to knitted with aluminium, the wide choice of shade nets is expected bode well for the market.
Building Shaded Areas Increase Sales Avenue for Agriculture Nets
The use of agriculture cloth has also been for reasons beyond agriculture. For instance, woven shade cloth made out of polypropylene finds extensive usage in covering pet kennels for shade in warmer temperatures, shading patios, and making wind screens. Agriculture cloth that is UV stabilized can withstand extreme sun exposure is usually preferred to create cooler, shaded areas.
Their easy to install nature has created a demand in areas such as aquaculture and pisciculture, which has seen a spike as dietary habits have undergone a significant change.
Bird Netting for Effective Aquaculture Helps Vendors to Tap Growing Market
The demand for agriculture nets is also felt across the growing aquaculture and pisciculture industry. The demand for fish with rise of food and beverages and restaurant industry and soaring exports and imports are being catered to by aquaculture.
Agriculture nets are used by aquaculture vendors as bird netting and to create shade to prevent damage due to over exposure to sun.
Demand to ensure specific and cooler water temperatures that mimic that of ocean temperatures have fuelled the demand for these nets. End users have also realised its key role in achieving predator control and visibility screening, which are playing a critical role its extensive usage.
Knitted agriculture net that comes with a long-term warranty of about 10-15 years becomes a onetime investment for end users, yielding excellent return of investment.
Rise of Construction Activity Increases Demand for Agriculture Nets to Keep Excessive Moisture Away
Agriculture cloth or shade net also finds extensive and rather indispensable usage in construction activity. While the construction activity came to a near half amidst the unavoidable lockdowns and strict social distancing norms, the demand is expected to pick up as construction resumes.
Building repairs, restoration, and preservation work is also expected to boost the demand for agriculture cloth during the forecast period. This net is used to cover up unfinished work as it offers effective protection from excessive heat and rainfall. The demand for agriculture cloth extends to covering swimming pools as well when not in use.
Global Agriculture Net Market: Regional Analysis
In terms of region, the global agriculture net market is dominated by Asia Pacific. Strong presence of players and predominantly agrarian countries are expected to keep this region in the lead. Analysts predict that the demand for agriculture nets will remain high in countries such as India and China as wide population base will demand a good yield.
Additionally, as farming continues to the main source of income in these countries the usage of agriculture nets will remain extensive. Analysts also predict that demand for agriculture cloth will remain high as the aquaculture and construction activities also gain momentum.
Investments in infrastructural activities such as building of metros and stations in urban areas is also projected to bode well for this regional market between 2020 and 2030.
Meanwhile, North America and Europe will also a steady demand for agriculture cloth as developing terrace gardens becomes an emerging trend. Awareness about benefits of growing a kitchen garden is expected to drive the demand for agriculture nets across these developed regions in the coming ten years.
Global Agriculture Net Market: Competitive Analysis
The competitive landscape in the global agriculture net market is exceptionally fragmented. Presence of large number of players, lower barrier to entry, and relatively easy product to make has made the competition stiff in the market. This has also given several local players an advantage to position their product in the booming economies that are expected to witness a rise in construction activities, aquaculture industry, and agriculture.
Some of the key players operating in the global agriculture net market are:
Fiberweb (India) Ltd.
Shakti Polyweave Pvt. Ltd
Low & Bonar PLC
Garware-Wall Ropes Ltd.
JX Nippon ANC, Inc.
Freudenberg & Co. KG, Ltd.
Koninklijke Ten Cate
Don & Low Ltd.
UNIMIN India
Diatex, B&V Agro Irrigation Co.
Neo Corp International Limited
Beaulieu Technical Textiles
Capatex, Shree Tarpaulin industries
Belton Industries, Inc.
Others (As per the request)
Global Agriculture Net Market: Way Forward
As the focus shifts toward strengthening agrarian societies the demand for agriculture cloth is projected to spike. Analysts predict that with locust attacks, wildfires, and threat of food crisis is expected to propel farmers to invest in excellent quality agriculture nets.
Development of a variety of agriculture nets that offer UV, heat, and light protection along with scope for enhancing photosynthesis is expected to improve sales in the coming years.
Furthermore, terrace gardening as a means to live sustainably in urban areas is also expected to create lucrative growth opportunities for the global agriculture net market in the coming decade.
World's Most Profilic Intelligence Engine
Get Access To The World's Largest Market Research Database.
Sign Up Now
Key Segment
Type
Shading Nets
Anti-hail
Anti-insects
Windbreak
Others
Form
Application
Farming Area
Animal Husbandry
Horticulture and Floriculture
Aquaculture
Others
End Use
Industrial Agriculture
Sustainable Agriculture
Price Range
Economic
Mid-range
Premium
Material Type
Metal
Plastic
Rubber
Others
Sales Channel
Hypermarkets/Supermarkets
Specialty Stores
Departmental Stores
Independent Stores
Hardware Stores
Farm Equipment Stores
Other Sales Channel
Region
North America
Latin America
Europe
South Asia
East Asia
Oceania
MEA
Need specific information?
Our Clients