Insulin Delivery Pens Market By Indication (Diabetes Type I, Diabetes Type II), Distribution Channel (Hospital Pharmacy, Retail Pharmacy, Online Sales, Diabetes Clinics), Product Type (Reusable Insulin Pens (Refillable Insulin Pens, Bluetooth Connected Smart Insulin Pens), Disposable Insulin Pens, Smart Insulin Pen Caps) & Region – Forecast 2017 – 2027
Insulin Delivery Pens Market - Analysis, Outlook, Growth, Trends, Forecasts
November 2017

REP-GB-5605

200 pages
Introduction of new products in the global insulin delivery pens market
The global market for insulin delivery pens witnessed a minor slowdown in the Covid-19 crisis as all the factories were closed and supply of only basic necessity goods was permitted. Since the lockdown has been lifted up to improve economic conditions, the manufacturing companies are trying hard to gain traction and attract customers globally through innovative launches and technological upliftments in 2021.
Major manufacturing companies including Biocon Ltd., Antares, BD, Eli Lilly, Owen Mumford, Ypsomed, Sanofi, Novo Nordisk, Haselmeier, SHL are investing in the establishment of a strong distribution network to remain competitive in the market. They are adopting business strategies such as sales contracts, strategic alliances, acquiring technical expertise, product approvals, patents and events, joint ventures, partnership agreements, collaborations, digital marketing, mergers and acquisitions, capacity utilisations, technological advancements etc to lead the global market for insulin delivery pens with largest market share.
For instance, Novo Nordisk launched its smart insulin pen which comes with inbuilt bluetooth. The smart pen can record the dose of insulin and maintain timely logs. The best part about this pen is that it does not pain that much when compared to the normal insulin pens. Moreover, in 2021, the Roche's diabetes management app known as mySugr's Logbook announced the incorporation of the Novo Nordisk's connected insulin pens: the NovoPen 6 and NovoPen Echo Plus. In addition to this, Novo Nordisk and Medtonic announced their collaboration to develop solutions for the utilization of insulin dosing data from Novo Nordisk smart insulin pens in Continuous Glucose Monitoring (CGM) devices from Medtronic, such as the Guardian Connect system.
North America is predicted to rule the global market for insulin delivery pens through 2030 owing to the increasing number of diabitic people. The next in the list are Europe and Asia Pacific regions. The increasing expenditure on healthcare by governments is creating immense opportunities that are propelling growth for the key players to extend their presence throughout the world.
With the advancements in technology, many new products are being introduced in the global insulin delivery pens market. The types of products currently available include reusable insulin pens, disposable insulin pens and smart insulin pen caps. Reusable insulin pens include different types of pens that can be used over and over again.
Types within the reusable insulin pens category include refillable insulin pens, Bluetooth connected smart insulin pens and USB connected smart insulin pens. Disposable insulin pens contain a prefilled cartridge and the entire pen is disposed or thrown away when the cartridge is empty, allowing a one-time dose adjustment. Smart insulin pen caps record dosage data and helps patients with diabetes to manage their condition more effectively.
Reusable insulin pens is the largest segment by product type in the global insulin delivery pens market, which is estimated to represent over US$ 3,400 Mn, or 64.6% share of the total market in 2017 and is projected to reach over US$ 9,100 Mn by the end of 2027, expanding at a robust CAGR of 10.2% over the forecast period 2017–2027.
The second place in the global insulin delivery pens market is taken by the disposable insulin pens segment, which is behind the reusable insulin pens segment in terms of revenue, but is expected to grow at a higher CAGR of 11.0%.
Advanced features of Bluetooth connected smart insulin pens make it the most popular product type
The new slew of insulin pens with Bluetooth and cloud based technology has transformed the whole diabetes management system across the global healthcare industry. Bluetooth connected smart insulin pens have the ability to track insulin dosage and critical dose data, such as time, date and amount of insulin administered to a patient. This results in an accurate dosing allowing more efficient diabetes management.
It enables automatic transfer of patient data via Bluetooth technology to the patient's smartphone. This data can then be transferred to a cloud-based platform, making it accessible to healthcare providers. Bluetooth connected smart insulin pens enable target type 1 and type 2 diabetic patients to have mobile access to their insulin dosage data along with a more accurate record of therapy.
The Bluetooth connected smart insulin pens sub-segment is expected to grow at a strong CAGR of 10.9% during the forecast period. However, refillable insulin pens will still lead the market with the highest market value throughout the forecast period. Disposable insulin pens hold a significant share in the global insulin delivery pens market with the second highest market value of over US$ 5,300 Mn estimated by the end of the forecast period in 2027. The smart insulin pen caps segment is expected to grow at a high CAGR of 11.2% during 2017-2027.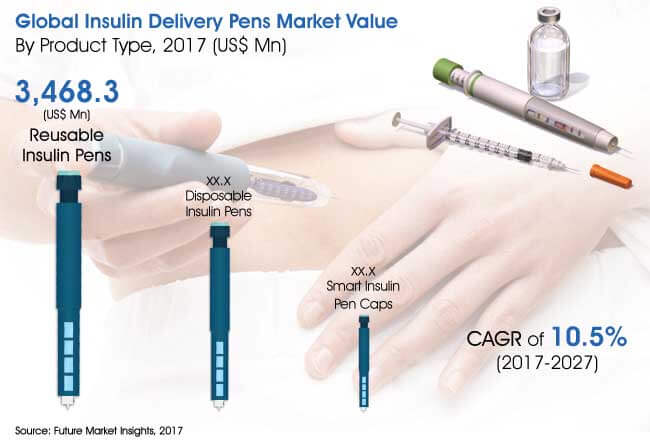 Rise in needle stick injuries in North America boosting regional demand for smart insulin pens
North America represents the most lucrative market for insulin pen products, followed by Western Europe and APEJ. North America and Caribbean accounted for more than half of the healthcare expenditure spent on diabetes treatment with the USA accounting for US$ 320 Bn in 2015. High incidence rate of needle stick injuries and associated serious consequences persuade health care professionals to use injection pens in North America.
Also, in North America there has been strong presence of industry players who are applying for new product indication. The North America insulin delivery pens market is expected to witness a market value of just under US$ 2,000 Mn in 2017 and this is estimated to increase to over US$ 5,500 Mn by the end of the forecast period in 2027.
World's Most Profilic Intelligence Engine
Get Access To The World's Largest Market Research Database.
Sign Up Now
Key Segment
Indication
Diabetes Type I
Diabetes Type II
Distribution Channel
Hospital Pharmacy
Retail Pharmacy
Online Sales
Diabetes Clinics
Region
North America
Western Europe
Eastern Europe
Latin America
APEJ
Japan
MEA
Product Type
Reusable Insulin Pens

Refillable Insulin Pens
Bluetooth Connected Smart Insulin Pens
USB Connected Smart Insulin Pens

Disposable Insulin Pens
Smart Insulin Pen Caps
Need specific information?
Our Clients