Insulin Pens Market by Product Type (Reusable Insulin Pen, Disposable Insulin Pens, Smart Insulin Pen Caps, Insulin Pump), Indication (Type 1, Type 2), Distribution Channel & Region - Forecast to 2021-2031
Insulin Pens Market - Analysis, Outlook, Growth, Trends, Forecasts
July 2021

REP-GB-13518

200 pages
Insulin Pen Market Snapshot
[200 Pages Report] The incidence of diabetes is rising as poor lifestyle choices remain prevalent across the world. Insulin pens are widey adopted solution for administering treatment to diabetes patients. Considering this, Future Market Insights forecasts sales of insulin pen to total US$ 30,407 Mn in 2021.
Rising at a CAGR of 4.4% between 2021 and 2031, insulin pen market value is forecast to reach US$ 46,906.4 Mn by 2031. Insulin pens for type 2 diabetes patients will contribute to over 70% of insulin pen sales through 2031. Demand in this category is expected to rise at a CAGR of above 4%.
Key Points Covered in Insulin Pen Market Study
Insulin Pen Market estimates and forecast 2016-2031
Key drivers and restraints impacting market growth
Segment-wise, Country-wise, and Region-wise Analysis
Competition Mapping and Benchmarking
Brand share and Market Share Analysis
Key Product Innovations and Regulatory Conditions
COVID-19 Impact on Insulin Pen Market and How to Navigate
Recommendation on Key Winning Strategies
2016-2020 Insulin Pen Market Outlook Compared to 2021-2031 Forecast
According to Future Market Insights (FMI), the sales of insulin pens have grown at a 3.9% CAGR between 2016 and 2020. Insulin pens are designed for the people who suffered from Type 1 or Type 2 diabetes.
For the treatment of Type 1 and Type 2 diabetes various products are used like reusable insulin pen, disposable insulin pens, smart insulin pen caps, and insulin pumps. These pens are gaining popularity because they ensure easy administration of medication, while maintaining higher accuracy of dosages.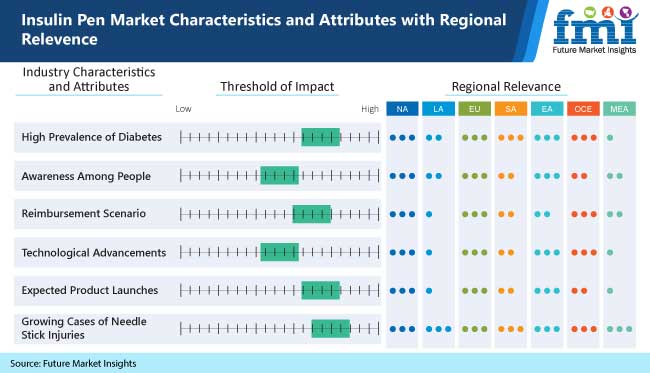 With an aim of making patient care mor convenient, some of the leading companies are introducing advanced versions of insulin pens. For instance, in February 2020, NovoNordisk expanded its production capacity for manufacturing a wide range of facilities related to the diabetes. In October 2018, NovoNordisk announced their plan of launching its two connected insulin pen – NovoPen 6 and NovoPen Echo Plus.
Significant capital investment is required in the development stages of advanced insulin pens. With the rise in the number of new entrants, the overall research and development (R&D) expenses are projected to rise, along with collaborations and licensing agreements with research and academic institutes.
The demand for insulin pens also will rise on account of increasing healthcare spending in developed countries. Emerging markets, especially large markets such as India and China, have significant untapped potential. This will present attractive opportunities for the market to capitalize on. Future Market Insights expects the global insulin pen market to rise at 4.4% CAGR between 2021 and 2031.
How is the High Prevalence of Diabetes Affecting the Insulin Pen Market?
When the human body is not able to produce or utilize enough insulin it leads to the situation of diabetes. It can result in various health issues including cardiovascular diseases. According to the World Health Organization (WHO), approximately 1.2 million deaths were caused due to diabetes in 2019 worldwide.
As a result, the growing number of diabetes cases in the world will create demand for the better treatment options to manage insulin levels, thus driving the growth of overall global insulin pen market.
How will Technological Advancements Affect Insulin Pen Sales Growth?
In the case of insulin pens, advancements in technology and use of advanced designs are preferred over conventional methods of administering insulin such as syringes and needles. The use of smart phone and internet technologies are being integrated with insulin pen offerings. It makes the process faster and accurate.
Emerging market players are engrossed in developing advanced devices including smart pens and smart insulin caps that can be connected through mobile technologies. E- Commerce is gaining popularity in the last few years owing to the prominence of the internet.
Also, the COVID-19 pandemic has created a scenario in which e-commerce is preferred due to the social distancing rules. Thus, online availability of diabetes management systems for provides great opportunities for market growth.
What are the Factors Restraining the Demand for Insulin Pens?
The high cost of insulin pens is restricting the adoption of these products and generating hesitancy to replace conventional products. Insulin pens cost approximately USD$ 500 which is high as compared to other methods.
Also, a lack of understanding regarding associated technology among diabetes patients is also restricting the insulin pen market. The devices are fairly complex to produce, which creates difficulties for users. Such obstacles would have a direct impact on the overall user convenience of insulin delivery pens, thus limiting revenue generation.
What is the Impact of the COVID-19 Crisis on the Insulin Pen Market?
The COVID-19 pandemic moderately impacted the growth of the insulin pen market. This was mainly attributed to the rising number of diabetes patients in the world during the period. This is especially important as diabetics are vulnerable to morbidity and mortality from the virus.
Many people lost their jobs due to pandemic, which has led in difficultty for the patients to adopt expensive diabetes management products like insulin pens.
Also, on the other hand, pandemic has enhanced the demand of online sales, with many users prefering home delivery of the products like insulin pens and other diabetes care products to avoid exposure to the virus while following social distancing guidelines.
Insulin Pen Market - Country-wise Insights
What Supports Increasing Insulin Pen Sales in the U.S.?
The U.S. holds over 93% share of the insulin pen market in North America. In the U.S., the market is driven by research collaborations and license agreements for healthcare products. Rising technological advancements gives opportunities to manufacturers to launch innovative products to targeted diabetes management.
Moreover, key players are focusing on strategies such as new product launches in the country for diabetes management solutions. In January 2021, Insulet Corporation introduced OmipodDASH Insulin Management Systems.
What are the Factors Driving Revenue Generation in the U.K.?
The U.K. market accounts for over 18% of the Europe market through the assessment period ending in 2031. Rising prevalence of diabetes patients and technological advancement in the healthcare sector are key factors speeding growth in the U.K. market for insulin pen production and sales.
What is the Key Factor Enabling Growth in Germany?
Germany's market accounts for over 25% market share of Europe throughout the forecast period. The key players of the country are focused towards expanding their presence in the country through the launches of innovative products into the market.
For instance, in August 2016, Emperra GmbH E-Health Technologies launched its Bluetooth insulin pen with automatic wireless data transfer expanding its ESYSTA product system in Germany.
What are the Favorable Policies Driving the Japan Market?
In 2021, the Japan market is estimated to account for more than 38% of the sales registered in East Asia. Increasing healthcare spending has improved the healthcare infrastructure in the country, while boosting the demand for innovative medical products in countries like Japan.
In 2020, Japan spent ~18% of its GDP on healthcare. This benefits key players of the country to expand and launch new products in the healthcare sector.
What is the Scope of Growth for Insulin Pen Manufacturers in China?
The market for insulin pens in China is exhibiting a 4.7% CAGR, and is expected to account for more than 48% of the East Asia market throughout the projection period. Large emerging markets, especially in China have a great opportunity in expansion. This can be broadly attributed to continuous improvements towards the concept of treatments and the availability of innovative products.
Insulin Pen Market - Category-wise Insights
How are Reusable Insulin Pens Contributing to Revenue Generation?
Reusable insulin pens are displaying a high growth potential in the coming years. It is projected to grow at CAGR of 4.1% in the near future with revenue totalling US$ 16,810.0 Mn for 2020.
Insulin pens are widely used by the diabetes patients instead of conventional syringe and needle owing to ease of administration superior accuracy.
What is the Market Share of Type 2 Diabetes?
Type 2 diabetes solutions will continue to dominate the market during the forecast period and are expected to hold around 70% of the market share through the end of 2031. Higher number of type 2 cases and investments into associated research drives growth.
What is the Scope of Growth for Online Sales?
Despite hospital pharmacies currently leading the market, online sale have displayed significant scope for growth in the insulin pen market with a 5.7% CAGR in the forecast period.
This will be primarily attributed to higher acceptance of online sales channels which provides discounts and offers as a low-cost alternatives in addition to home delivery services.
Insulin Pen Market - Competitive Landscape
Manufacturers in the insulin pen market are primarily aiming to carry out strategic acquisitions, collaborations, and product launches in the upcoming decade.
For Instance, Sanofi introduced its reusable insulin delivery pen – Lantus ClikSTAR in Canada in October 2020.
In February 2021, Eli Lily & Co. collaborated with Welldoc to link Lily's upcoming connected insulin device and therapies.
In June 2021, Bigfoot Biomedical announced its acquisition of intellectual property assets of Common Sensing to strengthen its insulin delivery portfolio.
Insulin Pen Market - Scope of the Report
Attribute

Details

Insulin Pen Market Forecast Period

2021-2031

Historical Data Available for

2016-2020

Insulin Pen Market Analysis

USD Million for Value/ Units in Million for Volume

Insulin Pen Market Key Countries Covered

US, Canada, Germany, U.K., France, Italy, Spain, Poland, Russia, China, Japan, South Korea, India, Thailand, Malaysia, Indonesia, Australia, New Zealand, GCC Countries, Turkey, South Africa

Insulin Pen Market - Key Segments Covered

Product Type, Indication, Distribution Channel, and Region

Insulin Pen Market - Key Companies Profiled

NovoNordisk A/S
Sanofi
Eli Lilly
Diamesco Co., Ltd.
BigFoot Biomedical, Inc
Medtronic plc
Emperra GmbH E-Health Technologies
YpsoMed AG
DUKADA Aps

Report Coverage

Market Forecast, Competition Intelligence, DROT Analysis, Market Dynamics and Challenges, Strategic Growth Initiatives

Customization & Pricing

Available upon Request
World's Most Profilic Intelligence Engine
Get Access To The World's Largest Market Research Database.
Sign Up Now
Insulin Pen Market by Category
By Product Type:
Reusable Insulin Pen

Refillable Pens
Bluetooth Connected Smart Insulin Pen
USB Connected Smart Insulin Pen
Cartridge

Disposable Insulin Pens
Smart Insulin Pen Caps
Insulin Pump
By Indication:
Distribution Channel:
Hospital Pharmacy
Retail Pharmacy
Online Sales
Diabetes Clinic/Center
Region:
North America
Latin America
Europe
East Asia
South Asia
Oceania
Middle East and Africa (MEA)
Key Questions Answered in the Report
How much is the global insulin pen market worth?
The global insulin pen market is estimated to be worth over US$ 30 Bn by 2021.
What is the demand outlook forecast for the insulin pen market?
The global insulin pen market is forecasted to surpass US$ 46.9 Bn by the end of 2031.
What was the last 5 year CAGR exhibited by the insulin pen market?
Between 2016 and 2020, the insulin pen market grew at a 3.9% CAGR.
What is the share of top 5 players in the insulin pen market?
Novonordisk A/S, Sanofi, Medtronic Plc, Eli Lilly, and Diamesco Co. Ltd. are leading companies, accounting for 59.9% of the global market.
Who are the top 5 countries driving demand for insulin pens?
The U.S., Canada,Germany, the U.K., and China are the top countries reflecting consistently high demand.
What is the North America insulin pen market outlook?
North America is a leading market accounting for 62.8% of the global value share in 2021.
At what rate will the insulin pens sales increase in Europe?
The Europe market for insulin pens is projected to grow at a 3.7% CAGR through the assessment period.
Which countries are key producers of insulin pens?
The U.S., Denmark, and France are leading producers of insulin pens.
Which companies are key exporters of insulin pens?
NovoNordisk A/S, Sanofi, Eli Lilly, Diamesco Co., Ltd., BigFoot Biomedical, Inc, Medtronic plc, Emperra GmbH E-Health Technologies, YpsoMed AG, and DUKADA Aps are the top exporters of insulin pens.
What are the key statistics of the insulin pen market in China and Japan?
China and Japan account for 4.4% and 3.4% of the global insulin pens market in 2021.
Need specific information?
Our Clients