Lubricant Packaging Market - Key Research Findings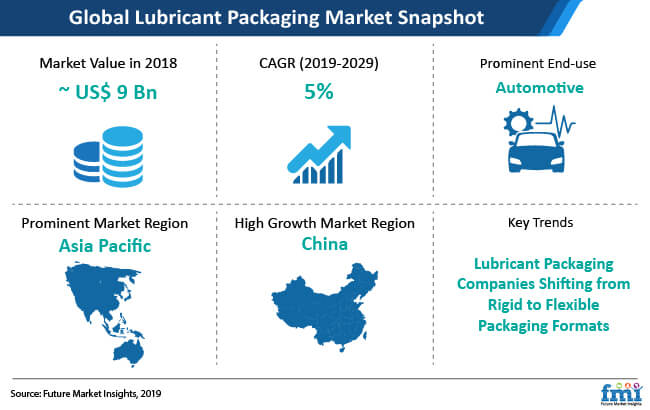 The global lubricant packaging market size was ~ US$ 9 Bn in 2018.
The lubricant packaging market is expected to grow at a CAGR of ~5% during the forecast period of 2019-2029.
The adoption of lubricant packaging in automotive industry is predicted to account for relatively high sales.
Collectively, Asia Pacific and Europe are expected to account for ~60% revenue share in the lubricant packaging market, by the end of 2029.

The presence of an adequate number of prominent lubricant packaging manufacturers in these regions is ultimately contributing to the market.

Middle East & Africa and developing countries will continue to hold a high potential for the growth of the lubricant packaging market.

Increase in trade between developed and developing economies for industrial oil and other fluids are expected to drive the lubricant packaging market growth.
Key Factors Shaping the Lubricant Packaging Market
Industry Consolidation through Strategic Collaborations

Lubricant packaging companies are focusing on expanding their business through mergers and acquisitions. Such strategy will help increase the global presence as well as the production capacity of the company. These factors played a significant role in the alliance between Duplas Al Sharq LLC and Mauser Group B.V.

These players aim to expand their product range to cater to the demands of multiple end-use industries

In February 2018, Pack Logix Inc. acquired lubricant & packaging division from Phillips 66 with all its assets.
In April 2016, Martin Operation Partnership L.P acquired Mega Lubricants Inc. a lubricant packaging company. Following the acquisition, the two companies formed a new entity – Martin Midstream Mega Lubricants

Lubricant Packaging Companies Shifting from Rigid to Flexible Packaging Formats

Manufacturers of lubricant packaging industries are moving towards flexible packaging format, due to its affordability and convenience. Flexible packaging format such as stand-up pouches and bag-in-box are gaining more attention from lubricant packaging industries. Increase in demand for small packs lubricant packaging has resulted in paradigm shift towards flexible packaging format.

It also results in high product to packaging ratio, due to its portability as compared to rigid plastic oil bottle or other rigid packaging format. Flexible packaging products are much lighter than rigid plastic bottles and comparatively consumes 60% percent less plastic, thereby garnering significant traction in the lubricant packaging space.
Global Lubricant Packaging Market: Regional Analysis
Asia Pacific is expected to be a prominent market for lubricant packaging during the forecast period. It is expected to observe a CAGR of over 6% during the forecast period. Europe and North America lubricant packaging markets are expected to hold collective revenue share of 50% in the global lubricant packaging market.
Asia Pacific will continue to be the highly lucrative region for lubricant packaging market throughout the forecast period. The amount of export carried out in China, India, and Japan from automotive industry has been influence the demand for lubricant packaging in the Asia Pacific, making it an attractive market.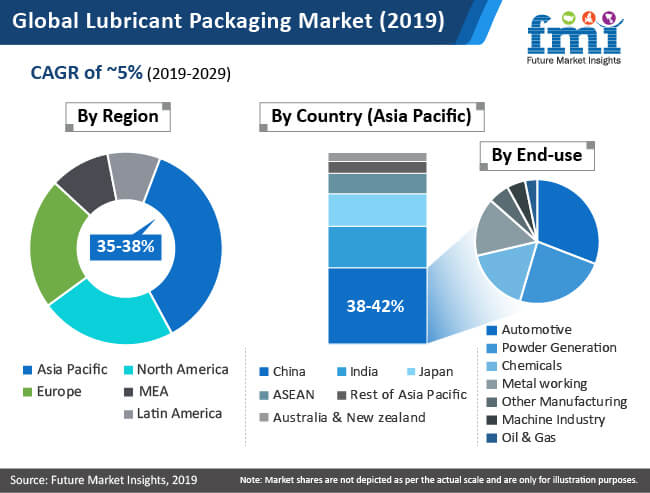 Lubricant Packaging Market Structure Analysis
Grief, Inc., Time Technoplast Ltd., Mauser Group B.V., and Martin Operating Partnership L.P. are the leading players in the lubricant packaging market.
Expansion and merger strategies are constantly adopted by key players to expand their business and product portfolio.
Product developments and new product launches are also among the important trends followed by prominent lubricant packaging manufacturers.

In June 2018, Grief, Inc. launched a new product called GCUBE Shield, which is used as a barrier protection for IBCs.

The lubricant packaging market has been relatively moderate in size, which remains as key factor for its dynamic competitive nature. In the lubricant packaging market, tier 1 companies hold a revenue share of above 10%.
Some of the market contenders include Glenroy, Inc., Duplas Al Sharq LLC, Mold Tek Packaging Ltd, Scholle IPN, CYL Corporation Berhadcompany and Balmer Lawrie & Co. Ltd.
Lubricant Packaging Market: Taxonomy
Packaging
Stand-up Pouches
Bottles
Drums
Pails
Cans
Tubes
Kegs
Bags-In-box
Lubricant
Engine Oil
Transmission and Hydraulic Fluid
Process oil
Metal-working Fluid
General Industrial Oil
Gear Oil
Greases
End-use
Automotive
Metal working
Oil & Gas
Powder Generation
Machine Industry
Chemicals
Other Manufacturing
Material
Metal
Plastic

Polyethylene
PET
PVC
PA
PP
PS
Region
North America
Latin America
Europe
Asia Pacific
MEA
Need specific information?
Talk Show:
The Rise of Intelligent Packaging
Personalized, Connected and Sustainable
November 18, 2021
11:00-11:45 AM PST (USA & Canada)
This is a LIVE session