Global Mindfulness Meditation Application Market: Key Takeaways
Global mindfulness meditation application market to register a CAGR of 8% between 2020 and 2030
North America to lead global market for mindfulness meditation application as the U.S. market is poised to cross over US$ 2 Bn by 2022
Feature-rich apps catering to varied aspects of mental health to win higher subscribers
Smartphones to remain preferred medium of using mindfulness meditation applications
Younger generation remains critical to growth of meditation apps as global tensions escalate
Insomnia, Stress, and Demand for High Productivity Turn Attention towards Mindfulness Meditation Apps
The fast-changing, productivity-driven, and stressful nature of all day-to-day activities has raised exceptional awareness about meditation in recent years. Over the years, big tech giants have capitalized on this opportunity with launch of meditation apps that promise restore and rebuild mindfulness amongst users.
The demand for mindfulness meditation apps has been soaring with the shifting inclination of millennials to focus on quality of life. The role of application stores such as Google's Play Store and iOS App Store cannot be denied in building this market to a sizeable level. Today, these stores have been critical vehicles, making meditation apps available to both novices and expert practitioners.
According to Future Market Insights, the Calm has been downloaded 50 million times. The monumental popularity and synonymy of this app with meditation is attributable to the its simplicity of design that has been cleverly built with the help of sleep psychologists.
The explosion of interest in meditation is deeply-rooted in the need to improve sleep patterns. According to University of Pennsylvania School of Medicine, about one in four Americans suffer from acute insomnia. This has captured the interest of investors who are looking at investing in a global market that is projected to surge at 2.3x times of current market value by the end of 2030.
Millennials, Generation Z, and Influencers to Remain Undeterred of In-App Purchases, Boosting Downloads
A 2018 study by American Psychological Association indicated that Generation Z are likely to suffer the worst of mental health issues and thus likely to speak about the same. This has been an incredible factor in creating intuitive meditation apps that cater to areas of mental health such as anxiety, depression, sleep patterns, and self-care.
The always-on internet lifestyle, improved salaries or access to funds, gun violence, climate change, and political upheavals have urged many millennials and Gen Z users to explore the benefits of daily meditation despite the cost. With apps such as Headspace offering a 10-day free trial, it becomes a perfect bait to widen the subscriber base that gets hooked onto daily practice.
An interesting factor prompting the downloads of these apps despite in-app purchases is the chance to build support groups. Meditators can build communities, share experiences, and remain motivated to make a deliberate change in lifestyle. Thus, the intelligent design of apps to keep the user gripped and motivated with tangible outcomes has worked in favor of the market despite its premiumization.
In the light of these major drivers, the global mindfulness meditation application market is projected to rise at a CAGR of 8% between the forecast years of 2020 and 2030, predicts Future Market Insights.
Ubiquity of Smartphones and Internet Make Mindfulness Meditation Apps Accessible to Overworked Users
According to an article by Sensor Tower, smartphone users spend a whopping sum of US$ 195 Mn in 2019 on meditation apps, an amount that is up by 52% Y-o-Y. Needless to say that statistic is a result of increasing ownership of smartphones and availability of internet at affordable rates. Thus, the popularity of mindfulness meditation apps is also lies in the fact that searches around it and "yoga for beginners" increased by 65% Y-o-Y in 2020 as per Google's data.
Influx of Mindfulness Meditation Apps Spoils Users for Choices
Since 2015 about 2500 meditation apps have been launched on application stores, generating and feeding the curiosity of users. Buzzwords such as "Zen", "mindfulness", and "healing" have prompted many towards analyzing lifestyle choices to reduce stress, manage anxiety, and deal with other mental health issues through meditation.
Adapting to User's Convenience, a Winning Strategy of Meditation Apps
With this backdrop, companies are focusing on building apps that personalize solutions for better outcomes and user retention. The players in the market are capitalizing on lack of time and busy lifestyle of users by offering bed time stories, timer-based meditation, and walking meditations. Quick adaption to user's convenience is expected to up the download rates of apps during the forecast period.
Intuitive Navigation, Conversational Instructions, and Machine Learning Keep Users Interested
While a plethora of mindfulness meditation applications have gained prominence, few have truly stood out. As seeking mindfulness in daily tasks becomes mainstream, it is important to assess what is the key differentiator for these apps.
Calm, Headspace, have decontextualized meditation to fit it into modern lives. Subtracting religious angle from meditation and the complex rituals around it has made these apps approachable to laymen. Simple, conversation instruction that almost feel like hand holding have upped the game for certain apps as the end users are opting for simplest of layouts to explore the benefits of meditation.
Companies are also integrating machine learning algorithms that help in analyzing users' choices to offer related content, tutorials, and exercises to keep them hooked on. Furthermore, extrapolating the idea of mindfulness to reading, dog walking, and reading amongst others has given these apps a sustained consumer base that intends to consciously improve mental health.
Celebrity Reading Users to Sleep becomes Key Product Differentiator
Celebrity reading bed time stories and delivering guided meditations have been the highlight of some meditation apps such as Calm. With celebrities such as Matthew McConaughey, Stephen Fry, and John McEnroe reading out bed time stories, the app has managed to attract users who might want to just listen to stories than meditate.
In many ways, offerings that more than just meditation but come with a promise of imbibing mindfulness have worked well for these apps. Comprehending the needs of end users to provide varied solutions is winning the market exponential number of subscribers.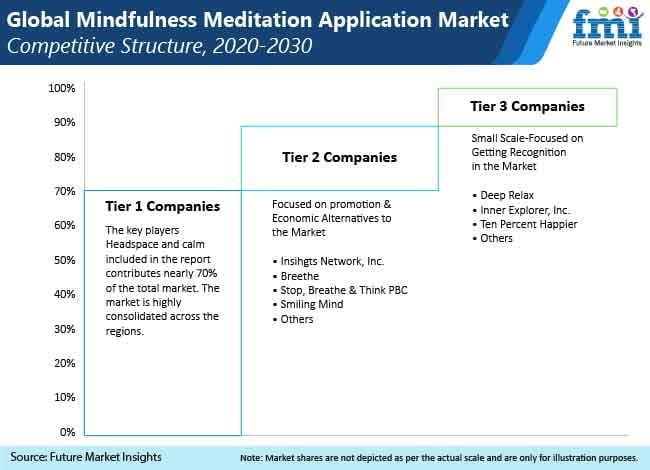 The global mindfulness meditation application market is dominated by goliaths such as Headspace and Calm. However, a plethora of new entrants are trying to establish themselves with focused promotions and paid advertisements on social media platforms. These tier-2 companies such as Insights Network, Inc., Breethe and others are expected to enter strategic partnerships to expand their network. Inclusion of elements such as dance is also projected to help new entrants differentiate themselves established players.
Mindfulness Meditation Application Market: Regional Analysis
Future Market Insight predicts that North America will dominate the global mindfulness meditation application market. As majority of Americans are realizing the importance of stress and anxiety management, damaging effects of insomnia, and panic attacks, they are shifting focus on mindful living.
Statistics indicate that between 2012-2020 the number of Americans who have tried meditation at least once has surged 3x. This trend is expected to continue has COVID-19 pandemic and overall global tensions continue to boggle end users, driving them to make lifestyle changes through meditation.
While meditation isn't a novel concept in East Asia and South Asia and Pacific, the demand for meditation apps is on the rise as this tool makes it easy to learn and perfect a skill. This emerging trend has made meditation a serious business even in a country such as India that is known to be an institution of spiritual living.
Owing to this, app makers are likely to take a multi-pronged approached that factors in the cultural, social and economic fabric. Furthermore, strategic distribution and partnerships to create positive branding will also be a key strategy of companies.
Top Mindfulness Meditation Apps :
Constant diversification of offerings has been the winning marketing strategy of the key players operating in the global mindfulness meditation application market. Vision to build a valuable brand and product offering with insights from psychologists is expected to be marketing strategies of these companies.
Calm.com, Inc.
Headspace, Inc.
Deep Relax
Ten Percent Happier
Smiling Mind
The Mindfulness App
Inner Explorer, Inc.
Parachute for Parents (Committee for Children)
Simple Habit, Inc.
Meditation Moments B.V.
Stop, Breathe, & Think PBC
Mindfulness Everywhere Ltd.
Breethe, Insights Network, Inc.
*The list is not exhaustive, and only for representational purposes. Full competitive intelligence with competition deep dive available in the report
Personalized Approaches and Genuine Care to Unlock True Potential of Mindfulness Meditation Application Market
The launch of mindfulness meditation apps at a time when the global population is grappling to find its calm, makes them positively opportunistic. The demand for mindfulness in daily tasks is growing with each passing day as conversations around mental health are getting nuanced and constant, especially over social media. This is projected give the market a shot in the arm, garnering new subscribers and retaining the existing ones through the years.
The future of mindfulness meditation applications is especially bright as the growing interest of first timers is answered with thorough research. Furthermore, relevant updates and novel ways to tackle issues of end users has been the key to unlock the potential of the market.
Apps developed around genuine care instead bullish approaches will truly see a sustained profit in the next ten years. Practices that are personalized, tracked, monitored, and rewarded will set the standards for mindfulness meditation apps in the coming decade.
Base year considered - 2019
Actual estimates/Historical data - 2015 - 2019
Forecast period - 2020 - 2030
Forecast CAGR (value) - 8%
Segments covered - Operating Systems, Service Type, Region
Regions covered - North America, Latin America, Europe, South Asia, East Asia, Oceania, MEA, Emerging Countries
Growth Driving -

Awareness that mental health is as important as physical health
Free trial versions that have a higher conversion rate
'No-frills', on-the-go availability on smartphones

Key Players -

BASF SE
SABIC
Exxon Mobil Corporation
Lotte Chemical
LG Chem
Petro China Company Limited
Rongsheng Petrochemical Co., Ltd
Formosa Plastics Corporation
Japan Polypropylene Corporation
Braskem

Report coverage - Revenue forecast, company share, competitive landscape, growth factors, and trends
World's Most Profilic Intelligence Engine
Get Access To The World's Largest Market Research Database. Ngage with a revolutionary intelligence engine that scale and pricing that flexes as per your needs
Sign Up Now
Mindfulness Meditation Application Market: Segmentation
The mindfulness meditation application market is segmented in detail to cover every aspect of the market and present a complete market intelligence approach to readers.
Operating System
Service Type
Paid (In-app Purchases)
Free
Region
North America
Latin America
Europe
South Asia
East Asia
Oceania
MEA
Need specific information?